Results in for First Quarter of CMP's Aces Postal Air Gun Competition
May 4, 2022
Civilian Marksmanship Program
▸
The First Shot
▸
Results in for First Quarter of CMP's Aces Postal Air Gun Competition
Scores are now final for the Civilian Marksmanship Program's (CMP) Aces Postal Air Gun Competition for the first quarter. The mail-in style competition is fired in four quarters, with Q1 running from January to March. During the event, participants fire in air rifle, air pistol and para matches from their home ranges before sending scores on to CMP for official scoring and comparison to other athletes from across the nation.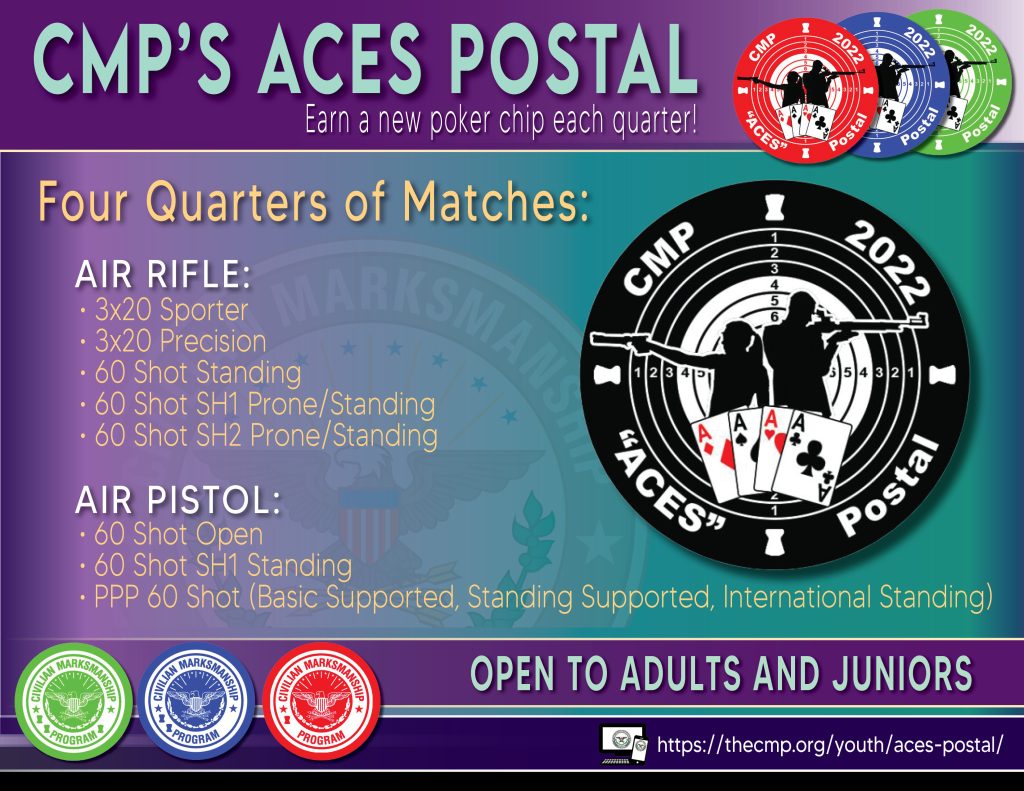 Earning the high score in the Junior 3×20 sporter air rifle event was Ashley Carr, 15, of Alliance, Nebraska, with a score of 539-21X. Dominic Gartland, 15, of Montgomery, Alabama, trailed Carr with a score of 518-14X as Natalie Smith, 14, of Prattville, Alabama, fired a score of 513-11X. A total of 70 athletes competed in the match.
In precision air rifle, Grayson Ellis, 16, of Anniston, Alabama, led the field of nearly 40 competitors overall with a score of 590-50X. Following close was Riley Dunn, 15, of Washington, Pennsylvania, with a score of 589-43X, while Matthew Stout, 17, of Poquoson, Virginia, earned a score of 588-44X. Stout went on to claim the overall score in the 60 Shot Rifle match.
A 3×20 competition was also held for adult competitors, with Julie Klusmeier, 27, of Cincinnati, Ohio, leading the precision class and Kevin Hughes, 64, of Springfield, Illinois, overtaking sporter. Ron Mendoza, 77, of Mt. Laurel, New Jersey, was the overall competitor in the Senior class, which features competitors aged 60 and older.
In air pistol, Jeff Hall, 55, of Wellesley Hills, Massachusetts, led the 60 Shot event with a score of 564-26X. Landing behind Hall was another Hall, Brent Hall, 58, of Mound, Minnesota, with a score of 559-27X. Christopher Chisolm, 28, of Granville, Ohio, earned a score of 557-24X to land just behind the two Halls.
The Aces Postal is designed to provide competitive opportunities for all athletes, including those within the para (PPP) class who require supportive equipment to participate. Leading overall in the PPP class was August Deterling, 11, of Redwood Falls, Minnesota. Earning the top score in the International Unsupported match was George Turbes, 16, of Redwood Falls, while Olivia Steelman, 15, of Perry, Ohio, led the Standing Supported match. Deterling returned to also overtake the Basic Supported competition.
Find a complete list of results of the Aces Postal Q1 on CMP's Competition Tracker page at https://ct.thecmp.org/22AcesPostalQ1Results.
There's still time to sign up for Quarter 2 – running from April to June! See more info on the Aces Postal competition, including registration, on the CMP website at https://thecmp.org/youth/aces-postal/.