Record-Setting Junior Proves Practice Equals Success in All Aspects of Life
September 11, 2015
Civilian Marksmanship Program
▸
The First Shot
▸
Record-Setting Junior Proves Practice Equals Success in All Aspects of Life
By Ashley Brugnone, CMP Writer
"The shooting sports are open to everyone. I have almost no natural talent in shooting, but I've always known that with a good teacher, and a lot of practice, there was no limit to what I could achieve."
Mark Stout II, 17, of Waterford, Mich., is an accomplished young man. As a senior at Clarkston High School in Michigan, his peers know him as the astute scholar – a 4.0 GPA and a member of the National Honor Society. At Camp Perry, however, he is known as a force to be reckoned with – especially after his performance at the 2015 National Matches.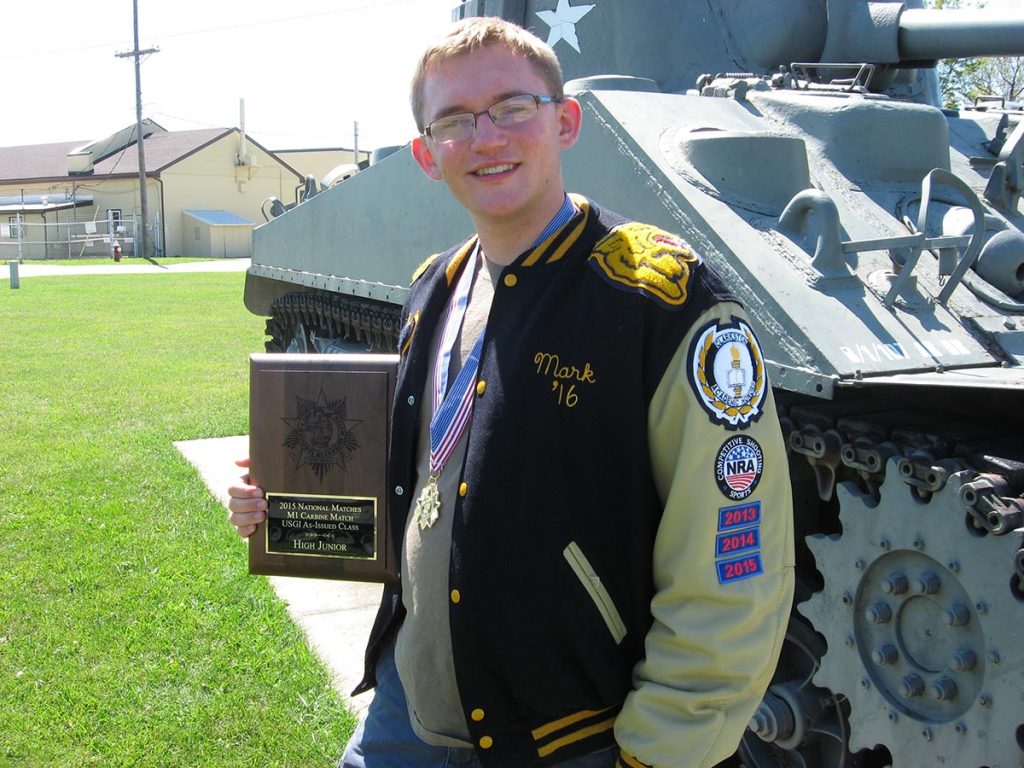 The famous National Matches has always been a family event for the Stouts – with Mark competing this year alongside his brother, Connor, 12, and his father, Mark Sr., 46. Using the same Carbine rifle, they all performed remarkably well – especially Mark Jr., who was the high junior and fired a score of 362-5x to become the highest scoring junior ever in the match.
"It feels great to hold a National Record," he said. "I'm honored and humbled to be among so many other shooters who have famously set and broken National Records at Camp Perry over the last century."
His third year competing in the Carbine Match, Mark is gaining a stellar reputation – earning two gold medals before receiving his third in 2015, though he wasn't exactly confident he could reach number three.
A rigorous high school curriculum spread his schedule thin and left him with limited practice in the days leading up to the match. Feeling less assured than previous years, his passion for shooting shined through his performance.
"I went into the match with a good attitude regardless because I really love getting to meet people from all over the country who share my interest in the shooting sports," he said. "I didn't perform particularly well on any single stage of the match, but instead held myself to a consistent, realistic standard from stage to stage – which was what I needed to do to score well."
With an obvious enthusiasm for marksmanship, Mark has already been shooting nearly half of his life. He began when he was around seven years old with his .22 rifles, firing at balloon targets. He used them as a way to practice the fundamentals, at the direction of Mark Sr. – his first and only teacher.
Mark Sr. is a lieutenant with the West Bloomfield Police Department – allowing him plenty of experience teaching the responsibility of marksmanship to others through concealed pistol license courses.
Along with his knowledge within the classroom, Mark Sr. has also won a countless number of gold and silver medals at the National Matches and has been the Michigan Police Combat Pistol Association's PPC (Police Pistol Combat) Champion for three consecutive years.

"There are individuals who are simply good at what they do, but my father has the unique quality of being able to effectively teach shooting skills to shooters of all levels," said young Mark. "He started me and my brother very early in life, and he has always supported us in everything we do."
Since his modest beginnings with shooting balloons with his father, Mark Jr. has become a skilled recreational marksman in a variety of disciplines, including pistol, long range rifle, archery, and he is also an avid hunter. Additionally, Mark learned how to reload ammo – even using some he had reloaded for his record-breaking performance at Camp Perry.
"Reloading my own ammunition for the match was a goal of mine for some time," he said. "Carbine ammunition is becoming more and more difficult to locate in large quantities, and reloading it gives me a way to build very accurate and reliable loads for a fraction of the price of factory ammo."
Along with his success in the Carbine Match, Mark earned gold in the M1 Garand Match and was the fifth-highest junior in the event. He also earned two bronze medals in the Rimfire Sporter Match. With his consistent performances, Mark has placed himself within a growing class of talented juniors that are quickly proving their places in the marksmanship community.
"Shooters like us are in the prime of life and typically possess better eye sight and strength, which enables us to compete with the older generation," he said. "We are the future of this country. As our parents age, the responsibility will fall on us to keep shooting sports alive."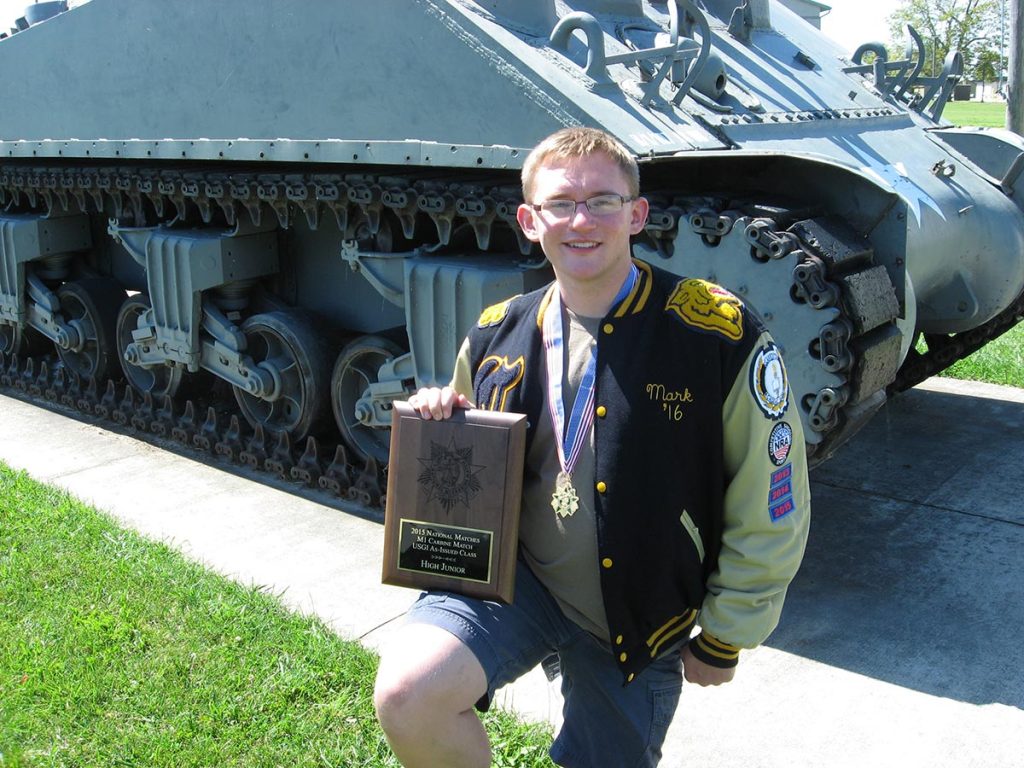 Continuing his success after the National Matches, Mark Jr. was the third-highest ranked civilian in the state of Michigan at the PPC event he fired with his father. At last year's PPC event, Mark Jr. proved he belonged by earning the honor as the first junior to make the Governor's Top Twenty shooters.
"I am certainly a proud father," said Mark Sr. "He is a really awesome kid."
Mark Jr. jokingly said of his dad, "Now that I am at the point where I can actually compete with him, he has made a point of telling me that I am the only person by whom he would be happily beaten."
"I owe every one of my achievements in shooting to him," he added.
Outside of the shooting world, music has become one of Mark's greatest passions. He plays the trumpet and currently holds several leadership roles within the Clarkston band program, including trumpet section leader of the marching band, principle trumpet in the school's Symphonic Wind Ensemble and is lead trumpet in the jazz band. He's also been selected to various all-state and honors ensembles over the past several years.
Strangely enough, he's found that his interest in shooting actually correlates into music at times – noting that both take hard work in difficult and often tense situations.
"Nobody becomes a good shooter or musician overnight," he said. "To get to where I am, I've had to practice for years and years. I also find that much of the mindset required to play well under pressure also translates to shooting accurately. Both require large measures of strength and finesse at the same time to succeed."
In the future, Mark would like to pursue a career in engineering once he graduates from high school. He has already applied to several admirable colleges, such as the University of Michigan, The Ohio State University and Purdue.
"I have a very mechanical mind and enjoy tinkering with mechanical devices in order to figure out how they work," he said. "I believe this makes me well suited to music and shooting. I certainly hope to continue in both of these two interests in addition to engineering while in college – and for the rest of my life."