Ploechinger Sets New Standing Record at JROTC Air Rifle Regionals
March 9, 2018
Civilian Marksmanship Program
▸
The First Shot
▸
Ploechinger Sets New Standing Record at JROTC Air Rifle Regionals
By Ashley Brugnone, CMP Writer
Isabelle Ploechinger, 15, fired a new precision Army JROTC 20 Shots Standing National Record score of 198-14x while competing at Camp Perry for the JROTC Air Rifle Service Championships – a regional event.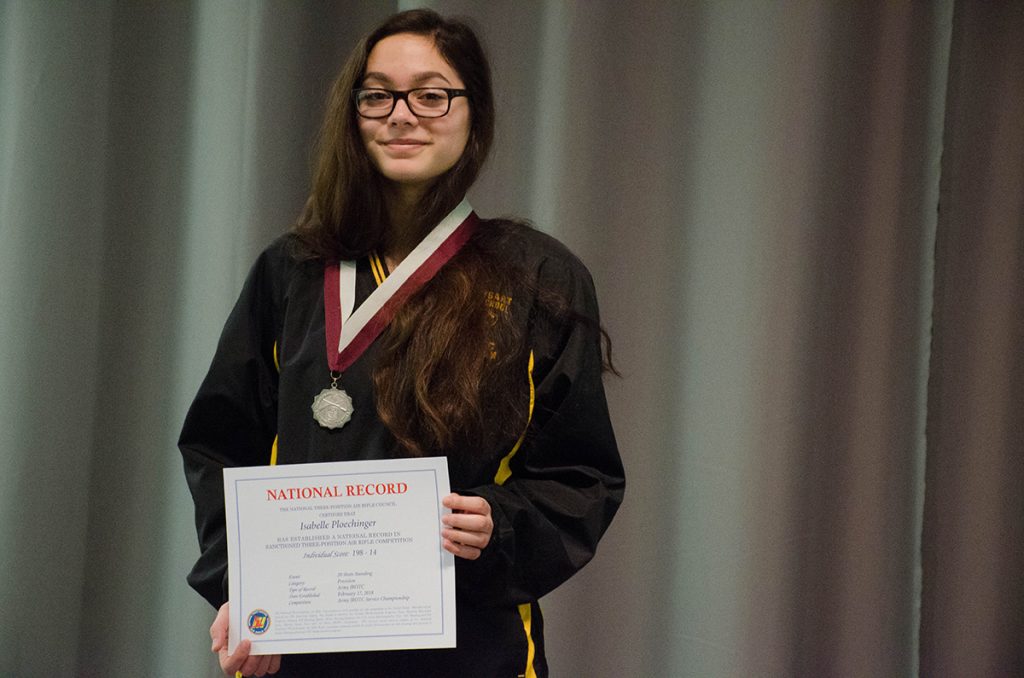 Ploechinger is a student at Stuttgart High School, located on an Army base in Germany. The Camp Perry event was her first trip to JROTC Regionals, after having only competed in CMP postal competitions in 2016 and 2017. Her outstanding performance there placed her within the Top 20 overall precision competitors, securing her a place at the National event in March. Ploechinger also earned her first eight points towards the 30 needed to receive a Junior Distinguished badge.
The JROTC Air Rifle Service Championships were held in three locations: Phoenix, AZ; Anniston, AL; and Camp Perry, Ohio, over the weekends of Feb. 8-10 and Feb. 16-18. Rifle athletes in JROTC programs reached the Regional events after competing in the Postal match in the fall.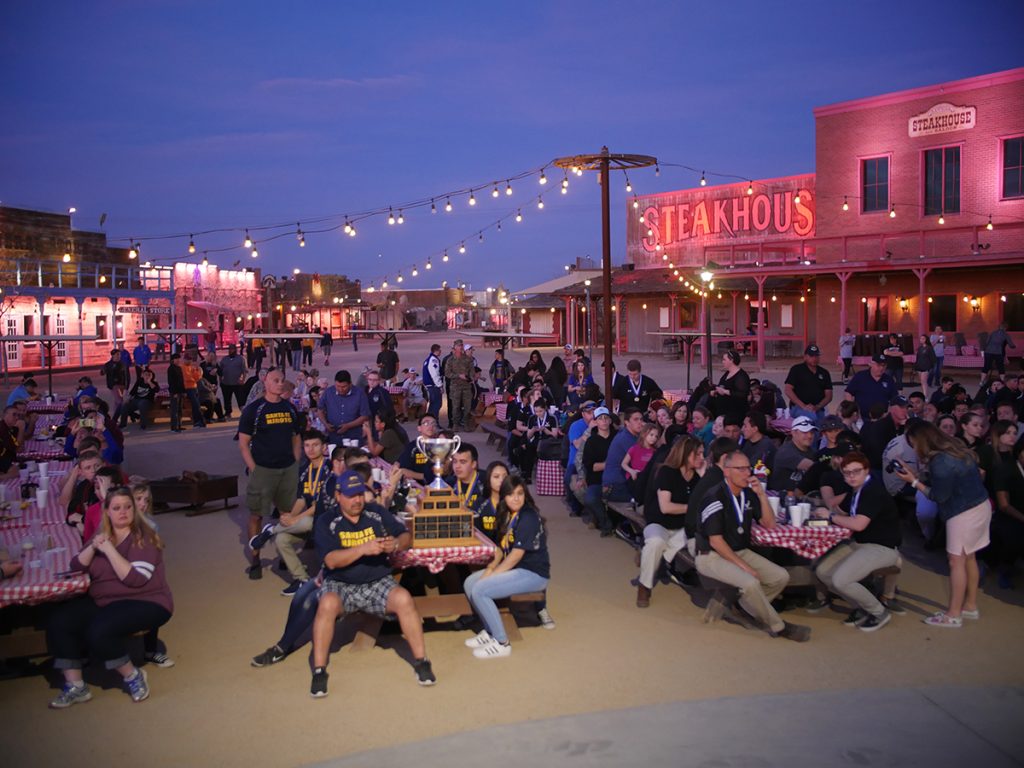 The final step in the JROTC Championship competition series is the National Championship, scheduled to be held at the Gary Anderson CMP Competition Center at Camp Perry, Ohio, March 22-24.
Like the Postal and Regional events, the National match is a 3×20 air rifle competition, where competitors fire 20 record shots from three positions: prone, standing and kneeling. A total of 28 teams and 32 individuals qualified for the National sporter competition, while 17 teams and 17 individuals qualified for the precision event.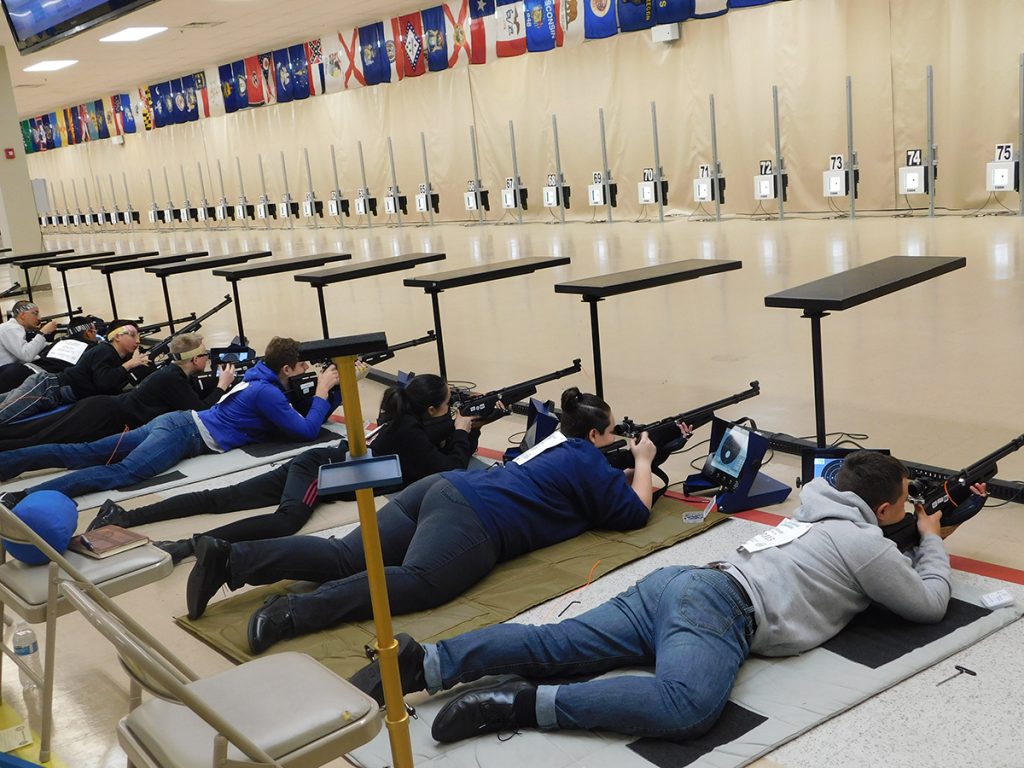 Visitors are welcome into the range to observe the National Championships at any time during the match, with free admission. For more information on the JROTC Championships, visit https://thecmp.org/air/jrotc-air-rifle-national-championship/.
Below is a list of the overall Top 3 Individual and Team competitors of the JROTC Regional Championships. For a complete list of results, visit http://ct.thecmp.org/app/v1/index.php?do=match&task=edit&match=16229&tab=results. Photos may be viewed and downloaded at http://cmp1.zenfolio.com/f640958375.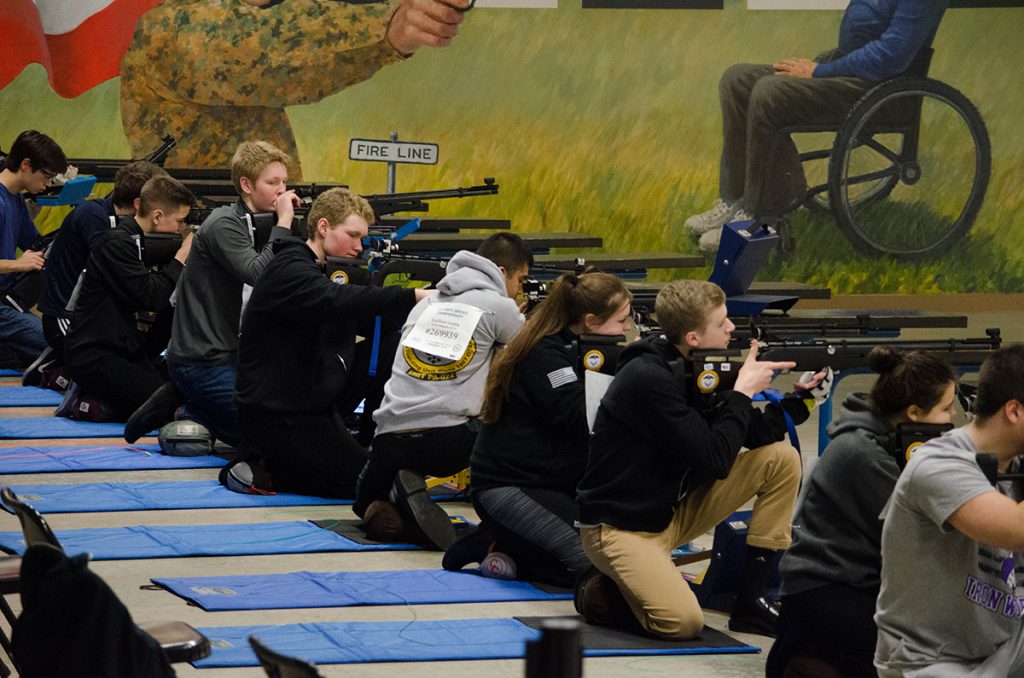 INDIVIDUAL RESULTS:
Navy JROTC:
Sporter:
Emma Thompson, Freeport High School, IL – 1214.2
Jesseca Montcrieff, Oviedo High School, FL – 1192.9
Dominick Cordova, Santa Fe High School, NM – 1191.9
Precision:
Athena Baty, Robert Service High School, AK – 1263.7
Holly Day, New Albany High School, IN – 1260
Mark Cooper, New Albany High School, IN – 1254.5
Air Force JROTC:
Sporter:
Nicholas Rudd, South Panola High School, MS – 1177.2
Jaxon Cavallier, Cheyenne East High School, WY – 1163.4
Carolyn Bienvenue, The Woodlands High School, TX – 1161
Precision:
Ashley Stacy, Monroe Area High School, GA – 1266.2
Rayven Fincher, Monroe Area High School, GA – 1261.6
Michael Stoddard, South Anchorage High School, AK – 1249.8
Army JROTC:
Sporter:
Robert Knick, Chatham High School, VA – 1200.4
Kylie Henninger, Canon City High School, CO – 1189.8
Jenna Maglaughlin, West Creek High School, TN – 1189.7
Precision:
Taylor Gibson, North Salem High School, OR – 1287
Kaila Jones, Fountain Fort Carson High School, CO – 1278.8
Kinga Aletto, Sarasota Military Academy, FL – 1274
Marine Corps JROTC:
Sporter:
Simon Krauthamer, Adrey Kell High School, NC – 1199.3
Elijah Kalinski, Cibola High School, NM – 1188.9
Joseph La Vigne, Eldorado High School, NM – 1188.8
Precision:
Kaylene Castillo, Eldorado High School, NM – 1283
Kelcy McGrath, Granbury High School, TX – 1277
Brielle Smith, Eldorado High School, NM – 1276.7
TEAM RESULTS:
Navy JROTC:
Sporter:
Santa Fe High School, NM B – 4356-152x
Freeport High School, IL – 4340-121x
Santa Fe High School, NM A – 4333-137x
Precision:
New Albany High School, IN – 771-47x
John Marshall High School, TX – 769-38x
Joshua High School, TX – 763-31x
Air Force JROTC:
Sporter:
South Panola High School, MS – 4246-113x
Clover High School, SC – 4177-105x
McMichael High School, NC – 4135-90x
Precision:
Monroe Area High School, GA – 4545-234x
South Anchorage High School, AK – 4540-211x
Cherokee High School, GA – 4464-178x
Army JROTC:
Sporter:
Pueblo County High School, CO – 4285-121x
Lebanon High School, OR – 4259-102x
Boca Ciega High School, FL – 4255-102x
Precision:
Stuttgart High School, AE – 4626-259x
Fountain Fort Carson High School, CO – 4608-256x
Sarasota Military Academy, FL – 4592-226x
Marine Corps JROTC:
Sporter:
Nation Ford High School, SC – 4339-137x
Des Moines North High School, IA – 4314-118x
Cibola High School, NM – 4302-121x
Precision:
Granbury High School, TX – 4673-286x
Eldorado High School, NM – 4672-300x
Rio Rancho High School, NM – 4640-256x