Lange Captures General Custer Trophy, USAMU Continues Winning Streak in the NTT Pistol Match
July 24, 2014
Civilian Marksmanship Program
▸
The First Shot
▸
Lange Captures General Custer Trophy, USAMU Continues Winning Streak in the NTT Pistol Match
By Ashley Brugnone, CMP Writer
CAMP PERRY, OH
The National Trophy Individual (NTI) Pistol Match has been cemented at the National Matches since its second year of existence, in 1904, and is undoubtedly one of the most elite and renowned events offered during the National Match season. Remaining a popular match, over 450 competitors participated in this year's NTI, fired on July 13.
David Lange, 45, of Glen Rock, NJ, was the winner of the General Custer Trophy, reserved for the overall competitor in the match, with his score of 283-2x. Following close behind was Richard Kang, 47, of Delmar, MD, with 282-10x, as SSG Patrick Franks, 36, of Phenix City, AL, fired a score of 280-10x for third. Steve Reiter, 72, of Tucson, AZ, won the Senior Pistol Trophy with his score of 277-9x.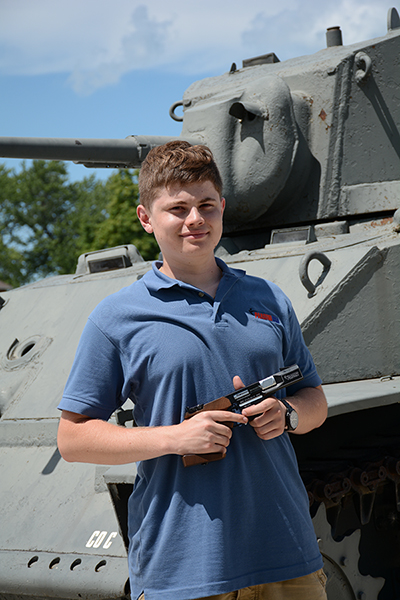 Lange's wife, Kathy Chatterton, 63, was the recipient of the National Woman's Trophy, after recording a score of 276-11x. The couple met through a shooting competition and has been together since April 1999.  Staying at the top of their games, Lange and Chatterton practice together consistency during the week and compete in at least one match each weekend.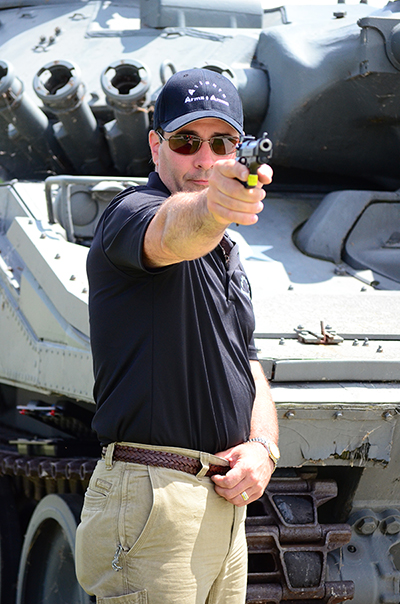 The pair is also members of separate shooting teams, which can make spending time together throughout the year somewhat challenging. But, in the end, their common passion for shooting keeps them close.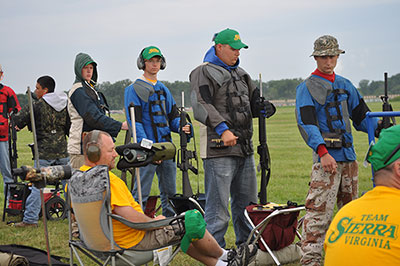 "Both of our teams are spread out all over, and sometimes we only see each other a couple times of year. Other times we meet up and go to the Shot Show or to the same match," he said. "It works for us."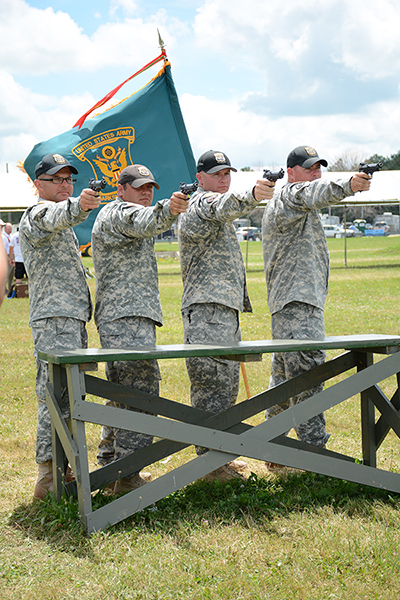 Recipients of other prestigious NTI awards include:
Ancient Archer Trophy (Law Enforcement):
Gus Hartl, 60, of Etobicoke, ON – 259-3x
General Curtis LeMay Trophy (USAF):
SSgt. Terrence Sears, 29, of Albuquerque, NM – 262-4x
National Guard Association Trophy:
SSG Daniel Kupar, 56, of Whitehall, PA – 275-7x
U.S. Army Reserve Memorial Trophy:
MSG Robert Mango, 40, of Kailua, HI – 280-9x
Citizen's Military Pistol Trophy (Civilian):
David Lange
Leading the Junior Individual Pistol Match was Alexander Chichkov, 20, of Tampa, FL, with a score of 268-5x. Chichkov is no stranger to winning at the National Matches, having won the Junior President's Pistol Match in 2013 and the Junior Individual Pistol Match in 2012. Now aging out of the junior category, his advice to those who will take his place on the winner's podium is simple: Practice.
"Consistency is key," he said. "Practice whenever you can, and stay consistent in the things that work for you."
Glenn Zimmerman, 17, of Waterville, OH, claimed the second place spot with a score of 265-5x, while Irina Andrianova, 18, of Schaunburg, IL, landed in third with her score of 262-2x.
The National Trophy Team (NTT) Match is a four-man team competition, where the winning team takes home the coveted Gold Cup Trophy. Growing since last year's competition, the NTT hosted 24 teams on July 13.
The recipient team of the Gold Cup in this year's match was the United States Army Marksmanship Unit team Blue, with an aggregate score of 1124-24x. Firing members are SSG Patrick Franks, SGT Greg Markowski, SFC Michael Gasser and SSG Jeffery Lewis. The team is coached by SSG Adam Sokolowski. Remaining consistent in their talents, the team has won the NTT for the past 8 years.
Following in second was the United States Marine Corps team Scarlet, with a score of 1113-28x, trailed by Ohio Rifle and Pistol Association, which landed in third with a score of 1096-24x. The Ohio Rifle and Pistol Association also won the Oglethorpe Trophy, awarded to the High Civilian team.
Winning the Riding the High Places Trophy, reserved for the high junior team, was ORPA Gold, with an aggregate score of 535-11x. Juniors fire in two-person teams and use .22 caliber pistols. Members of the winning team are Brett and Bryce Tucker, of North Canton, OH. The pair is coached by Fred Totts.
For a complete list of results, visit http://ct.thecmp.org/app/v1/index.php?do=match&task=edit&match=11023. View photos of the events at http://cmp1.zenfolio.com/.