Peterson, Palermo Lead at 2015 CMP 3P Air Rifle Championships
July 2, 2015
Civilian Marksmanship Program
▸
The First Shot
▸
Peterson, Palermo Lead at 2015 CMP 3P Air Rifle Championships
By Ashley Brugnone, CMP Writer
ANNISTON, AL – The 3rd Annual CMP National Air Rifle Championship for sporter and precision three position air rifle was held June 23 and 26 at the Civilian Marksmanship Program's (CMP) South Competition Center in Anniston, AL. The event was conducted along with the National Junior Olympic 3PAR Championships and drew some of the most talented young marksmen in the country.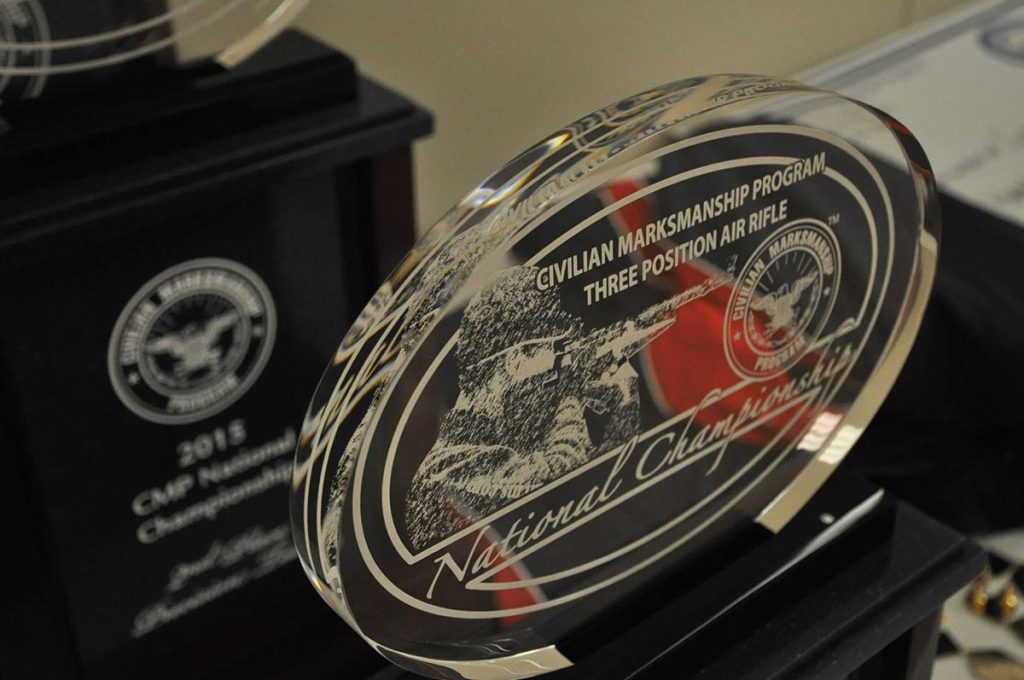 Samantha Peterson, 17, of the Minnesota Centershots, received the gold medal after jumping from third place to first in the final – finishing with an aggregate score of 695.6.
After her gun had malfunctioned earlier in the day and illness had set her back, she knew she had ground to cover if she wanted a place at the top of the podium.
"I wanted to go out there and shoot and do what I know how to do. I wanted to make my family happy back home," she said. "I just wanted to make them proud."
And she did. After her win, she called home to a crying and excited support team who shared in the joy of the moment.
"This is what I've been training for – this is what I've been working for, and it finally happened. I was on cloud nine," she said.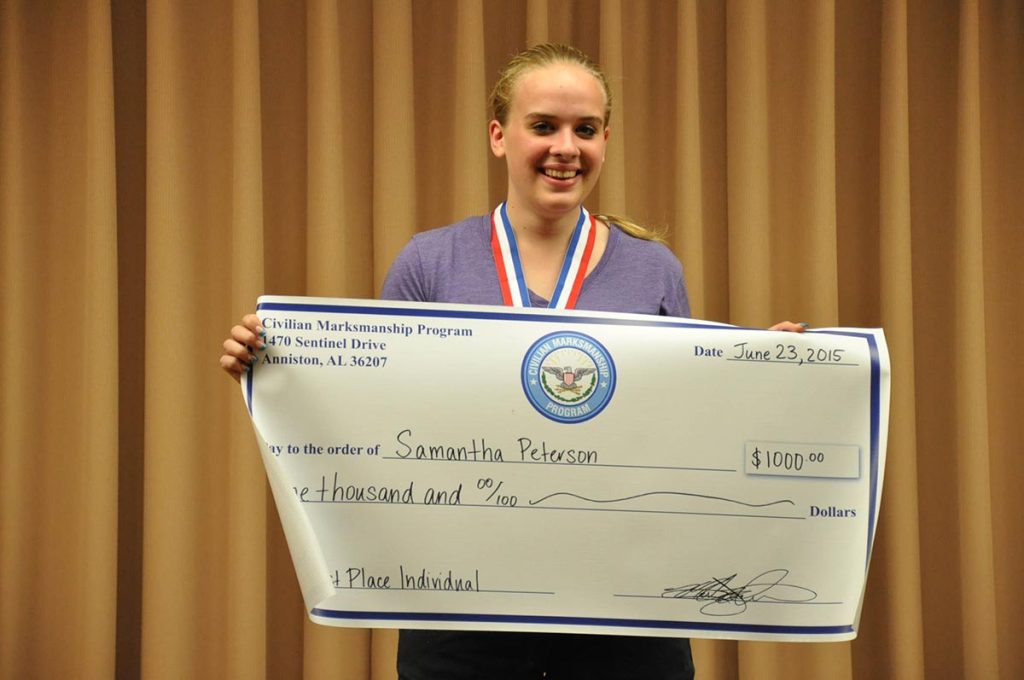 Meike Drewell, 16, of Buckhorn Shooting Club in Texas, also made a leap in the finals after going from fifth place to earn the silver medal with a score of 694.2. Coming in third for the bronze medal was Junior Olympic champion Sarah Sutton, 17, of the Black Swamp Jr. Rifle Club in Ohio, with her score of 694.
Winning the precision team competition was Hardcore 4 of Georgia, with a score of 2344-158x. The day before, the team set a new National Team Record of 2352-161x for junior club and overall at the Junior Olympic event. Members of the talented team are Mary Pratt, Rachel Kimbell, Dana Bowen and Dakota Spivey. The juniors are coached by Al Bowen.
Top Three Precision Teams:
Hardcore 4, GA – 2344-158x
GCS Precision, GA – 2341-166x
Black Swamp Jr. Rifle, OH – 2339-156x
In sporter action, last year's champion Gabriel Palermo, 18, of Freeport High School Black in Illinois, fired an aggregate score of 654.9 to earn the gold medal. A graduated senior, the match served as his last on the air rifle line. In the future, he plans to move on to the highpower range – trying his hand at largebore long range.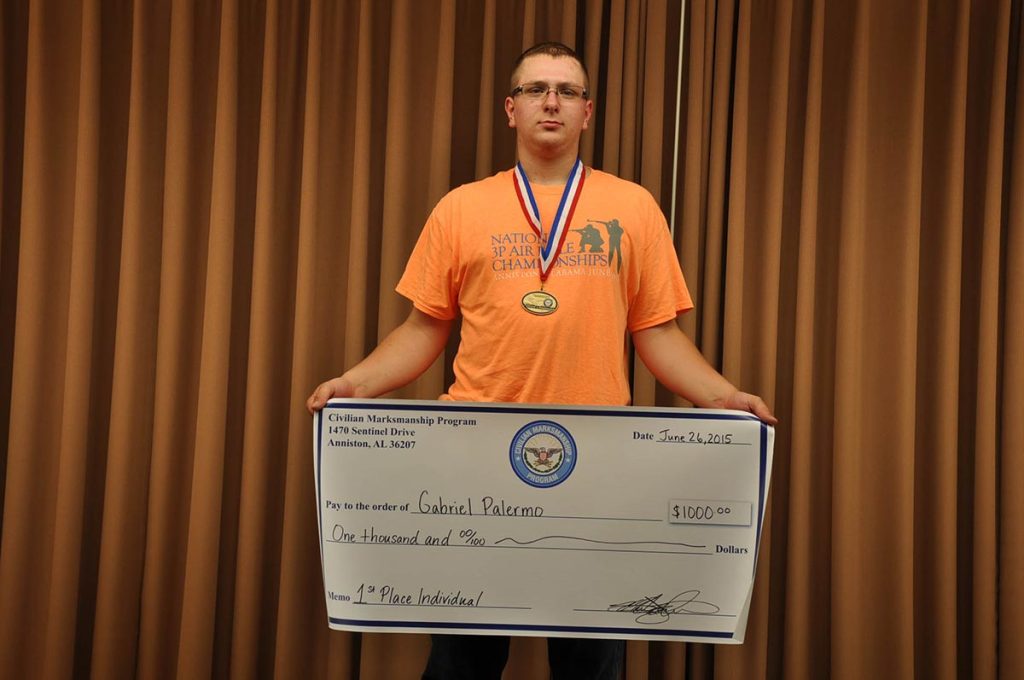 "This definitely isn't my last rodeo," he said. "Next time you'll be seeing me out on the Camp Perry thousand-yard range."
Colton Baumgardner, 18, of the S-Cubed from Washington, jumped from third to second place in the finals to claim the silver medal, with a score of 650.9. The impressive score was a continuation of an outstanding performance throughout the week, after setting a new junior club National Record in prone of 199-16x the day before.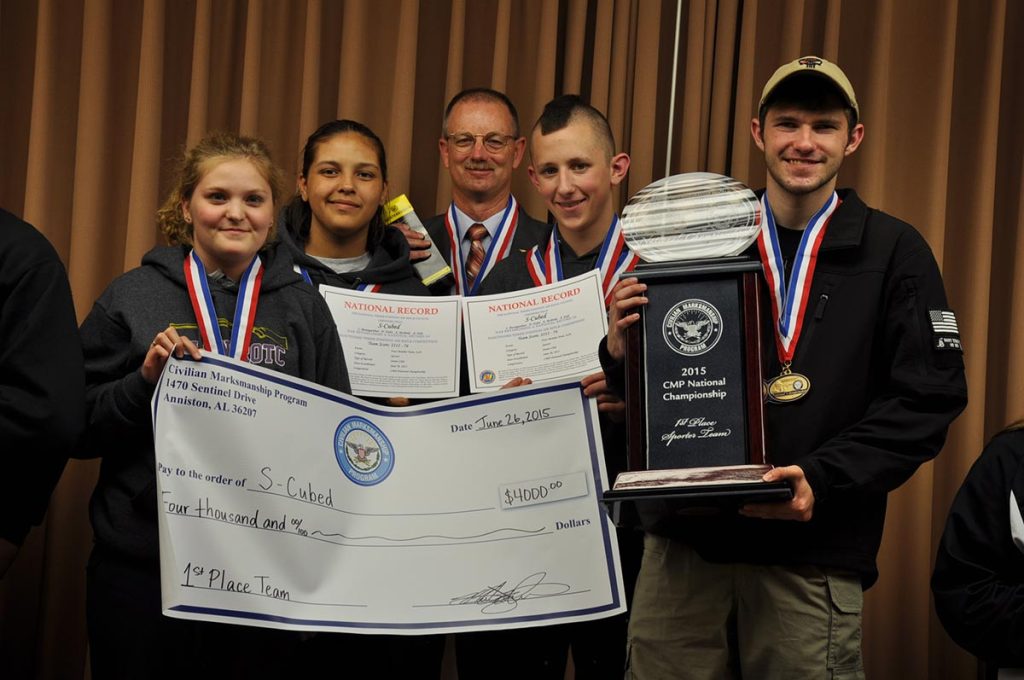 Junior Olympic Champion Brian Hampton, 17, of Charlotte Rifle & Pistol Club in South Carolina, collected the third place position with his score of 648.8. Hampton went head-to-head with Palermo at last year's matches – receiving the same fate this year as he did then.
Team S-Cubed of Washington set a new junior club four member team 3×20 National Record with their score of 2212-76x. Team members are Colon Baumgardner, Hailey Hahn, Austin McBride and Abigail Holt. The team is coached by LCDR David Goodman.
Top Three Sporter Teams:
S-Cubed, WA – 2212-76x
Lebanon High School Team 1, OR – 2194-86x
Zion Benton High School Gold, IL – 2184-65x
Junior JROTC, 4-H and club team precision and sporter marksmen involved in the competition began their journey with the CMP Postal Competition in November, where CMP-issued targets were mailed into Headquarters in Ohio for official scoring. Top shooters in the Postal Competition were invited to compete in the Regional Championships in March and April, with the overall high individuals and teams from that match qualifying for the National Championship.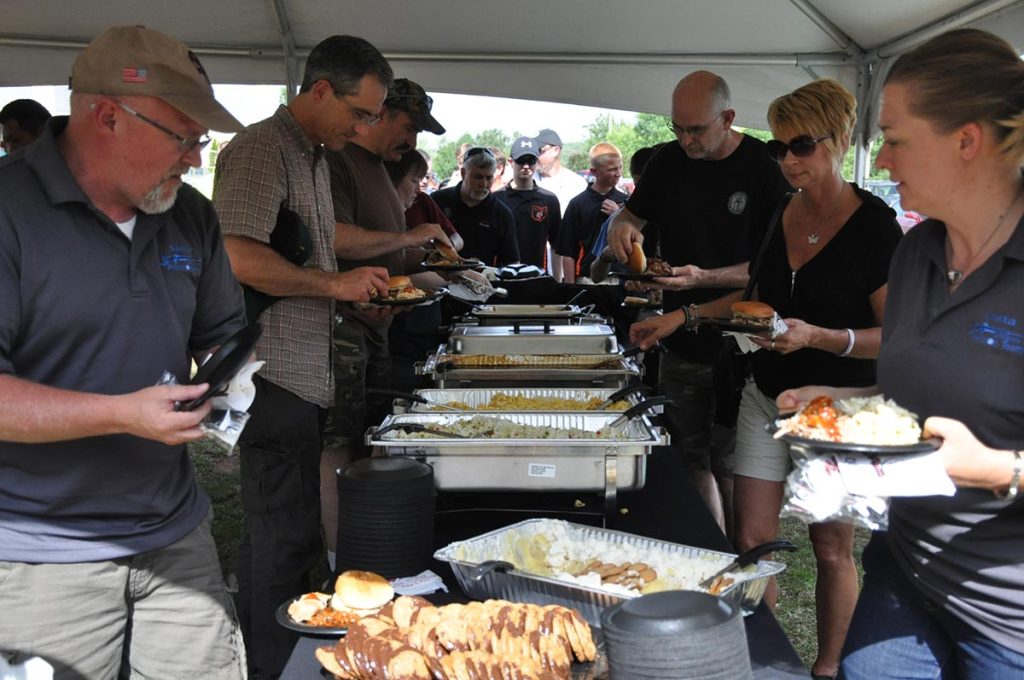 Larry and Brenda Potterfield donated a total of $23,000 through generous MidwayUSA Foundation endowments to winning teams of the CMP National Championships – offering over $270,000 in total throughout the three phases of the Air Rifle Championships. The MidwayUSA Foundation is a public charity that helps communities and organizations raise funds into their MidwayUSA Foundation account to support youth shooting teams and activities.
The CMP also provided additional monetary awards to winning teams and individuals as well as three $1,000 Scholarship awarded to the Top Three graduating seniors of the match.
Congratulations to all winning teams and individuals! We hope to see you next year!
For a complete list of results, visit
http://ct.thecmp.org/2015Nat3PAR.
Event photos can be found by logging on to http://cmp1.zenfolio.com/.