Payne Earns Third T-Class Win During 2022 National Rimfire Sporter Match
August 4, 2022
Civilian Marksmanship Program
▸
The First Shot
▸
Payne Earns Third T-Class Win During 2022 National Rimfire Sporter Match
Blustery winds, not uncommon to the outdoor ranges of Camp Perry, once again spilled over the target line and challenged competitors firing within the National Rimfire Sporter Match – held as part of the annual National Matches for the last 20 years.
The 2022 National Rimfire Sporter Match was fired Sunday, July 24, on Camp Perry's Viale Range. During the event, competitors fired from 50 and 25 yards in prone, sitting or kneeling and standing positions. Over 250 competitors took to the firing line during the match in Open Sight (O), Telescope Sight (T) and Tactical Unlimited (TU) classes.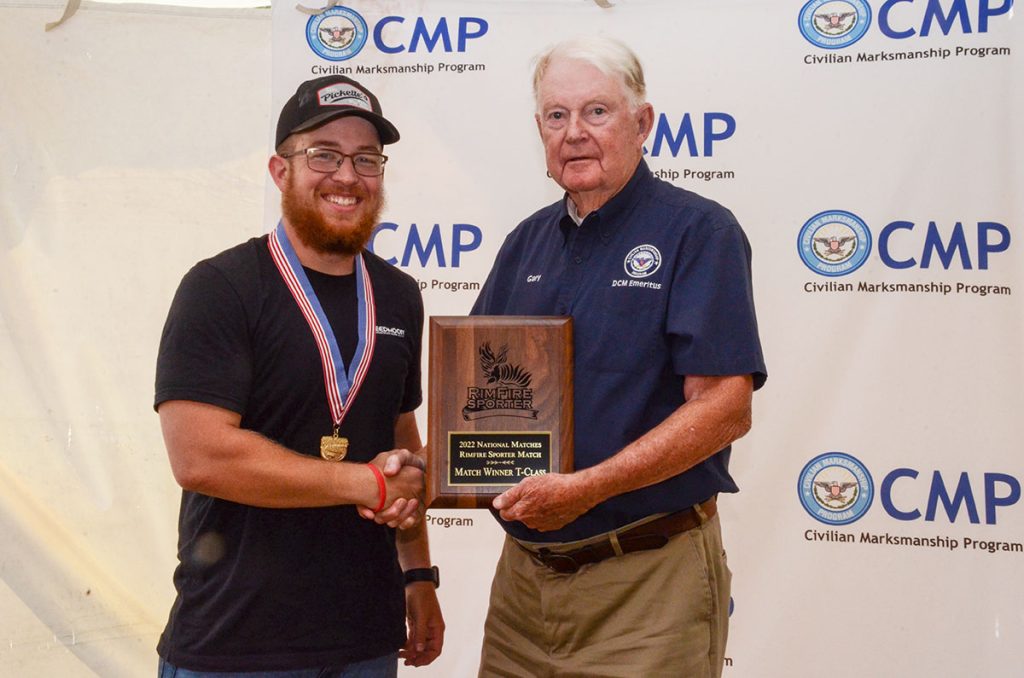 Current national record holder and two-time champion of the T-Class, Samuel Payne, 23, of Kingston, Georgia, returned to Camp Perry to again claim the overall win in the match with a score of 592-22X. Payne tallied perfect scores at prone slow and rapid, while adding scores of 99 at sitting rapid and standing slow. A talented marksman in the National Rimfire Sporter match, Payne is also a past winner of the O-Class.
Jeff Collings, 42, of Frankenmuth, Michigan, reached second behind Payne with 587-18X, while Andy Miller, 47, of Coshocton, Ohio, followed in third.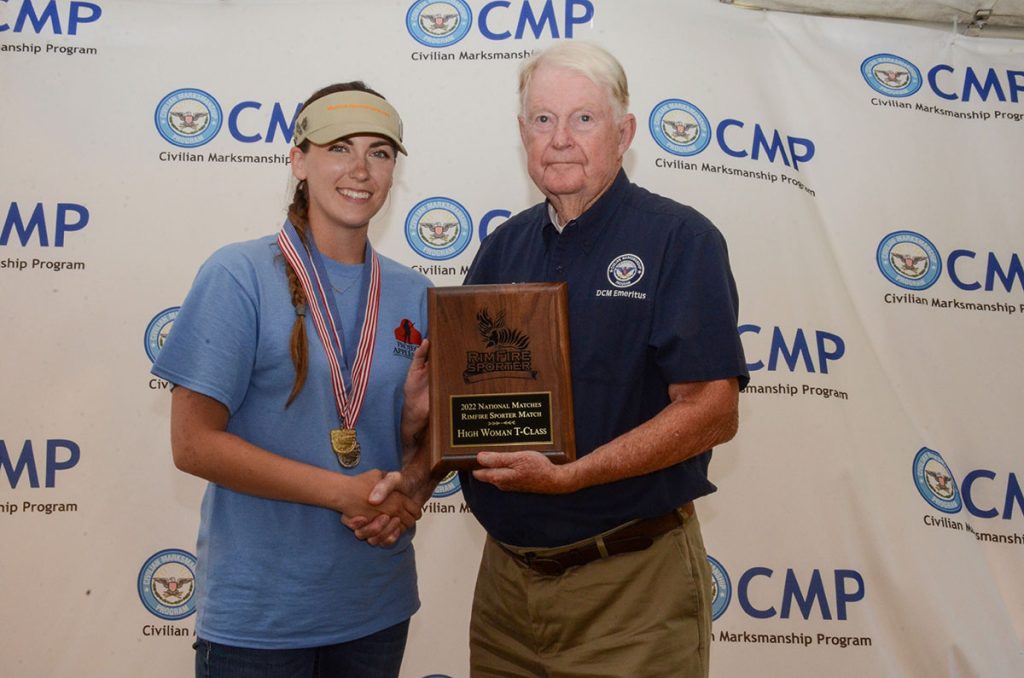 Connor Stout, 20, of Waterford, Michigan, earned the High Junior honor in the T-Class, as Major Jeffrey Knop, 62, of Brighton, Michigan was named High Senior. Brianna Toikkanen, 24, of Conneaut, Ohio, marked fifth overall in the match and the High Woman title, with her score of 583-27X.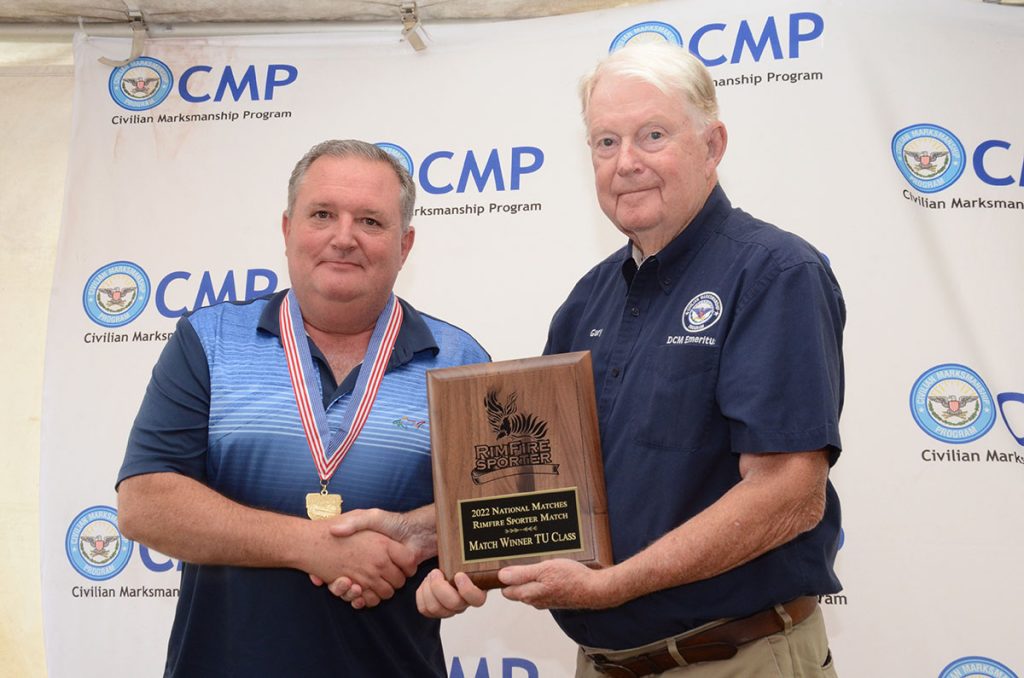 In the TU Class, David Zwingman, 52, of Saginaw, Michigan, fired an aggregate score of 590-48X to overtake the match – like Payne, earning perfect scores of 100 in the slow fire and rapid fire prone stages. He also marked scores of 99 in both standing slow and rapid fire portions.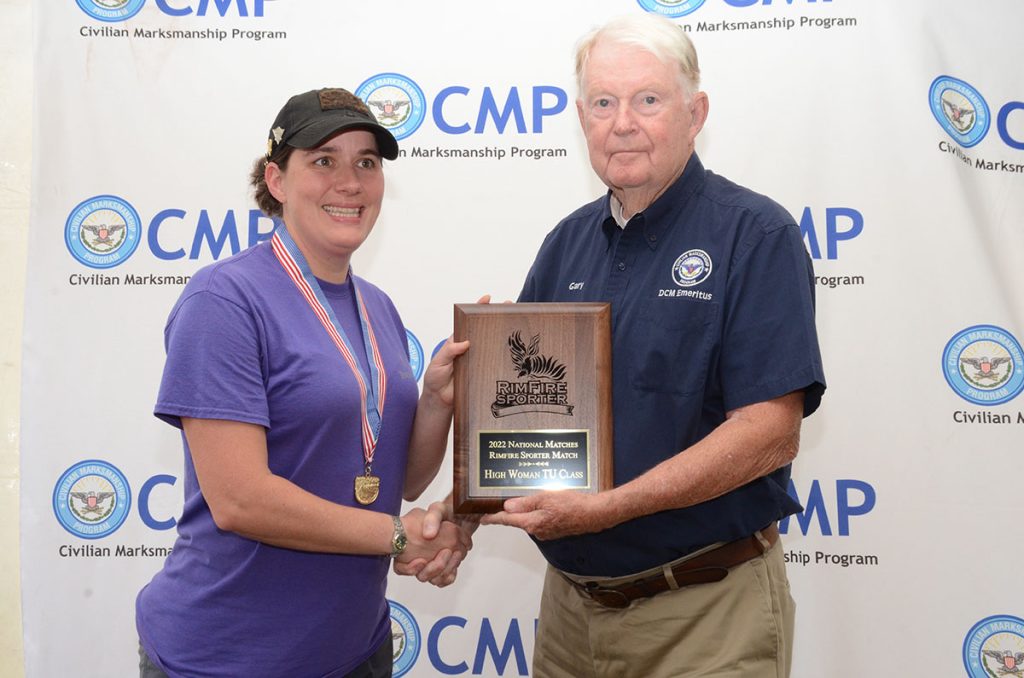 Falling just two points below Zwingman for second was Rachel Jones, 36, of Cocoa, Florida, as Matt Kellgreen, 35, Leetonia, Ohio, trailed Jones by one point for third. Jones was also the High Woman of the match.
Calvin Johnson, 61, of Ashtabula, Ohio, finished in fifth with the High Senior ranking, while Brendan Dunn, 15, of Taylorsville, Georgia, earned the High Junior spot.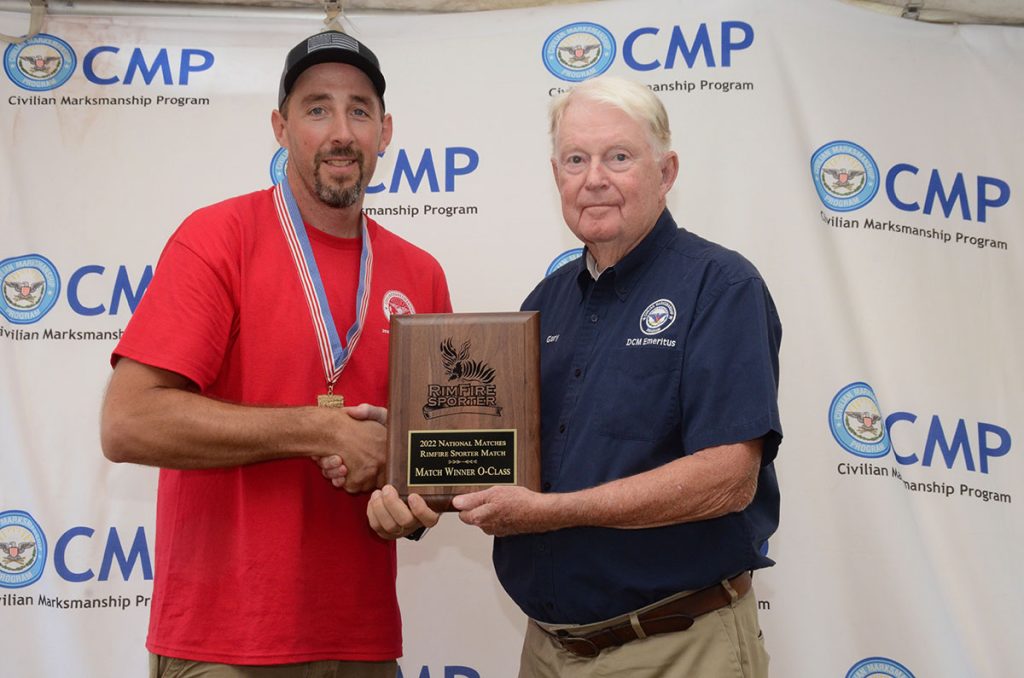 Leading the O-Class Championship was Brian Williams, 48, of Granby, Massachusetts, with a score of 577-21X. Following in second was Bryan Wiles, 25, of Shepherd, Michigan, with 571-9X, as James Stewart, 57, of Eaton Rapids, Michigan, took third.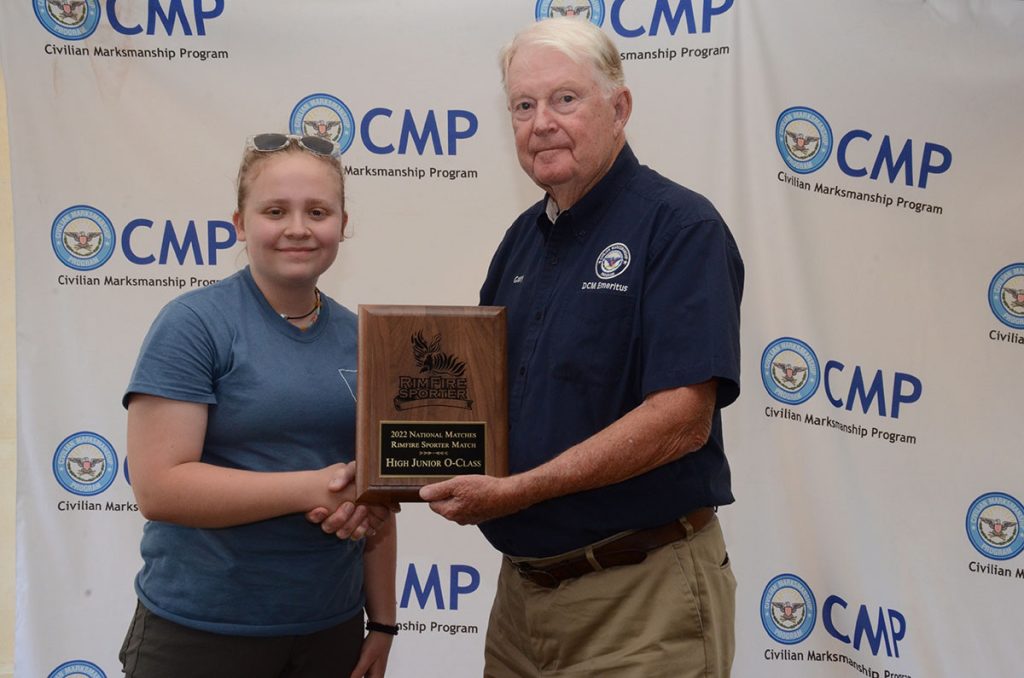 High Junior of the O-Class was Lucy Evans, 14, of Rydal, Georgia, and LTC Amy Tombley, 57, of Canton, Michigan, claimed the High Woman title. Thomas Dean, 68, of Perry, Michigan, earned the High Senior title with a score of 559-11X – landing in fifth overall in the class.
Also firing during the National Rimfire Sporter schedule was the Rimfire Dewer Match – introduced at last year's National Matches. Participants in the event fired 20 shots from both 50 and 100 yards in 20-minute stages. Winning the 2022 match for the second year was Eric Mantooth, 53, Ft. Oglethorpe, Georgia, with a score of 391-13X.
Find a complete list of results of the 2022 National Rimfire Sporter Match on the CMP's Competition Tracker page at https://ct.thecmp.org/22nmrimfireresults. Photos of the event are available for free viewing and download at https://cmp1.zenfolio.com/f285263105.