Past CMP Scholarship Recipient Becomes Collegiate Pistol Competitor
July 21, 2016
Civilian Marksmanship Program
▸
The First Shot
▸
Past CMP Scholarship Recipient Becomes Collegiate Pistol Competitor
By Ashley Brugnone, CMP Writer
Irina Andrianova's entire marksmanship career has been cultivated from conquering her fears.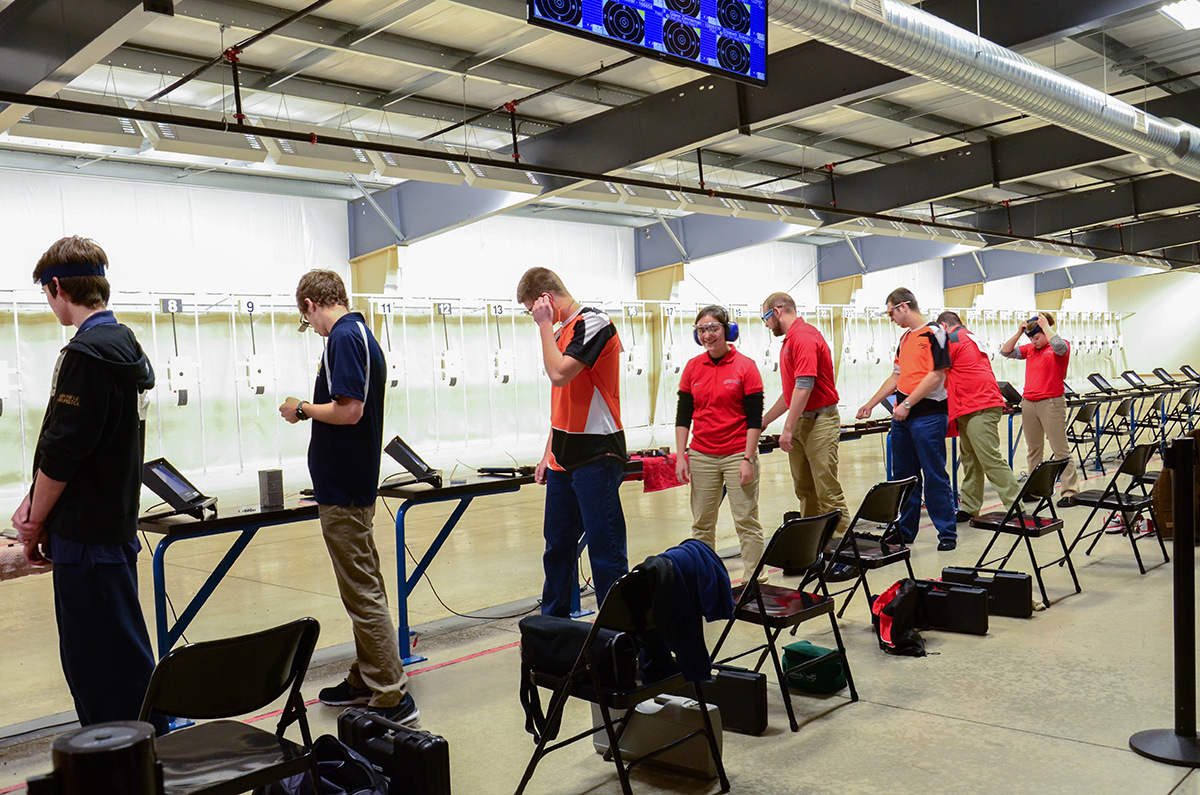 Now going into her junior year at The Ohio State University, the 20-year-old is majoring in biology and is also a member of the Ohio State Pistol Team. Though a dedicated member of the team and passionate about marksmanship, it wasn't always something that interested her. In fact, it frightened her.
"I was, initially, scared of guns and didn't want to go anywhere near them," she explained. "My dad got a gun and I said, 'Keep that thing away from me!'"
Her father, Anatoly Andrianov, happens to be an accomplished marksman himself – Distinguished in both Service Pistol and .22 Rimfire Pistol. One day, when she was in middle school in Schaunburg, Ill., he convinced her to join an "archery club" – which actually turned out to be an air gun club (a detail she had missed while speaking to her dad in Russian).
Fearful of the guns in front of her, she managed to give them a chance. Then, her fear turned into infatuation, which eventually flourished into a lifelong love. Irina tried both rifle and pistol, unsure of which discipline she wanted to pursue. She carefully studied the details of each, right down to the wardrobe.
"In rifle, you get to hold these cool guns, and it seems so intricate. And the gear and the clothing – it looks kind of cool. Which, in pistol, we don't have any special uniform to wear. But at the same time, they have a lot more luggage to carry around. So there's a benefit with pistol – we have less stuff," she joked.
Outside of the accessory aspects, it was the intensity of pistol that kept her interested.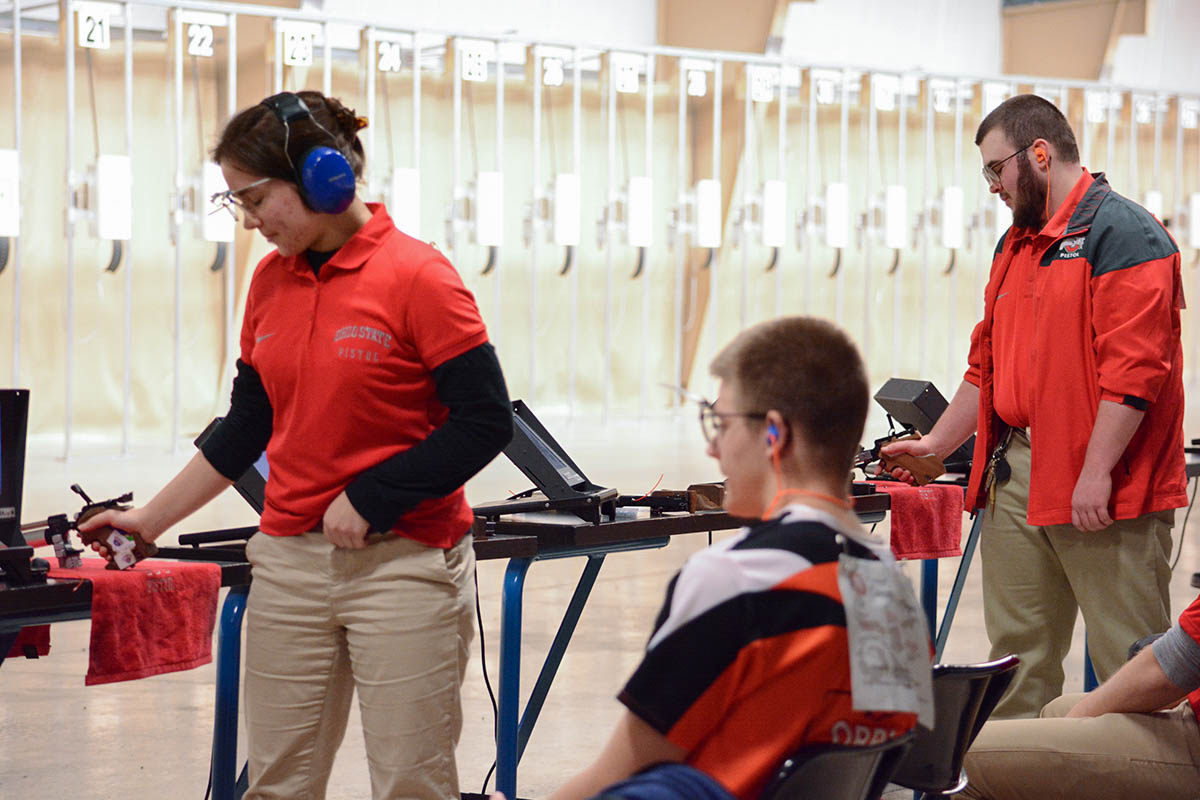 "Pistol is a challenge. You have to use one hand. You have to have a strong arm! With rifle, you get help with your stance, but not with pistol. That's the reason I chose it."
Irina started with air pistol, then after watching her dad shoot larger caliber firearms, she became intrigued and wanted to try something new. That was when she became involved with .22 pistol shooting before moving on to sport pistol and bullseye.
Her senior year of high school, Irina won at the Junior Olympics in sport pistol and traveled to Germany and Spain for even more competitions. With the competitive itch within her, she was ready to look for colleges that would allow her to continue her career.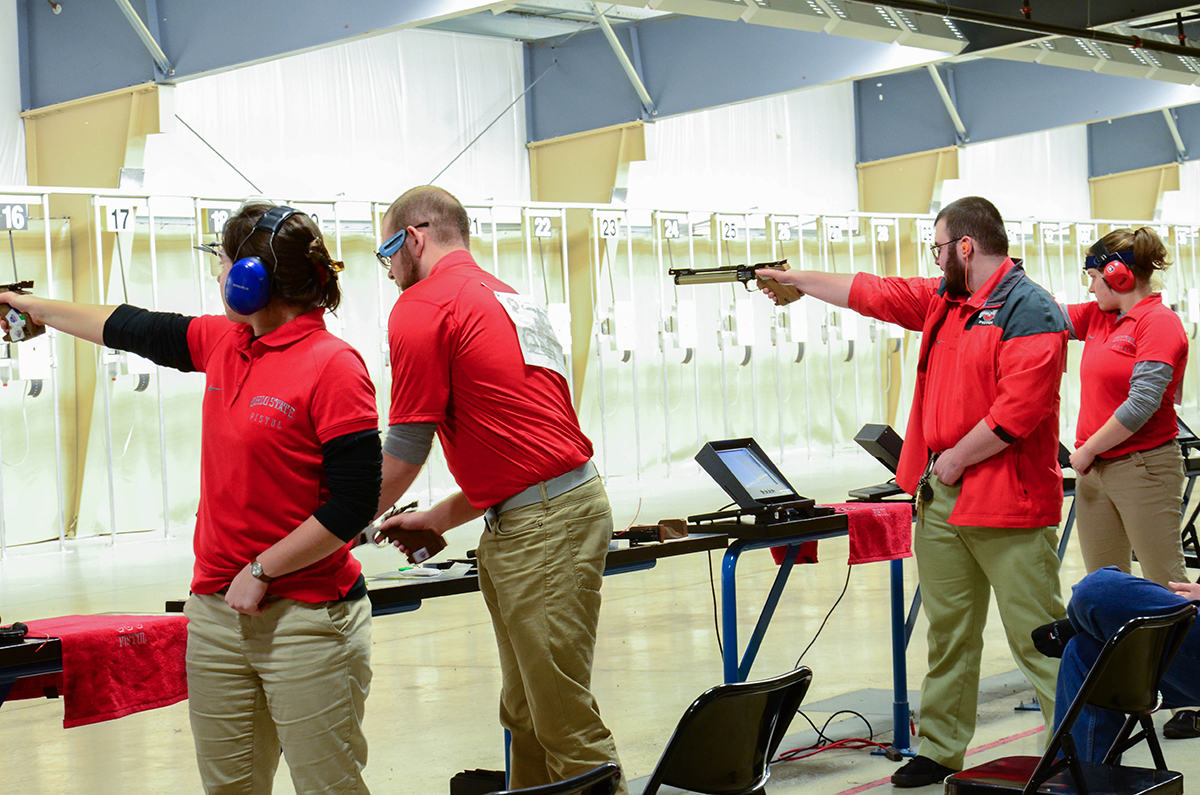 After searching and searching, the one college she continued to come across was The Ohio State University. Many schools only offered pistol as a club sport, but Ohio State offered more, which made it her top choice.
Unfortunately, she almost didn't get to attend the school because Ohio State's coach was unaware that she was even interested in joining the team. Luckily, at the last moment, Irina reached out and talked to her as a way to get noticed.
"It's also good to practice and be competitive because going out for scholarships, the schools are looking for that," she said. "Other schools also have clubs that go to the big collegiate events, so that's definitely an option too. And still a great experience."
Since she had mostly only shot with her dad back home, going to college was an adjustment. Leaving meant she would have to compete without him – the biggest influence in her life.
"It was so weird not having my dad at matches!" she said.
"He shoots a lot, and it kind of motivates me to compete too and be as good as him because he's pretty good," she added with a laugh.
The absence of her dad and walking into the unknown brought back the fear she once felt for the sport. But just as she did at the air gun range when she was young, Irina picked up her reservations and fired towards her future.
"It was kind of scary – getting to know the new people and team, because I didn't really know any of them, and I was going to be spending a lot of time with these people!" she said. "But now, they're kind of like my family away from home."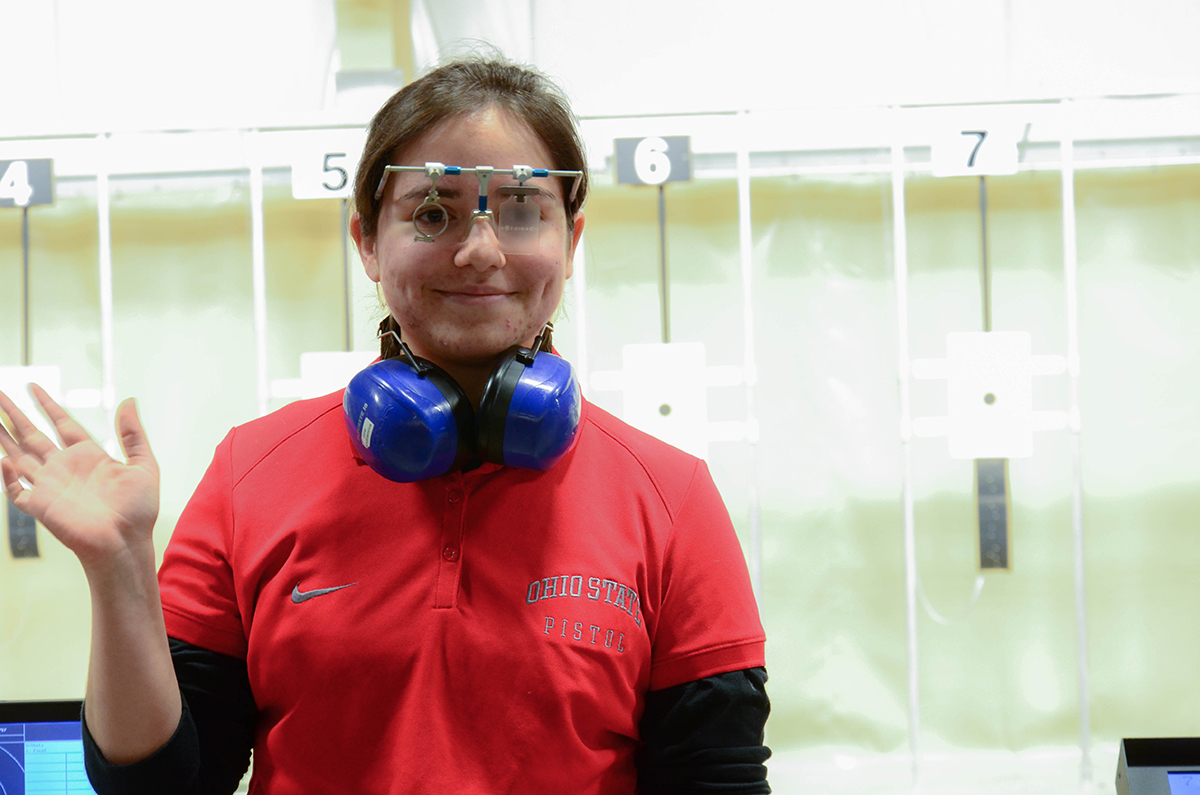 Working with different coaches was also an experience for her. She had to get used to fresh expectations and mentalities, as well as balancing school on top of practice.
"It was fun. It was a bit of a challenge, getting used to the whole schedule because I was getting used to the college and also the team," she said. "But I still enjoyed it because it's fun being part of a team, with that whole 'family' mentality."
Her first match at Ohio State, she was extremely nervous. Unlike her teammates, she was unable to explore the range beforehand because she was competing in an international event. She wasn't sure what she was supposed to do with the target system or even where she needed to be.
"I had to kind of look at my teammates and go off of them. They helped me along," she said.
Her time as a member of the pistol team has, so far, been successful. The year before she arrived at Ohio State, the team won a National Championship. Her freshman year, they repeated the feat, as well as her sophomore year. Individually, she has won multiple times and has even achieved an overall aggregate women's title.
Last year, she traveled to South Korea for the World University Games as a member of Team USA. Then, in June 2016, she competed in a national competition at Fort Benning, Ga., against adult competitors. Having only been a junior marksman at that point in her career, the experience allowed her to see how she measures up against some of the best shooters in the country – including some Olympians.
"Just to see how other people are shooting their stances, I think about myself, and it just motivates me to do more," she said. "This summer, I've spent a lot of time on training and getting physically ready."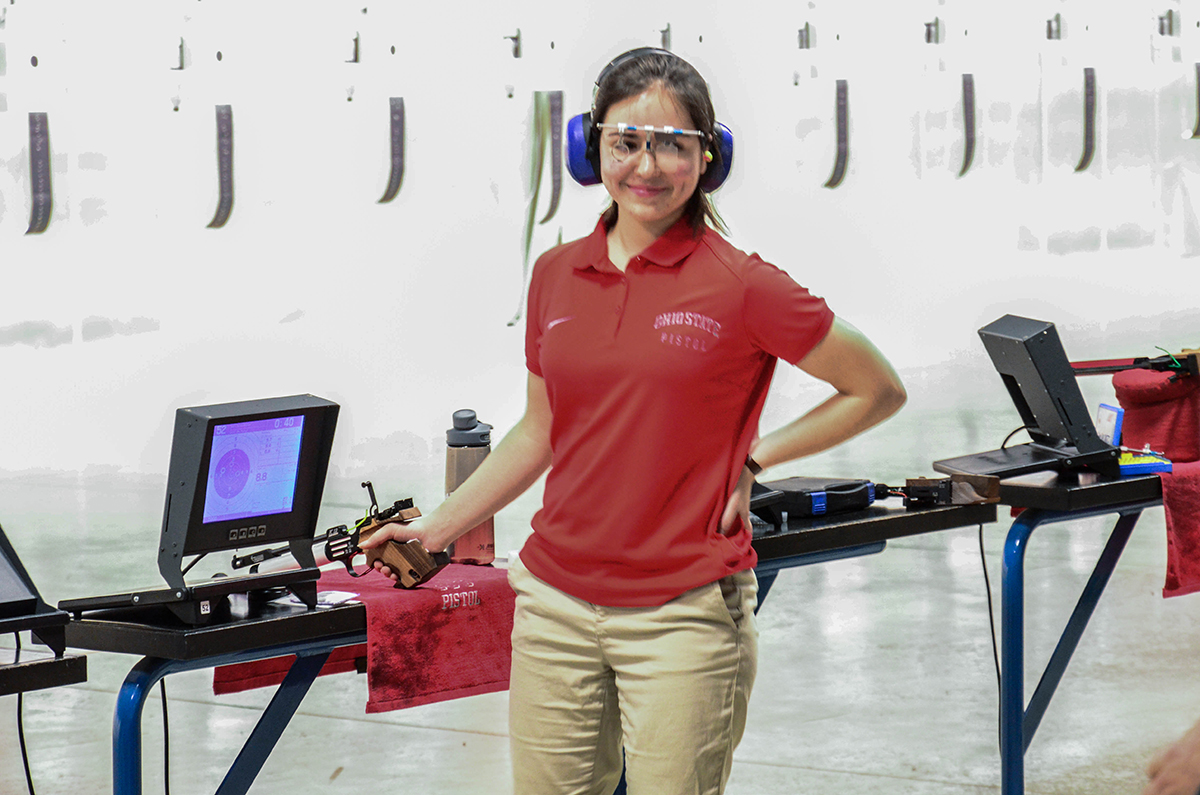 In the future, she will be training hard for her ultimate goal: competing at the 2020 Olympics. She is also looking forward to becoming a mentor to the incoming freshman to the team who may be nervous of the what's to come. Undoubtedly, they will soon leave their fears behind – just as Irina did.
"I want to be friends with them and get to know them so it's not a scary situation and they find it easier to adjust to different people and a different environment," she said. "I know I can't imagine myself anywhere else now."