Paralympic Athlete Gets First Taste of Competitive Shooting While Making History
December 14, 2018
Civilian Marksmanship Program
▸
The First Shot
▸
Paralympic Athlete Gets First Taste of Competitive Shooting While Making History
By Ashley Brugnone, CMP Writer
CAMP PERRY, Ohio – Back in June, Moira Antal, 14, of Bealeton, Va., helped make history as she became the first Paralympic athlete to compete at the Civilian Marksmanship Program's (CMP) Three-Position Air Rifle National Championship, held at the Gary Anderson CMP Competition Center at Camp Perry, Ohio.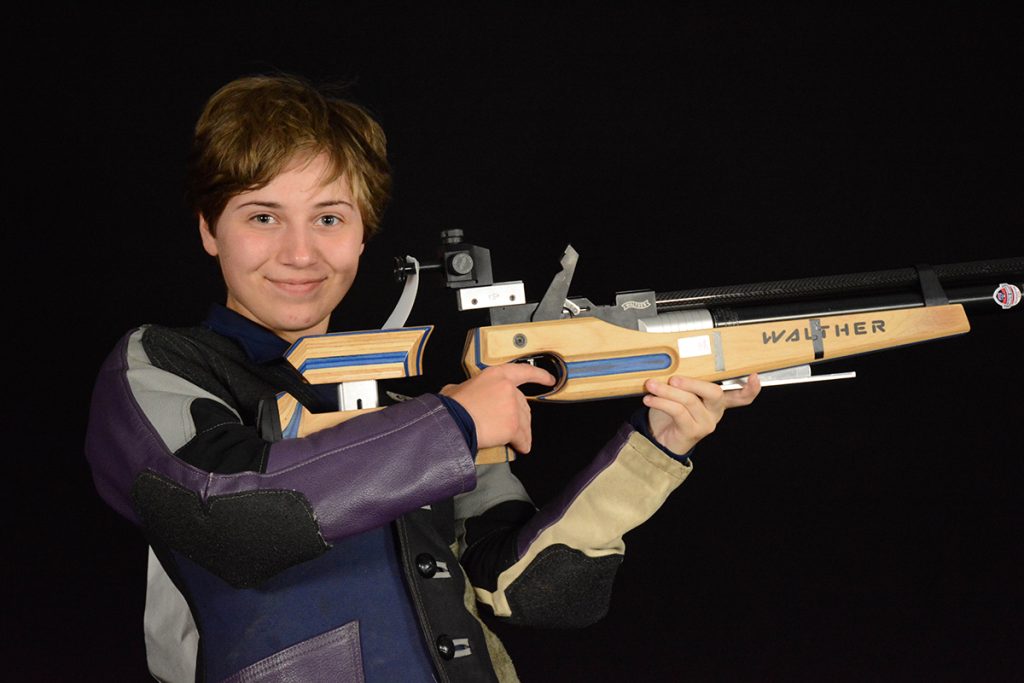 "It's very fun," she said with a laugh, speaking of competing in air rifle. "It's calming. When I shoot, I zone out and let my mind run off wherever it wants, and I just shoot – that's it."
Moira has arthrogryposis, a congenital joint contracture that has affected her since birth. She's also missing two major muscle groups, a bicep and quadricep on her left side, and through the years has additionally developed arthritis, with 10 surgeries to date.
"Her doctor said she would never walk, but here she is," explained her mother, Wendy, as she looked at Moira and smiled. "She doesn't like to be told, 'No.'"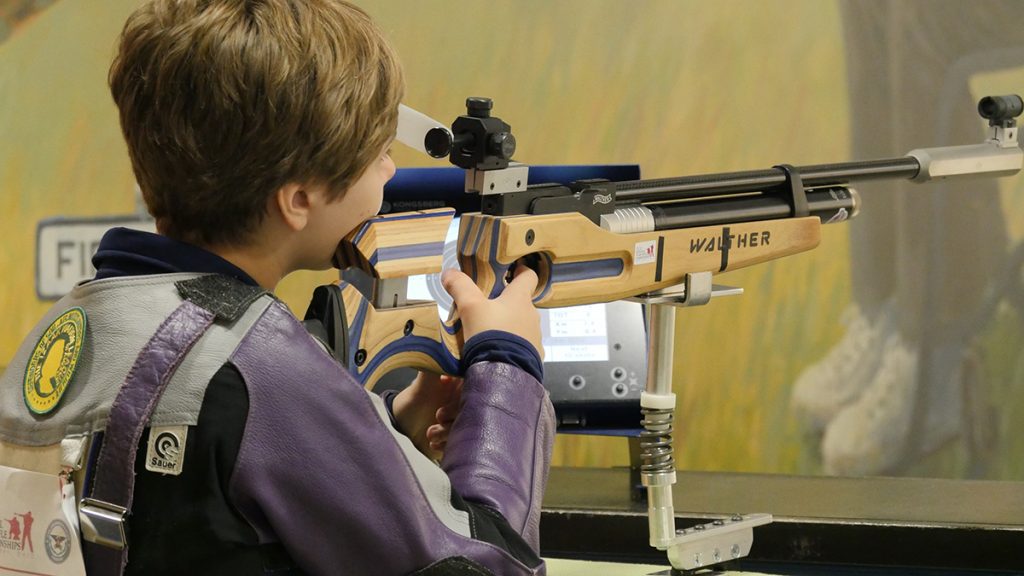 This year was Moira's first traveling and competing in marksmanship, having joined the sport about two years ago and even becoming qualified as an NRA coach for other Paralympic athletes. During this initial test of real air rifle competition, Moira traveled to and competed in the first-ever Junior Paralympics in Colorado Springs back in April – hand-picked as one of three to participate in the event.
And, from that trip, she brought home some hardware – one silver and one bronze medal.
She went on to compete in the Virginia Junior Olympic 3PAR State Championship before qualifying for the CMP National Championship in the summer of 2018.
"It's been a blessing being able to compete here (Camp Perry), especially her first year," Wendy said. "It being opened up to adaptive shooting – it's been wonderful."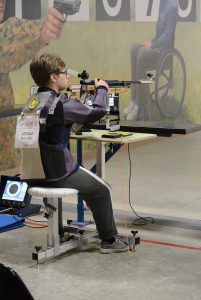 Along with setting a first in the range, the trip was also a first for Moira, who had never before been to Camp Perry. She was accompanied by her coach, Matt, as well as Wendy, who evidently walked into a whirlwind of nostalgia as she passed by the buildings on post.
This wasn't Wendy's first trip to the legendary grounds of Camp Perry. She actually carries with her a background as a talented highpower competitor, having grown up making the trek, as a teenager, to compete at Camp Perry every year. Now, she serves as both mom and marksmanship mentor to her daughter.
"It's one of those wonderful sports where you can take people from all different levels of physical abilities, capabilities, all walks of life," Wendy said as she took in the room – recalling the memories of her own marksmanship days.
Moira, the next generation of a growing competitive shooting family, first held a rifle when she was around 4 years old, an air rifle, since it didn't have the recoil of some of the more powerful firearms. She showed talent from that first encounter, firing at balloons and hitting nearly every one.
The patriarch of the family, Moira's Grandpa Ernie, or "Pop Pop," as he's called, was the president of the Izaak Walton League shooting range near their hometown. He, along with Wendy, was an integral force in getting her involved in the sport, watching her shoot at the range every year when open shooting was offered.
"They both showed me air rifle and different types of shooting," Moira said. "I really liked it from the first time I shot it."
Pop Pop was aware of Moira's physical challenges, but it didn't slow him from teaching her the sport. The way he described it to her – even through they're very different, physically, they can still shoot together and be on the same level.
"That's why I love this – because it's an equal-opportunity sport," said Moira.
Off of the firing line, Moira enjoys being with her siblings, an older brother, Harley, 21, who is a Navy corpsman, and a sister, Patricia, 16, who Moira lovingly describes as a "theater geek." Moira also takes an interest in drawing and hopes to someday become an engineer who specializes in developing and designing prosthetics and orthotics for animals. Her passion towards animals stems from the love of her two dogs.
"They're my babies," she said with a grin.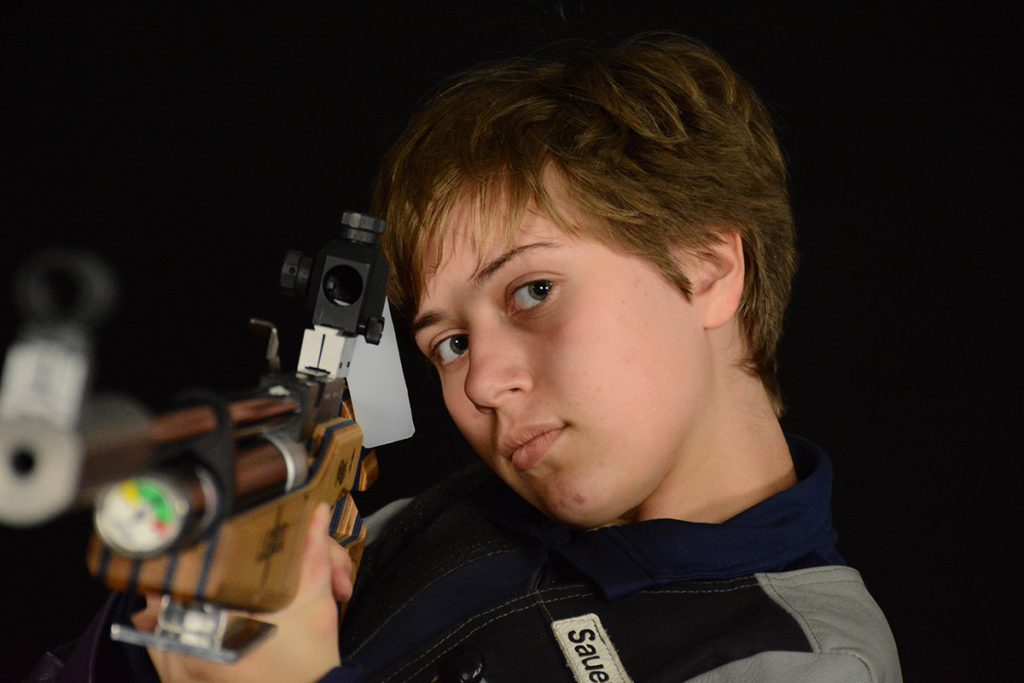 As for shooting, Moira says she'll definitely stick with it and will be back to Camp Perry and other ranges again, with mom, Wendy, in tote.
"We're looking forward to seeing how this opens the door for other adaptive athletes," Wendy said. "It's been a beautiful experience. We've really enjoyed it."
Moira encourages others to join in on the world of marksmanship, urging plenty of education before jumping into the complex sport.
"Try it before judging it," she said. "Do some research."
"It's rewarding. It's just nice," she added.
To find out more on Paralympic Shooting opportunities, including its history and current classifications, visit the USA Shooting website at http://www.usashooting.org/about/paralympicshooting.