New EIC Event, History-Making Score Make 2015 Eastern CMP Games One to Remember
May 29, 2015
Civilian Marksmanship Program
▸
The First Shot
▸
New EIC Event, History-Making Score Make 2015 Eastern CMP Games One to Remember
By Ashley Brugnone, CMP Writer
CAMP BUTNER, NC – Over 400 competitors made the trip to Camp Butner to compete in 953 event at the 2015 Eastern CMP Games. This year's Games included incredible highlights, including the introduction of a new EIC pistol match and a record-breaking, historical performance by a talented junior marksman.
For the first time, competitors have the opportunity to receive a .22 Rimfire Pistol Distinguished Badge with the introduction of the new .22 Rimfire EIC Match Course. During the match, competitors fire a total of 30 shots from 50 and 25 yards. The Top 10 percent received their first EIC points towards their Distinguished Badges.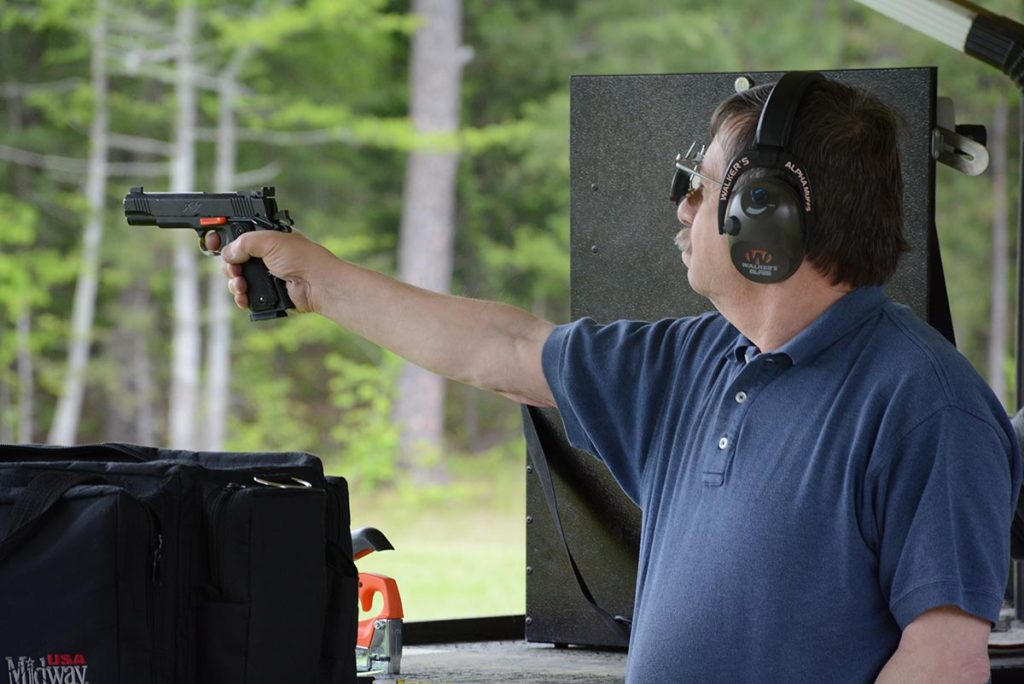 With an overwhelming amount of participation (nearly 70 competitors), it quickly became evident that many were excited to try the new match – and for a variety of reasons.
"I went Distinguished in rifle, and I'd like to get Double Distinguished," said Leonard Lapato, 68, of Greensburg, PA.
"I'm not as good as I'd like to be," he said with a laugh. "But I'm working on it."
Adam Kopstein, of Riverdale, NJ, is also chasing after his EIC points towards becoming Distinguished in the match – aiming to be that first talented competitor to receive a badge.
"I want that low number," he said, jokingly but with some truth to the statement. "It's no problem. Easy."
Though earning a Distinguished Badge is a tough and worthwhile goal for competitors, some wanted to try the new match simply for the enjoyment.
"I just thought I'd try it out," said Roy Leidy, 52, of Northampton, PA, as he smiled. "I was here competing in other things and thought, 'Why not?' And it's a lot of fun."
Many are now on their ways to receiving badges, while only one was named the first overall competitor of the .22 Rimfire Pistol EIC Match at the Eastern CMP Games.
Hurdis Davis, 52, of Marietta, GA, fired an aggregate score of 283-5x to be named the overall champion. David Lange, 46, of Glen Rock, NJ, and Thomas Willats, 52, of Potomac, MD, earned second and third as they only separated themselves by the x-count – scores of 279-9x and 279-7x, respectively.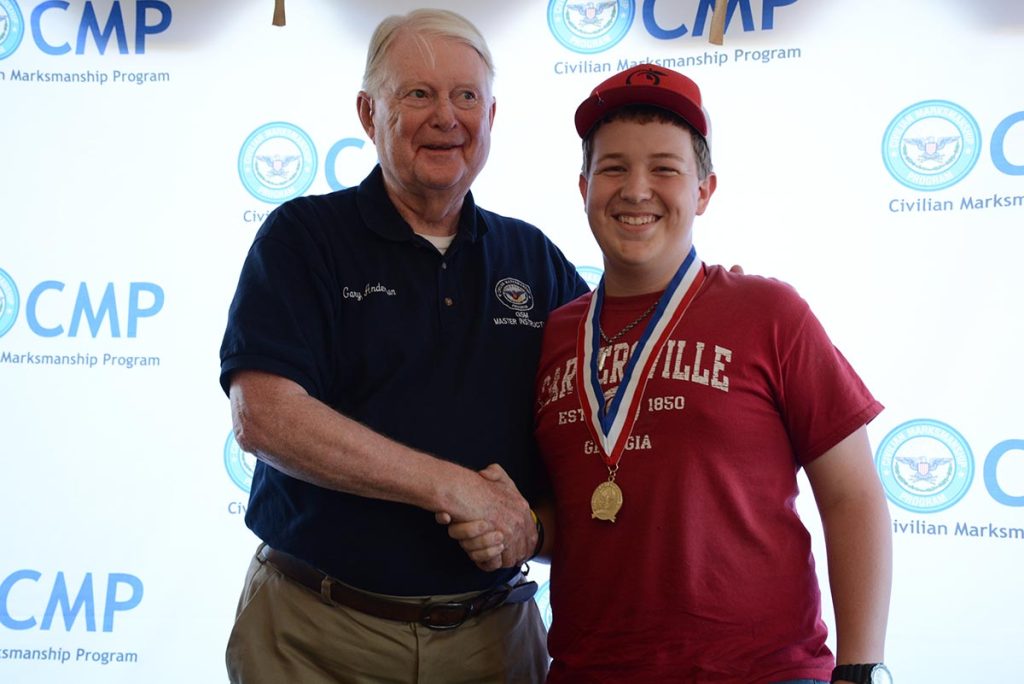 Samuel Payne, 16, of Kingston, GA, etched his name forever in the records books by becoming the first competitor to ever fire a perfect score in the Rimfire Sporter Match, with an unbelievable score of 600-50x in the T-Class.
"I pulled the trigger, and I thought, 'Oh my gosh, I just did it. I'm the first one,'" he said with a smile, thinking back on his incredible feat.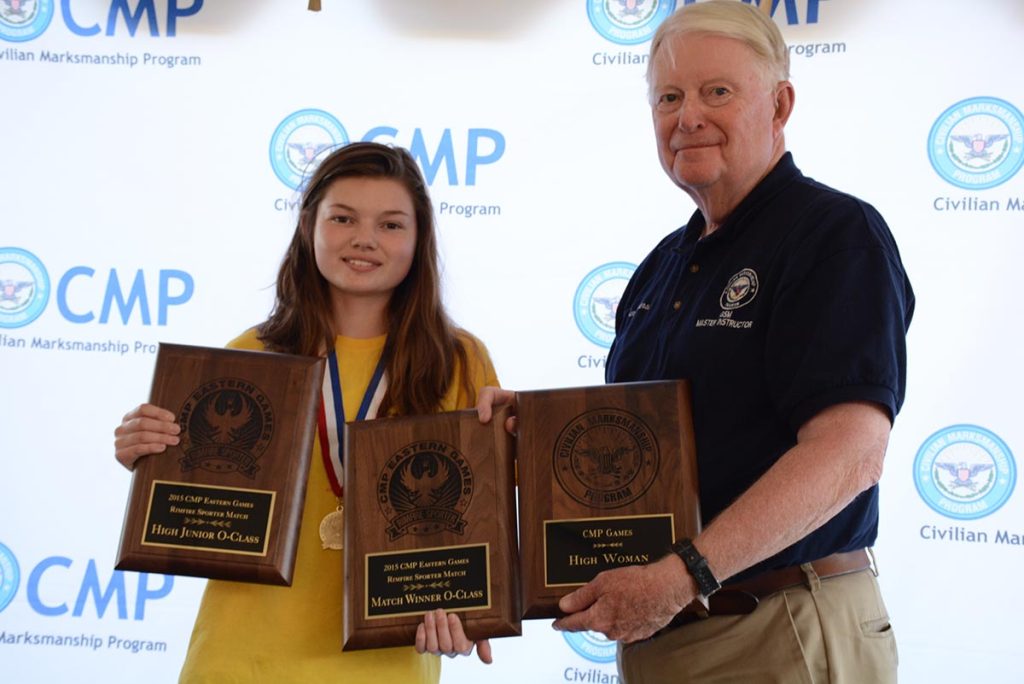 The junior ladies also gave outstanding performances during the Match as Leah Martin, 15, of Cartersville, GA, fired an impressive score of 587-23x to become the High Woman in the T-Class, while Jessica Hudson, 16, of Halifax, VA, recorded a score of 581-27x to receive the High Woman and High Junior honors for the O-Class.
In the M16 EIC Rifle Match, Jared Smith, 41, of Garner, NC, tallied the winning score of 387-13x. Donald Sprowl, 67, of Monson, MA, was the High Senior of the match, with his score of 369-3x.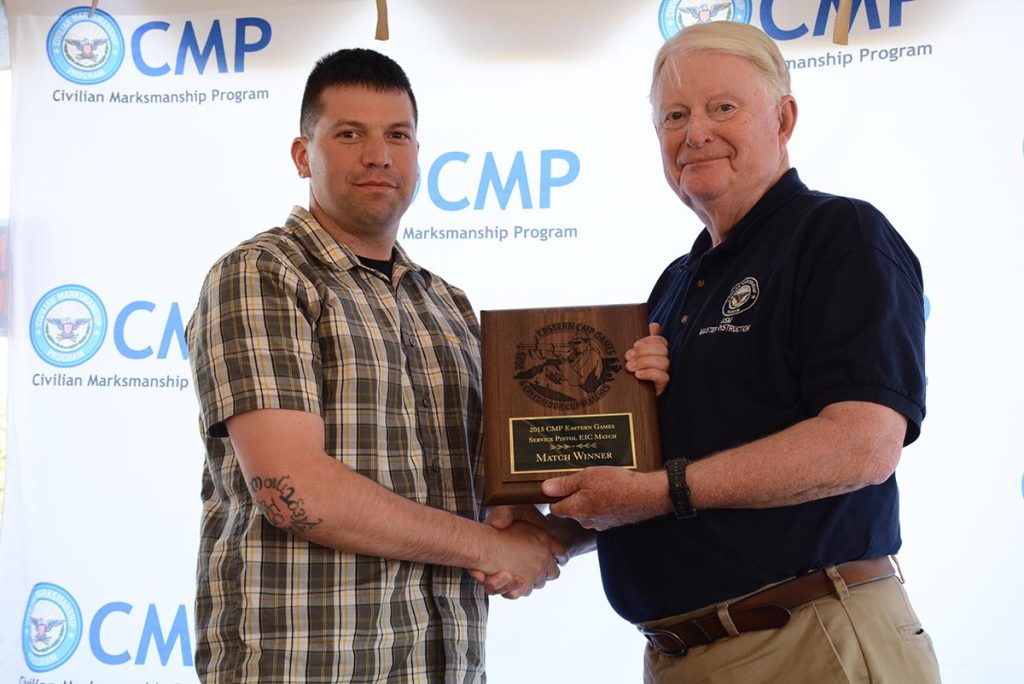 SSgt. Jonathan Shue (USMC), 33, of Stafford, VA, was the overall leader in both the As-Issued 1911 Pistol Match and the Military & Police Service Pistol Matches, while David Lange narrowly pulled out the win in the 40 Shot Pistol Match by only three x's with a score of 368-10x.
In the Garand-Springfield-Vintage Military-Modern Military competitions, David Thompson, 53, of Keyser, WV, overtook the Three Gun and the Four Gun Aggregate, with scores of 846-15x and 1136-21x, respectively.
During the Vintage Sniper Team Match, "Southern Boys," fired an aggregate score of 390-13x for first place, beating out "Dos Hombres" by only one point. Team members of Southern Boys were William Fairless, 60, of Vienna, IL, and William Ellis, 50, of Langley, England.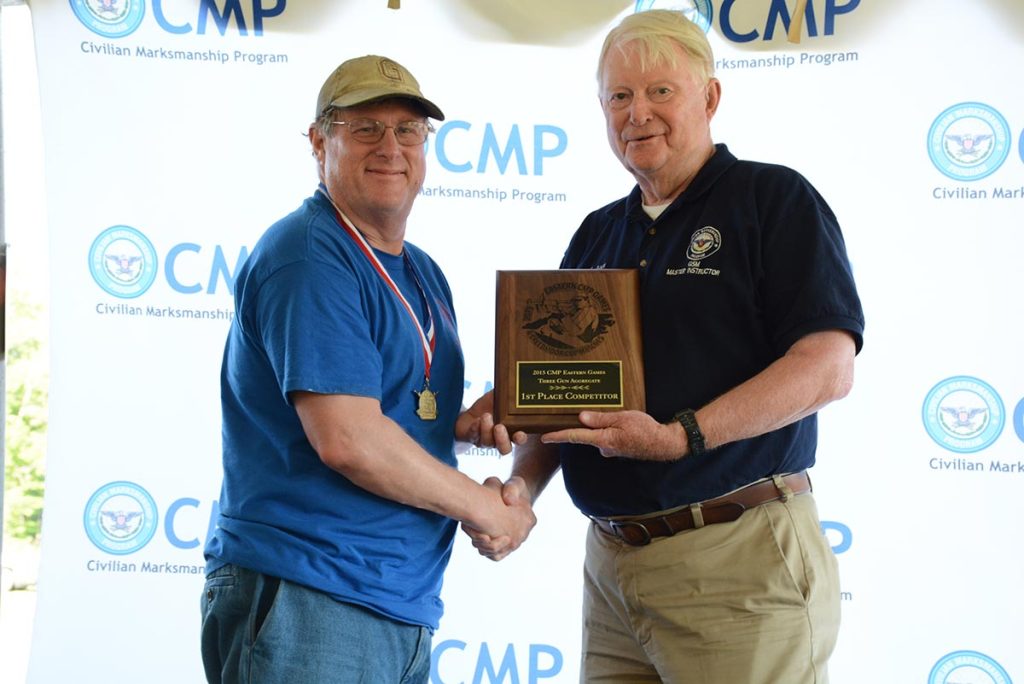 Jeff Rowsam, 59, of Denmark, WI, added a little fun to the Sniper Match by donning his authentic British WWII Royal Marine uniform. Rowsam wore his Denison smock throughout the entire match as he shot his British WWII Lee-Enfield No. 4 (T) Sniper Rifle.
"I always wanted to shoot it, and I had the jacket. My father bought it in about 1969, and I thought that was long enough for it to sit," he said. "I think it does lend something to the match. I've seen the guys in ghillie suits and stuff, WWII fatigues, so I thought I'd do it."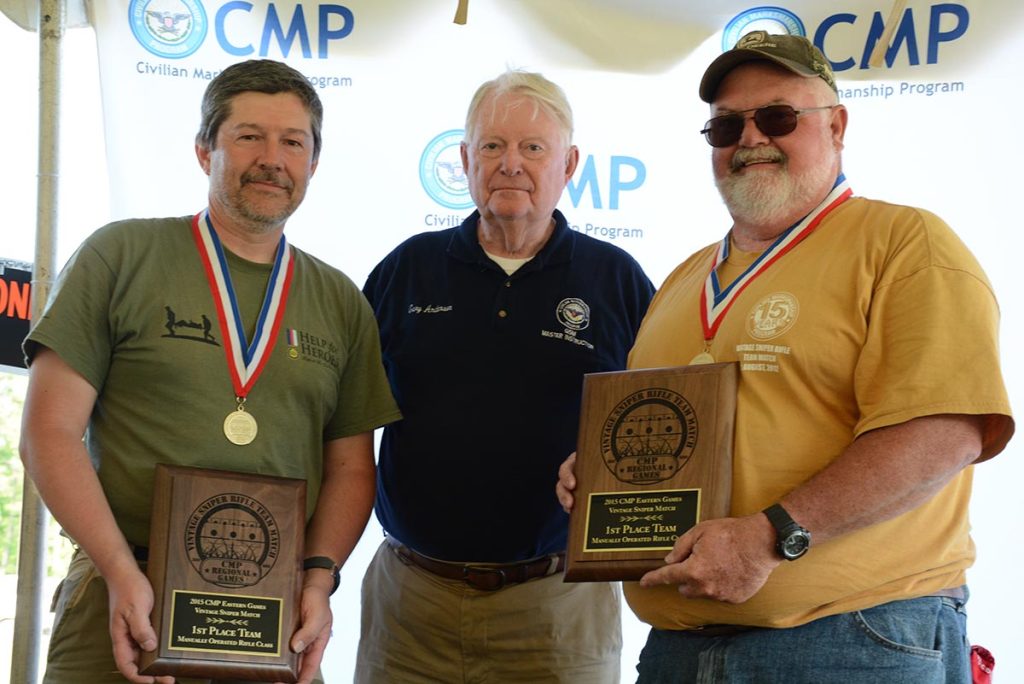 With a rainy start to the Games, a hot and sunny final day marked the end of another unforgettable trip to Camp Butner. Just as every other year, competitors left with new memories – looking ahead to more to come during next year's event.
The Eastern CMP Games also had several award sponsors. The High Competitor with no EIC points in the M16 Match (Jared Smith) was awarded a Bushmaster Patrol Carbine Rifle donated by Remington Firearms.  Remington also donated a Remington Model 597 HB to the Best Center Shot Standing Rapid Fire Stage O-Class, Erin Willis.  Sam Payne won a Savage Rifle (Winner's Choice), donated by Savage Arms, for the Best Center Shot Standing Rapid Fire for T-Class. Colt Manufacturing donated a MT6601 Match Target Rifle.  This rifle was awarded during a raffle drawing and awarded to Gene Beliveau. Three Dupage Stocks donated by Dupage Trading were also awarded along with a barrel donated by Criterion Barrels.
For a complete list of the 2015 Eastern CMP Games results, including the Carbine, Pistol Team and other matches, visit http://ct.thecmp.org/app/v1/index.php?do=match&task=edit&match=12086. Photos of the event can be found at http://cmp1.zenfolio.com.