New Competitor Makes Roaring Entrance at CMP Travel Events
June 7, 2017
Civilian Marksmanship Program
▸
The First Shot
▸
New Competitor Makes Roaring Entrance at CMP Travel Events
By Ashley Brugnone, CMP Writer
When spring hits, rifle and pistol competitors gather their equipment and prepare for another round of thrilling competitions across the country. The eager marksmen load up their trucks, vans, trailers – hauling their cargos with as many wheels as they can get moving. But one competitor at the Civilian Marksmanship Program's (CMP) Travel Games this spring, with a squeeze of his handlebars and a little throttle, hopped on just two for his first taste of rifling matches.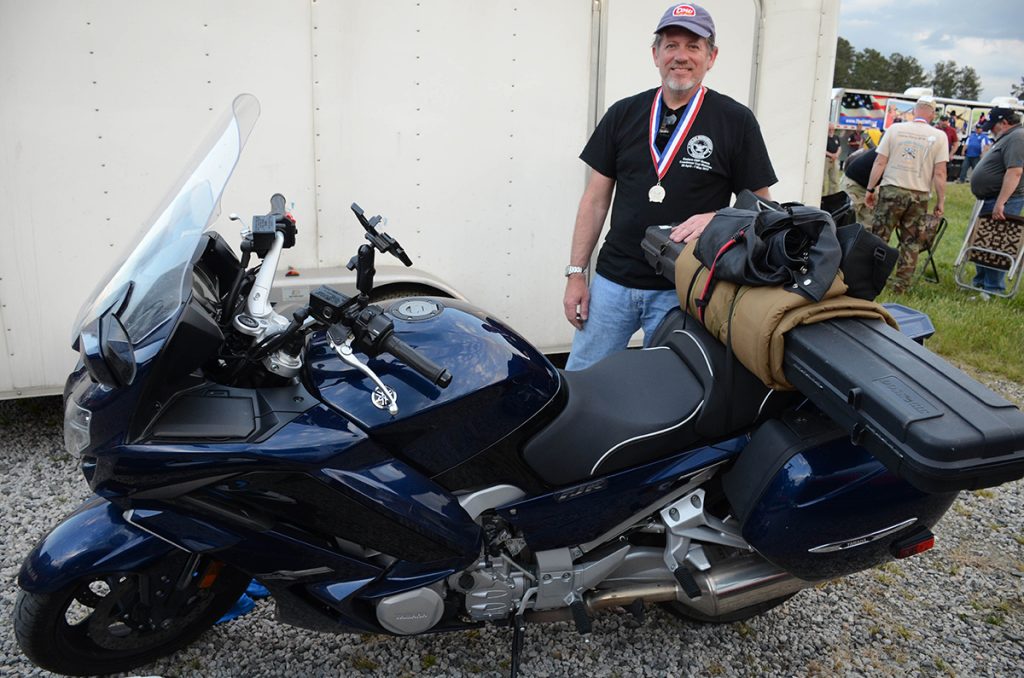 Rolling up to the range on his motorcycle and generating some curious glances was Rock Planck, 52, of Indianapolis, Ind., who rode cross-country with his .22 rifle strapped to the back of his Yamaha FJR1300 during his long journeys to fire in the CMP's Oklahoma and Eastern Games.
"You do get the stares when you're driving because I have my rifle bungee corded to the back like a little wing or something. But I just do it because – I just do it," he explained, simply.
Rock is an avid motorcyclist. Last year, he spent three weeks in Montana on his bike, and he's also been to Philadelphia and rode a Honda Rebel 250 from Orlando to Indianapolis. Rock also occasionally tries Iron Butt rides, which is long-distance riding, but for now, he mostly just cruises around for the amusement of it.
"It's much like shooting," he said. "You end up meeting the nicest people who help you. It's like a brotherhood, so I'm enjoying it."
Rock is fairly new to shooting, though it was always a common pastime for his family growing up in Montana. When life got busy, he went over 40 years without picking up a firearm. Then, after getting to the point where his body couldn't continue his other interests, like soccer and horses, he decided he needed a new challenge.
"I missed that competitive spirit," he said. "More than anything, I just missed that challenge of trying to be better at something. It's not so much whether or not I win, I just needed something to learn, and I found this to be it."
Over the past year, he's gotten back into shooting as he inherited rifles from people in his life who have passed away. He currently practices at a range near the Indianapolis 500, about 10 minutes from his house. Most of the time, he's the only one there, and when he does get company, he's usually the only one laying and sitting in the uneven dirt – serious about getting his positioning just right.
Without anyone with real experience around him to teach the fundamentals, Rock began reading articles and watching matches – getting tips through webpages and YouTube. After researching how to get into shooting, coaching and instruction, he found information on the CMP. He enjoyed what the organization stood for and quickly decided to sign up for a match.
"How hard can it be, right?" he teased. "Shooting is easy – being good at it is something different."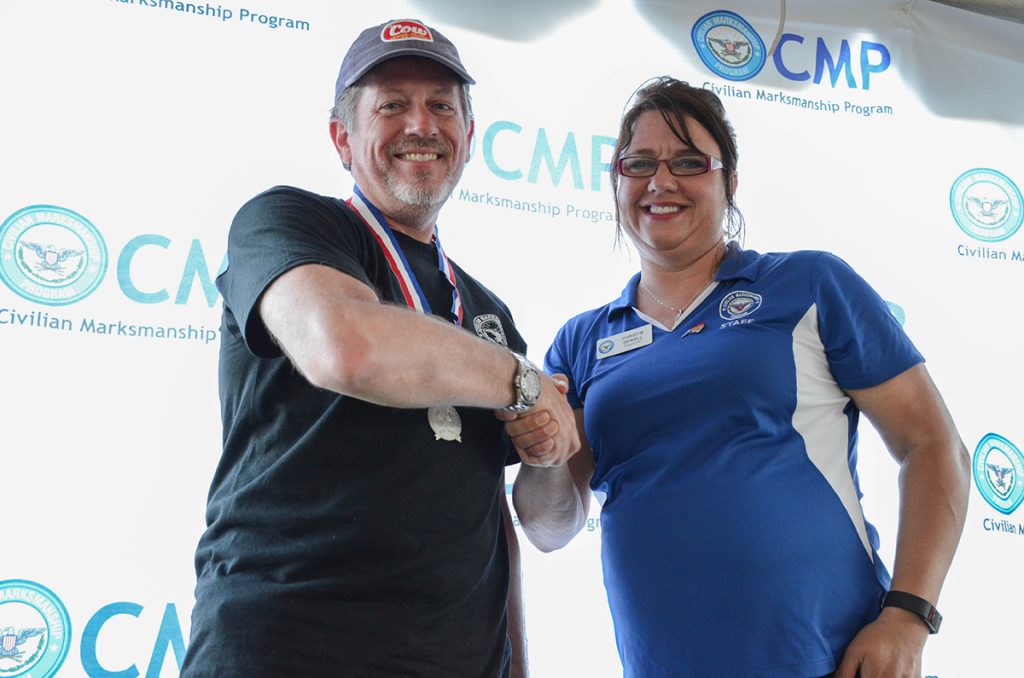 He had been to a few local events in Elkhart, Ind., before deciding to try the Oklahoma CMP Games in April. When it came to thinking about a mode of transportation to get there, the wheels began to turn – so to speak. It was time to break out the bike.
"I often don't think much of it because I ride it to work, I ride it most of the time anyway," he said. "So to me, it just makes sense."
It was at the Oklahoma Games that Rock first rode up on his Yamaha – gaining a lot of attention, which felt unusual to the regularly reserved guy.
"I'm really an introvert," he said with a laugh. "I don't talk to many people, but you show up on a bike and they're like, 'Well tell me about your bike!'"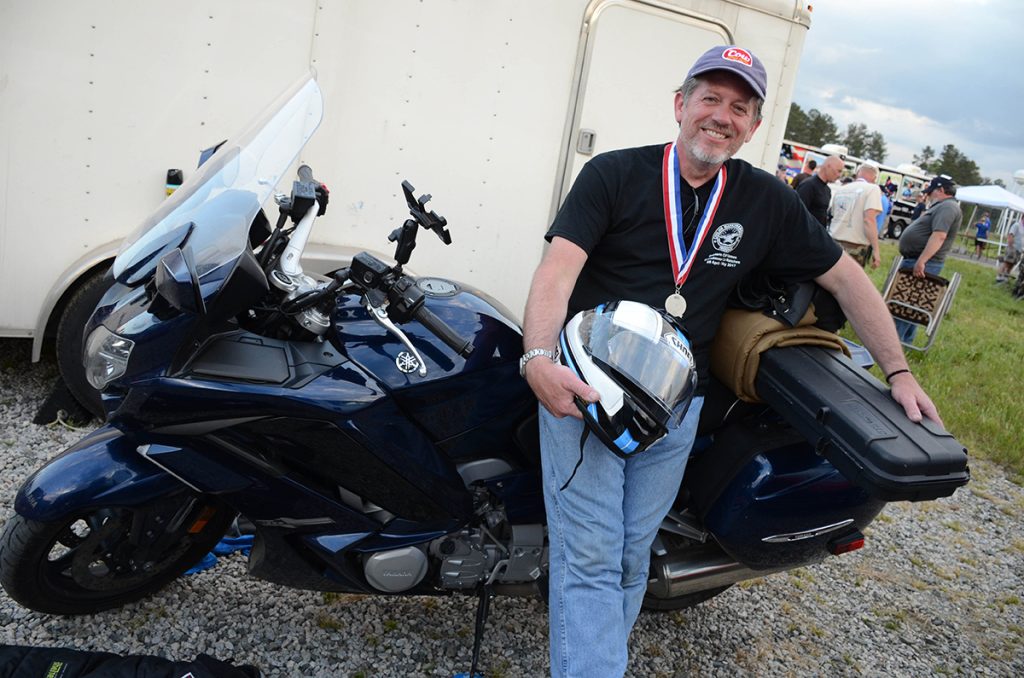 Once he stepped off of his ride and was primed to compete, Rock prepared mentally, nervously, for his first big competition – the Rimfire Sporter Match. Posting noteworthy scores of 99-6, 98-4 and even 100-5 in his first three positions, he remarkably finished in second place overall in the T-Class. He also fired the Garand for the first time, with a little coaxing from some fellow competitors on the range.
"They didn't ask, they just said, 'You're going to shoot my Garand,'" he said with a smile. "So the first time I had ever shot one was in competition in Oklahoma with a borrowed rifle with wind gusts of 40 mph – but I learned a lot."
Steve Cooper, CMP North General Manager, and others on the line helped him with operating the more powerful M1. Though using borrowed equipment, Rock settled right into firing the Garand Match and pleasantly surprised those around him with how quickly he caught on to positioning. They were even more surprised to find out that he's received most of his training from online sources – a new and growing trend in the marksmanship world.
When the event was over, he talked about all of his new experiences with his longtime girlfriend, Beth, who was somewhat apprehensive about him picking up a rifle again. However, once she saw how serious he was about the sport, he took her to the range to see how safe it was and made it a point to let her know the safety that is practiced at CMP matches.
"She was much calmer about it after," Rock said.
And, despite her reservations about shooting, Rock says she has always been extremely supportive of his new hobby.
"It was funny because I go and do this and I don't tell many people," he said. "But when I got second in Oklahoma, she was bragging about it. I thought, 'This is someone who doesn't like firearms, and now she's bragging about it!'"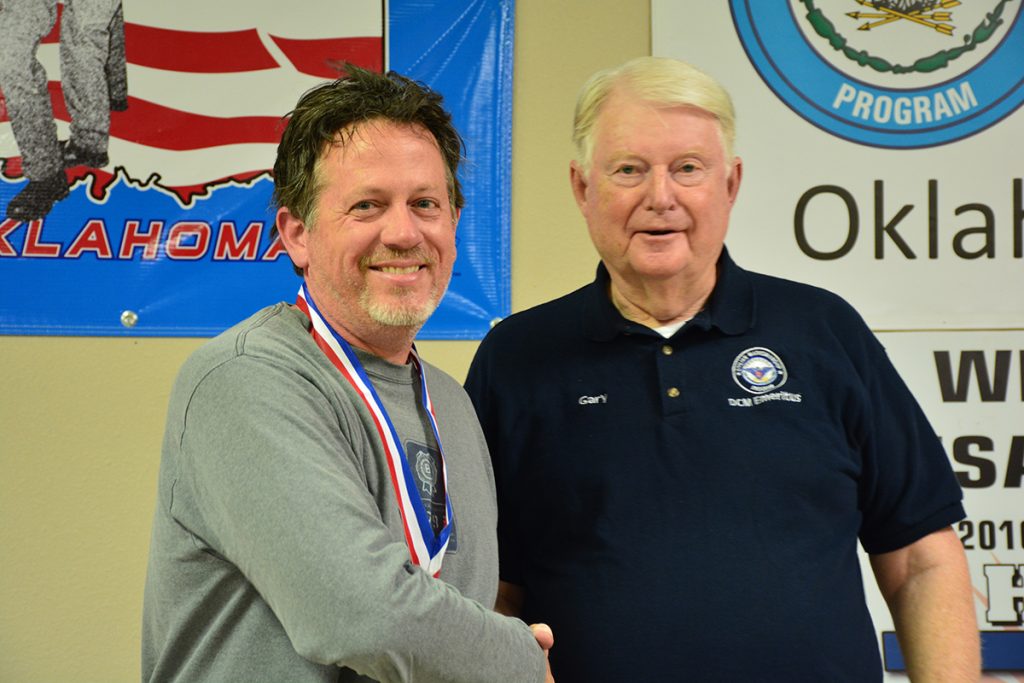 Rock also makes a point to tell Beth about the fair number of females that compete in marksmanship competitions. In fact, in Oklahoma and at the Eastern Games in North Carolina in May, he lost to a female.
"I think it's great that it's even footing," he said. "There are some fantastic female shooters out there. When I'm researching, I read about them as well. I'm glad that it doesn't matter."
He added, "You also can't buy your way into a place like in other sports. It's very fair."
As for his next rifle event, Rock is already signed up for National Matches in July – looking forward to the education he'll receive in the rifle Small Arms Firing School, with interest in pistol as well.
And, of course, he'll again be making his noticeable entrance into Camp Perry – rumbling up to the historic ranges with his rifle strapped behind him.
"That'll be a breeze. That's only about 5 hours from my house. Much closer," he joked.
View upcoming CMP Travel Games Events at https://thecmp.org/competitions/cmp-travel-games/.