National Air Rifle Champ Gains Unanticipated Highpower Experience at 2017 National Matches
September 21, 2017
Civilian Marksmanship Program
▸
The First Shot
▸
National Air Rifle Champ Gains Unanticipated Highpower Experience at 2017 National Matches
By Ashley Brugnone, CMP Writer
CAMP PERRY, Ohio – Jaycie Hoenig, 18, had an incredible week back in July. It was her first trip to the National Matches, where she had planned on only attending the Small Arms Firing School, just for a little taste of highpower shooting. Unbeknownst to her, the small taste would turn into a smorgasbord – and she would end up learning more than she could have ever dreamed.
"This is a game-changer," she said.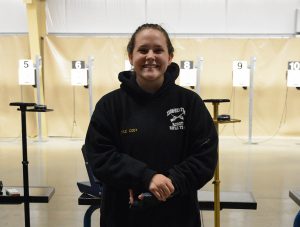 A talented competitor, Jaycie was named the 2017 CMP Three-Position Air Rifle Sporter National Champion in June. Having graduated high school in the spring, she was a four-year member of the Zion Benton JROTC air rifle team, but had never given highpower a try. The 2017 Small Arms Firing School (SAFS) was the first time in her life that she had ever fired a highpower rifle, and it was the beginning of a whirlwind adventure.
"(After air rifle Nationals) I realized I wasn't done shooting yet – that I didn't want to leave it. So I figured, why not try highpower to see if I like it?" she said. "I just needed to go to the National Matches. I wanted to get an idea of what I could do, and it was probably one of the best decisions I've made."
Jaycie was brought to Camp Perry by her mother, Shanda. Her supportive father, Jason, also wanted to come along but had to stay behind after heavy rainfall at their homestead held him back – creating the perfect opportunity for a few new mother-daughter memories for Shanda and Jaycie.
Though it was a long ride from the family's home in Winthrop Harbor, Ill., Shanda was more than willing to make the drive to give her daughter a chance to take part in something new.
"It was a no-brainer," Shanda said. "For me, as a parent, I've always encouraged and supported my kids in whatever they decided to do. It was really more on Jaycie's end – if that's what she wanted to do."
Shanda added, "She was very good at air rifle, and I really wanted to keep her in that competitive streak. Even though she didn't want to shoot competitively in college, she wanted to focus on her academics, I still wanted her to keep in the loop of shooting because she's a natural."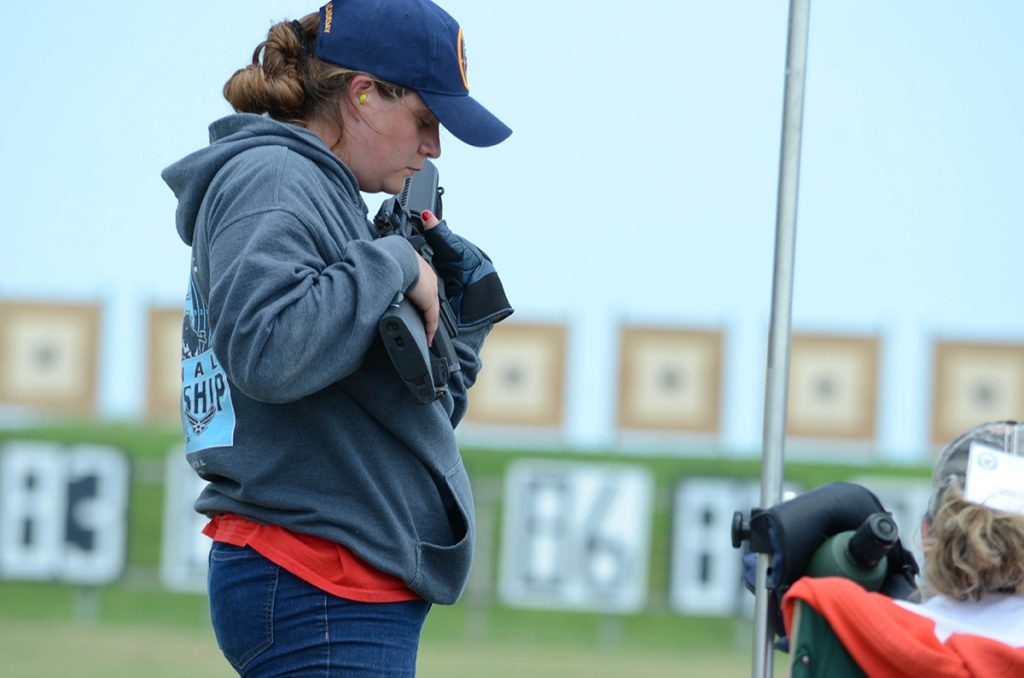 At first, Jaycie was nervous about holding a much larger rifle than she was used to handling. She was also concerned about the recoil she might feel after firing the powerful firearm as well as about matching the talents of other competitors on the line. But with each shot she fired, the more confidence she gained. She dropped her anxiousness and began to feel the thrill of the rifle – and then, she was hooked.
"It really wasn't too bad, and the more I shot it, the bigger the thrill was. I just loved it," she said as a smile beamed across her face.
She admitted one of her biggest challenges was the rapid fire portion, along with the sitting position – areas she says she initially stressed over. Wind reading was another tough transition, since she was used to the stable indoor conditions always promised by air rifle competition.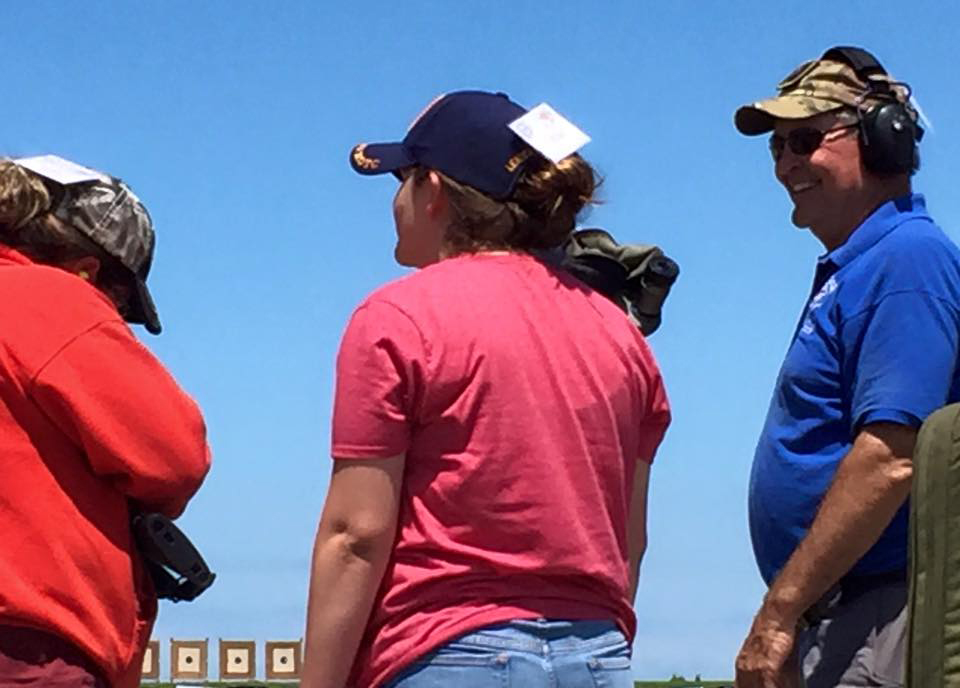 But, Jaycie said her SAFS coach, Larry Stonecipher, helped her load her magazine and showed her the best ways of holding the rifle in each position. She credits him with helping her to feel more at ease about the unfamiliar territory.
"He was amazing. He definitely made it a comfortable experience," Jaycie said. "I was so nervous when I walked up . . . he was just an overall excellent coach and a great mentor for my first time, and I'm so blessed to have had him as my coach."
She enjoyed her time in the two-day SAFS course so much that she decided to stay an additional day to fire in the prestigious President's 100 Match – then she stayed another day, and another – and another. Her trip that began as just a weekend getaway turned into a week-long excursion of learning and rifle fun.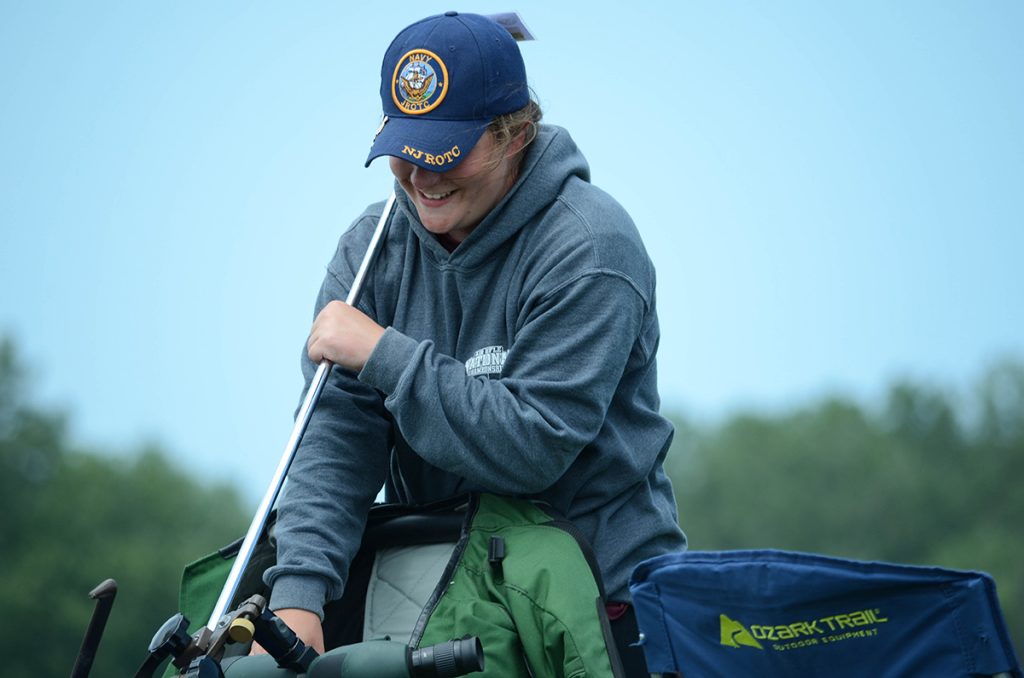 "Yeah, I'm hooked," Jaycie said.
Each day, her skills improved. In only her third highpower competition ever, Jaycie started off her National Trophy Individual match with a standing score of 95-2x out of a possible 100 – an incredible standing score for any competitor, let alone a beginner.
Brad Donoho, a CMP program coordinator who had previously shot air rifle including as an NCAA competitor at the University of Kentucky, says it's actually surprising how quickly an air rifle marksman can become competitive in highpower. Besides having to learn the outdoor elements, such as mirage and wind, the fundamentals of sight alignment and trigger control are already present in a seasoned athlete.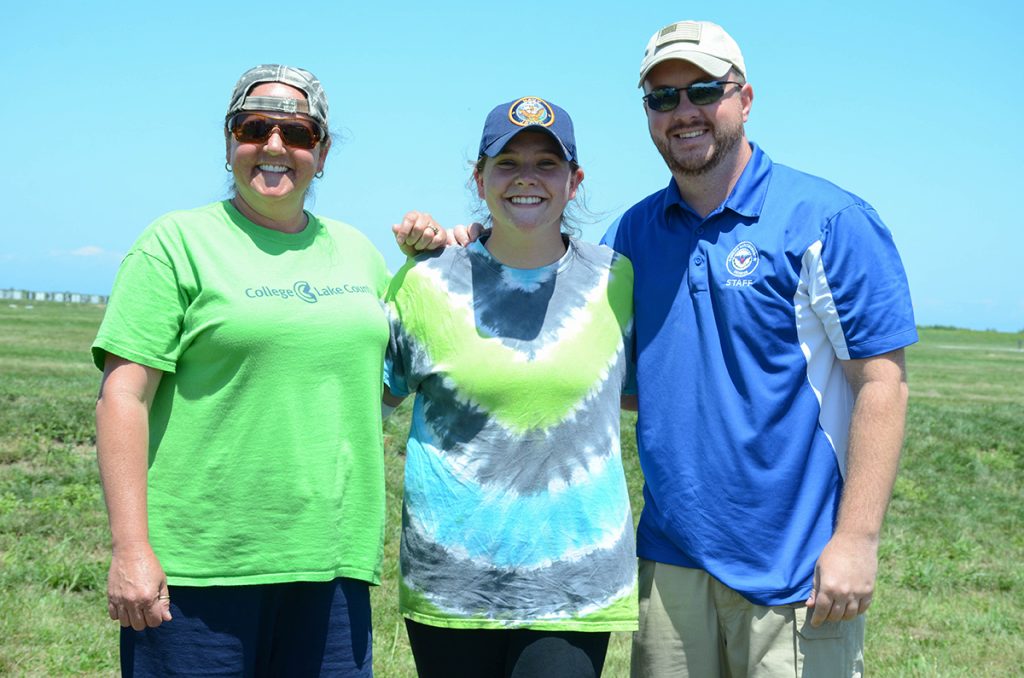 "We've always said that the transition from sporter to highpower is pretty easy, and many sporter shooters have proven to do that," said Brad, who was the one who convinced Jaycie to give highpower a try when she thought her shooting days were over.
Brad went on to say the transition from air gun to highpower is a breeze because the target in air gun is half of a millimeter wide – a much more difficult target than service rifle. He says it requires more skill to hit such a small area, giving air gun shooters more precise training in the fundamentals.
"Transitioning to service rifle, the 10-ring opens up for them and there's a lot more leeway for error. Typically, if they shoot a shot they think is a 7, it's usually a 10," he said. "There's a big gap we have to bridge between air rifle and service rifle in trying to transition those shooters over because a lot of those kids don't even know it exists."
Even Jaycie admits she had absolutely no clue.
"It's something that we have to work on at CMP, to provide those opportunities to those kids, get them out here to try it out and maybe spark an interest in transitioning to service rifle and continue shooting throughout their lives," he said. "It's part of the mission of the CMP – to grow the sport. And we're going to work on that."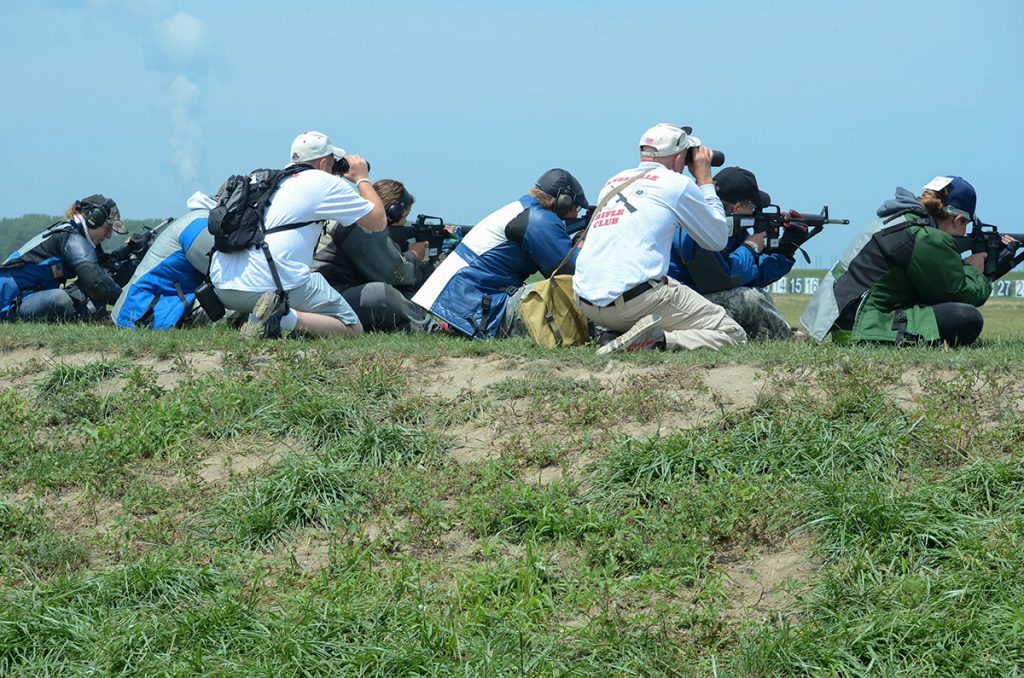 Now that Jaycie has had a taste of highpower, she's ready to jump right in, full force, even with team events. During the matches, members of the CMP helped connect her with out-of-competition teams so that she could fire in the National Trophy Junior Team Match, National Trophy Team Match and the National Trophy Infantry Match towards the end of the National Match week.
Jaycie, in only her fourth competition, and her teammate for the National Trophy Junior Team Match, Richard (RJ) Bohn, of Metamora, MI, scored high enough to be named the winning At-Large team, which earned her a spot onstage during the esteemed rifle awards ceremony.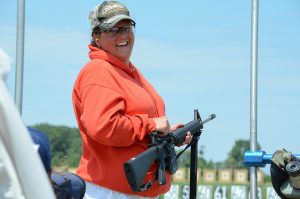 Of course, playing one of the biggest roles in Jaycie's highpower journey was her mother, Shanda. Like Jaycie, SAFS served as Shanda's first time with a highpower rifle.
"I didn't really want to shoot," she admitted. "But I was encouraged by certain individuals that it would be a fun event with no stress. I decided that even though I was here to support her, I could have a little fun"
Shanda was also extremely nervous. She said she didn't even know if she was going to be able to man the gun because of its weight, or if she was going to make errors. But, after she sent her first shot downrange, Shanda, like Jaycie, said to herself, "This isn't so bad at all."
And, her first shot was in the 10-ring.
Shanda said she attended SAFS to support Jaycie, but she also wanted to learn something new for herself as well. Being so uneasy, not knowing what to expect, she was afraid she couldn't be the rock that Jaycie may need in her first attempt at a new endeavor. But when she met their coach, Larry, and began to dry-fire, getting more acclimated to the rifle, her worry began to fade.
"It was hundreds of pounds lifted off my shoulders knowing that he was watching every move that I did and that he would correct me when I needed to be corrected and provide words of reassurance when I did something right. So it was just an overall very comfortable and positive experience with him," Shanda said. "He was fantastic."
"And now there might be a little mom/daughter competition!" Shanda added as she and Jaycie laughed together.
With an unbelievable first National Match trip, Jaycie's taste of highpower has now become an unquenchable thirst. She's ready to learn more and more about the sport and is enthusiastic for new experiences to come in the future.
"I knew I was going to like it, because, I mean, it's highpower," Jaycie said. "But actually getting to come out here and shoot it was like, 'OH MY GOSH this is AMAZING. THIS IS AWESOME!'"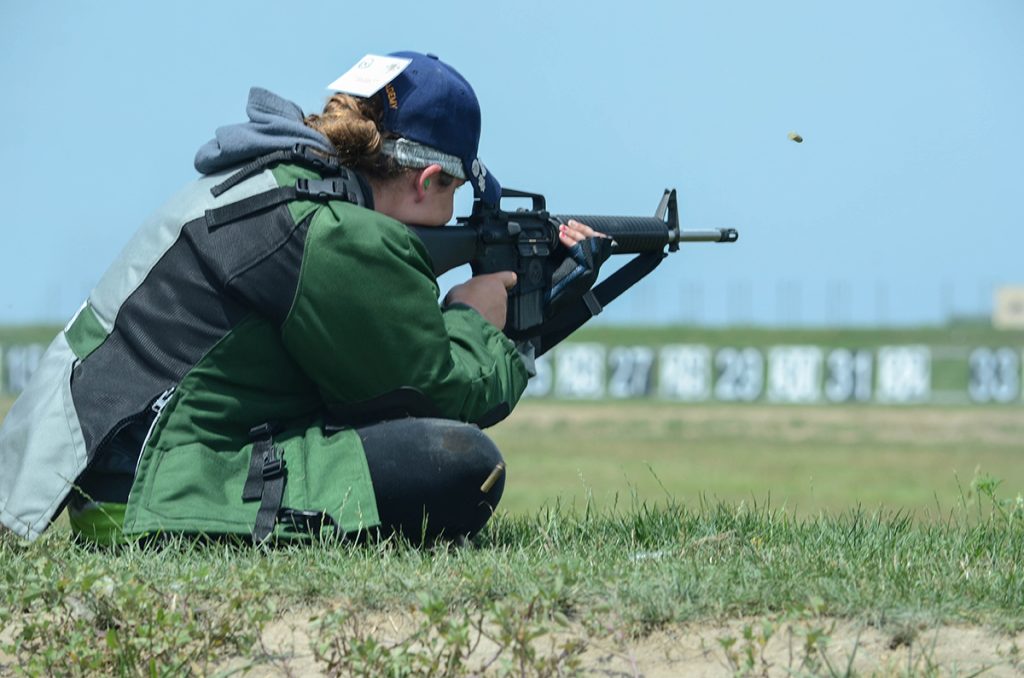 "It was so much fun, and I'm just so excited to keep shooting more."
Next year, she plans on bringing her dad to SAFS to allow him to give it a try as well.
"I think he'd really enjoy it. Because, I mean, who doesn't enjoy this?" she added.
And, of course, Shanda will be right there, along for the ride.
"I'm her biggest fan," Shanda said.
Jaycie also wanted to thank everyone who made her first highpower experience possible, including the Army Marksmanship Unit, especially Brandon Green, for teaching her how to properly shoot a rifle, as well as the CMP for providing some guidance towards realizing her new ambition.
"I'm extremely humbled and blessed to have been afforded this opportunity by members here of the CMP. Four years shooting air rifle, I just couldn't thank the CMP enough for providing this opportunity for us. We would not have been here if it hadn't been for them," she said. "I couldn't have done it without everyone's support, so I'm eternally grateful for that."
**SAVE THE DATE**
Join Jaycie and her family at Camp Perry next year for the Rifle Small Arms Firing School – School check-in takes place on Thursday, July 26th and the school takes place Friday and Saturday, July 27-28th. Registration opens April 1st on the CMP website – see https://thecmp.org/competitions/cmp-national-matches/ for more details.