Muske Earns Stunning NTI Win, White Sets Multiple Records at 2021 National Rifle Matches
August 25, 2021
Civilian Marksmanship Program
▸
The First Shot
▸
Muske Earns Stunning NTI Win, White Sets Multiple Records at 2021 National Rifle Matches
CAMP PERRY, Ohio – In his first highpower rifle showing, Sgt. Brandon Muske, 27, of the Army Marksmanship Unit (AMU), claimed the overall win in the National Trophy Individual Match with a score of 498-25X – fired during the 2021 National Matches. The match was conducted at the beginning of August by the Civilian Marksmanship Program (CMP) and saw a field of over 790 competitors on the historic ranges of Camp Perry.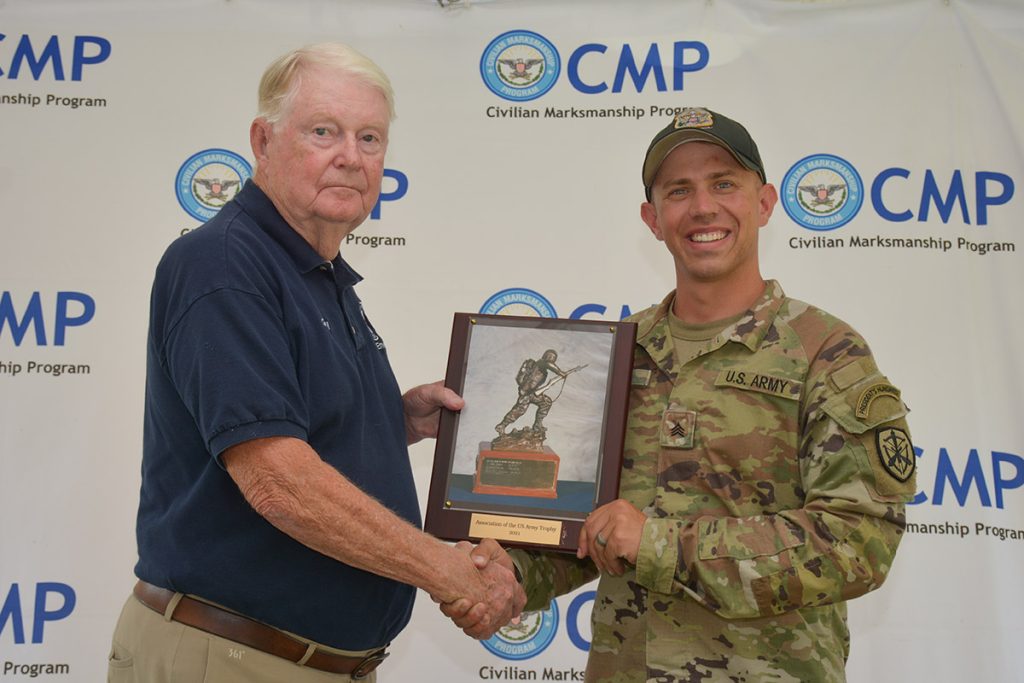 "It was kind of a normal day," Muske said of the match. "I haven't been shooting service rifle all that long, so I came out and was looking to do well. I just went out to there to shoot what I knew I could and kind of let the chips fall where they would."
Typically a member of the AMU's International Rifle Team, Muske, in his own words, "happened to be there for the summer," and was recruited to assist the Service Rifle team. Other AMU International Team members like 1st Sgt. Sarah Beard and Sgt. Jared Desroisers also came along for the National Matches to compete and do some cross-training in service rifle.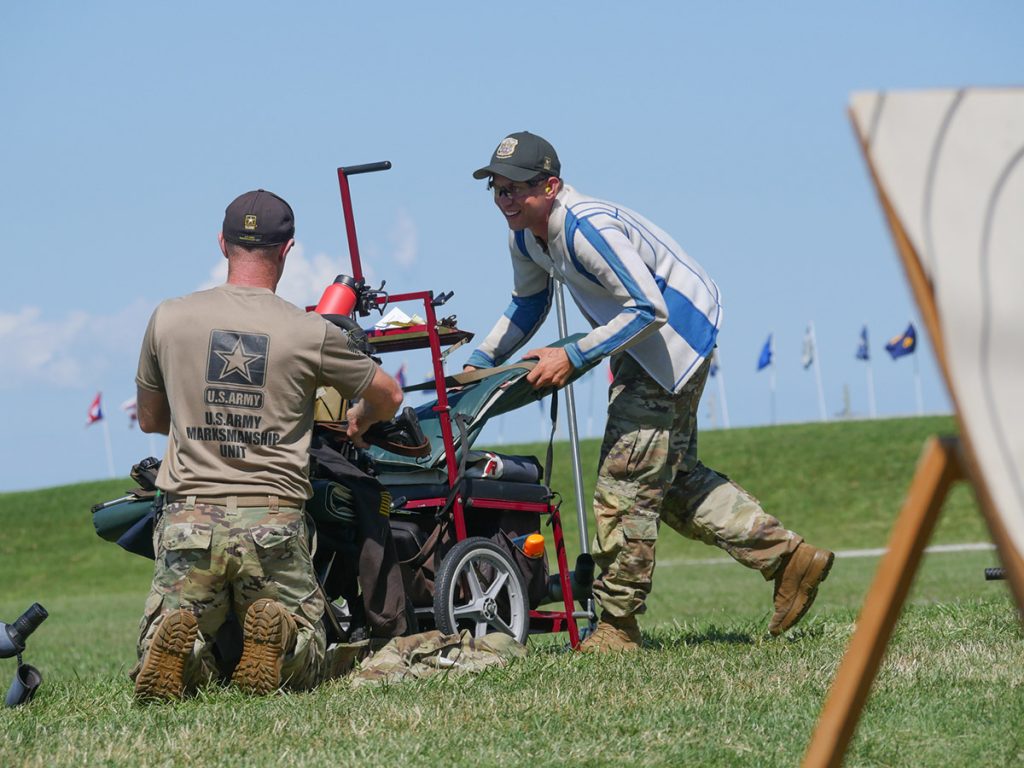 "It took us a good while to get settled in a little bit," Muske admitted. "The lack of adjustability with the guns, and then trigger weights with the guns, as well as the course of fire difference – having to shoot rapid fire strings and deal with wind a little more at 600 than we typically do at 50 meters with international rifle – but it was all a big learning curve."
Certainly proving the adaptability of international shooters into other disciplines, Muske joked of winning the very first NTI he ever competed in alongside his AMU Service Rifle teammates, saying, with a laugh, "I'm sure they would have loved to beat me, but that's just the name of the game."
He went on to praise the talented members and recognize them for sharing their knowledge.
"The (Service Rifle) team was very helpful," Muske said. "They made sure we all knew what was going on and helped us out along the way."
After the summer, Muske will be back with the International Rifle team to train for the USA Shooting Nationals set to take place in Ft. Benning, Georgia, in October.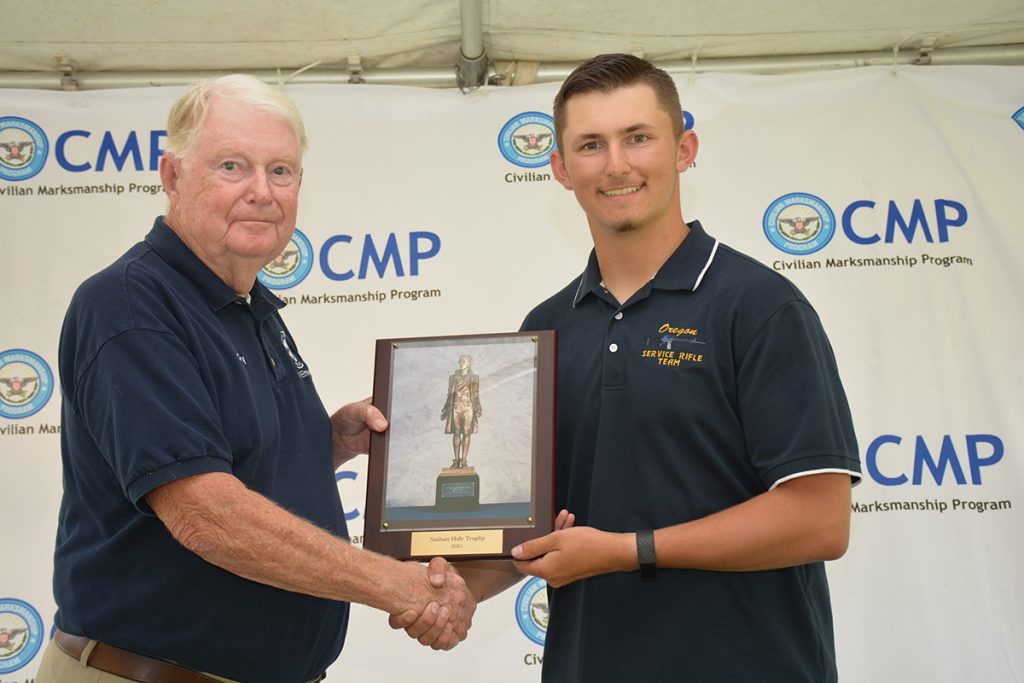 Also securing a memorable showing at the 2021 NTI event was Mason White, 17, of Sandy, Oregon, who earned a new set of national records as High Civilian and High Junior with his score of 498-15X – only 10 X's shy of the Muske's leading score. White earned fifth place overall in the match.
"I didn't expect to do well when I came here. I expected to shoot my average and go home happy with that," White said. "Things just kind of fell together for me."
He also performed well in the President's Rifle Match, finishing 54th out of over 830 competitors and earning a President's Tab as one of the Top 100 competitors of the event. In the National Trophy Junior Team (NTJT) match, he was the fourth-highest scoring individual competitor. The combination of his NTI, President's and NTJT showings led to White earning a new aggregate Col. Bill Deneke Trophy national record score of 1282-46X.
"It's weird," he said of now being the holder of multiple national records. "Never expected to have anything in my name like that. I never expected to be able to get to that point."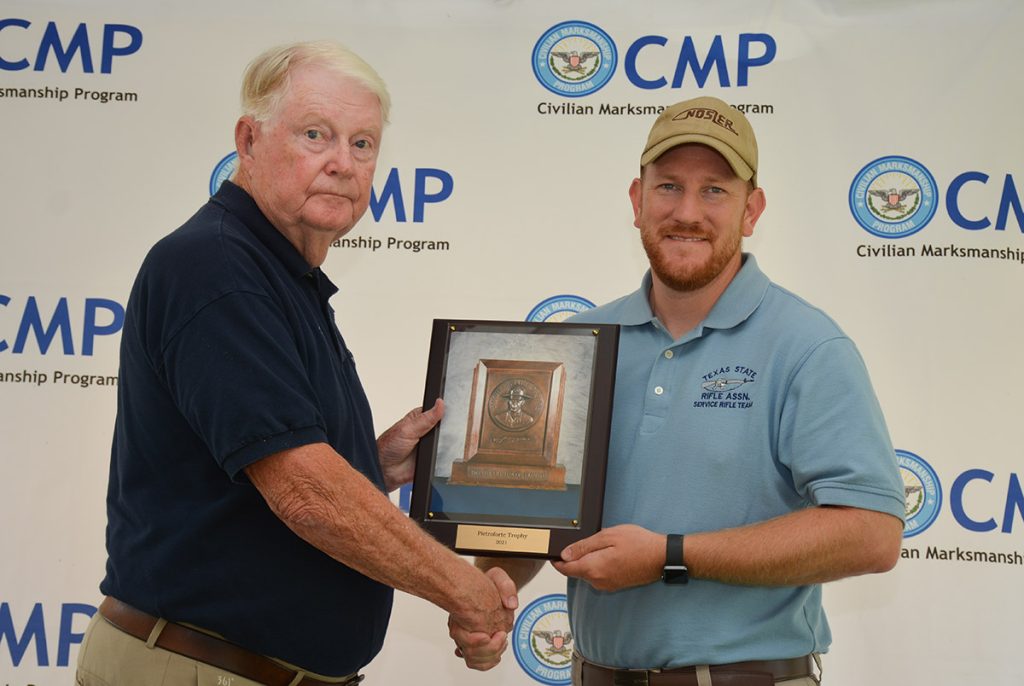 His marksmanship career began at age 12, when he was a youth cadet in the Civil Air Patrol. A senior member suggested White check out the smallbore club, and he immediately fell in love. A few years later, the leader of the program noticed White's potential and asked if he would like to shoot service rifle as well. Soon after, White joined highpower and has since been to the Camp Perry National Matches three times.
"It was weird having that missed year," he said of the cancelled 2020 National Matches. "But I felt like I had that extra year of practice."
He admitted the slight break helped him refocus and led him to several milestones this year. Outside of his National Matches successes, White earned his Distinguished Rifleman Badge in June – receiving the medal during the awards ceremony at Camp Perry.
For the future, White would like to eventually join the military, hopefully through a service academy where he can continue to compete.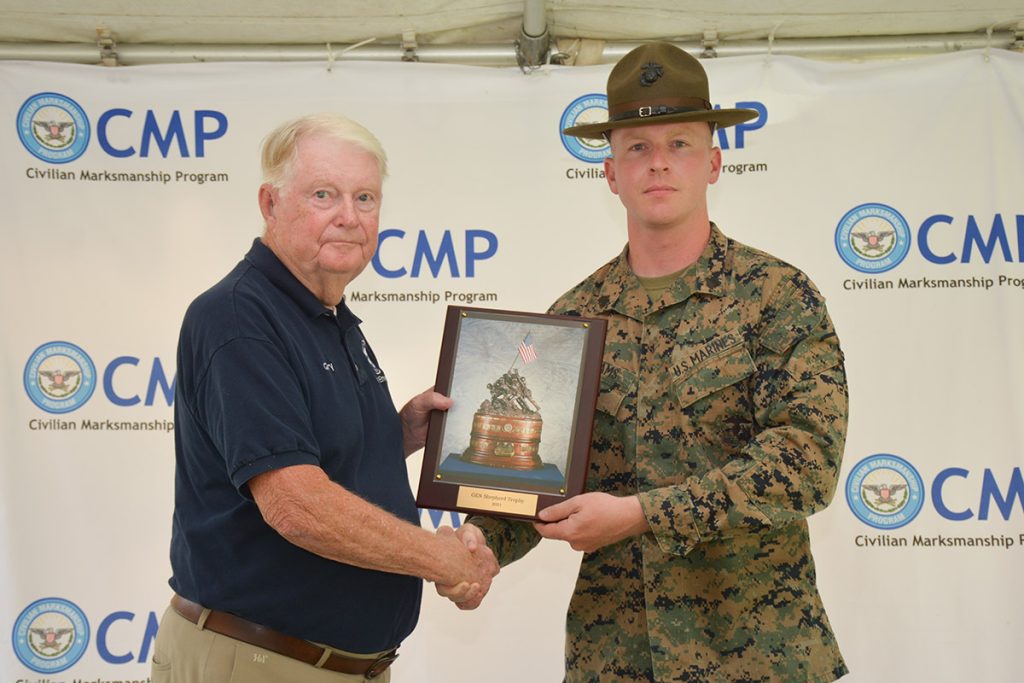 The President's Rifle, NTI and National Trophy Team (NTT) individual competitors produced several other new national records over the course of the highpower rifle match series, including:
High U.S. Marine Corps Competitor, President's/NTI/NTT Aggregate: Sgt. Christopher Williams, 30, Quantico, Virginia – 1283-51X
High Civilian, NTI/NTT Aggregate: Justin Utley, 36, Mineola, Texas – 995-42X
High Police, NTI: Justin Utley, 36, Mineola, Texas – 497-17X
High Civilian, NTT: Justin Utley, 36, Mineola, Texas – 498-25X
High Woman, NTI: Haley Robinson, 21, of Mill Spring, North Carolina – 496-25X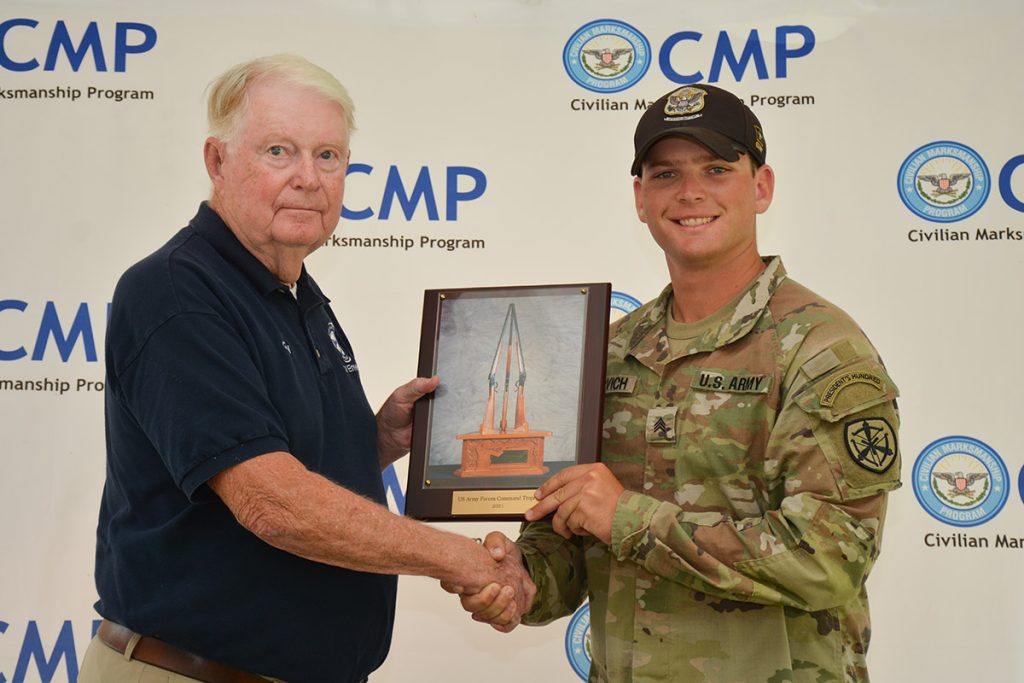 Earning the Mountain Man Trophy as the overall leading competitor of the President's/NTI/NTT Aggregate was Sgt. Kade Jackovich, 22, of the AMU, with a score of 1292-67X. Before Jackovich became a member of the Service Rifle Team in January 2019, he was the winner of several national junior awards as a part of the Arizona Scorpions club.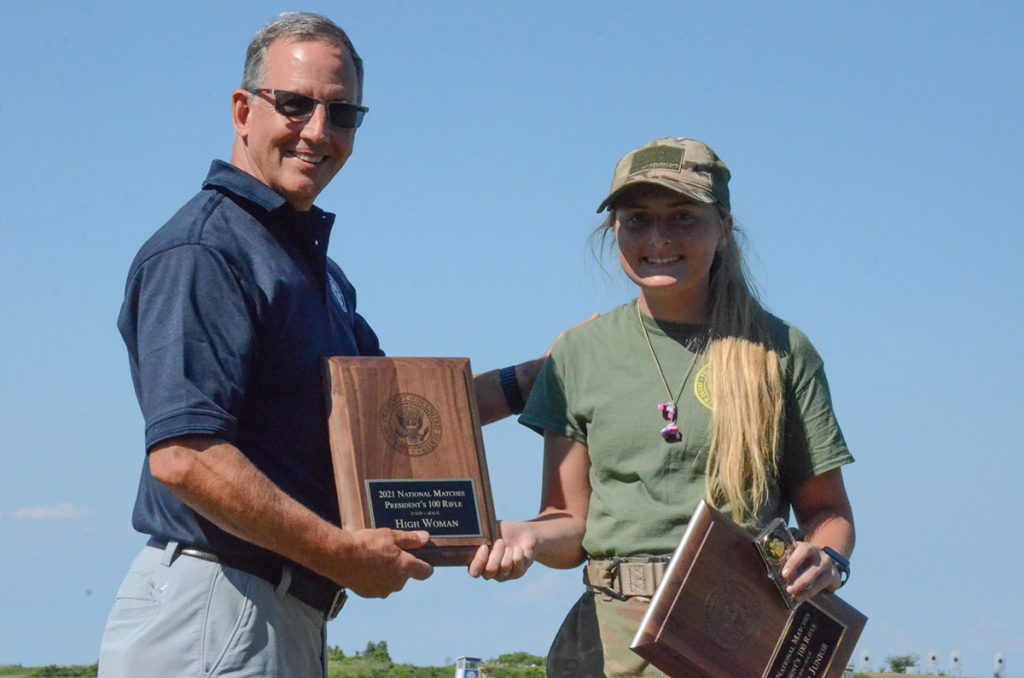 View a complete list of results of this and other 2021 Camp Perry National Rifle Matches at https://ct.thecmp.org/21nmrifleresults.
Photos of this and other National Matches rifle events can be found and downloaded for free on the CMP's Zenfolio page at https://cmp1.zenfolio.com/f641171691.