Mowrer Defends AiR Challenge Title During 2017 National Match Air Gun Events
August 27, 2017
Civilian Marksmanship Program
▸
The First Shot
▸
Mowrer Defends AiR Challenge Title During 2017 National Match Air Gun Events
By Ashley Brugnone, CMP Writer
CAMP PERRY, Ohio – Saving his place as the overall competitor in the AiR-15 Challenge during the 2017 National Air Gun Matches was SGT Nick Mowrer, 28, of the U.S. Army Reserve. Last year, SGT Mowrer competed for the first time in the event, which is held at the Civilian Marksmanship Program's Gary Anderson CMP Competition Center at Camp Perry, and won the overall title. Wanting to earn back-to-back wins, he admitted there was an added amount of difficulty to this year's match.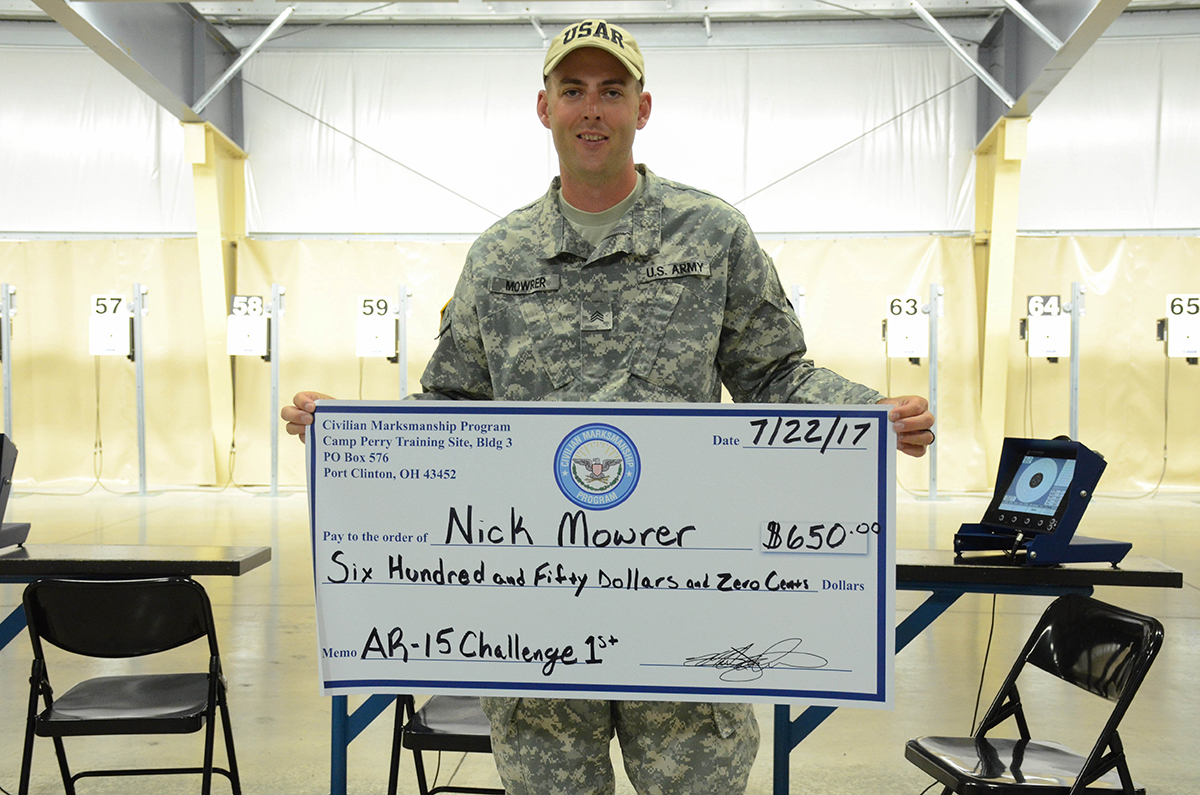 "I felt a little more pressure than last year just because I really wanted to reach that goal," he said. "But for the most part, I was pretty calm and relaxed in the beginning, and as things weren't going the way I wanted them to go, it got a little more frustrating."
He added, "But all in all, it was good. I just stuck to the fundamentals and kept bringing me back to it and execute good shots."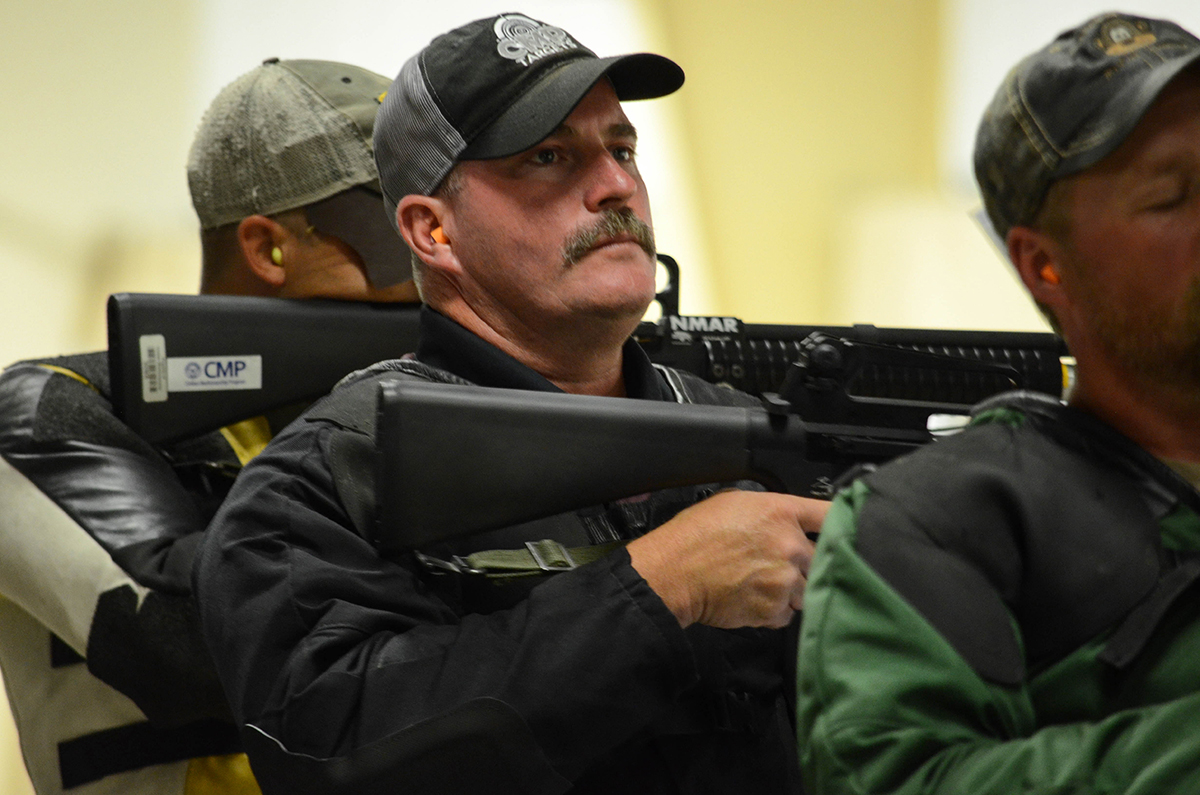 Competitors qualify for the Shoot Off in a 20 Shot Match using AiR-15 lead pellet air guns that mirror the look of highpower service rifles. The overall winner of the event is determined when the Top 20 competitors of the event take the firing line to compete in an elimination challenge – with the last person standing as the champion.
Mowrer went into the Shoot Off in sixth position and stayed confident to fight his way to first. He's accustomed to competition pressure, having fired in the 2012 London Olympics in the Men's 50m Pistol. Just a few of his many other accomplishments include winning gold in the 2008 National Junior Olympic Championships in Free and Air Pistol, gold at the 2011 National Championships in Free Pistol and earning silver during the 2015 Pistol Selection in Free Pistol. He was also a member of The Ohio State University air pistol team and is currently on the Army Reserve shooting team.
Along with defending his title, Mowrer also received $650 for his win. Looking to the future, he already has plans of coming back again to ensure his name stays in that first place spot.
"Yeah, I'll be here next year," he said with a smile.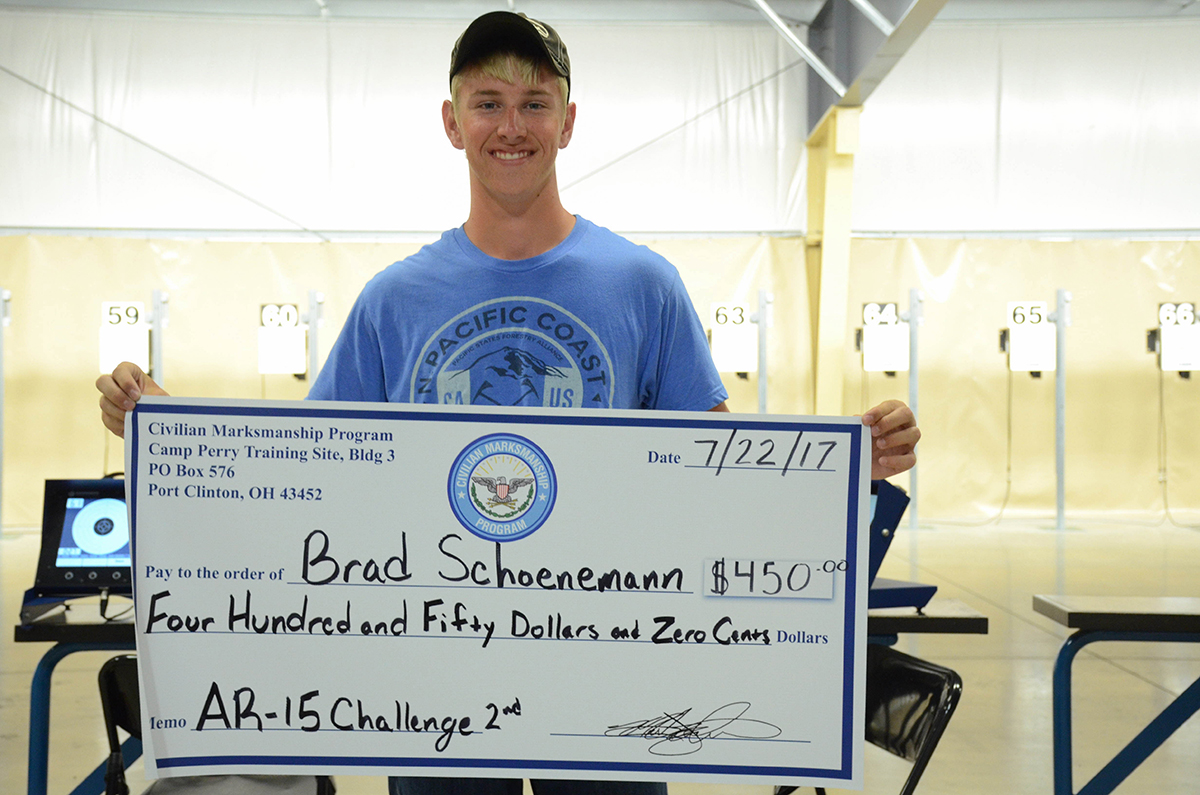 Second place finisher Brad Schoenemann, 17, of Lodi, WI, was happy to finish behind Mowrer, saying, "I would've been happy with sixth place, but I was thrilled to get into the top three."
A highpower shooter for the last three years, Schoenemann had his own successes on the outdoor ranges as a part of the WI Force Cheddar junior team that overtook the 2017 National Junior Trophy Team Match and was also named the High Junior Team of the National Trophy Team Match.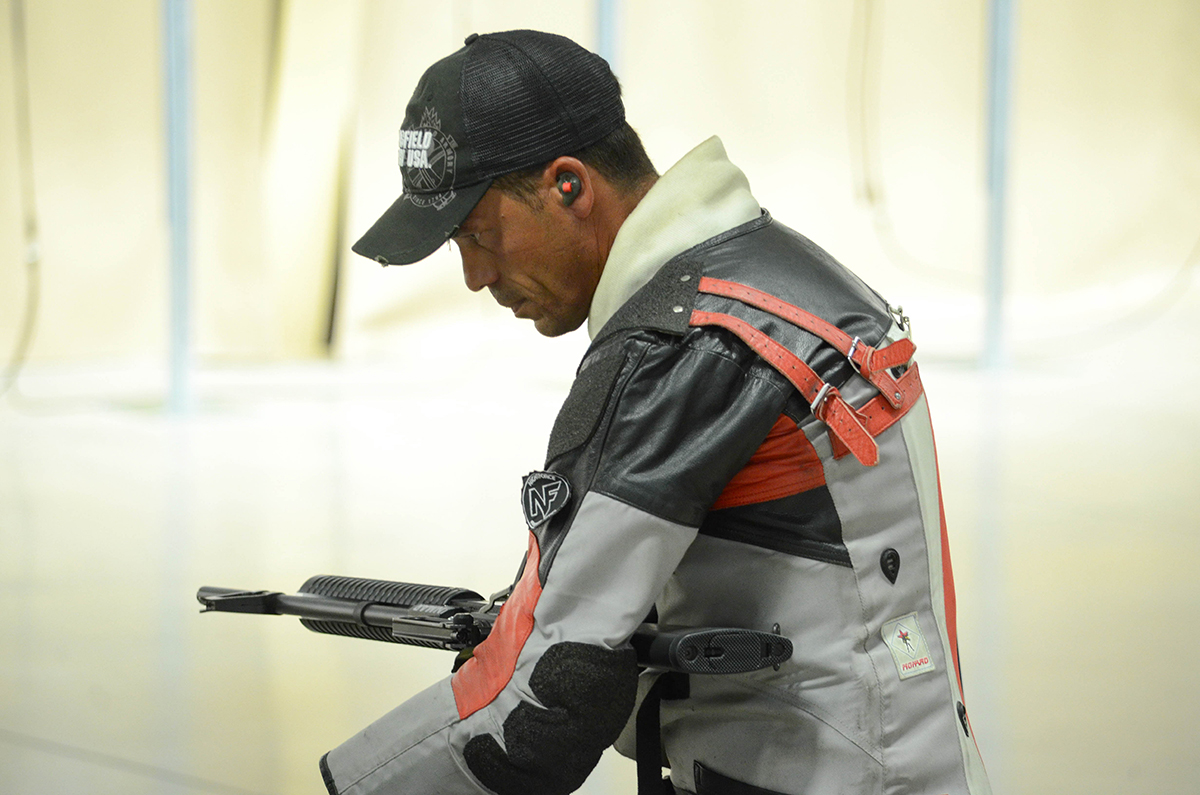 Team CMP Highpower member Nick Till, 43, of Howell, MI, landed in third in the Shoot Off.
In air pistol, Dwaine Hurt, 53, of Red Oak, IA, was the overall winner of the 60 Shot event, with a score of 565-12x. Hurt also fired the high score in the 30 Shot Air Pistol Re-Entry Top Center Shot challenge.
A Top Center Shot was awarded during the 30 Shot Pistol Re-Entry Match to the competitor who fired the closest shot to center. This year's winner was Susan Jones, 62, of New York, NY. For her win, Jones received a monetary prize of $165.50 from the CMP, based on the number of entries. The next seven closest competitors also received money for their efforts.
High Woman of the 60 Shot Pistol match was Shelly Liu, 47, of Cary, NC, with a score of 533-5x. Kyler Swisher, 18, of Jamestown, PA, earned the High Junior honor with a score of 553-9x, as Gary Peterson, 69, of Levittown, NY, came out of the match as High Senior, with a score of 538-8x.
In air rifle standing matches, Katie Frye, 17, of Greensburg, PA, fired a perfect score of 200 in the NMAR Match Rifle Standing Re-Entry event. SFC Daniel Dorosheff, 44, of the U.S. Army Reserve, topped the AiR-15 20 Shot Standing Match with a score of 194-2x.
Winning the 20 Shot Sporter Rifle Standing Re-Entry was National Match newcomer Jaycie Hoenig, 18, of Winthrop Harbor, IL, with a score of 196.
A series of Bench League rifle matches, fired from a fixed position, were also held during the month. Justin Kleinhans, 17, of Port Clinton, OH, led the 30 Shot AR-15 Bench League Match – only dropping two points with a score of 298-23x. Kleinhans finished one point above John Holliger from White Oak Armament, who recorded a score of 297-19x.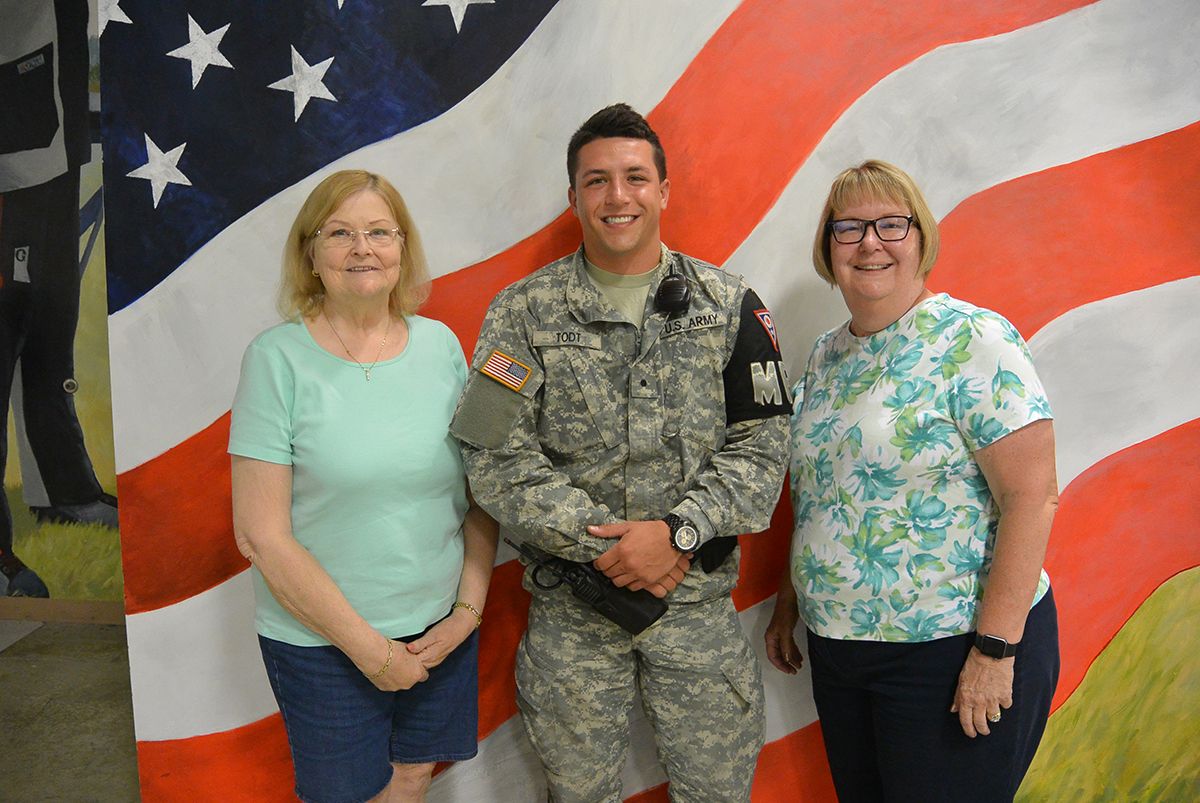 Miki Marciniak, 60, of Macomb, MI, won the 30 Shot Sporter Bench League event by only three x's – beating out last year's winner Nora Gallagher with a score of 297-26x. Firing an incredible score of 300-27x in the Bench League 30 Shot Precision Match was Nevada Todt, 22, of Becksville, OH. Todt also only won by three x's to beat out last year's second place finisher, Joyce Edwards.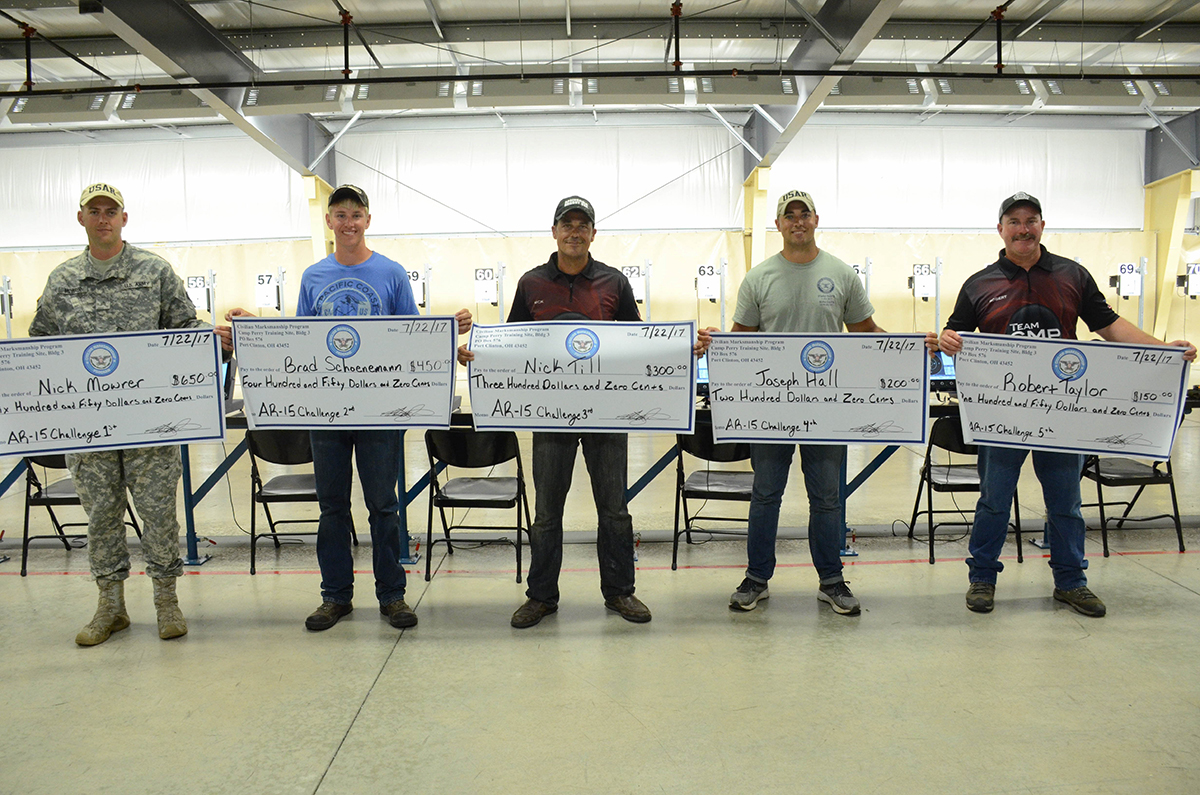 For a complete list of National Match Air Gun results, visit http://ct.thecmp.org/app/v1/index.php?do=match&task=edit&match=15858&tab=results.
Photos of all of the National Match events can be found on the CMP Zenfolio page: http://cmp1.zenfolio.com/f308381592.
About the National Match Air Gun Matches:
National Match Air Gun events are fired concurrently with the National Match Pistol and Rifle matches. Those attending the outdoor events are welcome to take a walk to the Gary Anderson CMP Competition Center, located on the grounds of Camp Perry, and compete in any of the air pistol and air rifle events offered throughout the duration of the Matches. The indoor, air-conditioned air gun range holds 80 electronic target firing points, with large LED screens to keep spectators in on the action.
The facility also contains memorabilia from the career of decorated American marksman and CMP Emeritus, Gary Anderson. A two-time gold medalist, the collection includes authentic Olympic items, a medal from President John F. Kennedy and even a piece of the Berlin wall. Those competing as well as those just visiting are welcome to tour the facility, free of charge.