Monthly and World Events Scheduled at CMP's Talladega Marksmanship Park in October
October 13, 2019
Civilian Marksmanship Program
▸
The First Shot
▸
Monthly and World Events Scheduled at CMP's Talladega Marksmanship Park in October
By Ashley Brugnone, CMP Writer
TALLADEGA, Ala. – The Civilian Marksmanship Program's Talladega Marksmanship Park, "The Home of Marksmanship," is a worthy destination for firearm supporters and guests looking for practice, competition and mindful learning opportunities. Featuring exclusive CMP electronic targets and scoring monitors that can only be found at the 500-acre facility, the park regularly hosts rifle, pistol and shotgun events all year long.
Always expanding, the CMP's new Unknown Distance Range at Talladega plans to be in operation by the end of October or first week of November. Guests may practice their marksmanship skills in the field of over 100 steel targets, out to 625 yards.
Though the CMP hosts its own monthly events, outside organizations also benefit from CMP's advanced facilities by utilizing the park for their own competitions. Read on to learn about the events open to the public for viewing and/or participation during the current month.
International Defensive Pistol Association (IDPA) World Event:
Employees at the CMP will begin constructing stages for the event the week of Oct. 14, with preliminary firing beginning towards the end of the week.
The main portion of the 2019 SIG SAUER IDPA World Championship will take place Oct. 23-26 at the Talladega Marksmanship Park, drawing in competitors from around the world.
Held virtually every week of the year, IDPA attracts over 25,000 members from the United States and over 70 other countries. Scores are classified by a number of divisions in a 1 to 3 stage Course of Fire. These events are held regularly at Talladega Marksmanship Park. Learn more about the IDPA by visiting https://www.idpa.com.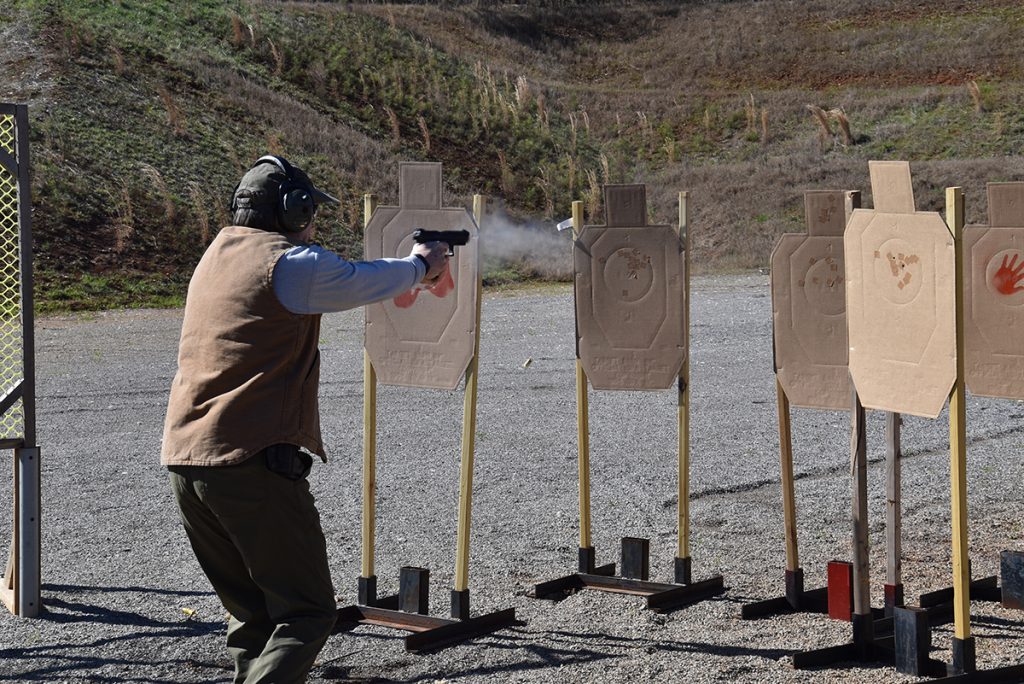 Rimfire Sporter:
A Rimfire Sporter event is set for Oct. 19 and is open to new and experienced competitors, using .22 rifles.
During the match, firing is held at 50 and 25 yards on a target with a 1.78″ ten-ring and an 18″ outer one-ring. The target is simple enough for a beginner to hit yet challenging enough that only one competitor in the history of the match has ever fired a perfect 600×600 score.
For the Course of Fire, participants begin at 50 yards with a sighting or practice series and then shoot 10 shots for record slow-fire in the prone position, followed by two, five-shot rapid-fire series. This is followed by 10 shots slow fire and two, five-shot rapid-fire series in the sitting or kneeling position. Targets are then placed at the 25-yard line where shooters conclude with 10 shots slow fire and two, five-shot rapid-fire series in the standing position.
Register for the Rimfire Sporter event on CMP's Competition Tracker page at https://ct.thecmp.org/app/v1/index.php?do=match&task=edit&match=19024.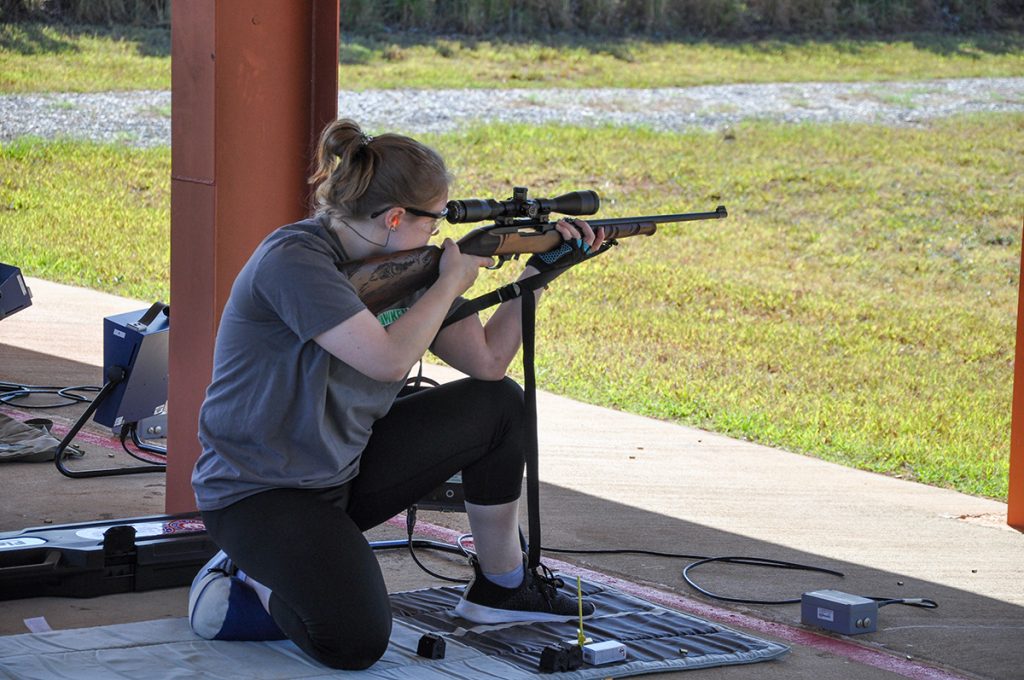 Other Rifle Events:
Also being held on Oct. 19 is a 3×600 Monthly Match. The Course of Fire will be three stages, each consisting of two sighting shots, and 20 record shots of slow fire prone in 22 minutes from 600 yards. Register for this event at https://ct.thecmp.org/app/v1/index.php?do=match&task=edit&match=18846.
A Project Appleseed Two-Day Known Distance event will be held Oct. 19-20, where participants will learn target detection and ranging, wind reading and other shooting tips out to 400 yards. Students who attend this event must have attended a previous Appleseed course. Register for this event on the Project Appleseed website at https://appleseedinfo.org/schedule/?qstate=AL&state=Alabama.
For more rifle opportunities, a 3-Gun Monthly Match and an 800 Aggregate will be held on Oct. 26. Register for the 3-Gun event at https://practiscore.com/search/matches and the 800 Aggregate event at https://ct.thecmp.org/app/v1/index.php?do=match&task=edit&match=18847.
Next up, the CMP will be readying for the last big event of the year, the Talladega 600 rifle and pistol matches, set to be held in November 19-24.
Current hours for the park through October 30 are Wednesday and Thursday, 11 a.m. to 5:00 p.m., and Friday and Sunday, 9 a.m. to 7 p.m. Beginning October 31, the park will be open Wednesday through Sunday, 9 a.m. to 5 p.m.
The public is welcome all year long, whether to fire pistol, rifle, shotgun or even to simply take a tour of the grounds. The park can even be used for hunters looking to zero-in their guns for the season.
Off of the firing line, the Club House holds a fully-stocked Pro Shop that includes an exclusive collection of rifles, ammunition, marksmanship accessories and CMP memorabilia.
Keep up-to-date on upcoming events at Talladega Marksmanship Park all year long by visiting the CMP website at https://thecmp.org/ranges/talladega-marksmanship-park/.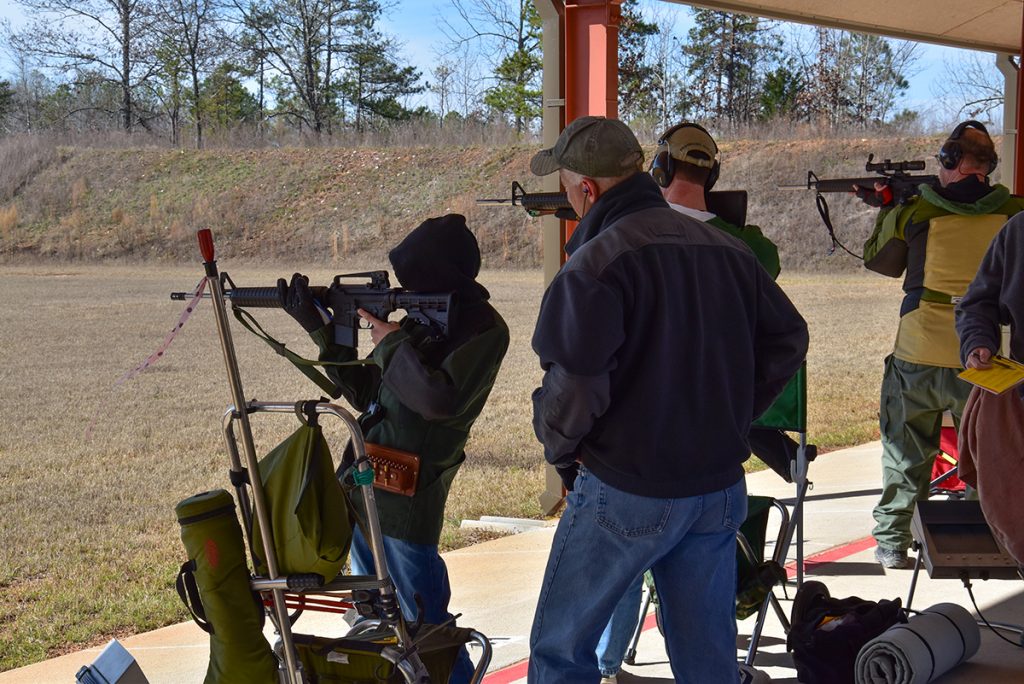 Regular Monthly Specials:
Thursday Specials, receive $5 off a whole day of rifle/pistol ranges or one round of clays
First Thursday of the month: Ladies Day
Second Thursday of the month: Public Service Workers Day (fireman, police, EMTs, etc.; must present ID)
Third Thursday of the month: Military Day (retired or active duty, with ID)
Fourth Thursday of the month: College Student Day (with current student ID)
Bring a Friend Special: Bring a new shooter and receive $5 off daily range pass or clays.
Regular Monthly Events:
Every Thurs. & Sun.:
Every Wed. & Sun.:
About the Civilian Marksmanship Program:
The Civilian Marksmanship Program (CMP) is a federally chartered 501 (c) (3) non-profit corporation. It is dedicated to firearm safety and marksmanship training and to the promotion of marksmanship competition for citizens of the United States. The CMP hosts several learning and competitive events throughout the year and around the country. For more information about the CMP and its programs, log onto www.TheCMP.org.