Meet Andre Gross – Champion Airgun Target Shooter
August 30, 2018
Civilian Marksmanship Program
▸
The First Shot
▸
Meet Andre Gross – Champion Airgun Target Shooter
By Stephen Archer, Hard Air Magazine Publisher
http://hardairmagazine.com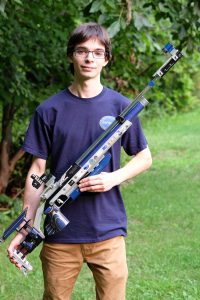 Recently, HAM Publisher Stephen Archer had the chance to meet and talk to one of shooting sports' young rising stars – Andre Gross. Andre is the holder of 7 state shooting records and has attended the Junior Olympics eight times.
As a true allrounder, Andre shoots at a serious competitive level in multiple disciplines. He currently competes in Precision Air Rifle and 10 Meter Air Pistol, as well as .22 Smallbore Rifle. In the past, he has also competed with great success in Sporter Air Rifle.
Andre is a quiet, serious young man. He doesn't crow about his achievements, but they are many.
Just a couple of examples. He became the American Legion Individual Shooting Sports Record Holder for Kneeling Precision in 2016 with a score of 798-64 from a possible 800. Then in 2017, Andre won the Precision class at the Gary Anderson Invitational competition at Camp Perry, Ohio. Wow!
We talked at Andre's home in Up-State New York…
______________________
Hard Air Magazine: Andre, it's great to meet you again! Can you tell us about how you started shooting?
Andre Gross:Thanks, Steve. It all started as a kid, shooting in the backyard with my Grandfather. We used to shoot an ancient Crosman 760 – I still have it and it still shoots well!
When I was 12, I found out about the Webster Junior Marksmen program at the local American Legion from a local gunsmith. I joined and have never looked back.
A year later, I joined the Rochester NY Rifle Club and started shooting Air Pistol and Smallbore Rifle also.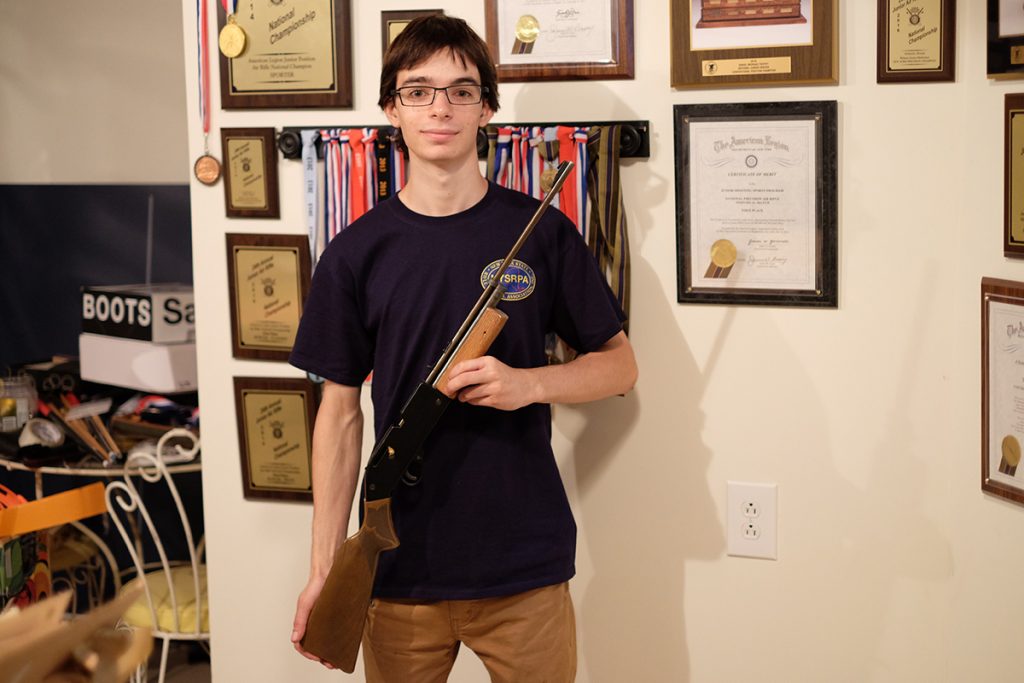 __________________
Hard Air Magazine: You've shot 10 Meter Air Rifle in both Sporter and Precision classes. How do you compare the two?
Andre Gross:I started-out shooting Sporter Air Rifle at the American Legion. First we used Daisy 887/8 models. Then I got a Crosman Challenger and my scores increased by 100 points!
At 14, I won the 2014 American Legion Sporter National Championships with a score of 2309.5 and felt that there was nowhere else to go in that class. So I moved to Precision Air Rifle. Obviously the standards are higher in Precision, but Sporter was a great place to start – it gave me something to build on with the new discipline.
________________
Hard Air Magazine: What other types of airgun shooting do you like?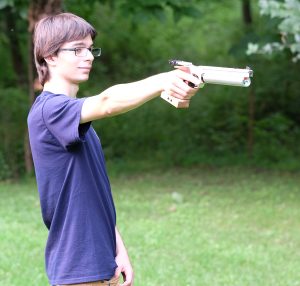 Andre Gross:I like pretty well all types of airgun shooting. Apart from Precision and Sporter Air Rifle, I shoot 10 M Air Pistol. Pistol shooting requires completely different techniques and muscle memory, of course so that makes it a challenge.
I've tried Field Target too and enjoy that. And I'd really love to compete at Extreme Benchrest one day!
At home, I still shoot my Benjamin Discovery and Marauder in the backyard. Right now, I'm interested in fitting regulators to them. I'm also restoring an unidentified Japanese breakbarrel air rifle that I found covered in rust and completely unloved. It's quite a project…
___________________
Hard Air Magazine: So, Andre, which competitive win are you most proud of?
Andre Gross:Winning the 2014 Sporter National Championships at Colorado Springs was great because it was my first big national match. But really I'm most proud of taking 8th place in the American Legion's New York State Sporter Championship when I was still only 12 years old. That set me on the road to many more wins.
________________
Hard Air Magazine: This year you are going to University and won a Shooting Scholarship. Congratulations! Can you tell us more about that?
Andre Gross:Yes, I'm very excited about attending the University of Akron in Ohio. They have a great student rifle team and I won a shooting scholarship at the school. There's both Air Rifle and Smallbore programs.
Through a friend, I met one of their shooting coaches. This led me to competing in their annual Zippy Open Rifle matches for the last three years. I won the last overall. (Zippy is the marsupial mascot for The University of Akron).
I'll be taking a four year course in Automated Manufacturing Engineering Technology at Akron – I've always been interested in working with my hands and want to be an engineer.
_________________
Hard Air Magazine: Andre, what's it like shooting at the American Legion?
Andre Gross:The Legion has been a great home for me! I've received outstanding encouragement and support from the Legion.
They run an annual 3-Position Junior Air Rifle Championship. This year it was held July 24 – 29 at the Olympic Training Center in Colorado Springs, Colorado – Dad and I were traveling there last time you and I met at Rochester airport!
It's given me great opportunities, too. I was even able to speak at the American Legion 96th National Convention in Charlotte in 2014 with President Obama in the audience.
My Dad has become involved as well. He became our Rifle Coach at the Legion – the only non-Vet doing this anywhere in the country! He's helped and supported me in a huge way!
I'd really like more people to know about all the great stuff the Legion does to encourage young shooters.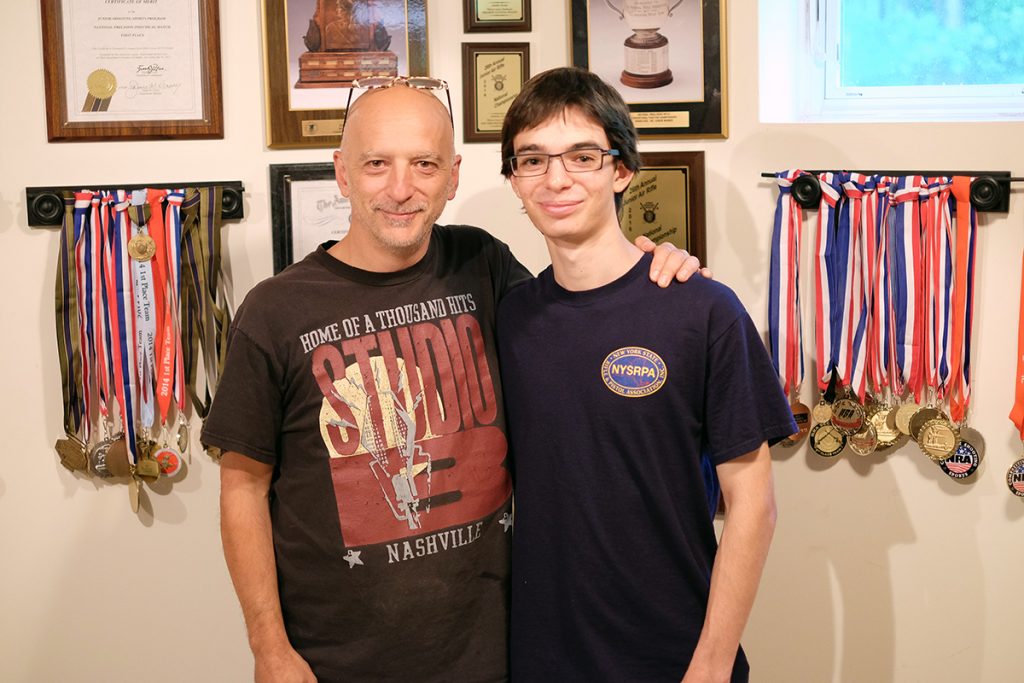 ________________________
Hard Air Magazine: What airguns and pellets do you use?
Andre Gross:For Sporter class, I used a Challenger, of course. In Precision Air Rifle, I shoot an Feinwekrbau FWB 700. For Air Pistol, it's a Steyr LP10 with a modified Morini grip.
I use RWS R10 pellets. and find them very consistent. Never had a problem. The 4.50 head size shoot well with the FWB 700 and the pistol prefers 4.49s. For practice, I use the R10s that come in tins, switching to the boxed ones for matches.
____________________________
Hard Air Magazine: What are your aims for the future?
Andre Gross:First I need to get through school! But the NCAA Nationals is definitely on the radar. And I'd love to shoot at the Olympics, of course…
________________________
Hard Air Magazine: Finally, Andre, what advice would you give to other young shooters who want to get into competition?
Andre Gross:I'd say start with whatever you can – like me with that 760 – practice hard and move up with equipment as you make progress.
________________________________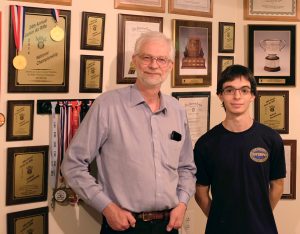 Hard Air Magazine: Andre, thanks for talking to Hard Air Magazine. Good luck with your studies and we'll be watching out for your future shooting successes!
Andre Gross:Thanks Steve and thanks for taking such an interest in this facet of the airgun shooting sports!