Marine Corps Teams Draw Wins at the 2015 JROTC National Championship, Hampton and Enger Earn Individual Champion Honors
March 24, 2015
Civilian Marksmanship Program
▸
The First Shot
▸
Marine Corps Teams Draw Wins at the 2015 JROTC National Championship, Hampton and Enger Earn Individual Champion Honors
By Ashley Brugnone, CMP Writer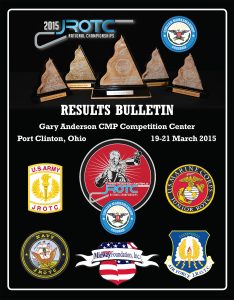 CAMP PERRY, OH – The Civilian Marksmanship Program (CMP) was proud to play host to a group of 213 junior marksmen in Army, Navy, Air Force and Marine Corps JROTC Programs during the 2015 JROTC National Championship – held at the Gary Anderson CMP Competition Center at Camp Perry, OH, March 19-21, 2015.
The Championship is a two-day competition, where competitors fire in three positions each day – prone, standing and kneeling – to determine who truly are the best Junior ROTC marksmen in the country.
The road to the JROTC National Championship began with the JROTC Postal Competition in October, with winners moving on to the Regional Service Championships in February at Camp Perry, OH; Anniston, AL; and Phoenix, AZ.
Like last year, Larry and Brenda Potterfield provided generous MidwayUSA
Foundation endowments totaling nearly $330,000 to winning teams during the JROTC Competitions. The MidwayUSA Foundation is a public charity that helps communities and organizations raise funds into their MidwayUSA Foundation account to support youth shooting teams and activities.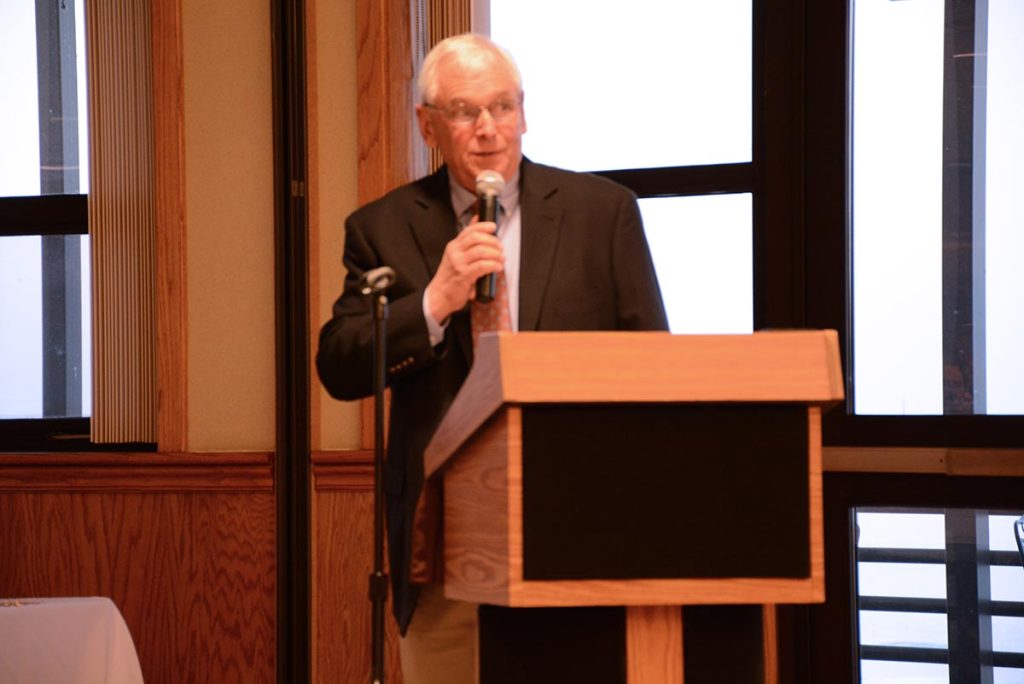 The overall winners of the JROTC National Championship are those who fired the highest scores throughout all four military branches, instead of solely being compared within their own branches.
Aggregate calculations from Day 1 and Day 2 overall 3×10 scores, including averaged finals scores, are used to determine the high marksmen – as done during the Postal and Regional matches.
Representing the Marine Corps, R-S Central High School, NC, was the overall sporter team, with a score of 4369-139x. Team members are Baylee Boone, Spencer White, Jesse Bradley and Taylor Wease.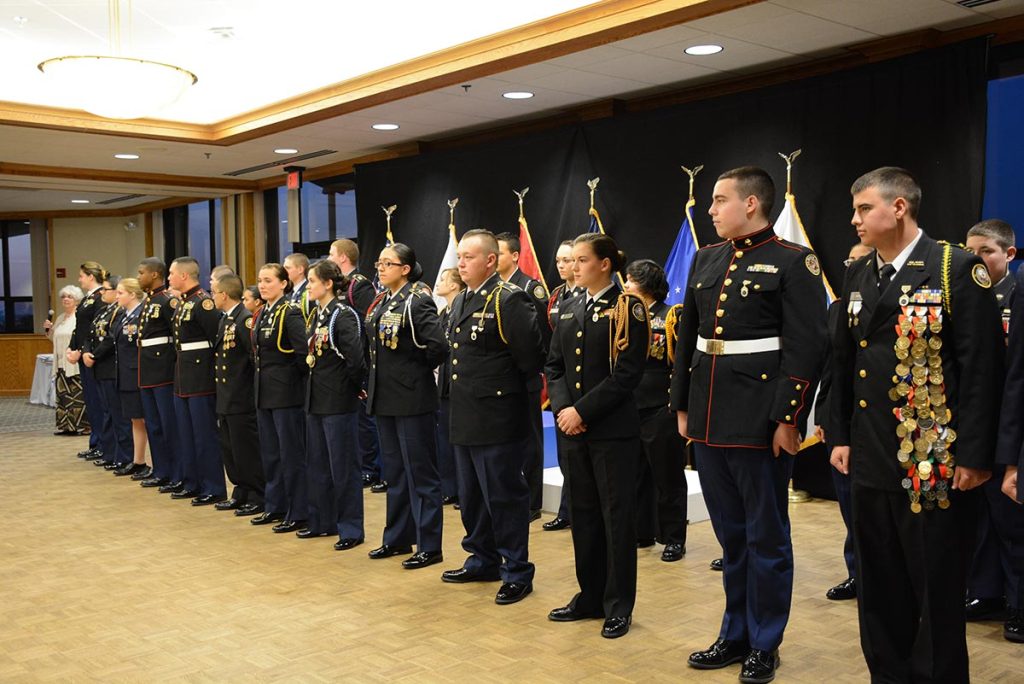 "I'm kind of stunned actually. A Marine Corps team has not been on top for eight or nine years . . . we're thrilled," said R-S Central coach Maj Russell Armentrout. "We have great team depth, but we've been peaking at the right time . . . They really have risen to the occasion."
R-S Central alternate, Sarah Huffman, supported her team and forever etched their JROTC National Championship experience with lead and paper as she created an artistic sketch of her teammates from the stands.
"I was just doodling something, and Major said, 'Hey! You should draw a picture of the team!' And I said, 'That's a great idea!'" she explained.
She completed her work in nearly the amount of time it took her team to complete their prone stage – only 20 minutes. She also had to mentally draw in one of her teammates who had already gotten up out of position before she could finish sketching her. She plans on copying and framing the piece as a gift to her coach and teammates. The original will be framed and placed at their home range.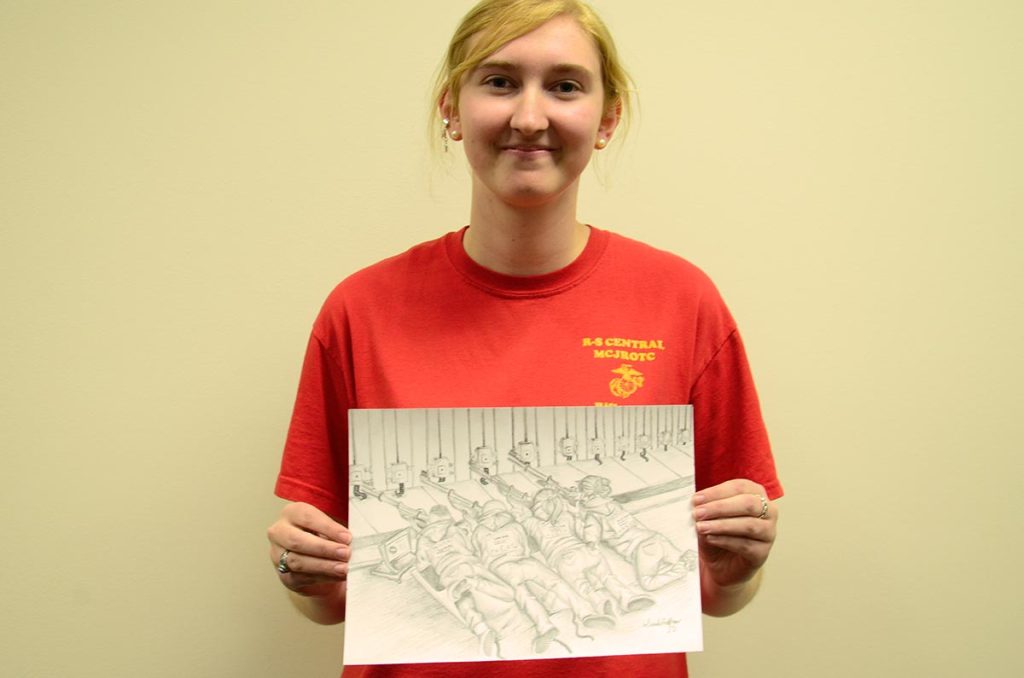 Besides drawing behind the firing line, Huffman also has crafted together public artwork, created murals at schools and has even designed t-shirts and posters for her team. She plans on taking graphic arts when she begins college.
For their win, R-S Central received a brand new Crosman Challenger Air Rifle, donated by Crosman. With a giant grin and a quick throw of her hand in the air, teammate Baylee Boone already called "dibs" on the slick new red rifle for next year's season.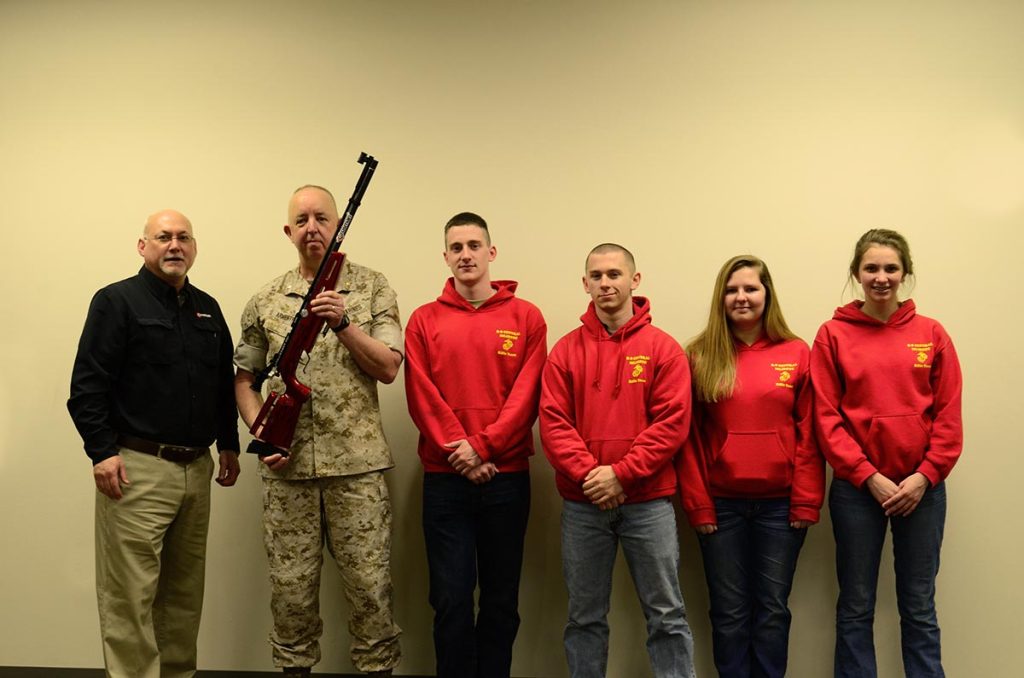 Winning first place teams (both sporter and precision) also received $2,000 from the CMP and $5,000 towards their MidwayUSA endowment fund.
Fellow Marines from Gulfport High School, MS, claimed the second place spot, trailing by only two points with a score of 4367-137x. Second place teams received $1,500 from the CMP and $3,500 towards their endowment.
Navy team Zion Benton High School, IL, rounded out the Top 3, with a score of 4367-137x. The third place teams received a check for $1,000 from the CMP and $3,000 towards their endowment fund.
East Coweta High School, GA, representing the Marine Corps, was the overall precision leader in the competition. Team members Glen Lauzon, Alexandria Wright, Charles Mathews and Jonathan Satterfield fired a score of 4662-286x for the first place finish. Maj Peter Merrill coached the team.
Army team Walla Walla High School, WA, trailed with a score of 4638-272x for second, while fellow Army members Del Valle High School, TX, fired a score of 4624-252x for third.
A 10-shot final is also conducted on Day 1 and Day 2 of the competition, with the Top 8 overall sporter and precision shooters. Winners of each day's final received medals on the firing line to commemorate their success.
Hayden Briggs, 17, of Nation Ford High School, SC, began the Day 1 sporter final in sixth place out of eight, but stayed confident and focused to give an excellent performance with a finals score of 97.0 – giving him an overall score of 654. Finishing strong with a 10.8 on his final shot, Briggs felt like he really earned the score that brought him back up the line for a first place finish.
"Basically I was just trying to stay calm. I've been training for this my entire life. Coming into it, I was thinking, 'Heck, I've done this before. Be comfortable.' So that's what I did," he said. "That last shot, I felt great about. It all came into place."
Ashley Stacy, 14, of Monroe Area High School, GA, began and ended in second place, with a score of 651.1.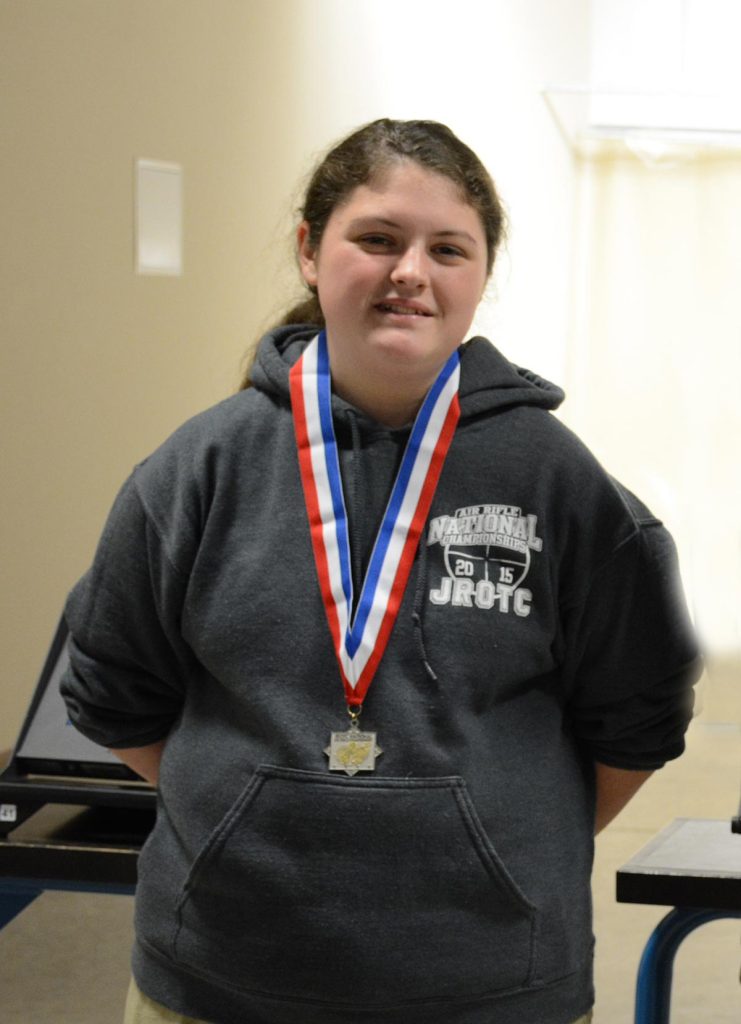 Brian Hampton, 17, of Fort Mill High School, SC, was the overall leader of the sporter field going into the finals and even held a commanding seven-point lead above his competitors, until a shot that changed it all.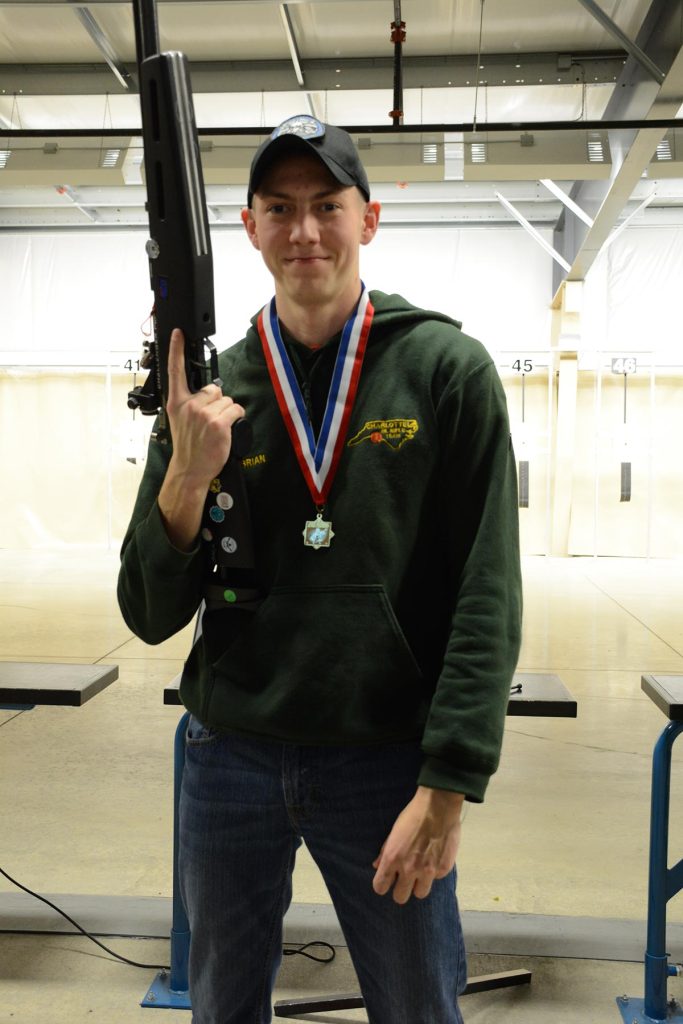 On his ninth shot out of 10, Hampton uncharacteristically fired a score of 3.4 – leading into the final shot by only one-tenth of a point. Briggs took advantage of Hampton's misfortune by grabbing the win instead.
"[After that shot] I was just kind of like, 'Whoop, there it went.' But, you've just got to keep going," said Hampton with a grin.
Knowing each other well, Briggs and Hampton laughed together as they discussed the definitive shot.
"I heard the crowd. I saw their reactions, and I saw them look over at Hampton. And I thought it was either a good shot or a terrible shot. And it ended up being a pretty bad shot," said Briggs, smiling.
Taylor Gibson, 14, of North Salem High School, OR, was the overall Day 1 precision competitor, with her score of 693.4. Sierra Czap, 17, of Franklin County High School, VA, fired a 690.3 for second, while Daniel Enger, 16, of Walla Walla High School, WA, followed closely behind for the bronze with his score of 689.7.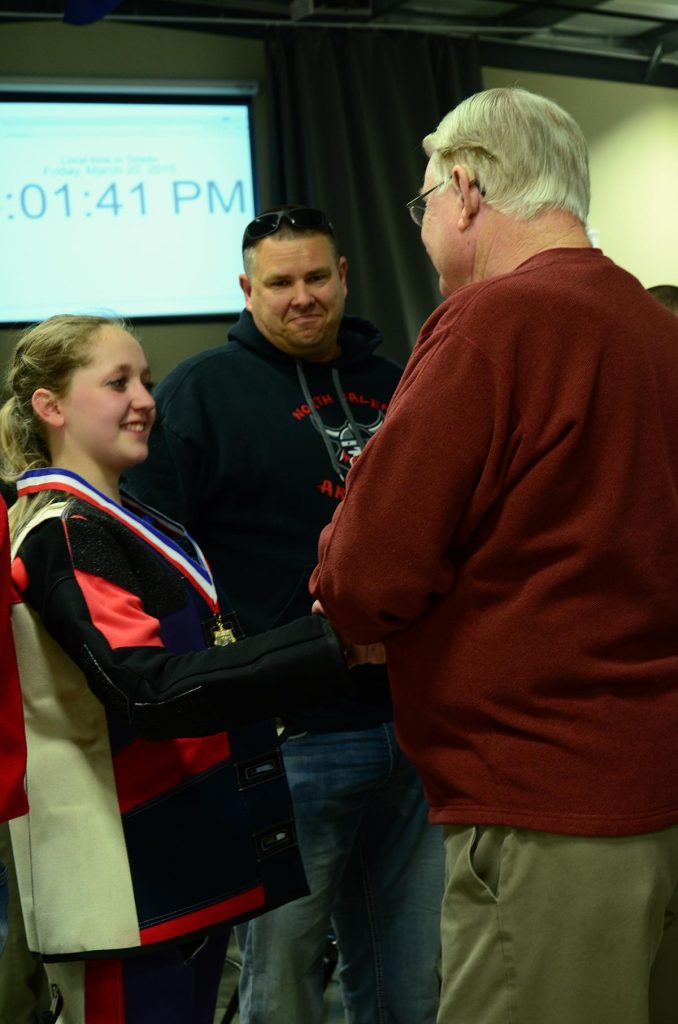 Hampton faired better on Day 2 of the finals, holding on to his lead and earning the gold for the sporter class. Giovanni Gutierrez, 18, of East Aurora High School, IL, gave an impressive showing during the finals, but still fell just short of Hampton to earn the silver. Gabriel Palermo, 18, of Freeport High School, IL, followed in third for the bronze.
In precision, Enger bested Gibson to receive the gold medal, while Gibson fell to silver. Mary Pratt, 16, of Monroe Area High School, GA, carefully kept her mind on her shots as she earned the bronze.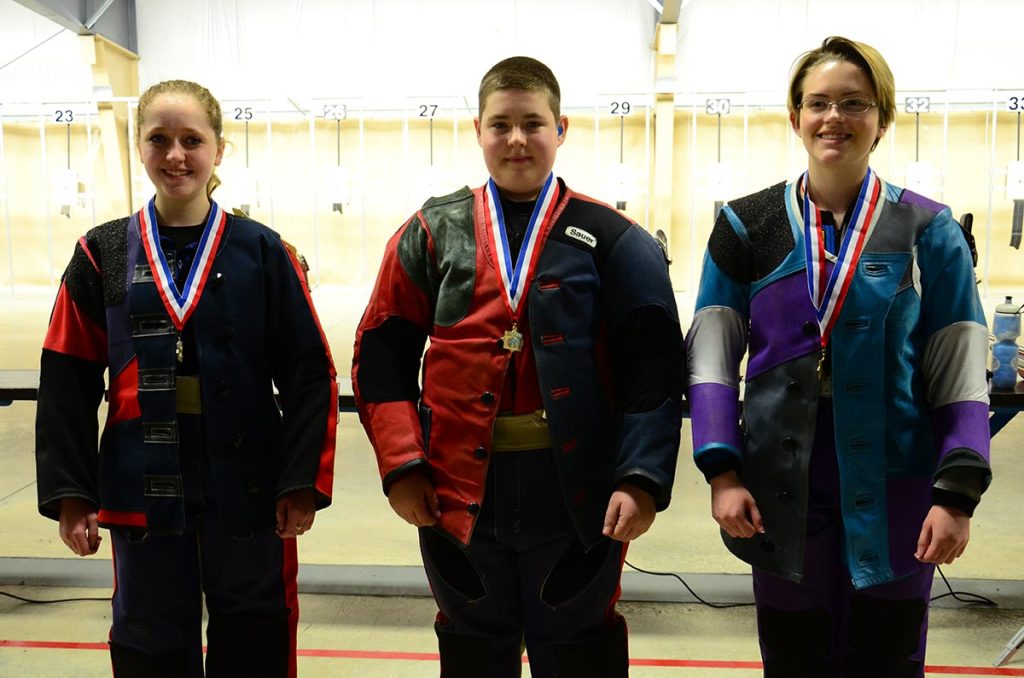 After two days of competition, Hampton's impressive performance led him to the gold in the overall sporter competition with his aggregate score of 1221.35. Despite his Day 1 Final mishap, he still managed to have an outstanding showing throughout the competition – breaking three Marine Corps JROTC Records, including 20 Shot Standing (188-6x), overall 3×20 (570-28x) and 3×20 plus final (657.7).
Hampton also received a new Crosman Challenger Air Rifle, donated by Crosman, along with $500 from the CMP.
Briggs (Marine Corps) followed in second, with a score of 1209, as Palermo (Navy) stayed close to Briggs but fell just short, with a score of 1208.15 for third. Second place received $400 from the CMP, and third received $300.
In precision, Enger narrowly beat Gibson overall with a score of 1283.2 to earn the gold, as Gibson stayed extremely close but took home the silver with her score of 1283.05. Both represented the Army branch. Gibson also fired a new Army JROTC 20 Shot Kneeling record, with her exceptional score of 200-18x.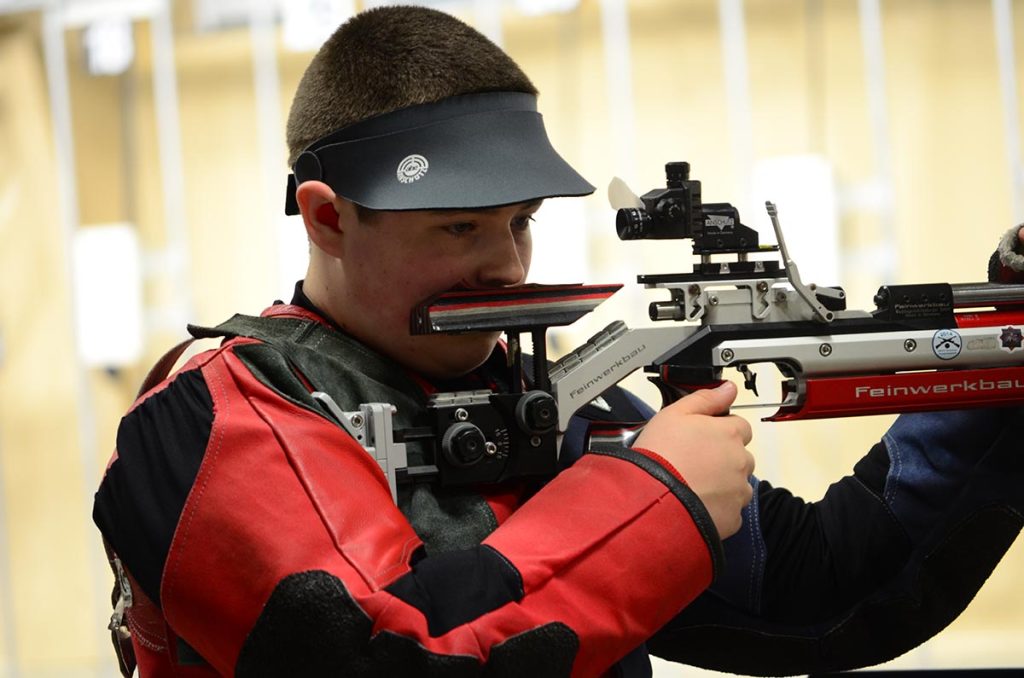 Also firing for the Army was Maggie Ehmann, 18, of Patch High School in Germany, who fired a score of 1277.05 for the bronze.
To note, another junior with a remarkable showing at Nationals was Ashley Stacy, 14, of Monroe Area High School, GA, who fired two new sporter Air Force JROTC records: 20 Shot Standing (188-6x) and 3×20 (562-14x).
The CMP was proud to once again be witness to all of the talented juniors who participated in all stages of the JROTC Air Rifle Championships. Congratulations to all!
For a complete list of results, visit http://ct.thecmp.org/app/v1/index.php?do=match&task=edit&match=12128. Photos from the event can be viewed at http://cmp1.zenfolio.com/f631663608. Photos are available to download for free or are also available for purchase.