Junior Samuel Payne Fires First Perfect Score in Rimfire Sporter Match at Eastern Games
May 15, 2015
Civilian Marksmanship Program
▸
The First Shot
▸
Junior Samuel Payne Fires First Perfect Score in Rimfire Sporter Match at Eastern Games
By Ashley Brugnone, CMP Writer
CAMP BUTNER, NC – Since its inception as a CMP Games event in 2002, many marksmen of all ages have strived to make history by being the first to earn a perfect 600 in the popular Rimfire Sporter Match, but none have been able to capture the title – that is, not until Samuel Payne stepped up to the firing line.
Sam, 16, of Kingston, GA, fired a perfect score of 600-50x during the Rimfire Sporter Match in the T-Class at the 2015 Eastern CMP Games in Camp Butner, NC. It was a feat that no other had been able to accomplish – and one few are likely to repeat.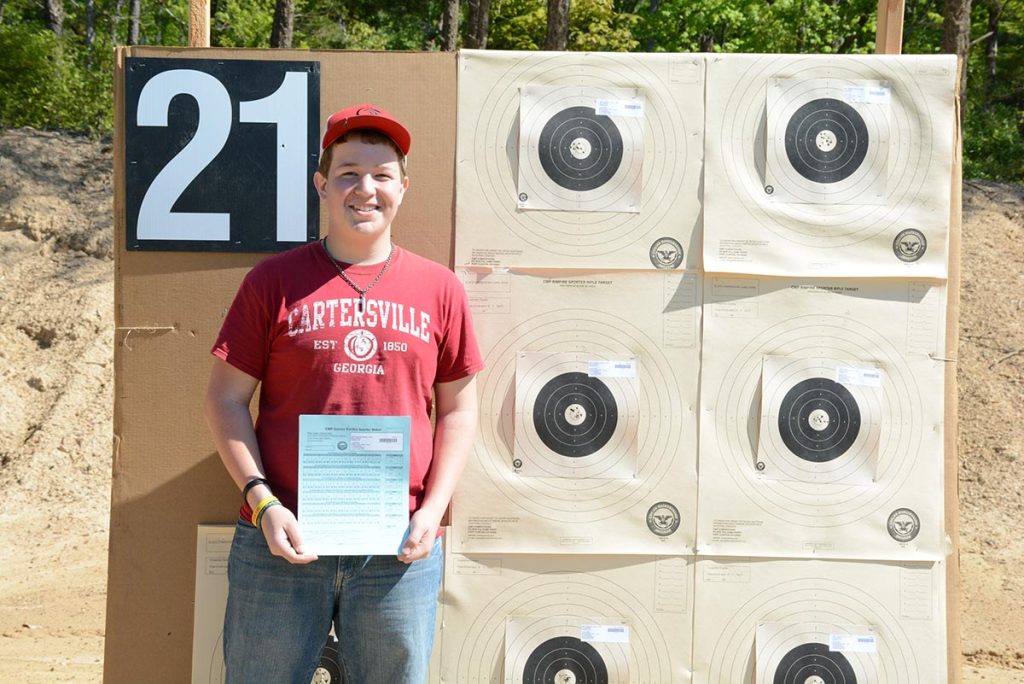 "I was super duper nervous. But I just shot, and I did it," he said, modestly.
His scores for each position were sensational:
Prone Slow: 100-9x
Prone Rapid: 100-8x
Sitting Rapid: 100-10x
Standing Slow Fire: 100-6x
Standing Rapid Fire: 100-7x
But although Sam is only a junior, he's no novice when it comes to guns – he's been around them most of his life. His competitive shooting career began with BB in the 4th grade before moving to the .22 rifle in the 9th grade with his Bartow County 4-H team, until finally starting air rifle last year.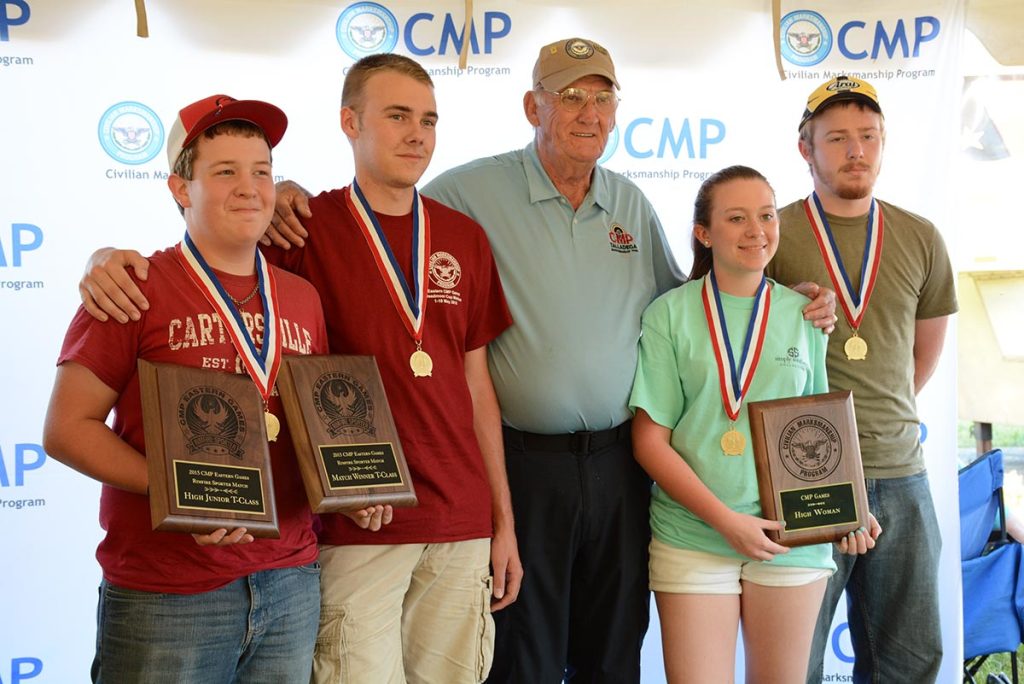 And how many Rimfire Sporter matches has he shot in his lifetime?
"A lot," he said with a laugh.
His dad, Doug, coaches Sam's team and hosts a Rimfire Sporter match each month in Griffin, GA, at the Georgia Competitive Shooters Club. He also takes Sam to Tennessee and other small Rimfire matches to gain even more experience in the event.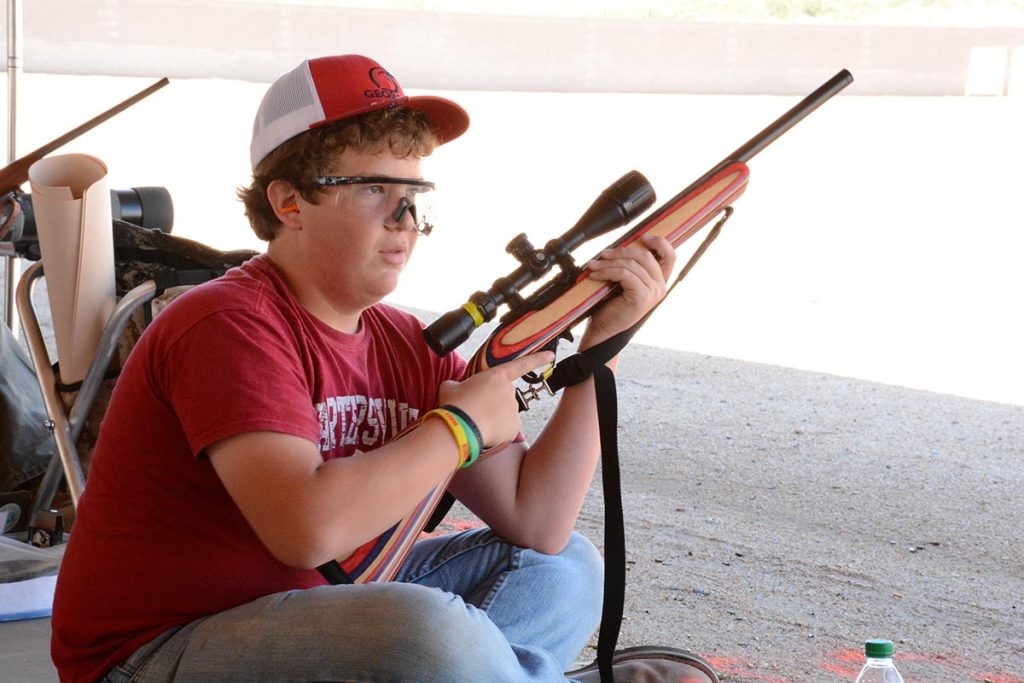 After those many hours of worthwhile practice, Sam has become comfortable and well accomplished in the match. He was named the High Junior and finished 11th overall at the 2013 National Rimfire Sporter Match at Camp Perry, firing an impressive score of 586-29x. The following year at the 2014 Eastern Games, he was the High Junior and Overall leader in the T-Class as well as at Western CMP Games in Arizona, with a score of 593-37x.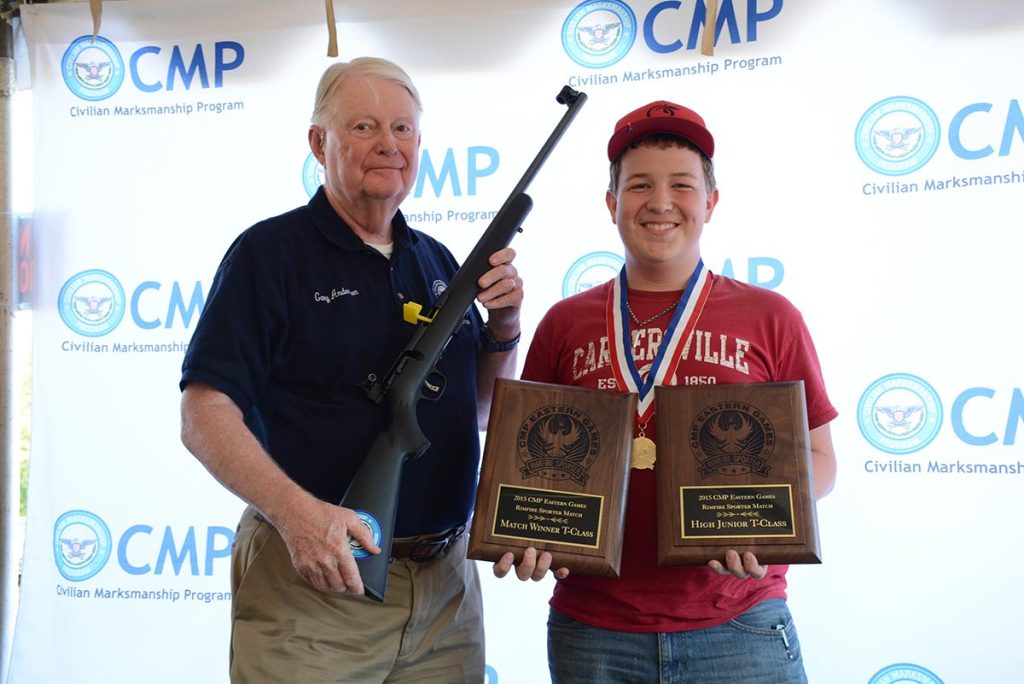 Because of his brilliant performances in the event at such a young age, Sam's appearance at the National Matches was chosen for the cover of the 10th Edition of the CMP Guide to Rimfire Sporter Shooting, released just this year.
Though he displayed precision excellence at his untouchable showing this year, Sam came extremely close to a flawless performance during last year's Eastern Games as well. There, he marked an outstanding score of 599-43x – falling just short of 600 in his final position. Slightly faltering in his final shots, Sam only managed to fire a score of 99-5x in the Standing Rapid Fire portion, crushing his dreams of being the first to reach perfection.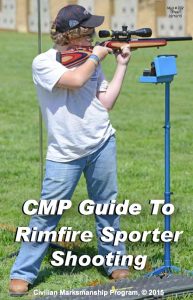 "I was really nervous (this year) because the closest I had ever gotten was last year, and I didn't want to mess it up. I didn't want to have a repeat – I wanted to actually do it," he said.
As he approached his final shot of the 2015 match, his mind began to race to last year's outcome.
"I stopped a second, and I was like, this is what's going to either make me or break me – you'll either shoot a 600 or you'll mess all of this up," he explained.
With a calm demeanor, he regrouped and focused on the target downrange. He knew what he had to do to reach perfection – and that's exactly what he did.
"I pulled the trigger, and I thought, 'Oh my gosh, I just did it. I'm the first one,'" he said as he smiled.
He looked back behind the firing line at his cheering section – his family, team members and all of the spectators that soon became his new fans.
"Dad was freaking out. He was so happy. And my brother was ecstatic, and everyone was like, 'Wow, that's amazing,'" he said.
Firing a score of 600 is something many talented marksmen will never accomplish in their lives, but at just 16 years old, Samuel Payne already has that goal checked off his list. With such a bright and undoubtedly successful shooting career ahead of him, what could possibly be left to accomplish?
"Sixty X's – everything perfect," Sam said with confidence.
To view full results from the Rimfire Sporter Match, visit http://ct.thecmp.org/app/v1/index.php?do=match&task=edit&tab=results&match=12086#.  Photos are posted online at http://cmp1.zenfolio.com/p778486283.