Junior Receives Warm Gift from Grandma to Always Remember Camp Perry
July 24, 2015
Civilian Marksmanship Program
▸
The First Shot
▸
Junior Receives Warm Gift from Grandma to Always Remember Camp Perry
By Ashley Brugnone, CMP Writer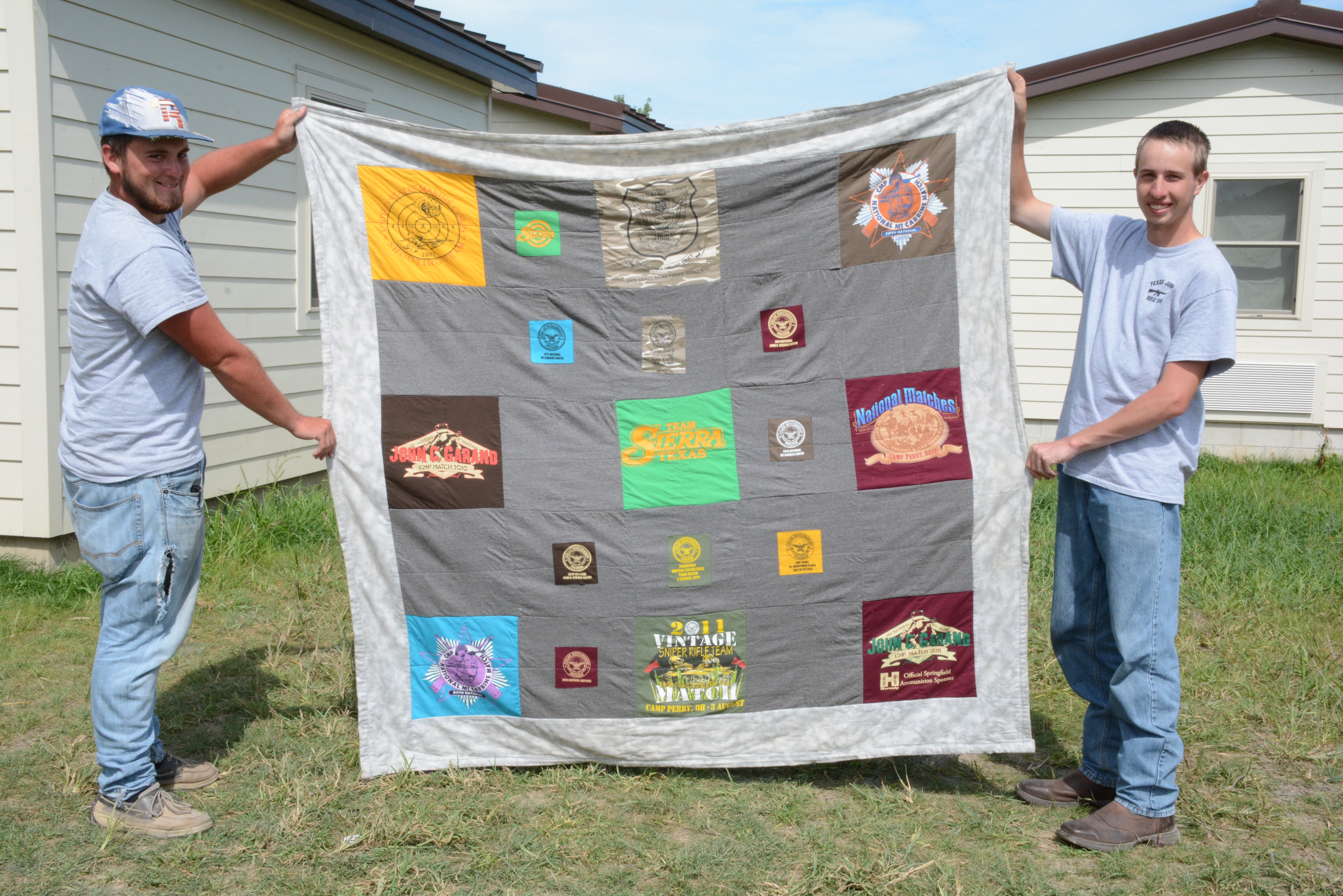 Year after year, competitors flock to the ranges of Camp Perry to take part in the National Trophy Rifle Matches & National CMP Games Events. After rolling pound upon pound of gear to the firing line, roasting in the sweltering July sun of Ohio, withstanding the blustering winds over Lake Erie and giving every ounce of effort to compete at the highest level of their potential, competitors receive the reward they had fought hard to earn – their National Match t-shirts.
Anyone who has ever attended the National Matches or any CMP event knows just how popular and important the t-shirts are to competitors – it's the one souvenir that everyone can take with them to prove they were there.
Eric McDaniels, 20, of Grand Prairie, TX, and the Texas State Rifle Association Junior Team, also loves his t-shirts. He loves them so much that he still wears them on his back to this day – sometimes to bed, sometimes just laying on the couch and always more than one at a time.
No, he's not wearing layer upon layer of National Match shirts. He's just enjoying the extremely thoughtful gift his grandmother made to help him always remember his times at Camp Perry.
On Christmas morning in 2014, his grandma gave him a gift to open – one she had made herself. When Eric opened the box, within it was a blanket patched with pieces of his National Match t-shirts he had acquired over the years.
"Apparently some of my shirts had disappeared, but I didn't know they had disappeared until I got them put together on here," he said with a laugh.
This year was his 10th year at the National Matches – giving Grandma a lot of shirts to go through.
"I thought it was awesome," he said. "I've never seen a blanket like this. It reminds me of all of the times I've been up here."
The first few years, it was just Eric and his dad coming up to the Matches to shoot for fun – starting with Carbines, then growing to Garands and Springfields. After about five years of shooting, he and his family discovered Texas had a Service Rifle team, and he began shooting with them on top of the other events he already participated in.
Now, bringing his blanket along to National Matches, he can carry with him all of the matches he's shot in the past, while also keeping warm and talking with his teammates about the matches of the day.
As for his favorite patch, Eric can't really choose – each one is special to him in its own way.
But, with all of his favorite memories stitched together in one place, why choose when you can have them all?