Junior Outshoots Country's Top Marksmen at 2015 Dixie Double
November 30, 2015
Civilian Marksmanship Program
▸
The First Shot
▸
Junior Outshoots Country's Top Marksmen at 2015 Dixie Double
By Ashley Brugnone, CMP Writer
ANNISTON, AL – Rhiann Travis, 16, of Springtown, TX, was the High Junior and Overall Open Rifle winner during the seventh annual Dixie Double – held Nov. 20-22 at the CMP South Competition Center. With her win, Travis outdid her performance at last year's event, where she finished second overall.
Sarah Beard, 24, of Danville, IN, earned second place in the Open Rifle event, while Daniel Lowe, 23, of Olympia, WA, landed in third.
A group of over 100 juniors, civilians and Army Marksmanship Unit (AMU) competitors met on the line to fire in the two-day, 60-shot air rifle and air pistol event. Overall winners were determined from Day 1 and Day 2 aggregate 60-shot scores combined with Finals scores.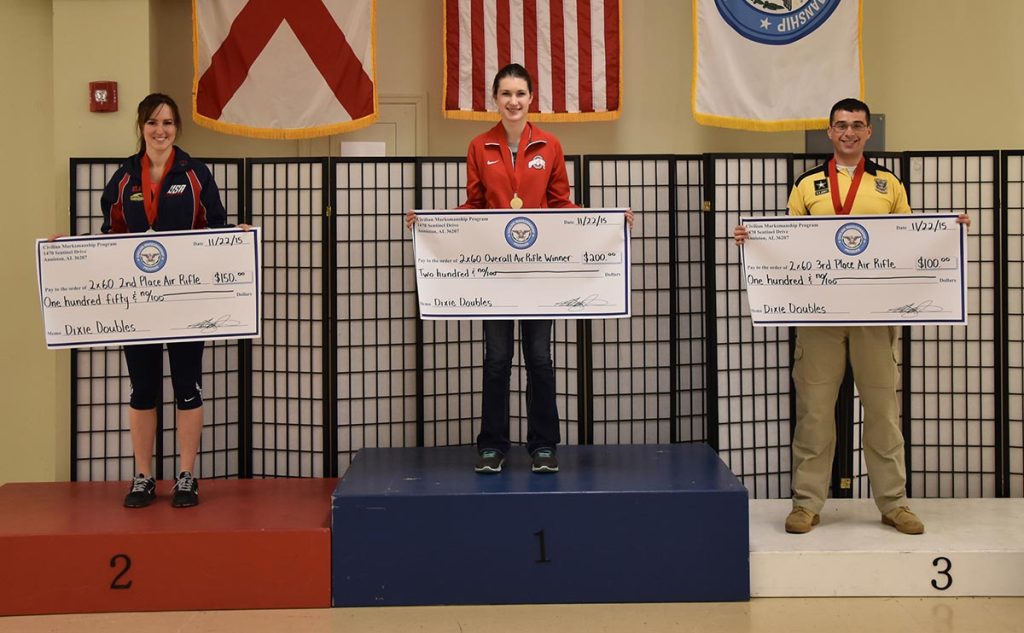 SPC Nick Mowrer, 27, of Colorado Springs, CO, was the overall Open Pistol winner, as Alexander Chichkov, 21, of Tampa, FL, followed in second and James Hall, 32, of Anniston, AL, claimed the third place spot. Lydia Paterson, 19, of Kansas City, KS, was the High Pistol Junior and finished in sixth in the Open class.
After Day 1 of competition, Travis led in the Open Rifle category – beating out Daniel Lowe in second and Sarah Beard in third. In pistol, SPC Nick Mowrer was the forerunner of the Open class, followed by Alexander Chichkov with a strong hold on second and Jason Turner, 40, of Colorado Springs, CO, in third.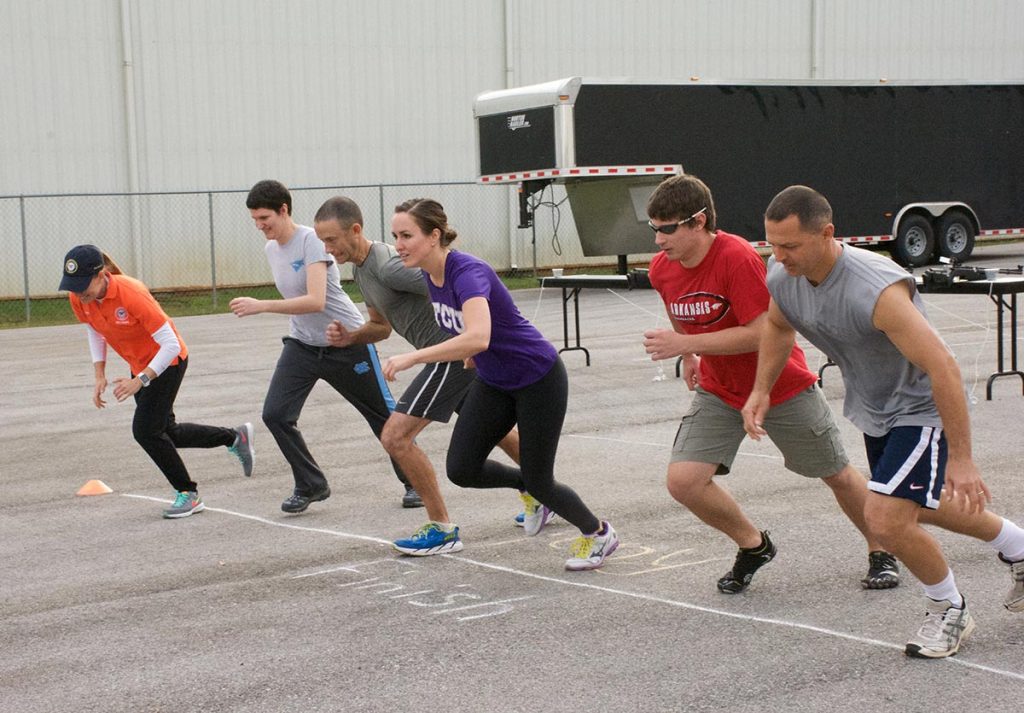 Travis again led in the Open contest on Day 2 of competition, as Sarah Beard trailed in second. Fellow junior Elizabeth Marsh, 17, of Searcy, AR, earned third in her performance. Marsh was also the second place finisher overall in the Junior Rifle competition.
SPC Mowrer was the victor after Day 2 in the Pistol class, with Chichkov and James Hall trailing behind in the second and third place positions.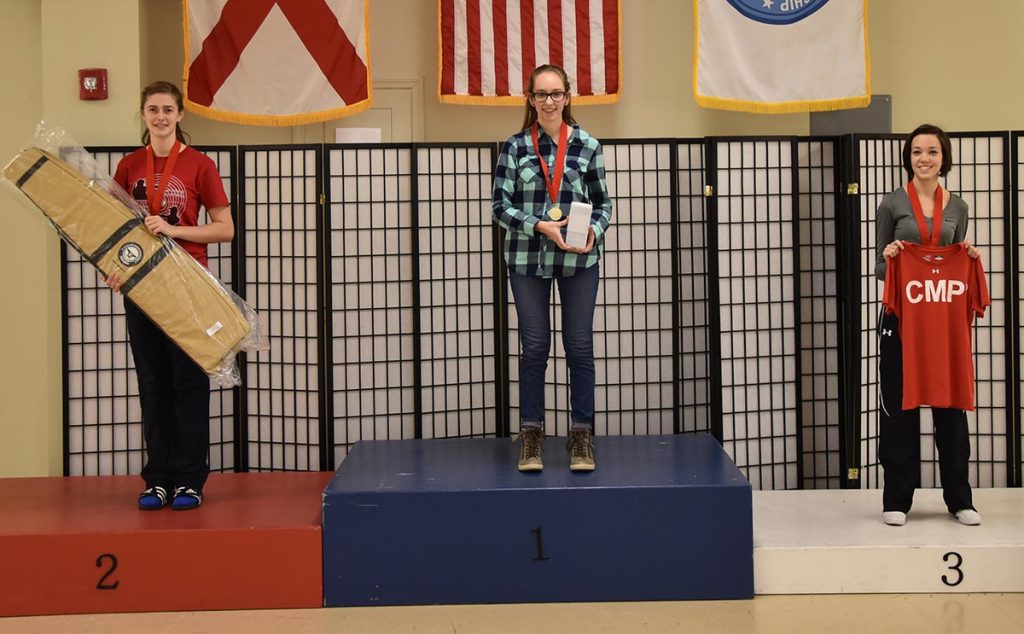 A team event that paired an Open competitor's results with a Junior marksman's score was also held concurrently with the individual competition. In the rifle team category, the "Lone Ranger and Tonto" team of Sarah Beard and junior Sarah Osborn, 16, of Hampton, VA, overtook the first place spot. In pistol, "Mental Spike Flakes" consisting of SPC Mowrer and Lydia Paterson won the contest with a commanding lead over the competition.
Adding a little fun to the Dixie Double for the second year was the Target Sprint competition, held on Saturday just outside the doors of the competition center. Created by the International Shooting Sports Federation (ISSF), the Target Sprint challenges participants to run a 400-meter course before firing from the standing position upon a box with five biathlon-style knockdown targets. After two rounds of firing and running, the competitor with the lowest time is considered the overall winner. Around 30 competitors ran in the competition in Anniston.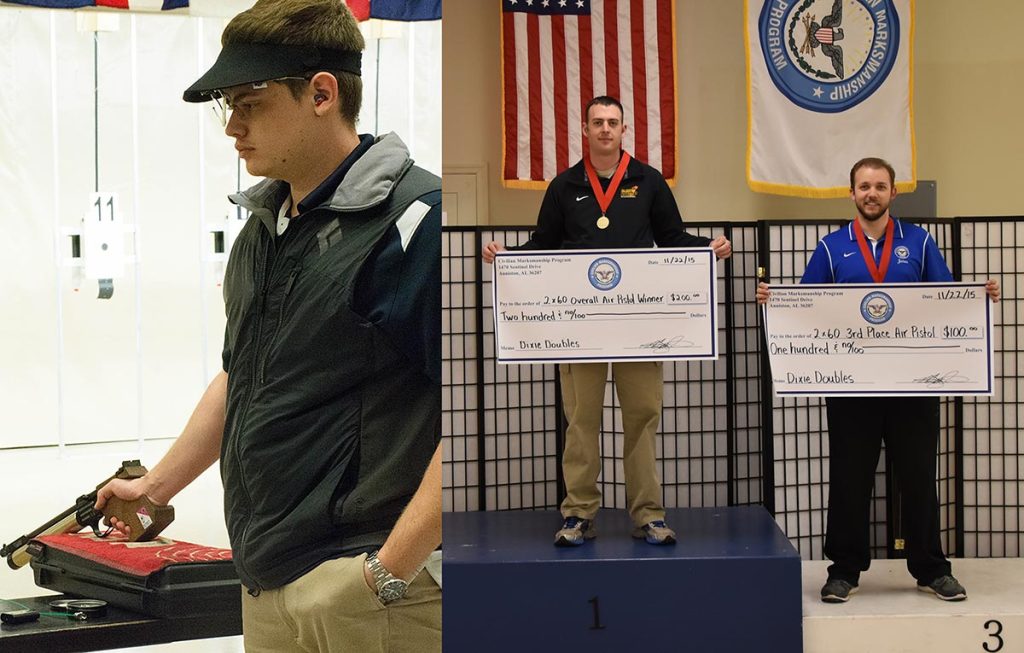 Winning overall in a close match was Jason Parker, 41, of Ft. Benning, GA, with a time of 5:47. Army Marksmanship Unit teammates George Norton, 31, of Phenix City, AL, and Hank Gray, 36, of Ft. Benning, trailed just shy of Parker's time – crossing the finish line at 5:49 and 5:54, respectively. Shelby Huber, 17, of Columbus, GA, was the high male junior of the Target Sprint.
Sarah Beard led the women in the event with an excellent time of 6:47. Sommer Wood, organizer of the Target Sprint, recorded a time of 7:34 to become the second-highest female, while Elizabeth Ewert, 16, of Burnsville, MN, finished in third and was the high female junior with her time of 7:41.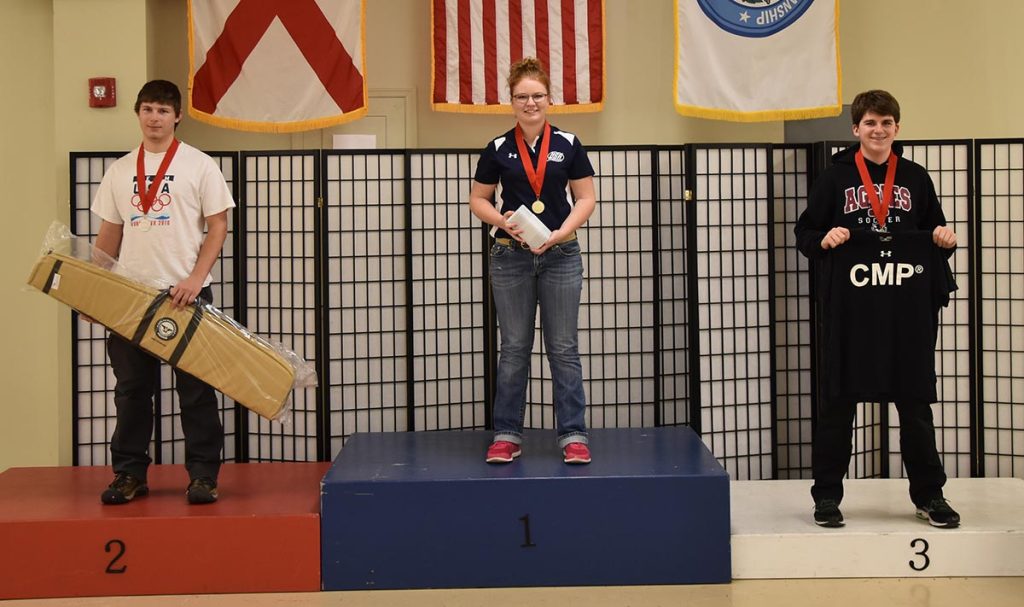 Overall winners of the Dixie Double earned $200 for first place, $150 for second and $100 for third from the CMP, along with a gold, silver or bronze medal for their accomplishment. Travis, in order to keep her amateur status, received $50 for her win.
Junior winners received a sleeve of Vogel pellets, a soft rifle case or a CMP t-shirt for first, second and third place finishes. Target Sprint winners earned bragging rights and a boost of their pride.
For a complete list of results from the Dixie Double, visit http://ct.thecmp.org/app/v1/index.php?do=match&task=edit&match=13281.
To view photos of the event, check out our Zenfolio page at http://cmp1.zenfolio.com.