Junior Madelyn Schnelle Captures Distinguished Rifleman Badge in One Year
July 14, 2022
Civilian Marksmanship Program
▸
State Director
▸
Indiana
▸
Junior Madelyn Schnelle Captures Distinguished Rifleman Badge in One Year
After only two years of rifle competition, Madelyn Schnelle, 15, of Crawfordsville, Indiana, has accomplished a feat that many spend a lifetime pursuing – claiming her own coveted Distinguished Rifleman Badge.
Madelyn was 13 years old when she started in marksmanship, beginning as scorer for her grandpa, Dave, at a few matches. She was also his "brass rat" – helping to collect the brass casings that fall to the ground after firing is complete.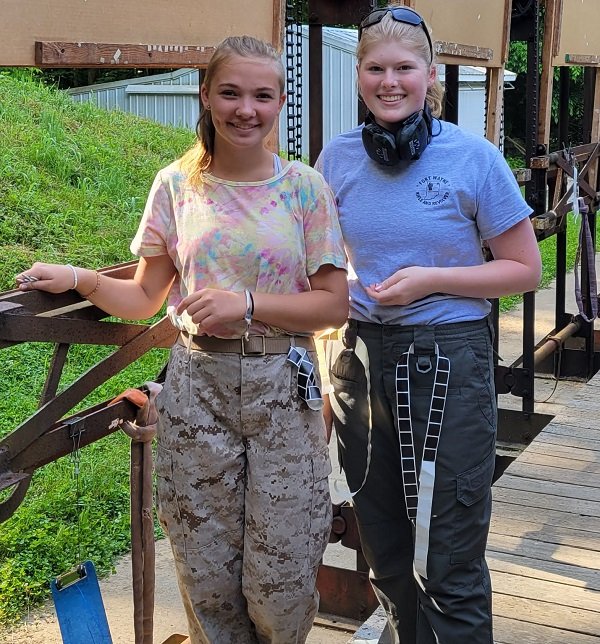 She soon realized she wanted to compete for herself, so Dave lent her his own shooting coat, to help stabilize her stance, and placed his rifle in her hands.
"When I took that first shot at 600 yards – that's when I really got hooked," Madelyn said. "It was a lot of fun. I really enjoyed it."
Since then, Madelyn has stuck with service rifle and is equipped with a Compass Lake upper, Geissele trigger, Creedmoor coat and a Nightforce scope. She stays involved with every process of competition, including loading her ammo and dissembling her rifle to clean it.
She practices at home, in the kitchen and living room using a SCATT trainer to work on her sight hold. She earns additional training outdoors with a shooting bench and shelter that Dave constructed by hand. The pair also participates in a Tuesday Night league and matches at the nearby Wildcat Valley Rifle & Pistol Club and shoots with the ISRPA (Indiana State Rifle & Pistol Association).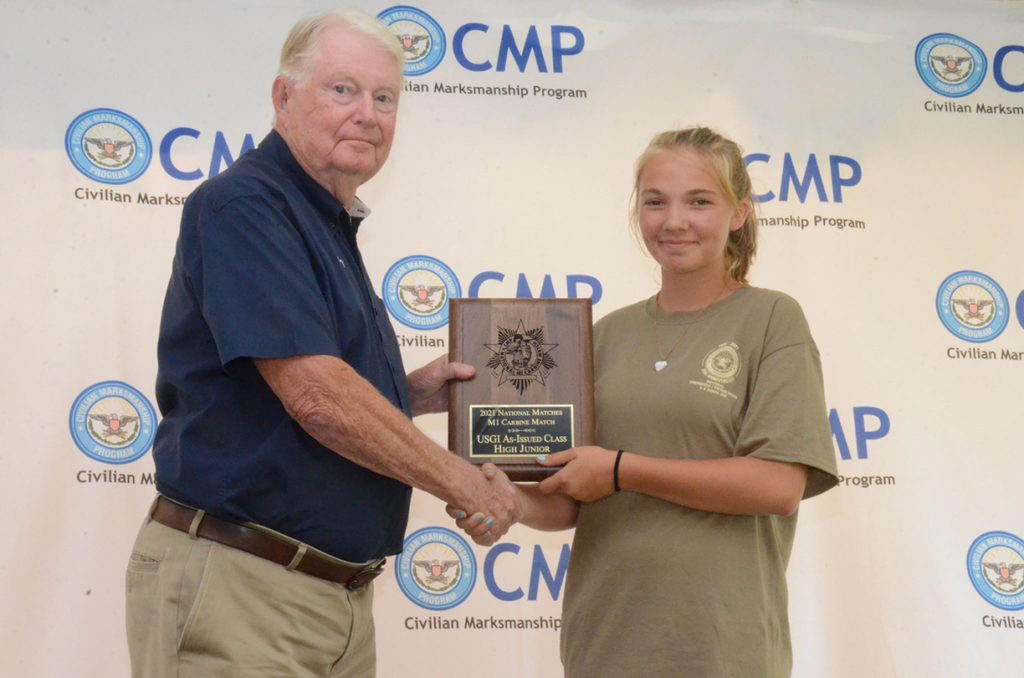 When Madelyn first began her competition career, the Distinguished Badge wasn't a goal. In fact, at the start, she didn't even know what it was.
"I just thought I was going to shoot a few shots and improve, but I didn't think I was going to improve that much to accomplish it," Madelyn admitted of the Badge.
"When I got better and grandpa told me about it, 'I said, hey, I can do that,' – and I did," she said with a smile.
Her first six points toward her needed 30 for the Distinguished Badge came on June 6 2021 at the Miami Rifle & Pistol Club in Batavia, Ohio. There, she finished as the second-highest non-Distinguished competitor. A year later, she needed only six more points to reach her goal, so she returned to the place where it all began – Miami Rifle & Pistol.
Her skills were strong at the match, feeling confident at 200 and 300 yards before taking the necessary trip to the pits to pull targets, as is part of rifle competition. Once she returned to the firing line to finish with her 600 yard string, the butterflies set in.
"That's when it all came rolling over me," she admitted. "I started shaking real bad, got kind of nauseous."
Despite her anxieties, she completed the match to the best of her abilities. When they called her name and announced she had achieved her last points, she was overcome.
"I started crying – tearing up," she said, thinking back to the moment. "It was very overwhelming and emotional."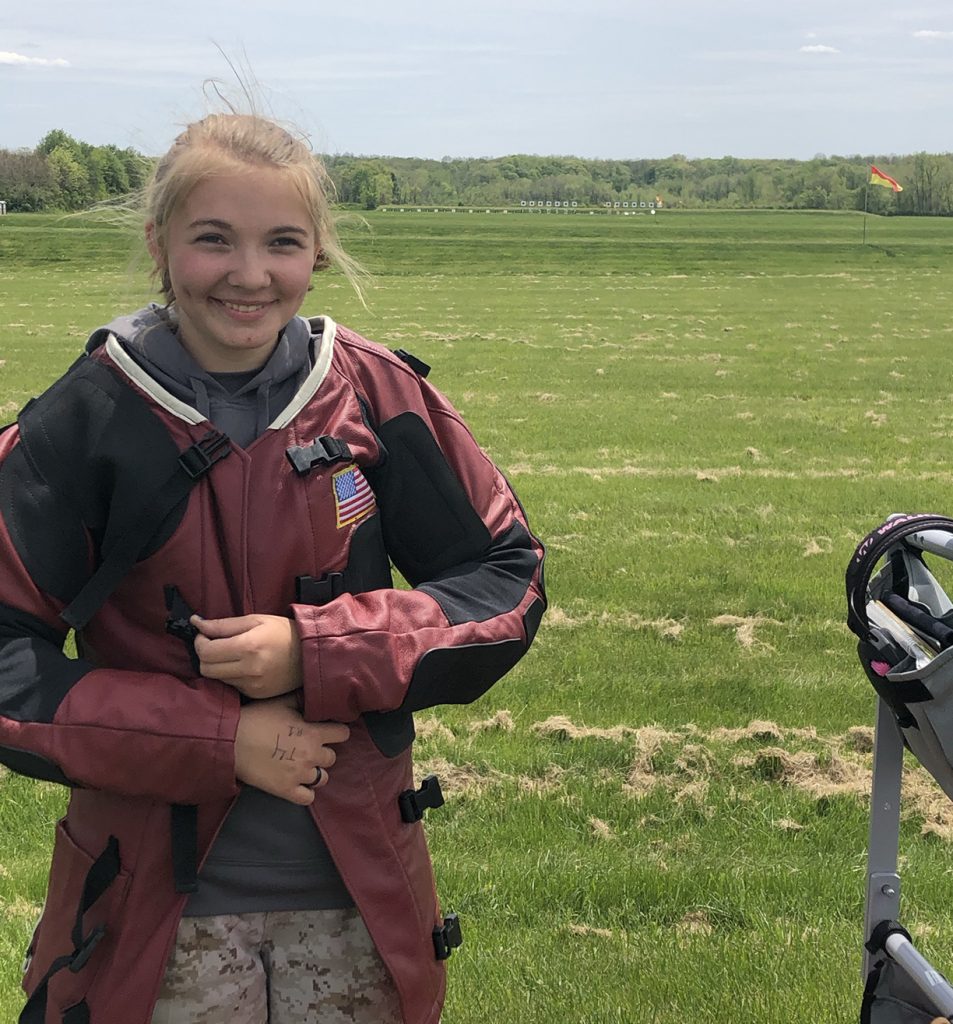 There to see her reach her big moment was her grandpa – one of many who have supported her along her marksmanship journey.
"I wouldn't be a shooter without a rifle, and I wouldn't have had a rifle without Grandpa," she said. "He encouraged me, he helped me accomplish so much. He's helped me through the times I couldn't figure something out and helped me get through all of it. All of the years that I've shot, he helped me with all of it. And I really, greatly appreciate that."
Dave has been alongside Madelyn for many of her career highlights, including when the two traveled to her first National Matches in 2021. The month-long event has been held annually at the Camp Perry National Guard Training Facility in Ohio since 1903 and features thousands of visitors each year for both rifle and pistol competitions as well as educational courses.
"It was exhausting considering I had to wake up at five o'clock (in the morning) for 12 days, with mayflies swarming, but I did learn a few things from it," Madelyn said.
She learned how to keep calm on the range, even against some of the best shots in the country, while other lessons were discovered the hard way…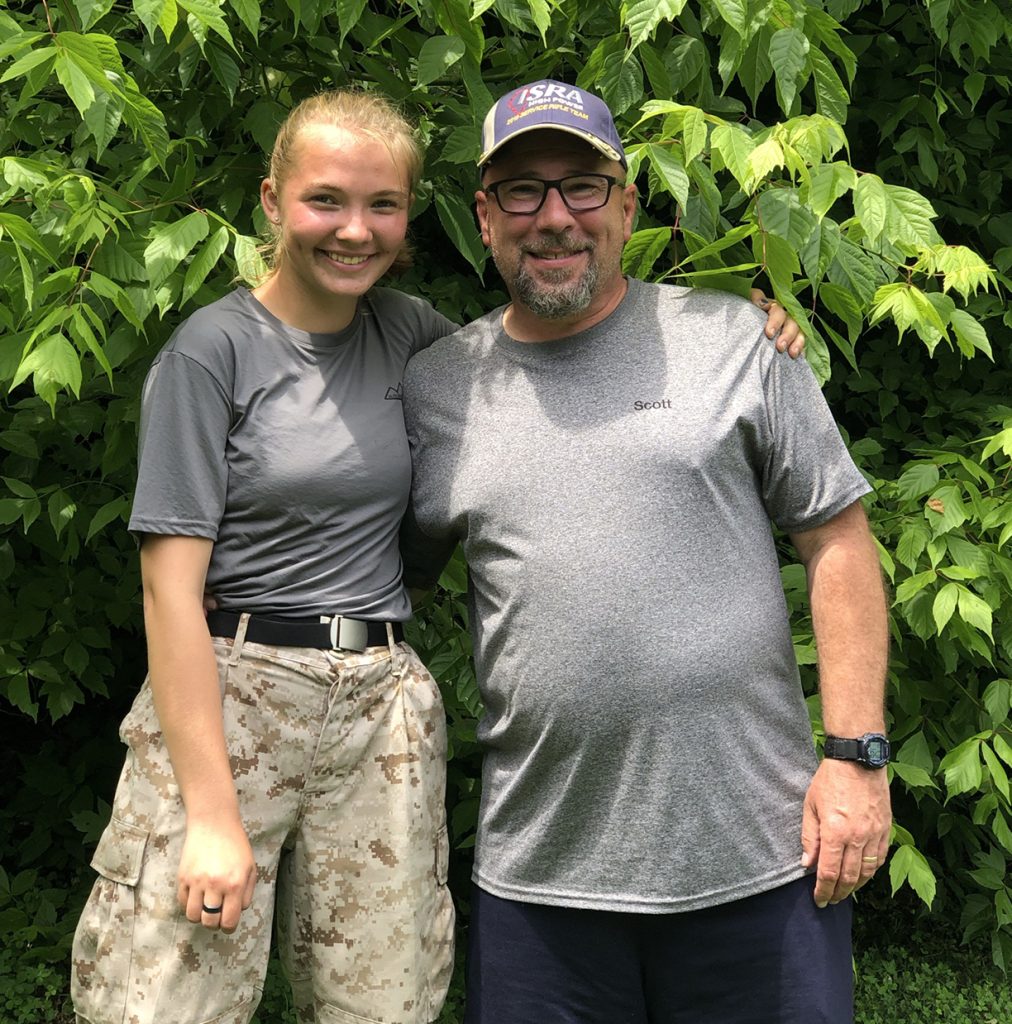 After finishing the esteemed President's Rifle Match, one of the most popular events of the National Matches, Madelyn came off the 600-yard line feeling ecstatic – thinking she had just accomplished something truly remarkable in her rifle career. She arrived back at the range the next day to shoot the National Trophy Individual Match (NTI), another significant competition, full of positivity and confidence from the day before.
She boldly took her first shot when she realized her scope was a whopping 13 minutes off her usual settings. Though her shot was perfectly aligned, it landed well above the center of the target. She quickly adjusted and embedded the lesson into her memory.
"Now I never forget it," Madelyn said. "It's better to learn from your mistakes than to having to have someone keep telling you. It sticks in your head better."
Though a few hiccups, she finished the NTI as the 32nd highest junior out of nearly 130. Her first appearance in the President's Rifle Match saw Madelyn placing 55th out of 838 competitors, earning a place in the prestigious President's Hundred as one of the 100 highest adult and youth marksmen of the event. She was also the sixth highest junior athlete in the match.
She'll return to the National Matches in 2022 with a goal of reaching the President's Hundred again and maybe even participating in the Top 20 Shootoff – a sought-after honor of the match.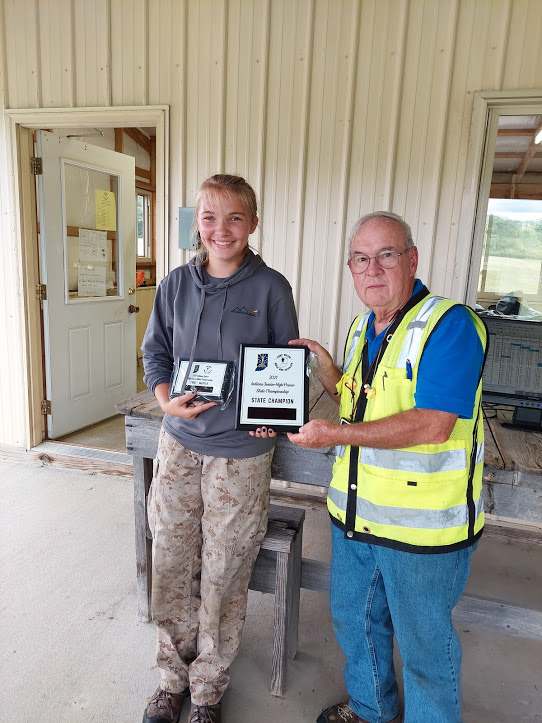 "I'm going to keep with it," she said of the sport. "Try harder to see if I can accomplish any more and try to help some of my friends."
It's more than scores and awards for Madelyn when it comes to marksmanship – it's also about bettering herself, with the immeasurable support of those around her.
"The thrill of being able to accomplish more than the average person," she said. "And the people, because they've helped me accomplish much more than I would've done by myself."
For other junior athletes who have their own marksmanship goals, Madelyn has some advice.
"Work. Work hard. If you don't work and you don't practice, you won't achieve," she said. "Even though you can't figure something out – if you have a problem with a position or it's not working, don't get frustrated. Get patient and figure that problem out. Zone in on it. Just practice, and practice and practice."
"Don't practice until you get it right, practice until you can't get it wrong," she added. "And then you'll achieve much greater than you will ever achieve. And that's with anything."
Distinguished Badges are the highest individual awards authorized by the U.S. Government for excellence in marksmanship competition. Badges are presented by the Civilian Marksmanship Program (CMP) after an individual receives at least 30 Excellence-In-Competition (EIC) points at qualifying matches.
Currently, the CMP offers Distinguished Badge programs for Service Rifle, Service Pistol, .22 Rimfire Pistol, International competition, Smallbore Rifle, 60 Shot Air Rifle, 60 Shot Air Pistol, Revolver Pistol, Junior Air Rifle and for impaired adaptive athletes. Learn more about the Distinguished Badge program by visiting the CMP website at https://thecmp.org/competitions/distinguishedbadges/.