Junior Katrina Demerle Earns Historic Distinguished Air Rifle Badge #1
November 23, 2022
Civilian Marksmanship Program
▸
The First Shot
▸
Junior Katrina Demerle Earns Historic Distinguished Air Rifle Badge #1
Katrina Demerle, 17, of Hamilton, Ohio, has earned the Civilian Marksmanship Program's (CMP) Distinguished Air Rifle Badge #1.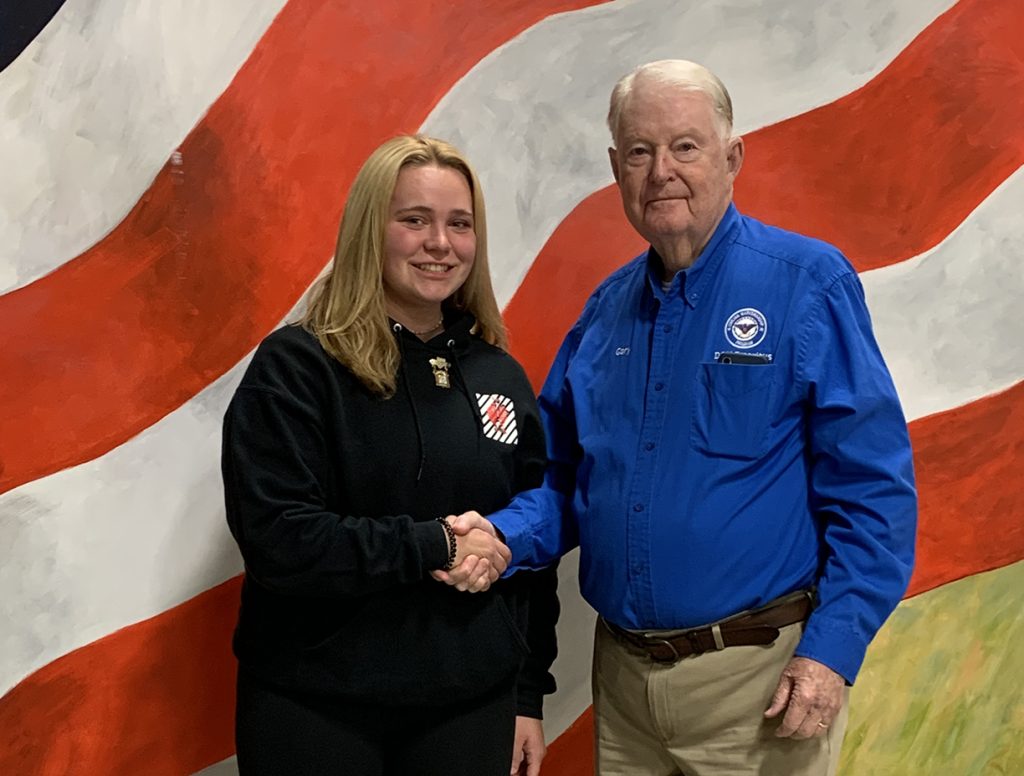 The latest addition to the CMP's Distinguished Badge Program was introduced in early 2022. The Distinguished Badge Program awards marksmen and women who produce consistent scores at qualifying events where they may earn the Excellence-In-Competition (EIC) points needed to receive a badge. It's a prominent honor in the marksmanship community and is now available in a variety of disciplines for adults and juniors, such as within 60 Shot Air Rifle.
"When I heard about it, I knew I wanted to earn that badge," Demerle said, confidently.
She earned her initial Air Rifle EIC points in January and her final points in September. The first to reach at least 30 points in the new Air Rifle category, she received an engraved Badge #1 and a place in the history books.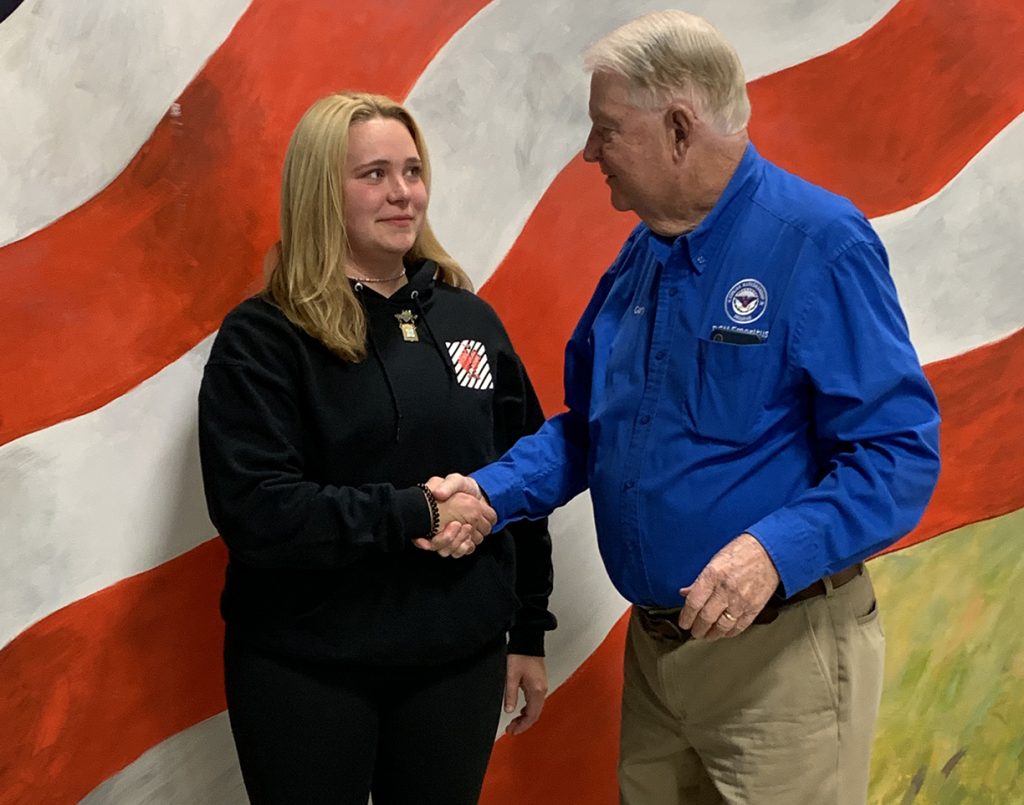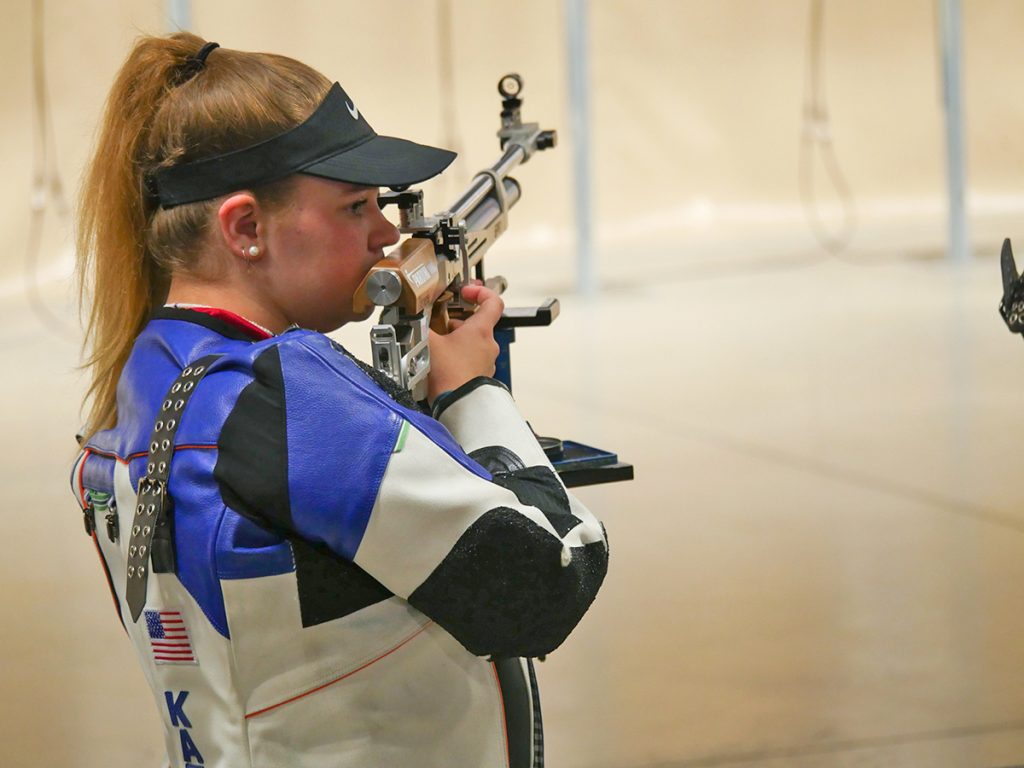 "I wasn't really focused on getting Badge #1 – I just wanted to earn the badge at some point," she admitted. "But I feel very honored to have achieved Badge #1."
Demerle's first experience in marksmanship was when her dad, Butch, helped her use his rifle at his friend's house when she was just six years old. Soon after, Butch signed her up for a local junior smallbore program – which also eventually led her to air rifle.
She's been competing for the last seven years and currently uses a Pardini for air rifle and a Feinwerkbau 2700 for smallbore and practices two to three times per week. She tries to compete in three or more matches per month, including at CMP's Monthly Air Gun Matches where she has won several awards. Her typical scores land around 596 in air rifle and over 580 in smallbore.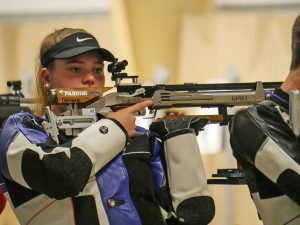 Demerle has been a member of the USA Shooting National Junior Team for international and three-position air rifle. Over her career, she has accrued multiple national records – currently holding over 10. She has competed in over 400 matches and has racked up several championship titles, including within CMP competitions and other matches.
In 2021 alone, she earned silver at the Junior Olympics in Women's Air Rifle, the overall title at the CMP/Junior Olympic Three-Position National Championships, gold at the El Salvador Junior Grand Prix, leading International Air Rifle athlete at the Anschutz Open and finished 33rd in Women's Air at the Junior World Championship in Lima, Peru – among other accolades.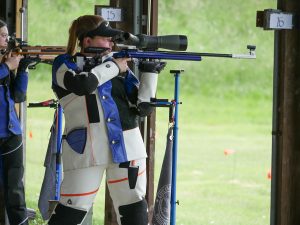 Her talents have also led her to become the CMP's Gary Anderson Invitational three-position air rifle match champion for the last four consecutive years as well as a five-time Ohio Junior Olympic Women's Champion in Air Rifle and Smallbore. She had previously earned a Junior Distinguished Badge #1201 in Three-Position Air Rifle in 2017.
In the future, she'd like to compete on a NCAA Rifle Team and hopefully help lead its members to a national championship.
"I am looking forward to working with a college coach who can help me improve my shooting skills so I can become the best shooter I can possibly be," she said.
About the Distinguished Badge Program:
To earn a Distinguished Badge, a competitor must earn 30 or more Excellence-In-Competition (EIC) points or more in a qualifying competition. Individuals earn the 6, 8 or 10 "leg" points based on score and a percentage of match participation, with at least one "hard" leg, worth 8 or 10 points. Currently, the CMP administers Distinguished Badges for:
Service Rifle
Service Pistol
.22 Rimfire Pistol
Junior Air Rifle
International Shooter
Smallbore Rifle (3P and Prone)
Distinguished Marksman Badge
Distinguished Air Rifle and Air Pistol
Service Revolver
Those interested in learning more about the Distinguished Badge Program or how to earn one (or several!), may find more info on the CMP website at https://thecmp.org/competitions/distinguishedbadges/.