Junior Girls Break Same Record During Same Relay at JROTC Regional Match
March 8, 2017
Civilian Marksmanship Program
▸
The First Shot
▸
Junior Girls Break Same Record During Same Relay at JROTC Regional Match
By Ashley Brugnone, CMP Writer
ANNISTON, Ala. – Emma Thompson, who has repeatedly set and broke over nine of her own Navy Sporter JROTC National Records during the last few Civilian Marksmanship Program (CMP) 3×20 air rifle events, did so again on Day 2 of the JROTC Regional Service Championship, held in February. But, much like her other records, it didn't stand for long – in fact, it lasted less than 20 minutes.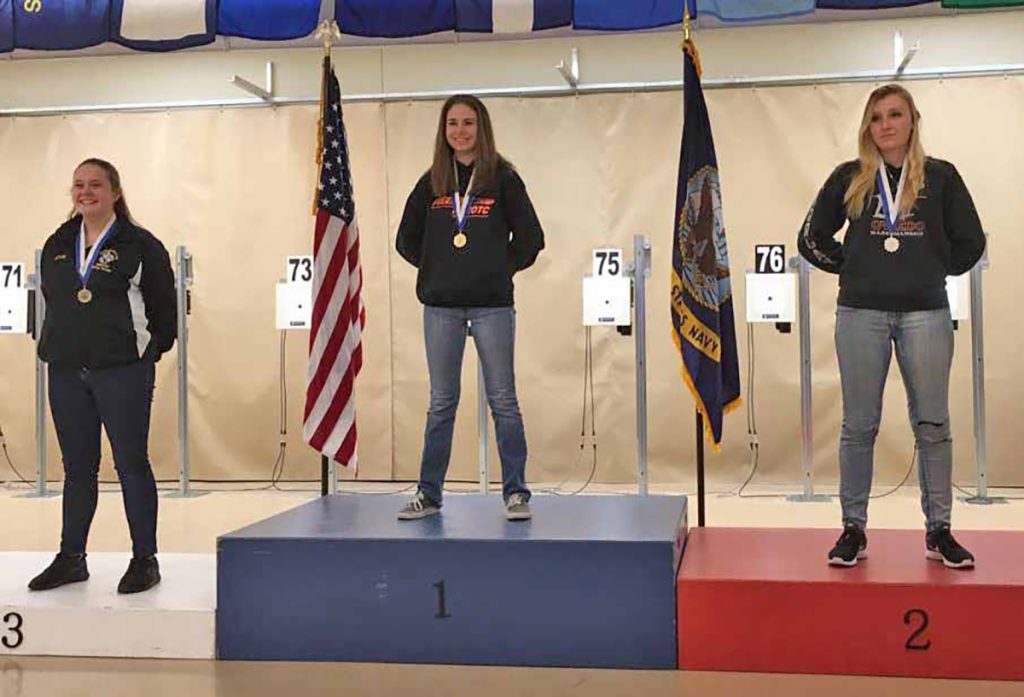 Thompson recorded a new Navy JROTC Sporter Standing National Record score, but on the same relay, Jesseca Montcrieff outshot Thompson's new score by one point – setting the record for herself with a score of 189-4x.
Both junior girls gave incredible performances during the Regional Championships, finishing first and second, respectively, overall in the Navy Championship as well as amongst all of the JROTC Services. The exceedingly talented Thompson remarkably finished with an aggregate score 30 points above Montcrieff – completely securing her place at the top of the sporter class.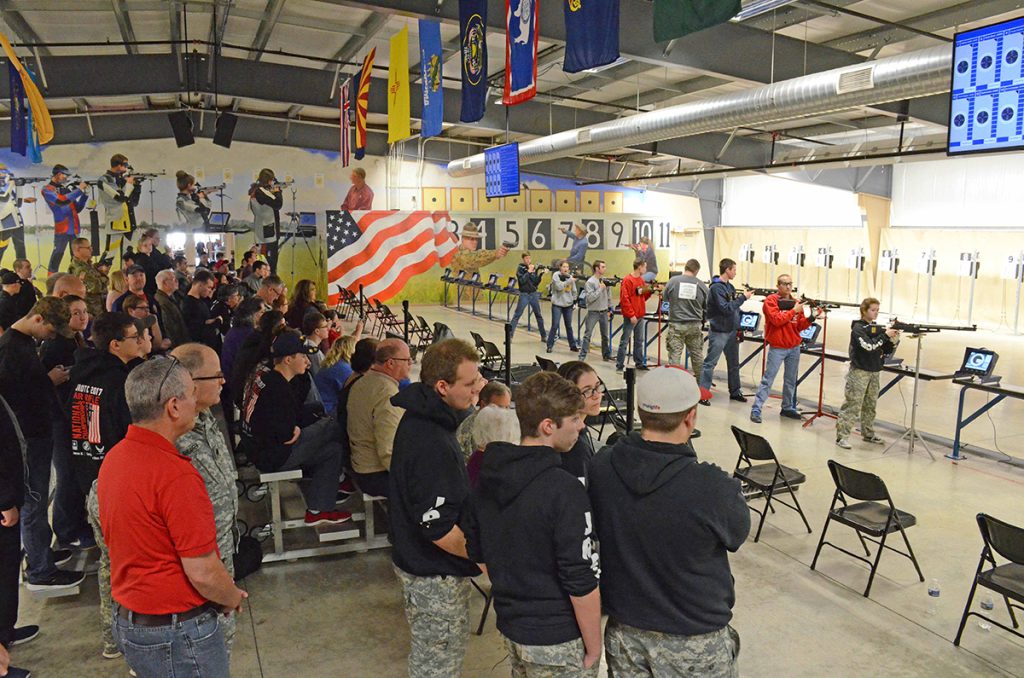 With Regionals completed, the final step in the JROTC Service Championship competition series is the National Championship, waiting to be held at the CMP's South Competition Center in Anniston, Ala., March 23-25.
Like the Regional events, the National match is a 3×20 air rifle competition, where competitors fire 20 record shots from three positions: prone, standing and kneeling. Visitors are welcome into the range to observe the National Championships at any time during the match, with free admission. Guests will also be able to personally see CMP's new air gun targets, recently installed in November 2016.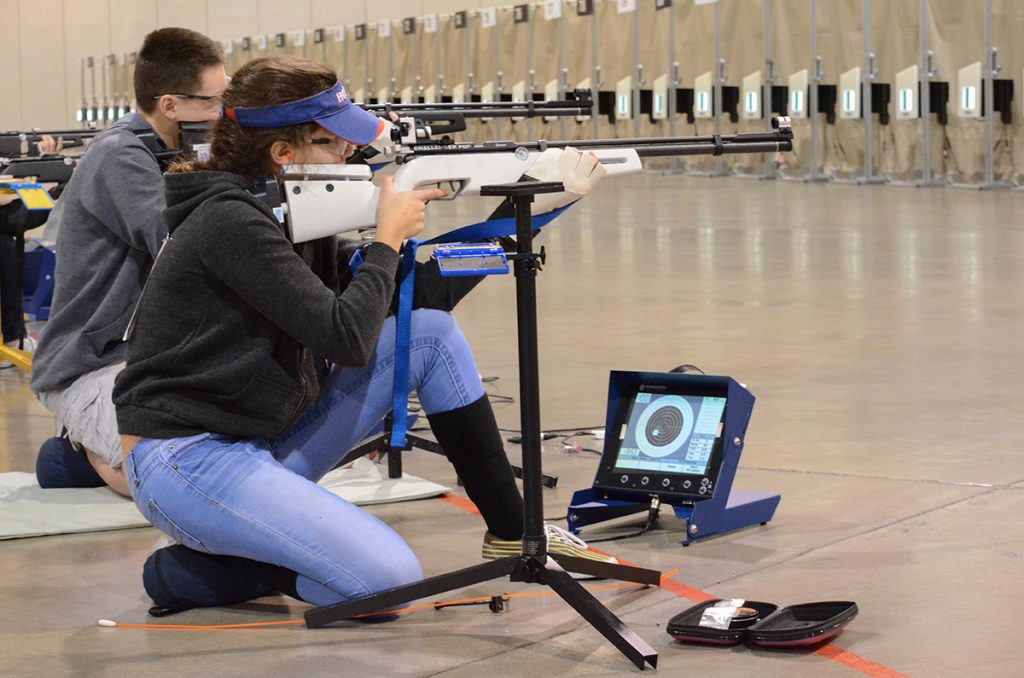 The South Competition Center now includes the CMP South Store that is stocked to fulfill equipment and memorabilia needs. Marksmanship Nights, held year-round at the range for the public, allow visitors of virtually any age and experience levels to try their hands at air rifle or air pistol shooting. For more on the South Competition Center, visit https://thecmp.org/air/cmp-competition-centers/.
For more information on the JROTC Service Championships, visit https://thecmp.org/air/jrotc-air-rifle-national-championship/.
Below is a list of the overall Top 3 Individual and Team competitors of the JROTC Regional Championships. For a complete list of results, visit http://ct.thecmp.org/app/v1/index.php?do=match&tab=results&task=edit&match=14884.
INDIVIDUAL RESULTS:
Navy JROTC:
Sporter:
Emma Thompson, Freeport High School, IL – 1241.9
Jesseca Montcrieff, Oviedo High School, FL – 1204.1
Jaycie Hoenig, Zion Benton High School, IL – 1204
Precision:
Veronica Stanley, Stockbridge High School, GA – 1273.1
Samantha Miller, Los Alamos High School, NM – 1271.9
Shannon Tyssen, Upson Lee High School, GA – 1267
Air Force JROTC:
Sporter:
Brianna Fish, Clover High School, SC – 1177.7
Kade Jackovich, Desert Ridge High School, AZ – 1171.6
Kristopher Dauble, Clover High School, SC – 1159.5
Precision:
Rayven Fincher, Monroe Area High School, GA – 1269.5
Ashley Stacy, Monroe Area High School, GA – 1244.1
Kaci McCrary, Prairie High School, WA – 1242.8
Army JROTC:
Sporter:
Erin Young, Pueblo County High School, CO – 1196.3
Angel Nunez, Trevor G. Browne High School, AZ – 1193.1
Aireonna Gonzales, Fountain Fort Carson High School, CO – 1191.9
Precision:
Adriana Hickerson, Creek Wood High School, TN – 1281.6
Taylor Gibson, North Salem High School, OR – 1279.8
Daniel Enger, Walla Walla High School JROTC, WA – 1278.7
Marine Corps JROTC:
Sporter:
Levi Carlson, Nation Ford High School, SC – 1211.4
Kaylene Castillo, Eldorado High School, NM – 1200.4
Gabrielle Phelps, Gulfport High School, MS – 1191.1
Precision:
Mark Amdahl, Eldorado High School, NM – 1280.7
Tanner Whitehead, East Coweta High School, GA – 1273.3
Haley Castillo, Eldorado High School, NM – 1270.5
TEAM RESULTS:
Navy JROTC:
Sporter:
Zion Benton High School, IL – 4377-136x
Freeport High School, IL – 4366-133x
Volunteer High School, TN – 4316-114x
Precision:
John Marshall High School, TX – 4600-253x
Los Alamos High School, NM – 4594-245x
Upson Lee High School, GA – 4563-224x
Air Force JROTC:
Sporter:
Clover High School, SC – 4239-99x
Sickles High School, FL – 4183-87x
South Panola High School, MS – 4150-101x
Precision:
Cherokee High School, GA – 4514-188x
Monroe Area High School, GA – 4512-212x
Kaiserslautern High School, Germany – 4473-175x
Army JROTC:
Sporter:
Fountain Fort Carson High School, CO – 4325-126x
Lebanon High School, OR – 4310-126x
Abraham Lincoln High School, CO – 4299-129x
Precision:
Sarasota Military Academy, FL – 4615-254x
Enterprise High School, AL – 4597-250x
Stuttgart High School, AE – 4594-239x
Marine Corps JROTC:
Sporter:
Nation Ford High School, SC – 4377-133x
Rio Rancho High School, NM – 4338-130x
Gulfport High School, MS – 4322-130x
Precision:
Eldorado High School, NM – 4669-293x
East Coweta High School, GA – 4618-272x
La Cueva High School, NM – 4612-252x