JROTC Junior Earns Top Place in His Debut M16 Match at Western CMP Games
October 28, 2016
Civilian Marksmanship Program
▸
The First Shot
▸
JROTC Junior Earns Top Place in His Debut M16 Match at Western CMP Games
By Ashley Brugnone, CMP Writer
PHOENIX, Ariz. – First-time Small Arms Firing School (SAFS) attendee and junior competitor Caden Gamblin, 16, of Tucson, Ariz., not only earned the High Junior honor during the M16 Match at the Civilian Marksmanship Program's (CMP) Western Games in October, but also claimed the third place spot over a field of nearly 40 adult and junior competitors and earned his first 4 EIC points towards the coveted Distinguished Rifleman Badge.
Finding his way to the top of the pack of new and experienced marksmen came to Caden as both a surprise and a privilege as he gained his first taste of highpower competition.
"This was my first M16 match, and I'll tell you what – it was amazing," Caden remarked. "When I found out how well I did, I was just peachy. It was a real honor to me."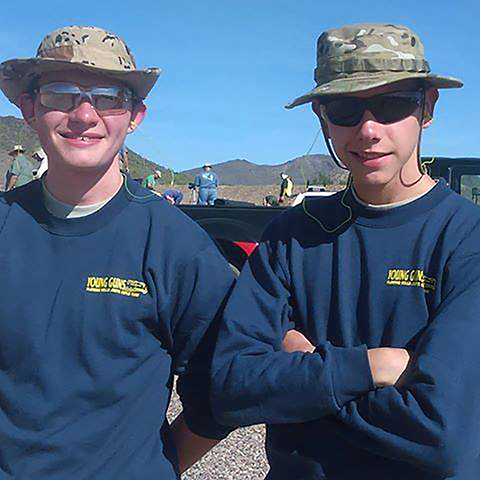 Caden is a student at Amphitheater High School in Tucson and a member of the Flowing Wells High School JROTC air rifle team. He's been shooting since he was very young – too far back to remember exactly when he began! He decided to take part in SAFS this year after his coach, Jeff Schneider, invited Caden and a few of the other cadets to give it a try.
Schneider is a talented competitor himself and a familiar face at Western Games, having attended every year since 2005. At this year's Games, Jeff was the High Senior and overall winner of the Vintage Military Match and the Modern Military Match courses. Jeff was also one of the CMP certified instructors that led the SAFS course.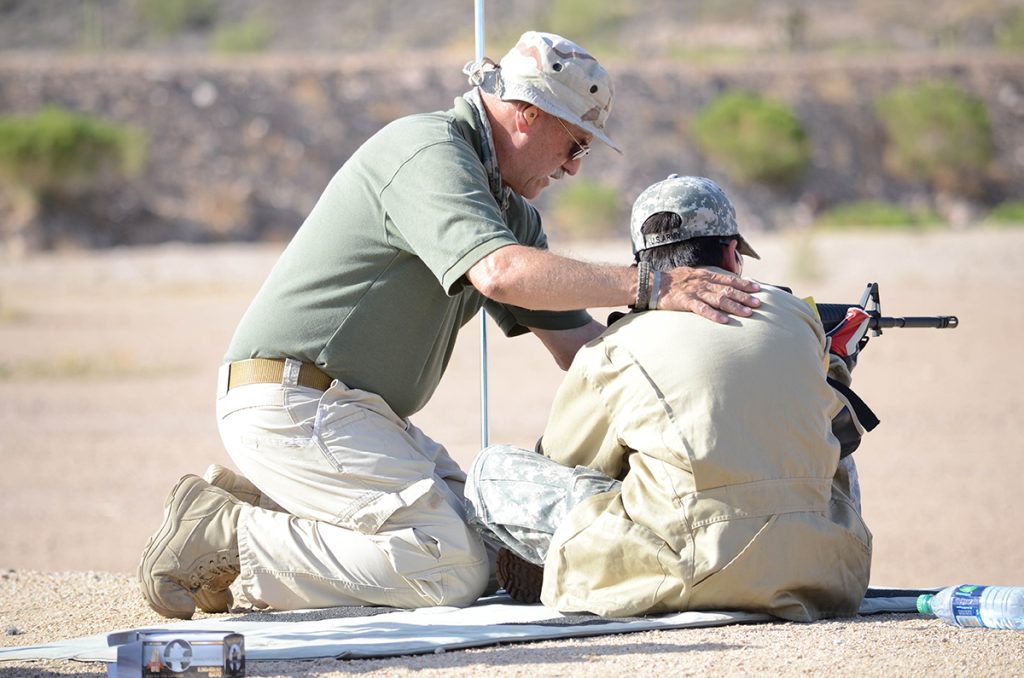 "Working with him always is an asset to my shooting," said Caden. "He gives you straight-forward advice on positions or anything. I take his advice because of his experience. We're very lucky to have him as a coach."
Caden learned right away how similar firing the highpower rifle is to his air gun and even enjoyed the difficult sitting position – something he had never tried before. He even had the chance to fire beside three other members of his JROTC unit also there to challenge themselves with highpower for the first time during the SAFS course.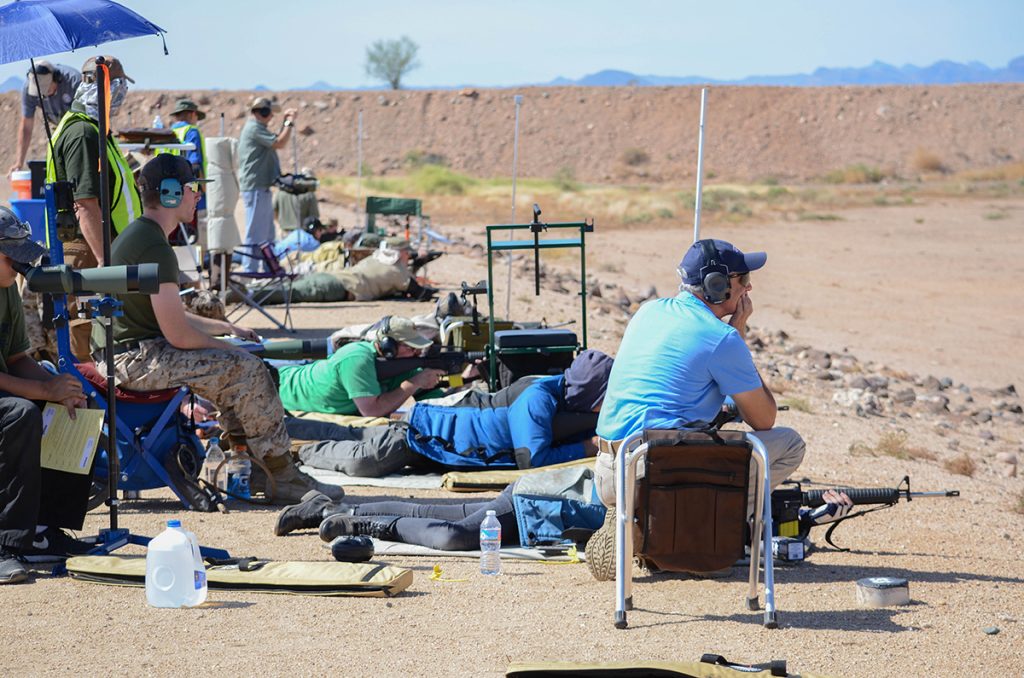 "It was good shooting with some of my fellow cadets!" he said. "I had two new shooters and a buddy of mine I've known for a while.  I love being able to see others get into the thing I love the most – shooting!"
"And yes, we were all somewhat nervous," he joked.
Providing even more help to Caden during the match was his father, Preston (a veteran of the United States Marine Corps), who took time off of his day to walk him through each aspect of the competition process, including the pits.
"He's also the one who introduced me to shooting. Since he's a veteran, this is the type of stuff he enjoys," Caden said.
Since 1918, the SAFS courses have been a staple at the coveted National Matches at Camp Perry, Ohio – with the involvement of over 1,000 pistol and rifle participants continuing each season. As the CMP added Travel Games events around the country throughout the years, it was of vital importance to the organization that the SAFS courses be added to the match schedule in order to extend the teaching of marksmanship fundamentals and safety to adults and juniors across the nation.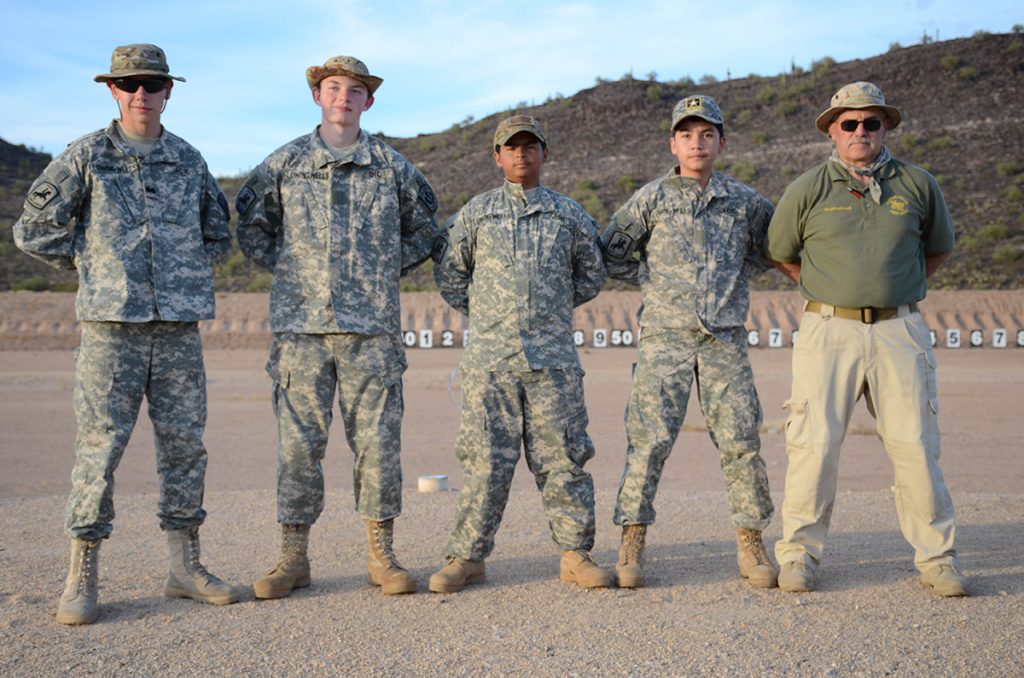 "I would love to motivate others to try the school out," Caden said. "It teaches others safety and just how to shoot! It also shows how much respect you should give a firearm, which is a must in this day and age."
From here, Caden is looking forward to competing in the JROTC air rifle Regional and National competitions to come in 2017.
"I would like to say thank you to the CMP for hosting such an amazing event, thank you to my friends and family for helping to motivate me to be a better shooter overall, and lastly Jeff Schneider and the JROTC­ that is able to present the awesome opportunities for me to be apart of."
The next Rifle Small Arms Firing School will take place in Talladega, AL, at the Talladega 600 (Tuesday, 6 Dec) and in Arcadia, OK, at the CMP Games-Oklahoma (Wednesday, 5 April).