James Wins Back-to-back During 2016 National Rimfire Sporter Match
July 13, 2016
Civilian Marksmanship Program
▸
The First Shot
▸
James Wins Back-to-back During 2016 National Rimfire Sporter Match
By Ashley Brugnone, CMP Writer
CAMP PERRY, Ohio – Despite the sweltering 90-degree summer heat, Ted James, 37, of Woodville, OH, had an incredible day on July 9 as he was named the overall winner of both the T-Class and the Tactical Class competitions during the 2016 National Rimfire Sporter event at Camp Perry – the first match of the prestigious National Trophy Pistol and Rifle Matches being held at the facility throughout July.
Out-firing over 220 competitors in the T-Class, James stayed ahead of the pack with an astonishing score of 598-40x. In the Tactical Class, where he currently holds the National Record (595-37x – fired last year at Camp Perry), he recorded an aggregate score of 592-27x.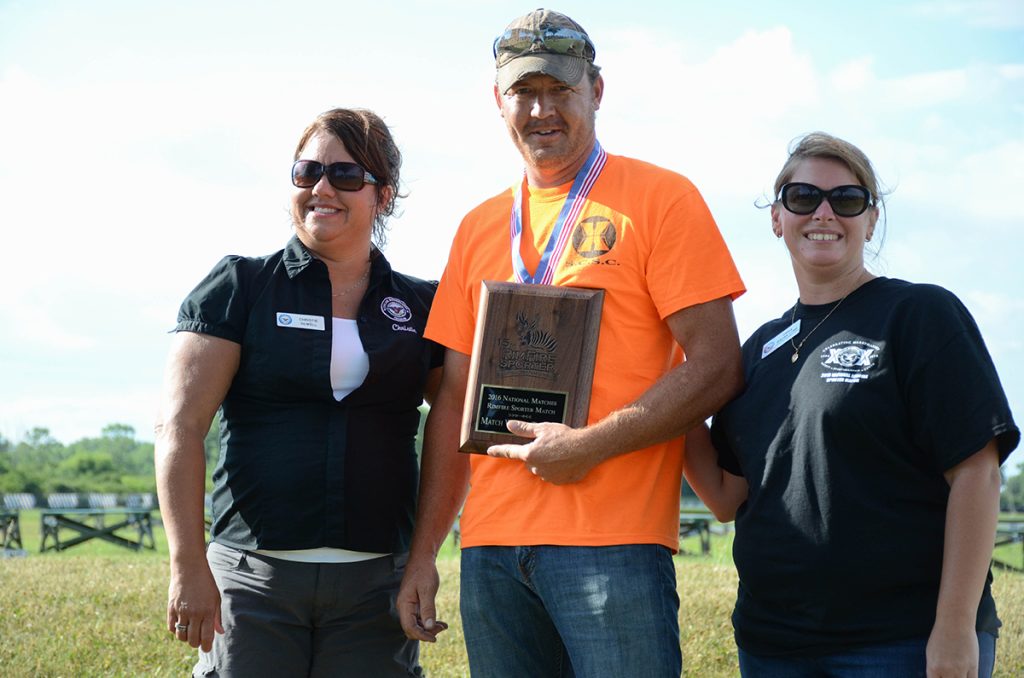 "I just had a good day," he said as he laughed. "I practiced pretty hard in the week leading up to it."
Going along with practice, James also credits his win to the Rimfire Sporter Match's accessibility – the way it's meant to encourage old and young marksmen alike by its simple and stimulating design.
"That's the thing about it – it's low cost, and it's easy to get started in. There shouldn't be any fear in trying it out," he said. "People come out here and have a good time. I've never seen anyone have a bad time."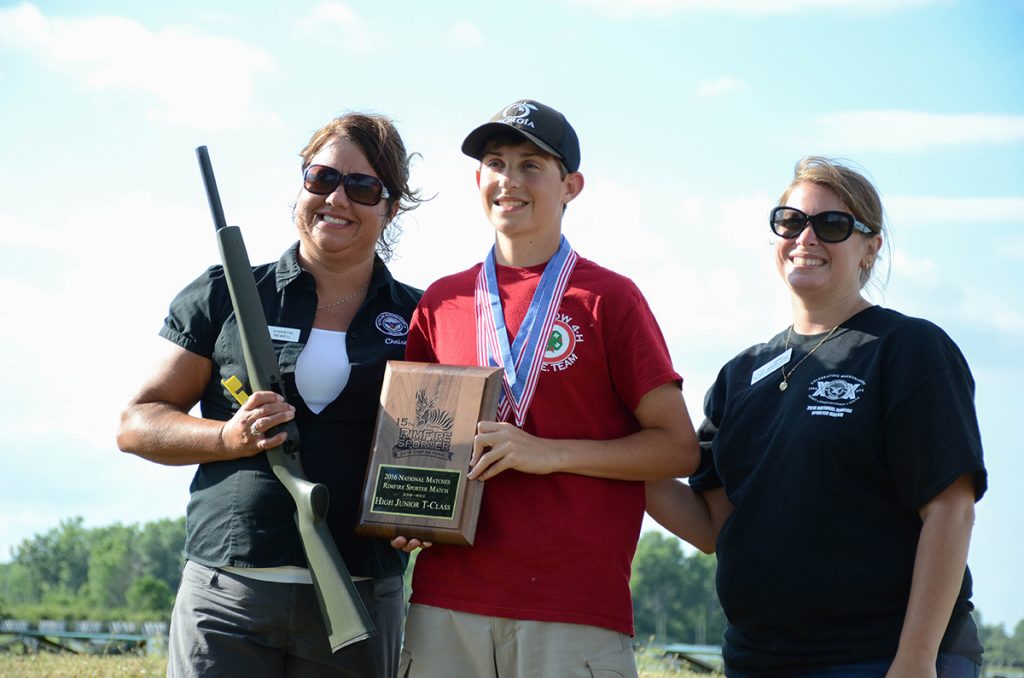 Also having a "good time" was junior Sawyer Williams, 15, of Lula, GA, who earned the High Junior award for the T-Class with a score of 594-35x. A member of the Bartow County 4-H team with Sam Payne, National Record setter and currently the only Rimfire Sporter competitor to ever fire a perfect score of 600, Williams beat his talented teammate by just five x's.
"It felt good, but I also know that Sam has shot equal and better than me, multiple times, so it's just different days, different scores. It's kind of like another day, to be honest," said Williams.
"When you compete with some of the best in the nation and practice with them, then your competition scores will go higher because it's pretty much like a competition every day to see who will come out on top," he added.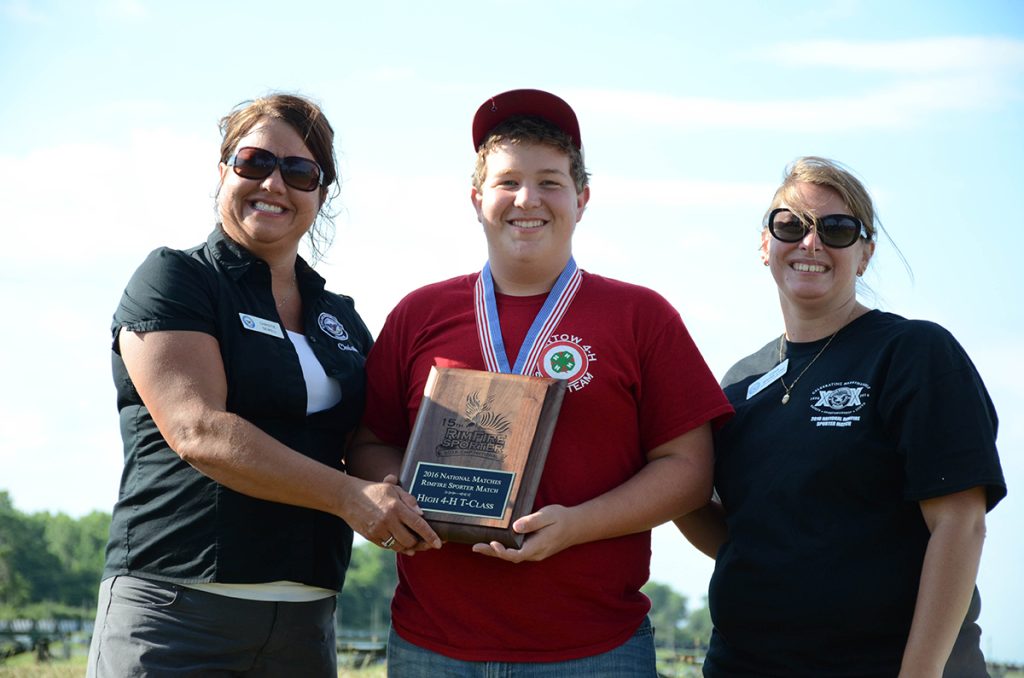 Though not the winner of this match, Payne, 17, cordially supported his teammate, saying, "Sawyer's a good shooter, so losing to Sawyer, it's no big thing because he earned it – he deserves it."
Junior Leah Martin, 15, of Cartersville, GA, earned the High Woman award in the T-Class with her score of 591-26x. Martin, also a member of the Bartow team, talked a little about what it's like to be a female competing against her male peers.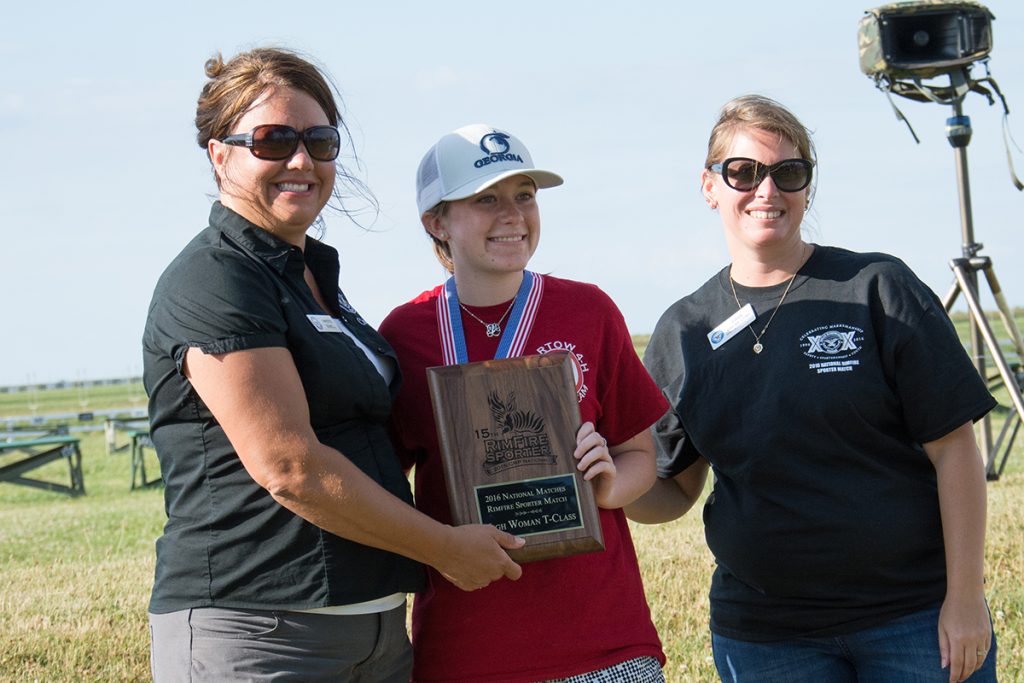 "You always want to try to beat them – always, always," she said with a laugh. "But you feel like you're a part of them. Gender doesn't separate you, really."
With sincerity, she modestly added, "It feels like you're just shooting with friends. Men against women – it doesn't really matter."
Filling in the final T-Class individual award was Scott Schindehette, 71, of Saginaw, MI, who fired a score of 588-31x to become High Senior of the class.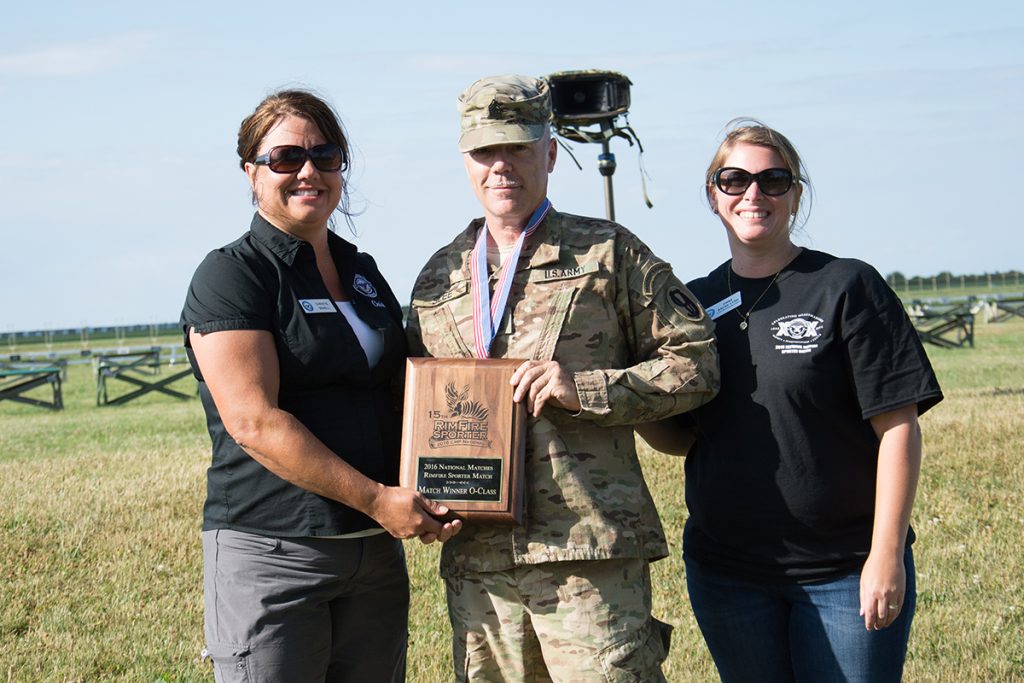 In Tactical, Brianna Toikkanen, 18, of Conneaut, OH, received High Junior recognition after firing her score of 573-17x. Richard Dixon, 64, of National City, MI, recorded a score of 590-30x to earn second overall in the class and the High Senior award. High Woman was Cindy Bailey, 44, of Westlake, OH, with a score of 575-25x.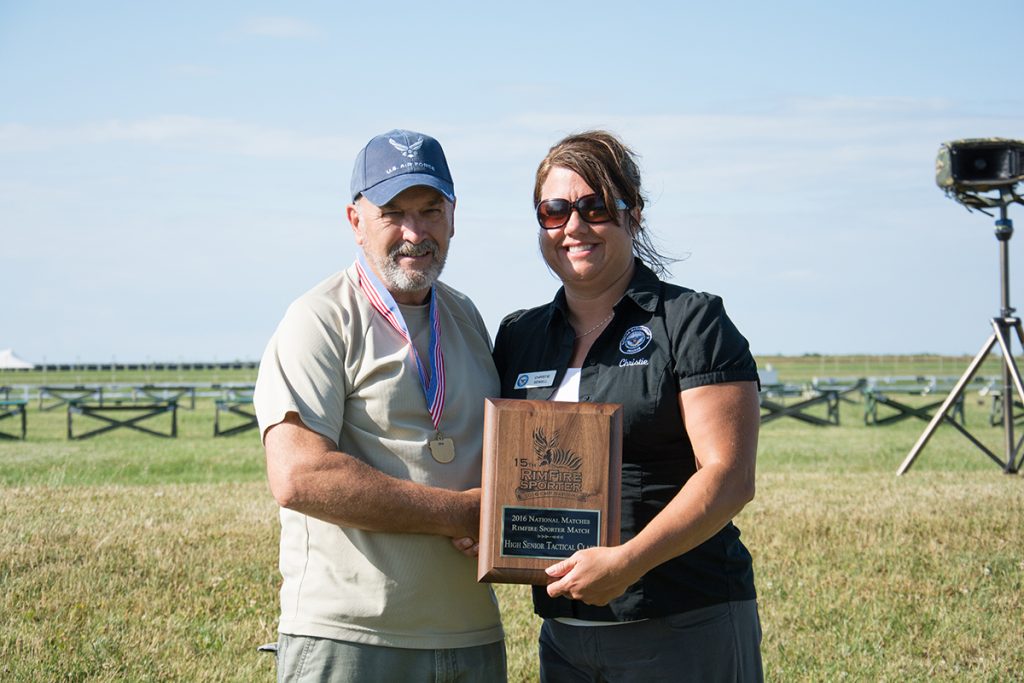 Winning the O-Class was CSM Steven Slee, 52, of Dimondale, MI, with an exceptional score of 594-23x – a new National Record. His score was nearly 10 points above the previous record of 586-21x, which is a significant feat in the Open Sight Category. Slee also landed in second place behind Ted James in the T-Class, falling only three points short of the overall title.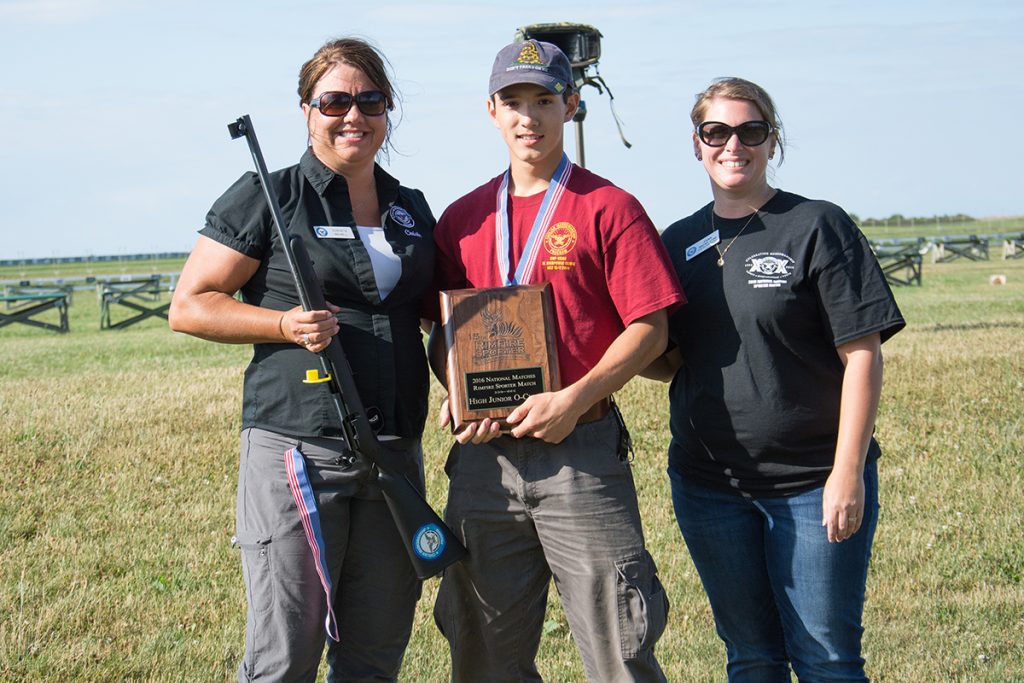 High Junior of the O-Class was Sean Wilkinson, 17, of Williamston, MI, who earned a new National Record and second place overall behind Slee, with a score of 588-28x. Don Moore, 66, of Chattanooga, TN, (who set a senior National Record in the class at last year's event) received the High Senior honor with a score of 580-23x, as Amanda LaBeff, 34, of Saginaw, MI, fired a score of 530-9x to become High Woman.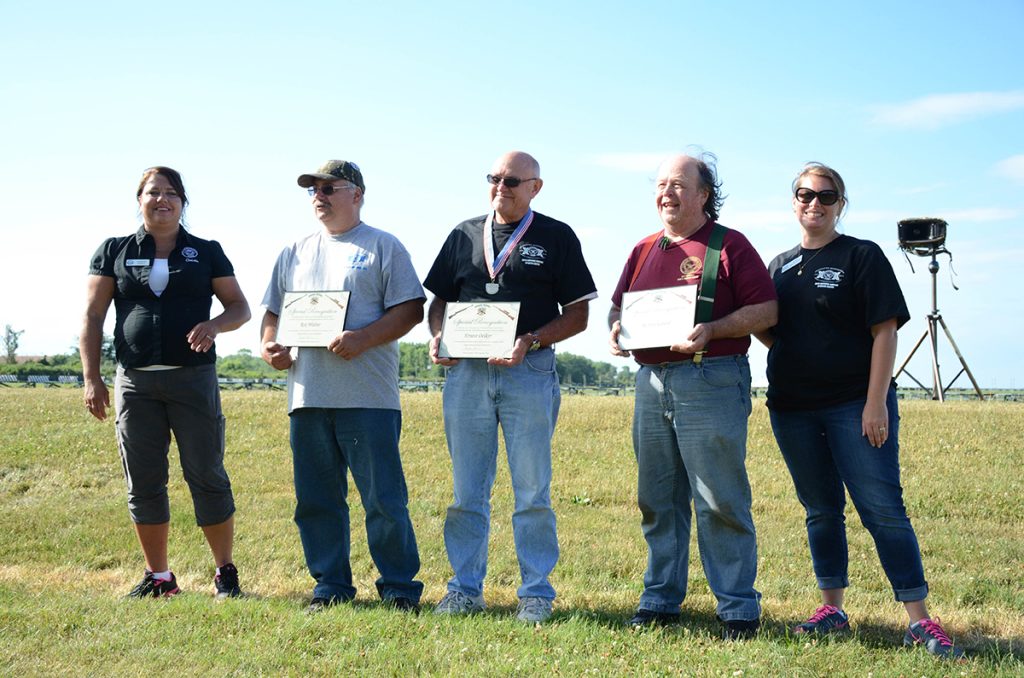 Competitors in the Rimfire Sporter Match fire smallbore sporter rifles in three different classes: T-Class (telescoped rifles), O-Class (open sights) and Tactical. A winner, high junior, high senior and high woman is awarded from each class, based on scores. Perfect as a way for new marksmen to ease into competition shooting, along with presenting a unique challenge to even the most talented marksmen, the Rimfire Sporter Match is one of the most popular of the CMP competitions fired throughout the year.
For a complete list of National Rimfire Sporter Match scores, visit http://ct.thecmp.org/app/v1/index.php?do=match&task=edit&match=14096.
Photos of the event can be downloaded for free here: http://cmp1.zenfolio.com/f352326966.