Iron Women Compete in the 2018 Rattle Battle
August 30, 2018
Civilian Marksmanship Program
▸
Club News
▸
Iron Women Compete in the 2018 Rattle Battle
By Serena Juchnowski, Feature Writer
"I thought it would be a good promotion for the shooting sports to put together an all-girls team," said New Jersey Garden State Gunners Coach Walter Bachmann. "This was the first year that we were able to do that while we were out at Camp Perry."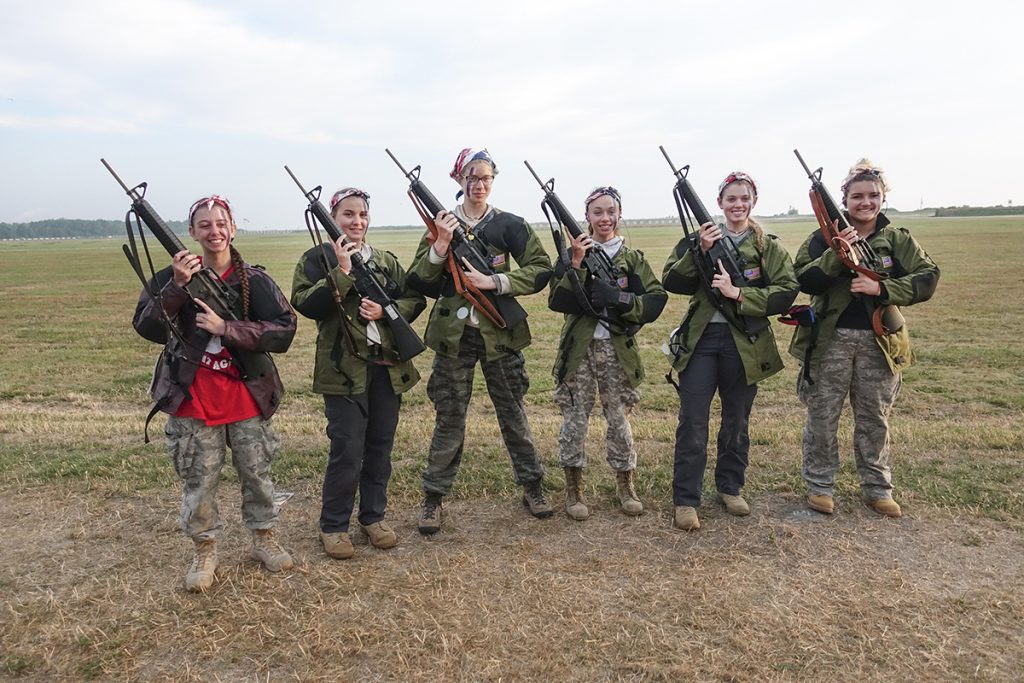 During the 2018 National Matches, New Jersey fielded what, to everyone's knowledge, was the first all-female team to ever compete in the National Trophy Infantry Team match, more commonly known as the Rattle Battle.
Bachmann first became involved in the shooting sports when his sons wanted to learn how to shoot. He took them to the Central Jersey Rifle and Pistol Club and asked if they offered a junior program. Two months later, Bachmann was informed he had been made chairman of the new junior program, much to his surprise, and subsequently, he went about earning all of his coaching certifications and credentials.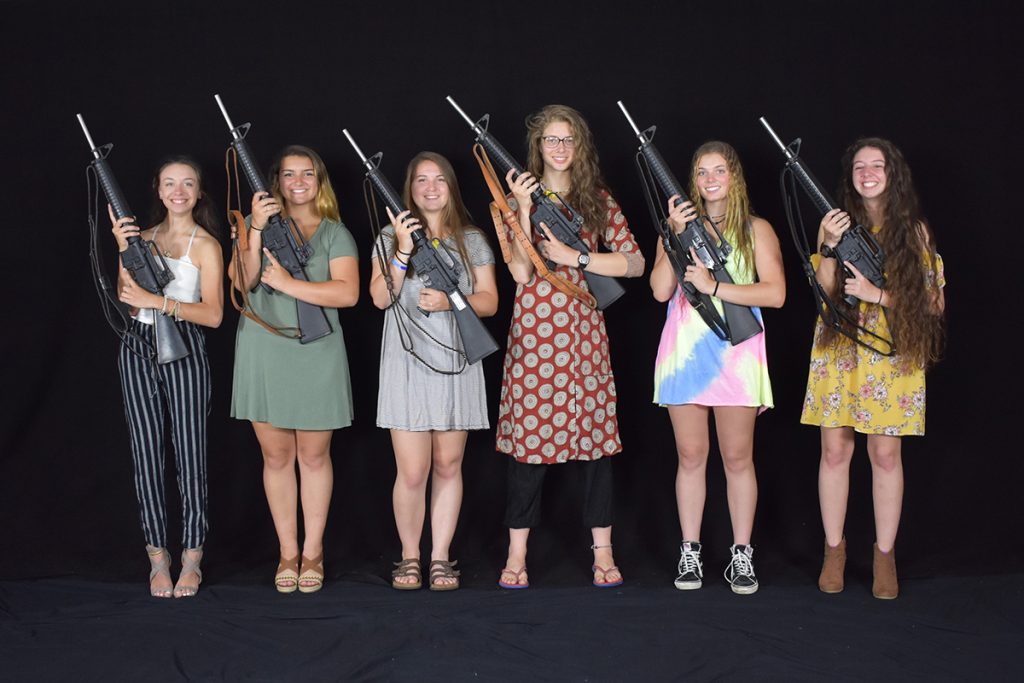 The Garden State Gunners junior team started off with smallbore, but in 2008, the team started into highpower when they were approached by another New Jersey club asking if their juniors would be interested in trying the discipline. That was the first year the team traveled to Camp Perry with two girls and four guys. A decade later, the Garden State Gunners traveled to the Camp Perry National Matches with enough junior shooters to fill two teams, six girls and six boys.
While the teams for the National Trophy Team (NTT) match were determined based on skill, Bachmann split the team according to gender for the Rattle Battle. This was not a singular decision, but one that had been discussed and decided upon by the girls themselves.
Bachmann had been trying to get an all-girls team together for several years. In 2017, he finally had six female juniors on the team, but one was unable to attend Nationals, so 2018 was the year for them to do it, with six females able to attend and one aging out of the junior program.
Firing members on the 2018 Garden State Gunners Girls Rattle Battle Team included Shelby Falk, Amy Flood, Sierra Loutraris, Jessica Peoples, Dorothy Speers and Victoria Wheatley. Jessica and Sierra were the two swing shooters, each firing upon two of the eight Rattle Battle targets. Each of the girls shot iron sights in the match. Several commented on how they started into highpower and on their thoughts of being part of what one member called "an awesome moment."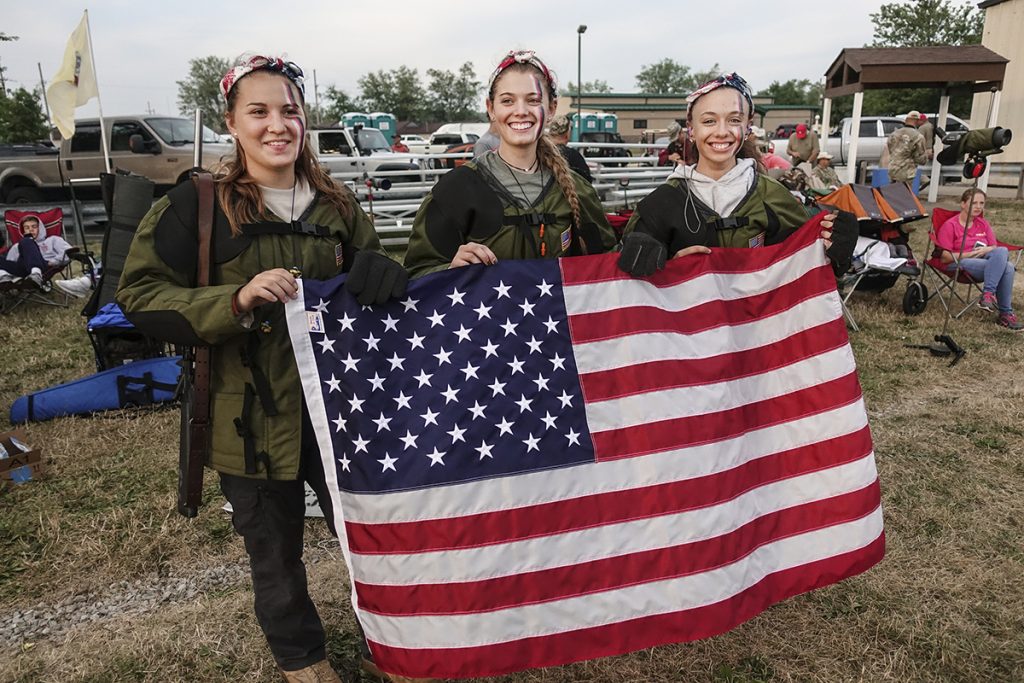 Shelby Falk is the one member of the New Jersey Garden State Gunners Junior Team that does not live in New Jersey. Falk, from Pennsylvania, joined the team since it is closer to her residence than the Pennsylvania based junior highpower teams.
She has always had an interest in shooting, starting with .22's and graduating to the .223 when she decided she wanted to become more serious about marksmanship. Shelby attended her first team practice, a reloading and dry-fire session, on her 15th birthday. In 2018, with two years remaining a junior, Shelby "actually really, really loved the idea" of an all-girls junior team, she remarked.
Shelby viewed it as making a statement, taking the equality side as opposed to the novelty perspective. Shelby noted, "Everyone's opinion coming to the subject was very different from each other. One was worried about what it would look like and to set an example for other teams and other shooters. I just thought overall it was just a really good thing to do."
Shelby's fervor for an all-girls team stemmed from a desire to inspire females who want to be on a team but are uncomfortable shooting with males. While Shelby herself has many male friends, she tried to see highpower from the perspective of girls who are more shy around boys.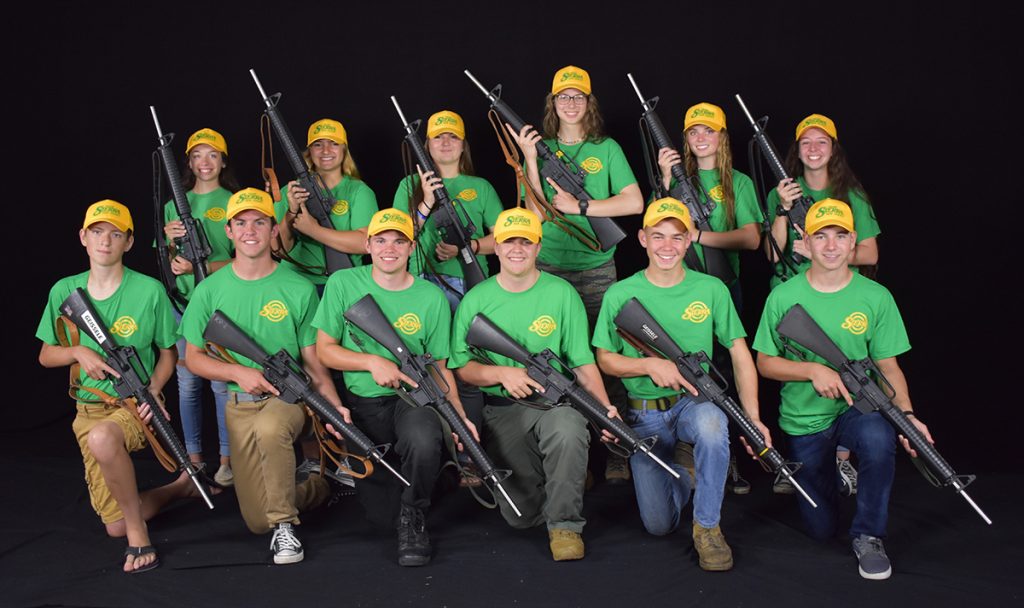 Concerning the match, her rifle zeroes were accurate, and though they had a few malfunctions, the girls still managed to beat the New Jersey boys team (Garden State Gunners Red). Garden State Gunners Girls concluded the Rattle Battle with a score of 592. Garden State Gunners Red finished with a score of 265.
Regardless of score, and all jesting aside, Shelby was certain to point out that "everyone's always really supportive of one another."
Team member Amy Flood elaborated on the closeness of the entire New Jersey team, saying, "We all work so well together and we love each other."
Flood started shooting pistol at age 13 before starting smallbore after she found herself connecting more to rifle than to pistol. She still desired something different, finding her niche in 2015.
Amy said of highpower service rifle, "I couldn't have asked for something better, I love it."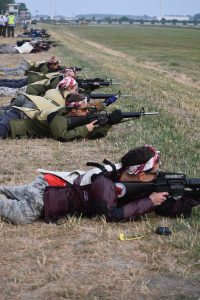 The team arrangements for Rattle Battle began early in the year with a vote. Coach Walter Bachmann had consistently had three girls on the team for the past few years, and the team really wanted to help fulfill his dream when the opportunity arose this year. It was decided that to accommodate everyone's goals, the teams for the NTT match were determined by skill level, while the team split across gender lines for the National Trophy Infantry Team Match.
Amy said of this arrangement, "We want to win. We don't care if it's all guys, all girls or mixed in. We did it the way we did it. and I am glad we did."
Dorothy Speers truly agreed with the way the teams were divided, acknowledging that she loves it, but as a casual shooter, she thought an "A" team was necessary for the NTT.
As she is aging out of the junior program this year, this was Dorothy's first and last chance to shoot on an all-girls junior team. Having spent most of 2017 teaching English at a Tibetan Buddhist monastery in India where she was unable to practice, Speers says she was "shocked to be welcomed back and was thrilled to support her team again."
She thought it was fun having an all-girls team but did not think that it warranted any extra publicity, saying, "If we start making a giant big deal out of it, it is almost like going backwards because we aren't looking to be put on a pedestal for being girls with guns."
Still, she does not regret the experience, as "it was fun to shoot with my friends. That's what it was."
Speers took a few moments to reflect on her highpower career thus far, noting that she started by attending a local venturing crew meeting and, "in a matter of one week I went from never shooting a gun to being on the highpower team."
Sierra Loutraris has been shooting highpower on the Garden State Gunners team for about two years. She noted that she has always casually gone to the range with her dad but had never shot highpower until she joined the team. Her dad saw an advertisement in the local club newsletter that the junior highpower team was looking for another girl to make an all-girls junior team possible.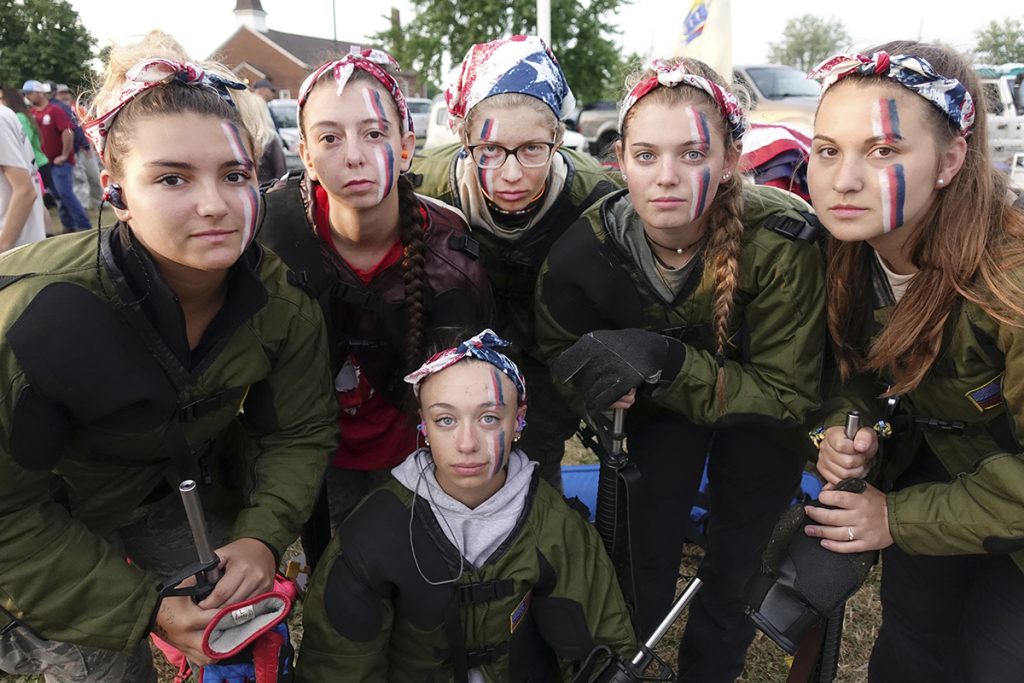 Sierra thought it was a great idea as she "just wanted to be a part of something that could show other girls that you can do anything you want as long as you just go for it."
Sierra has proved this in her own accomplishments, earning her Expert classification over the course of three months and is rapidly approaching Master classification.
Though the newest girl on the team, Sierra has earned her spot as one of the top shooters on the Garden State Gunners. Her strongest position is prone, with her greatest scores shot at the 600-yard line. Her teammates attest to her skill and ability as well as her tenacity as she stuck with the team and proved herself over the past two years.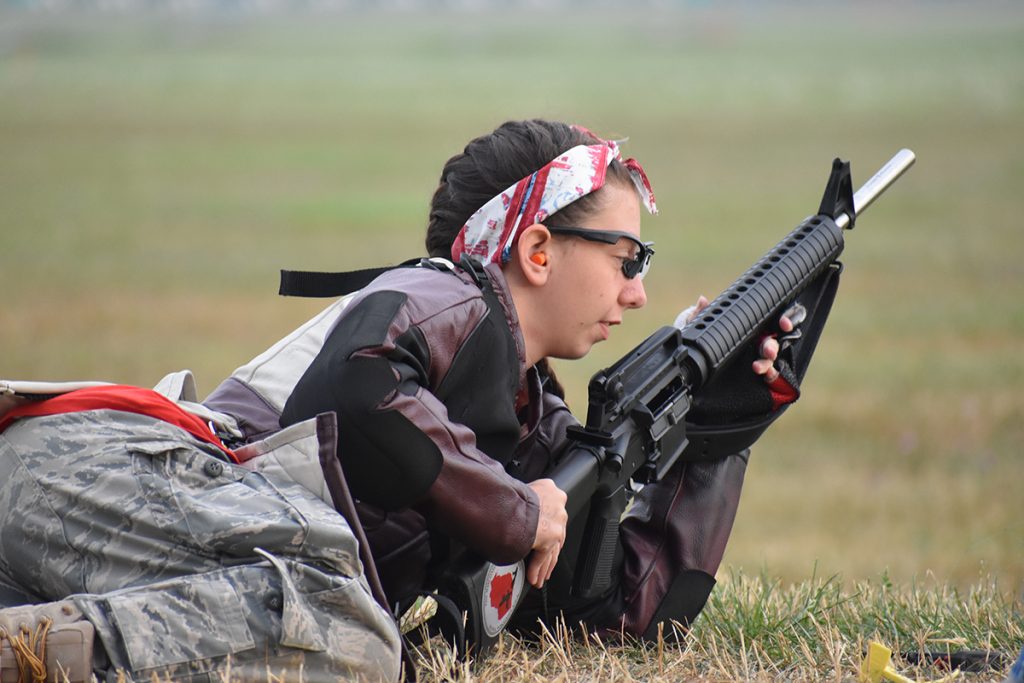 Jessica Peoples has been shooting highpower since March 2016, and after a "lot of time and a lot of effort," has earned her Master classification through the National Rifle Association and a "hard" 10-point leg in the 2018 National Trophy Individual Rifle Match.
She was most surprised that an all-girls team had not happened sooner with the larger numbers of juniors some states bring. Though she prefers a co-ed team, with "all personalities merging," Jessica acknowledged that the "dynamic [was] different…we were significantly more organized, and the guys were a little more 'tactical' in their methods."
Even with some magazine issues, the team was "pretty proud of how [they] did." Some of their Rattle Battle magazines do not feed well or lock in well, leading to annual magazine issues, but the team is not currently in a position to get fresh ones.
The Garden State Gunners team hopes to make an all-girls Rattle Battle team a tradition, but it may be difficult with some girls aging out. Team members not only indicated an appreciation for the support of their families and club, but also for their coach, Walter Bachmann.
Dorothy Speers noted that "he deserves credit for a lot of things. He works really, really hard for us. I think it's been a dream of his to have an all-girls team. [Bachmann is a] really big supporter of juniors shooting and a really big supporter of females shooting. Having an all-girls junior team has been a milestone for him, to put that together."
Coach Bachmann recounted that "Dick Whiting, the head coach from West Virginia, came to me and he said he was very upset with me because he's been trying to do this for four years, and I beat him to it."
Even with the differing opinions surrounding the all-girls team, it was not only a milestone for Bachmann but also for the sport itself, completing a dream that many others had but were still working on completing.
If you are interested in joining a junior shooting team, search CMP affiliated clubs at http://ct.thecmp.org/app/v1/index.php?do=clubSearch or reach out to your CMP State Director at https://thecmp.org/training-tech/state-director/.