Herrin Overtakes Both Rifle and Pistol Events at Inaugural Talladega 600
December 21, 2015
Civilian Marksmanship Program
▸
The First Shot
▸
Herrin Overtakes Both Rifle and Pistol Events at Inaugural Talladega 600
By Ashley Brugnone, CMP Writer
TALLADEGA, Ala. – Unusually warm and inviting weather blanketed the competitors on the firing lines of Talladega Marksmanship Park as the Civilian Marksmanship Program's (CMP) Inaugural Talladega 600 was fired Dec. 8 through Dec. 13 to a group of 270 competitors. The event held for all ages and skill levels featured a variety of firearm matches, including pistol, rifle and even shotgun opportunities.
Eric Herrin was one of the big winners at the Inaugural event – earning first place overall in the As-Issued 1911, Military & Police Pistol and EIC Aggregate matches. He also became a member of the Congressional 30 (mirrored off of the National Match President's 100 event) as one of the Top 30 competitors. Along with these accomplishments, Herrin landed in second place in the EIC Pistol Match and in the percentage of the EIC Rifle event – among other impressive finishes during the week.
After a remarkable performance at the first-ever Talladega 600, he gushed about the event and those who made everything possible by saying, "I loved it. It was great – it really was. Overall, it was really awesome."
Forewarning those who plan to come to next year's event, he added, "I'll be back," as he laughed.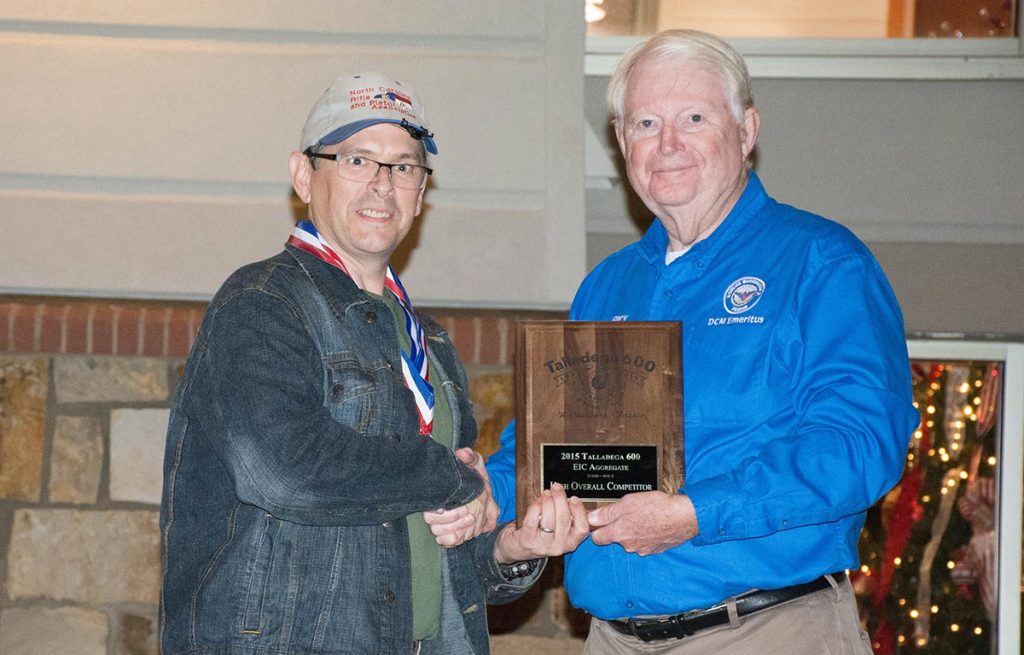 Presented as the most advanced marksmanship park in the United States, one of the features of Talladega Marksmanship Park that sets it apart from the rest is its electronic targets. Using Kongsberg Target Systems (KTS), now sold by the CMP, matches were conducted incredibly quickly and efficiently. The use of cardboard backers on the targets during the Talladega 600 allowed shots in question by competitors to be analyzed in order to remove any doubt of the targets' accuracy.
"The KTS/CMP targets performed very well," said Mark Johnson, CMP chief operating officer. "The electronic target scoring/shot placement was challenged seven times by competitors over the week, and the cardboard backer placed on each target agreed 100 percent with electronic target scoring/shot placement. The cardboard will continue to be used to assure and eventually instill shooter confidence in KTS/CMP electronic targets."
He added, "The Talladega 600 went very well. Attendance was great at 270 participants, but we have much room for growth."
Join us next year for this fun and challenging event!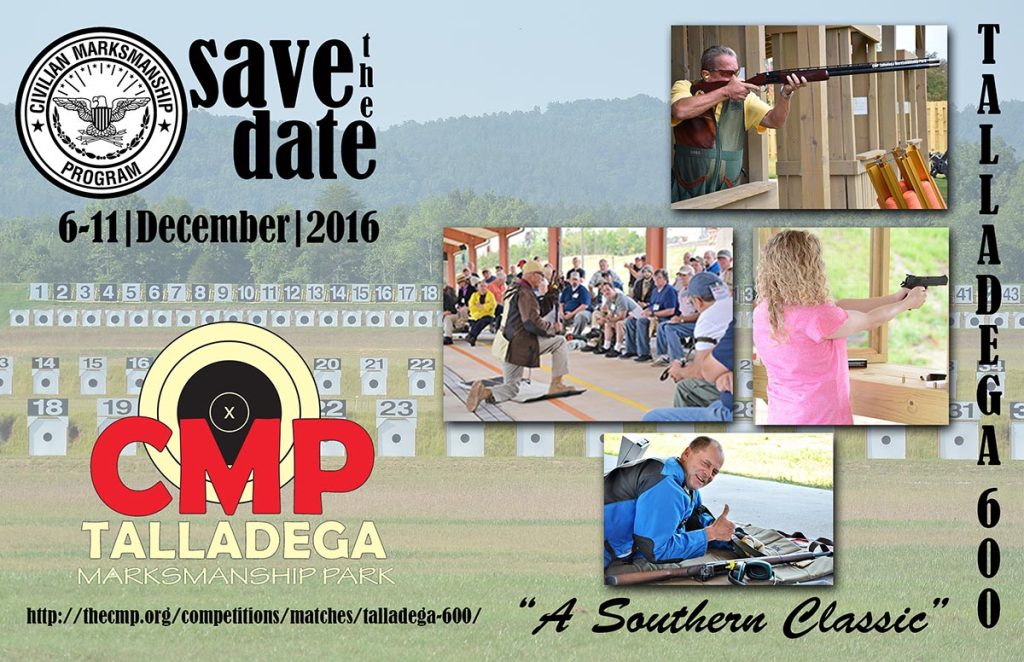 For a complete list of results of the Talladega 600, visit http://ct.thecmp.org/app/v1/index.php?do=match&task=edit&tab=results&match=13235.
Photos of the event can be found at http://cmp1.zenfolio.com.
The following is a list of Overall winners from the event:           
M16 EIC Rifle:
Distinguished: Eric Pauls, 49, of Fenton, MO – 385-11x
Non-Distinguished: Michael Judd, 52, of Ft. McCoy, FL – 378-7x
Garand Match Course: John Rollins, Jr., 34, of Athens, GA – 285-6x
High Junior: Gabe Rampy, 18, of Bremen, GA – 272-2x
High Senior: Mike Gibbs, 60, of Oak Ridge, NC – 283-7x (3rd overall)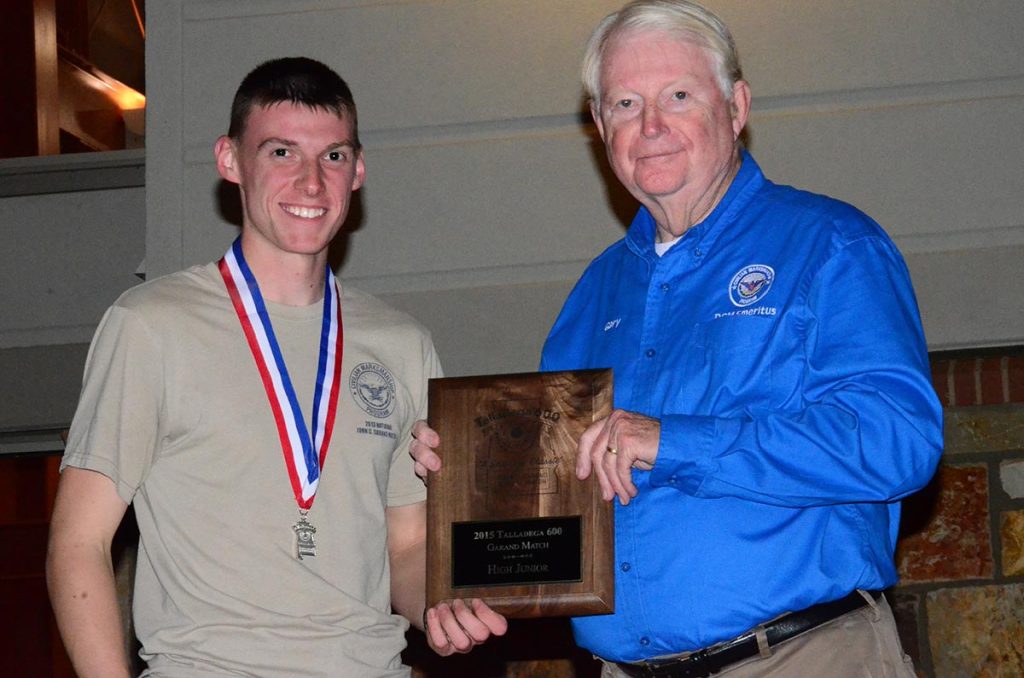 Springfield Match: John Lynn, 49, of Aragon, GA – 285-5x
High Senior: John Clark, 62, of Stafford, VA – 282-5x
High Junior: Sam Richardson, 18, of Helena, AL
Vintage Military: Eric Pauls, 49, of Fenton, MO – 291-10x
High Senior: Fletcher James, 64, of Whitney, TX – 285-5x (2nd overall)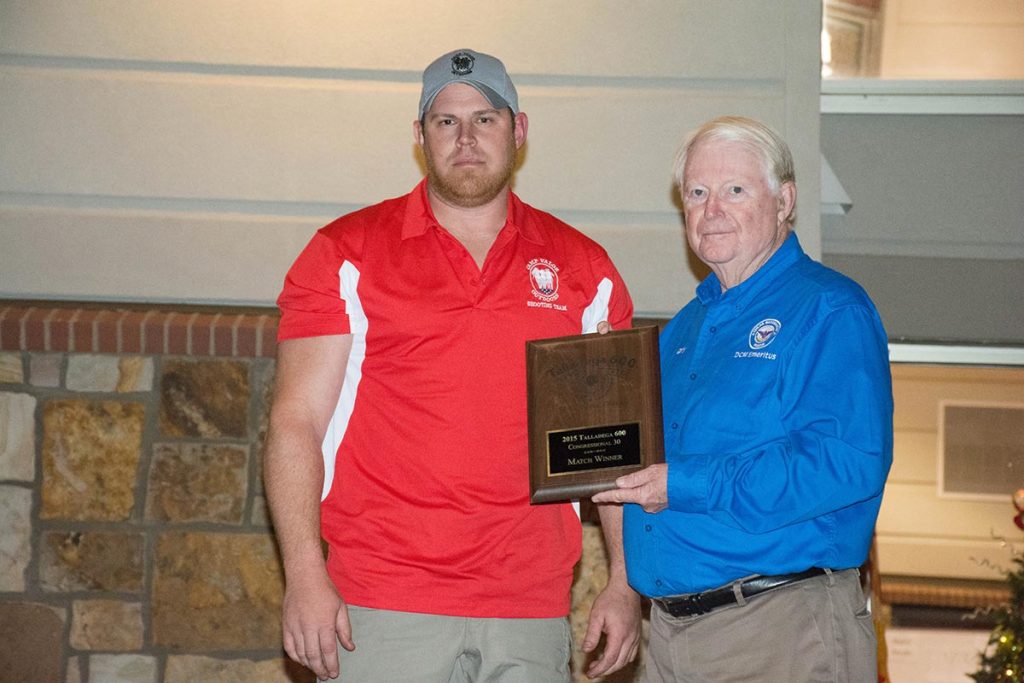 Congressional 30: Aaron Wintterle, 35, of Mt. Vernon, MO – 283-2x
High Woman: Denise Loring, 52, of Manassas, VA – 277-3x
High Junior: Sean Calderon, 20, of Gainesville, FL – 270-4x
High Senior: Michael Roberson, 60, of Pinson, AL – 281-1x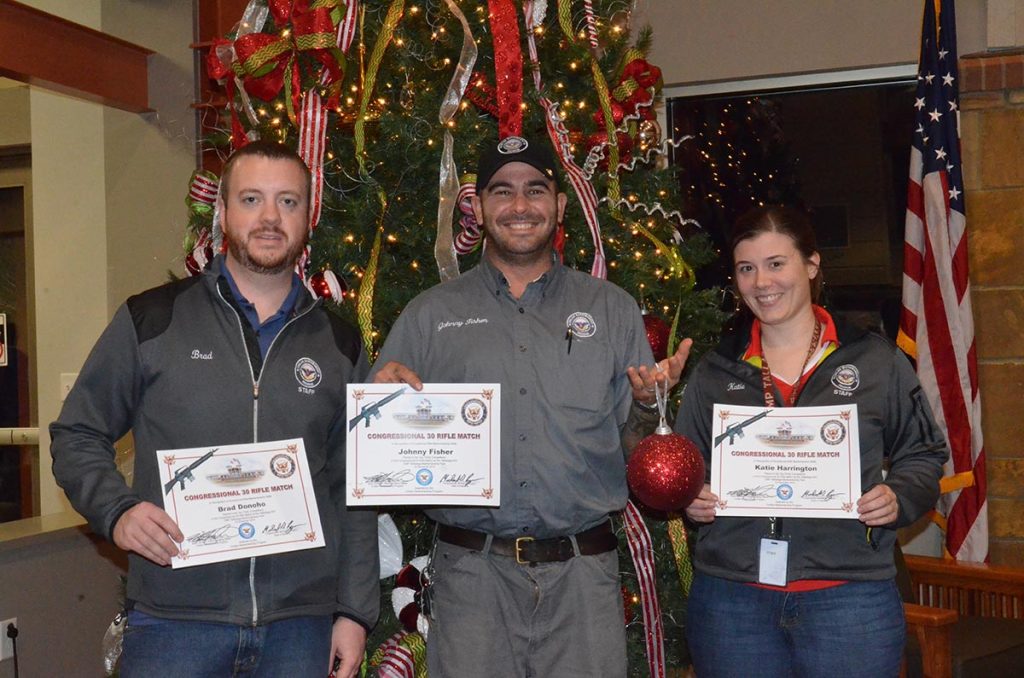 Carbine Match: Timothy Adamson, 42, of Hueytown, AL – 367-5x
High Senior: Daniel Henk, 66, of Tryon, NC – 366-4x (2nd overall)
High Junior: Gabe Rampy – 329
Rimfire Sporter:
O-Class: Don Moore (High Senior), 65, of Chattanooga, TN – 584-23x
T-Class: Samuel Payne (High Junior), 16, of Kingston, GA – 597-33x
High Senior: Stuart Metcalfe, 67, of Newnan, GA – 573-11x
High Woman: Maegan Wilson, 18, of Adairsville, GA – 592-23x
Tactical: Hector Miro, 58, of Lakewood, CA – 565-13x
High Senior: Glen Calhoun, 66, of Four Oaks, NC – 518-8x
Vintage Sniper:
Manual: Maxey-Owens – 386-8x (Steven Owens, Alan Maxey)
Semi-Automatic: Lynn-Armstrong – 377-9x (Douglas Armstrong, John Lynn)
Dixie Double: Pendleton-Powell – 561-6x (Roarke Pendleton, John Powell, Jr.)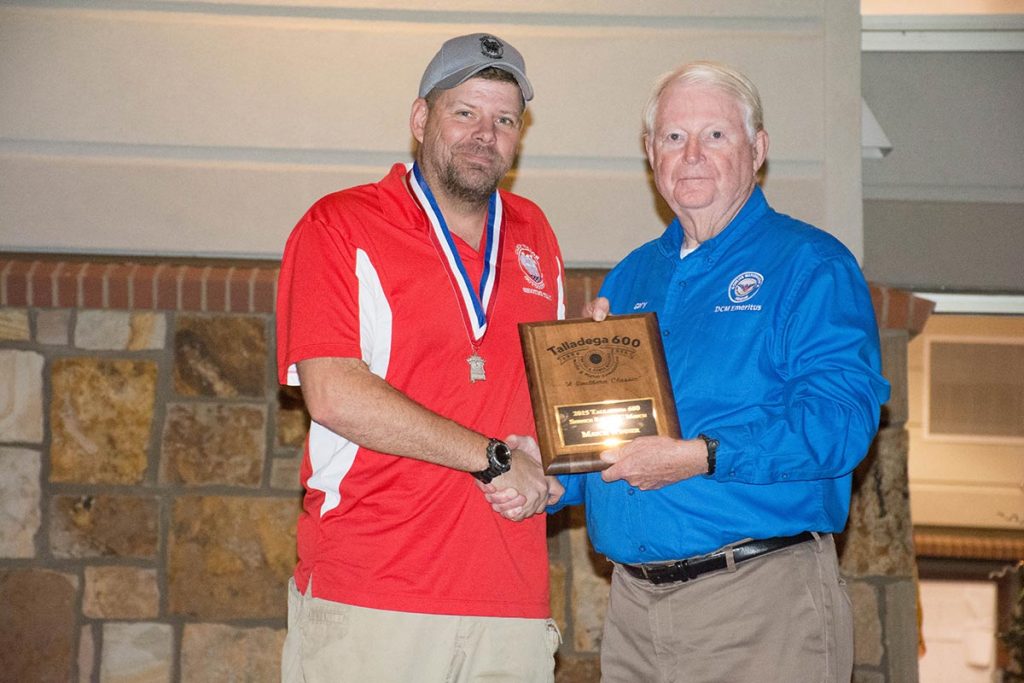 Rifle EIC: Daniel Duitsman, 41, of Fredericksburg, VA – 485-11x
Pistol EIC: David Barillo, 63, of Mt. Pleasant, NC – 270-5x
.22 Rimfire Pistol Match: James Hall, 32, of Anniston, AL – 282-10x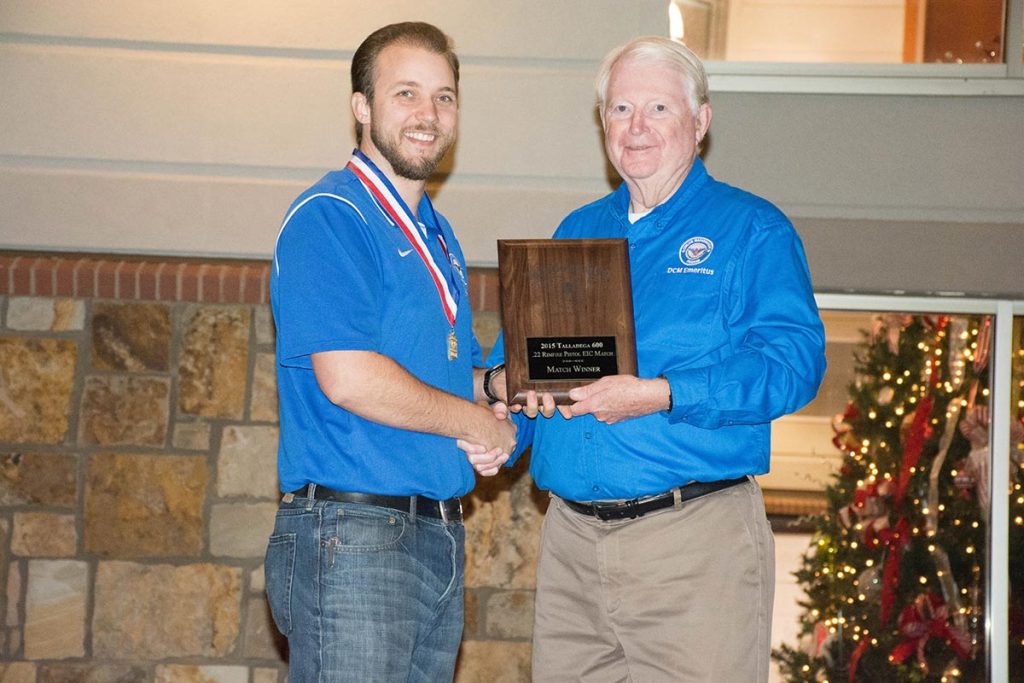 EIC Aggregate: Eric Herrin, 52, of Raleigh, NC – 988-16x
1911 Pistol Match: Eric Herrin – 351-1x
Military & Police Service Pistol Match: Eric Herrin – 356-6x
4-Man Team Match: Team Alabama – 1495-23x (Roarke Pendleton, John Powell, Sam Richardson, Anthony Kissik)
M1/M14 Match: John Clark – 262-4x
Sporting Clays: Todd Simmons, 51, of Ideal, GA
High Junior: Austin Carleton, 17, of Pell City
High Sub-Junior: Lee Buckley, 15, of Chunky, MS
High Veteran: David Lockridge, 56, of Lineville, AL
High Senior Veteran: Garside McGough, 66, of Pike Road, AL
5-Stand Shoot: Steve Dickinson, 50, of Gardendale, AL
High Junior: Austin Carleton
High Sub-Junior: Lee Buckley
High Veteran: Rocky McCluskey, 63, of Tuscaloosa, AL
High Senior Veteran: Garside McGough
5-Gun Aggregate: Jennifer Creasy, 37, of Montgomery, AL – 1275-7x