Henry Leverett Secures Rare International Distinguished Badge in 2022
July 26, 2022
Civilian Marksmanship Program
▸
The First Shot
▸
Henry Leverett Secures Rare International Distinguished Badge in 2022
Pistol athlete Henry Leverett, 21, reached an accomplishment only 538 others have earned before him – an International Distinguished Badge.
Distinguished Badges are the highest individual awards authorized by the U. S. Government for excellence in marksmanship competition. Badges are presented by the CMP after an individual receives at least 30 Excellence-In-Competition (EIC) points at qualifying matches. In International shooting, extra credit points are also awarded for setting or equaling World Records or earning an Olympic quota.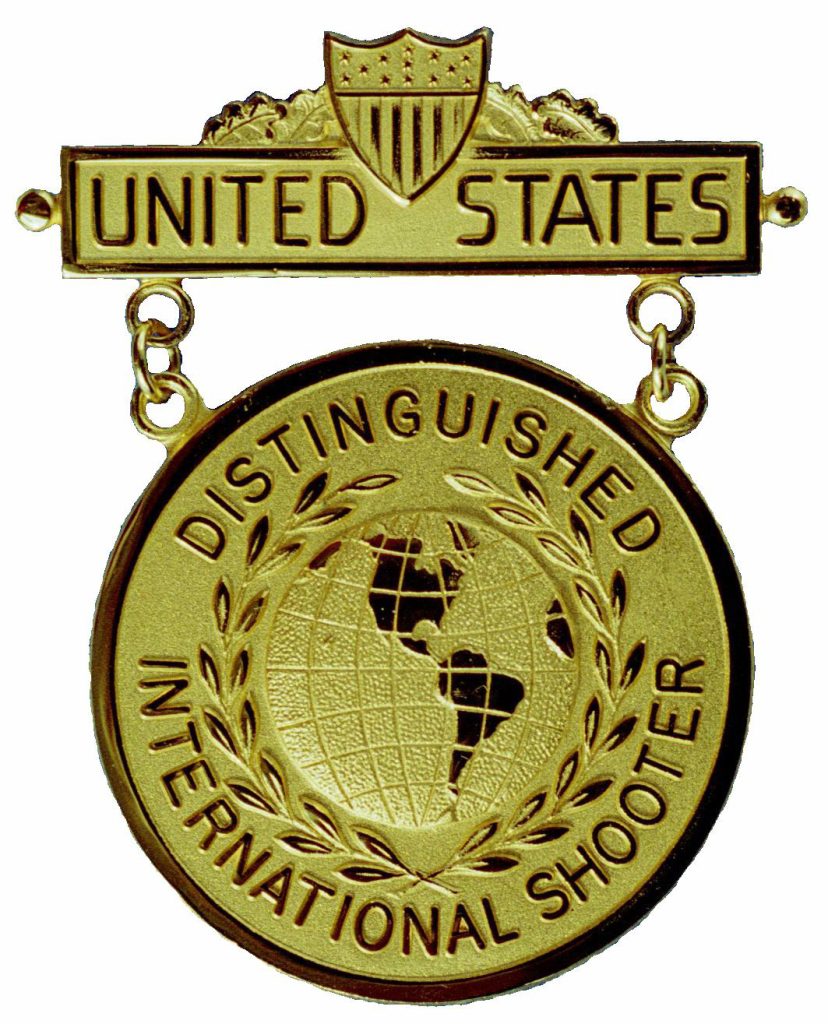 The Distinguished International Shooters Badge is perhaps one of the most difficult Distinguished Badges to earn. Those in contention for a badge need to qualify for a U.S. National Team while also producing medal-winning performances in international championships – not only against their domestic peers, but also alongside some of the best athletes in the world.
Originally from Bainbridge, Georgia, Leverett began his marksmanship career through a local 4-H program around nine years old. He went on to compete in CMP's Monthly Air Gun Matches at the South Competition Center in Anniston, Alabama, as well as at the annual Camp Perry National Matches in 2016. Before entering college, he set four USA Shooting national records in junior men's rapid fire and junior men's sport pistol. He has also represented Team USA in a dozen international competitions, including World Cups and World Championships.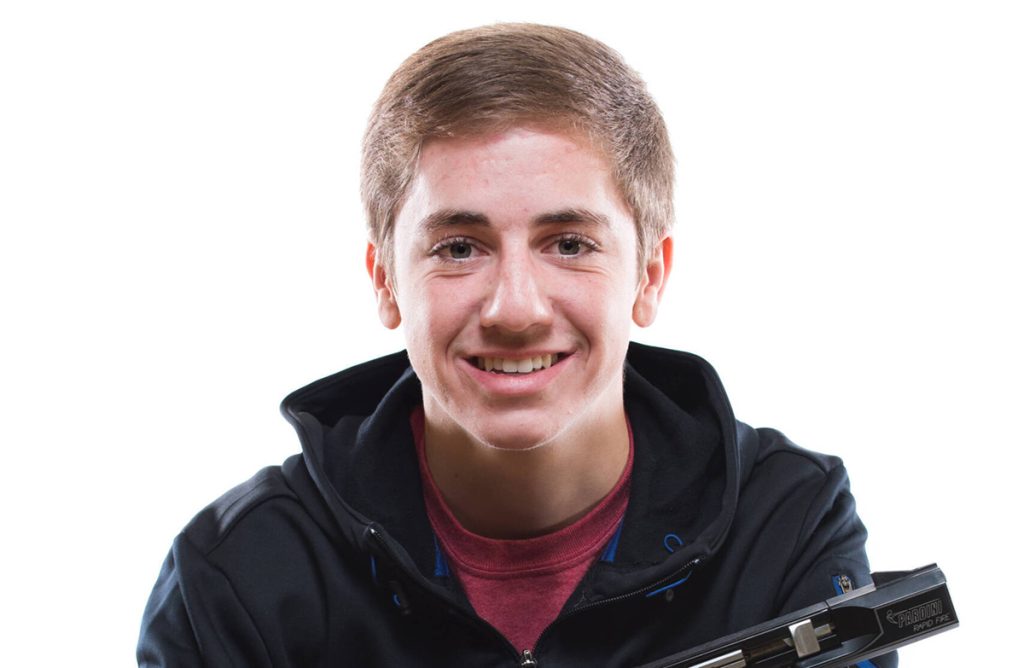 Leverett currently competes for The Ohio State University Pistol Team, set to enter his junior year in 2022. He helped lead the team to a National Title in 2022 when he was named first team All-American in Air, Sport and Standard pistol and finished in third overall in Standard pistol at Nationals.
In 2019, he won the United States' only 25-meter Rapid Fire Pistol quota for the Tokyo Olympics at the World Cup in China but finished second at the Olympic Trials the following year. Luckily, after a few unforeseen circumstances, USA Shooting was able to earn another quota to secure him a spot on the Rapid Fire pistol event next to his brother, Jack, who competed in the same event.
Leverett's first International points came in September 2018 during the 25-meter Pistol Men's Junior event at the World Cup in Changwon, Korea, when he reached second place. After earning the Olympic Quota in 2019 and a gold medal in the same event at the 2021 Junior World Cup in Lima, Peru, he finally achieved International Distinguished Badge #539 in April 2022 – claiming bronze at the World Cup in Rio De Janeiro, Brazil.
The foundation of the International Badge began at the height of the cold war, when marksmanship athletes from the Soviet Union (USSR) were dominating Olympic and World Championship competitions. President Dwight D. Eisenhower established the U.S. Army Marksmanship Unit in 1956 and gave it a mission of winning international competitions in an attempt to earn wins for the United States and keep athletes competitive on a global level.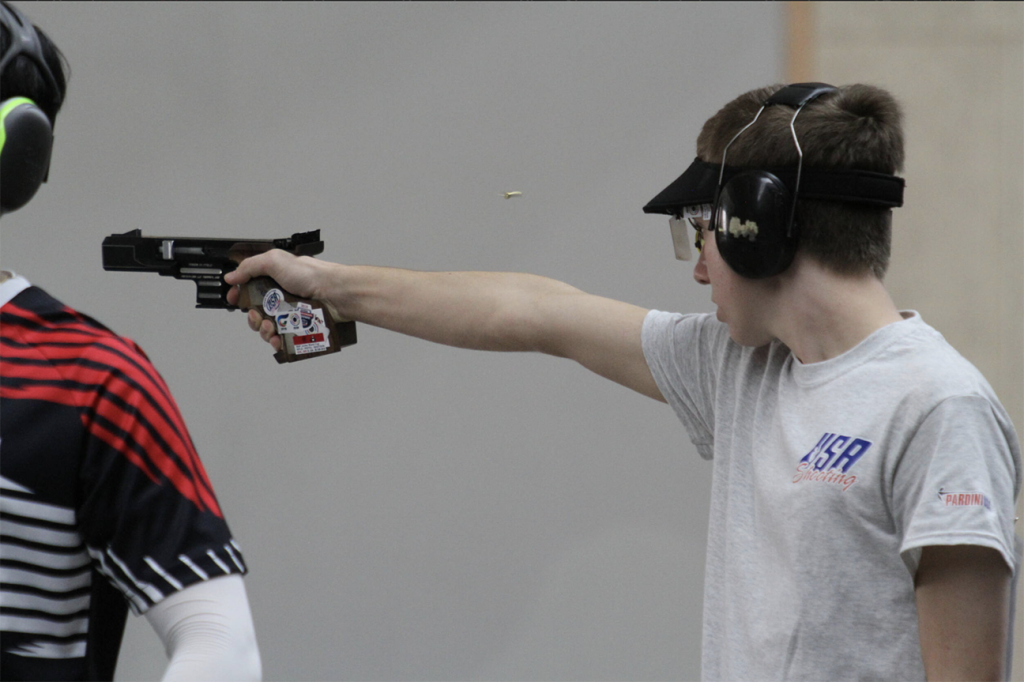 Even further, the National Board for the Promotion of Rifle Practice (NBPRP), which operated as a Department of Defense organization, recommended the creation of the International Distinguished Badge to encourage U.S. citizens to train more intensely to win medals in international competitions.
The original requirement for receiving the badge was to win a gold, silver or bronze medal in an Olympic, World Championship or Pan American Games individual or team event, though the requirements now follow the 30-point criteria for medals won in championships governed by the International Shooting Sports Federation (ISSF).
The Badge was approved in 1962, and in April 1963, President John F. Kennedy presented the first International Distinguished Badge to Gary Anderson. Anderson had earned several wins overseas, including four gold medals in the 1962 World Championship. After a successful career, Anderson later became the CMP Director of Civilian Marksmanship and now serves as the Director of Civilian Marksmanship Emeritus – remaining hands on in CMP programs to this day.
In 2013, the International Distinguished program was extended to also include World Shooting Para Sport (WSPS) competitions. Now, U.S. athletes who win medals in the Paralympic Games, WSPS World Championships and WSPS World Cups are eligible to win International Distinguished Badges.
The Civilian Marksmanship Program (CMP) currently offers Distinguished Badge programs for Service Rifle, Service Pistol, .22 Rimfire Pistol, International competition, Smallbore Rifle, 60 Shot Air Rifle, 60 Shot Air Pistol, Revolver Pistol, Junior Air Rifle and for impaired adaptive athletes.
Learn more about the Distinguished Badge program by visiting the CMP website at https://thecmp.org/competitions/distinguishedbadges/.