Freeman and Friend Overtake Difficult Hearst Doubles Match
July 28, 2014
Civilian Marksmanship Program
▸
The First Shot
▸
Freeman and Friend Overtake Difficult Hearst Doubles Match
By Ashley Burgnone, CMP Writer
CAMP PERRY, OH
On the morning of July 18, a throng of over 500 eager marksmen dug their feet into the dirt of the firing line on Camp Perry's Viale Range to earn the right to be called champions of the 2014 Hearst Doubles Match. This year, the match hosted 269 teams on the firing line.
The match was first introduced as a National Trophy Rifle Match back in 2006. Since then, it has become one of the most prestigious events during the National Match season. Winners receive their names permanently engraved on the coveted William Randolph Hearst Trophy. Promoting excellence, perseverance and teamwork, the event is open to marksmen of all ages.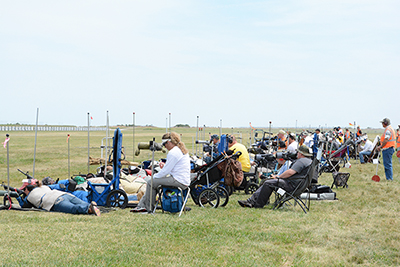 Cole Humber, 16, of Nashua, NH, and his partner Patrick Cabrera, 15, of Hudson, NH, had never fired in the Hearst Doubles before, without really much of an idea of what to expect. Their coach was also shooting at the same time, leaving the pair without the helpful knowledge of their mentor on the firing line. Luckily, surrounding veterans of the match were friendly enough to offer their own tips to the two up-and-coming juniors.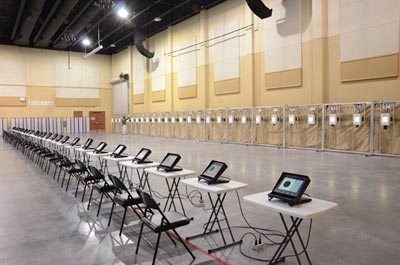 "This match is a challenge, that's for sure," said Humber. "You don't get any sighters, so you'd better hope you had everything sighted in before you came here. But it's a lot of fun too."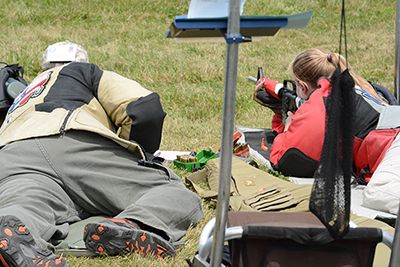 Bryan Dailey, 35, of Cumming, GA, and his partner, Troy Lawton, 51, of Columbus, GA, finished in eight place overall and were the second-highest civilian team in the match. With so many military servicemen firing in the CMP Matches, some may feel intimidated on the firing line. But, in Dailey's mind, there's really only one competitor to worry about.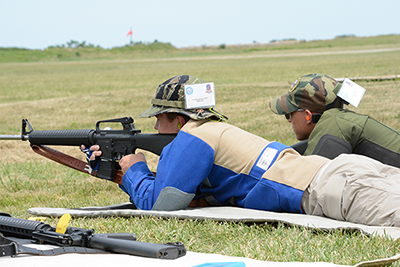 "We're competing against ourselves. We don't have any control over anyone else," he said. "We chugged along and both shot about our own personal averages, so you can't ask much more than that."
Two-person teams fire a 30-shot Course of Fire with service rifles from 200, 300 and 600 yards, with no sighters. Teams alternate firing on the same target at the same time.
Winning the Hearst Doubles was the team of Freeman-Friend, consisting of U.S. Army Reserve members SGT Kristoffer Friend, 28, of Stamford, CT, and CPT Samuel Freeman, 30, of Hendersonville, NC. The pair fired a combined score of 587-21x.
The record score of 594-22x for the Hearst Doubles was set by SSG Tyrel Cooper and SGT Augustus Dunfey in 2013.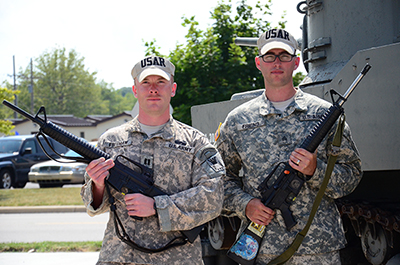 Falling short of Freeman-Friend by only one point was the U.S. Marine Corps (USMC) team of Pennington-Bailey, which fired an aggregate score of 586-21x. Members of the team were LCpl. James Pennington, 26, of Bowlus, MN, and Sgt. Kyle Bailey, 25, of Quantico, VA.
Only two x's behind Penning-Bailey was fellow USMC team Peterson-Snyder. SSgt. Timothy Snyder, 32, of Fredericksburg, VA, and SGT Joseph Peterson, 30, of Fredericksburg, VA, fired a combined score of 586-18x for third.
Snyder was the second highest individual shooter of the match, with his score of 296-7x. SFC Daniel Dorosheff, 40, of High Springs, FL, Army Reserve, was the overall leading individual, recording an impressive score of 297-13x. Dorosheff's team finished in 11th place.
For a complete list of results, visit http://ct.thecmp.org/app/v1/index.php?do=match&task=edit&match=11024. View photos of the match at http://cmp1.zenfolio.com/.