Hearst Doubles Offers Service Rifle Team Competition
June 25, 2014
Civilian Marksmanship Program
▸
The First Shot
▸
Hearst Doubles Offers Service Rifle Team Competition
CAMP PERRY, Ohio
Rifle marksmen looking for a challenging service rifle team match are encouraged to sign up for the Hearst Doubles Match, firing on July 18, 2014, at the National Trophy Rifle Matches.
The Hearst Doubles began in 2006 and has become one of the most popular and prestigious events during the CMP National Matches. Two-person teams fire a 30-shot course of fire in standing and prone positions from 200, 300, and 600 yards, using service rifles. Match winners will receive their names on the William Randolph Hearst Trophy.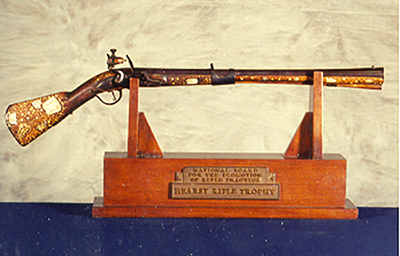 The Match will be fired on the same day as the Vintage Sniper Match – a popular CMP Games team match. The event schedule has been formatted so interested marksmen may fire in both the Hearst Doubles and the Vintage Sniper Match, if they so choose.