Hall and USAR Win Big During 2016 National Rifle Matches
August 2, 2016
Civilian Marksmanship Program
▸
The First Shot
▸
Hall and USAR Win Big During 2016 National Rifle Matches
By Ashley Brugnone, CMP Writer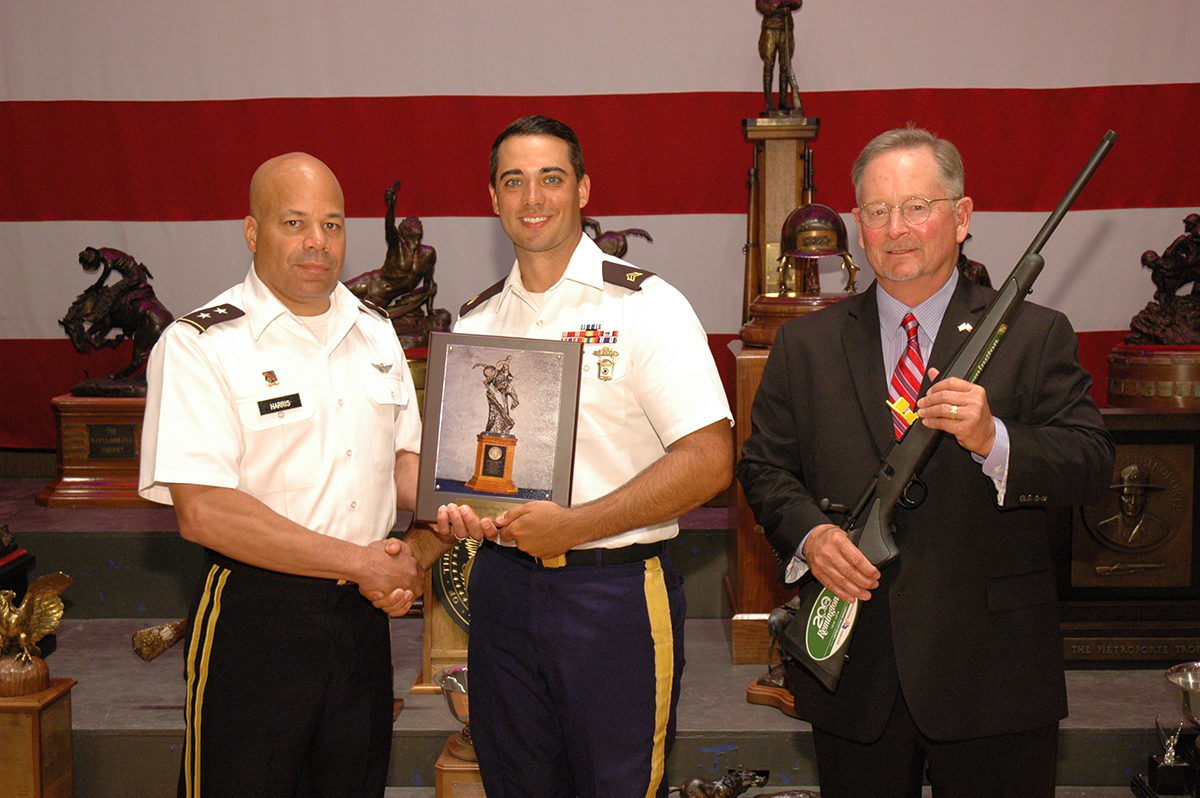 CAMP PERRY, Ohio – In only his third trip to Camp Perry for the National Matches, SGT Joseph Hall, 30, of the U.S. Army Reserve (USAR) team, overtook the field of powerful competitors to become the Overall Individual Service Rifle National Champion. SGT Hall fired an aggregate score of 1581-62x in his win – just one point above his teammate, MSG Robert Mango.
In 2014 and 2015, Hall was a member of the Army Marksmanship Unit Service Rifle Team after switching from International shooting. This year was his first as a member of the USAR team.
"It feels great," said Hall. "Honestly, coming out here with the Reserve team, I know that everyone is saying congratulations to me, that I won, but I didn't win by myself. These guys have been phenomenal. They have helped me all the way, they've supported me. They made shooting fun again for me."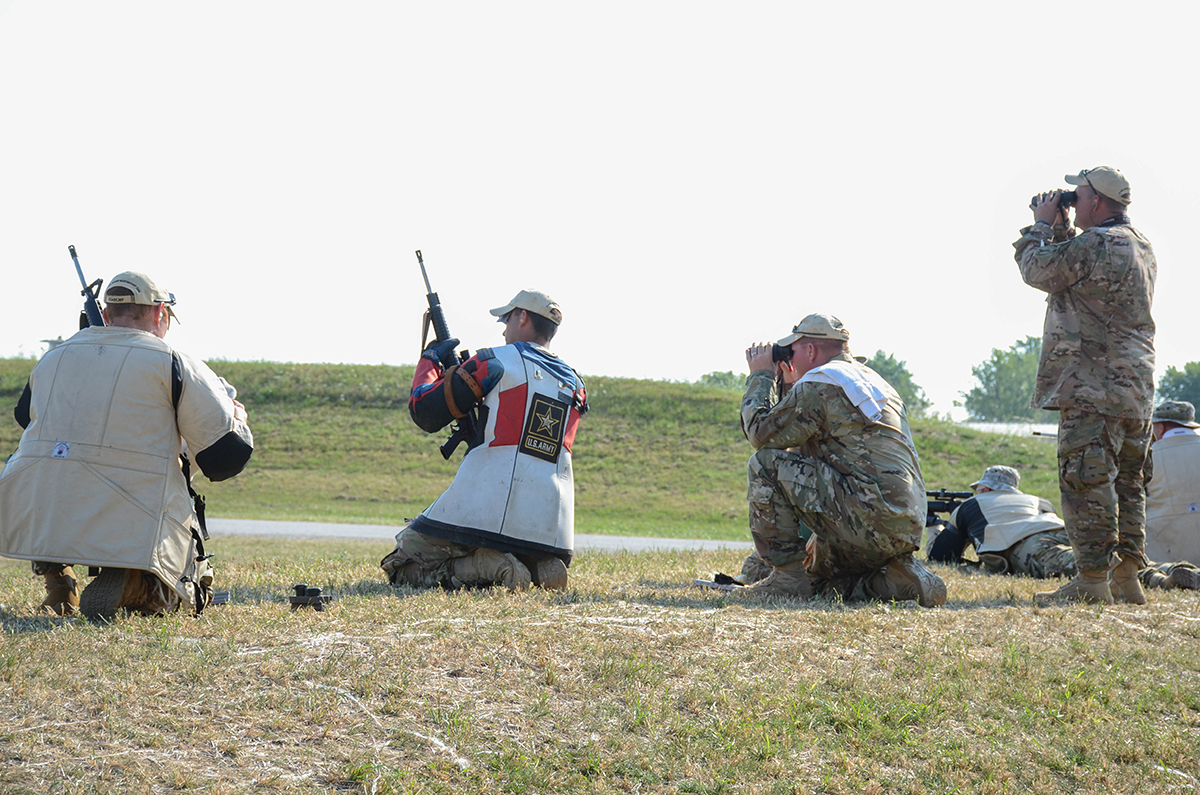 He went on to praise his team, saying, "When I got out here, I came out here to win. That is the whole goal of every shooter out here. But without the support of the team and the coach, how much he's helped me through all of this stuff – they made everything relaxed. And when I got up on that line, it was just me shooting for my own personal best, and that's exactly what I did. And it all came together."
Hall also received the Rattlesnake Trophy as the High Reserve competitor of the National Trophy Team Match.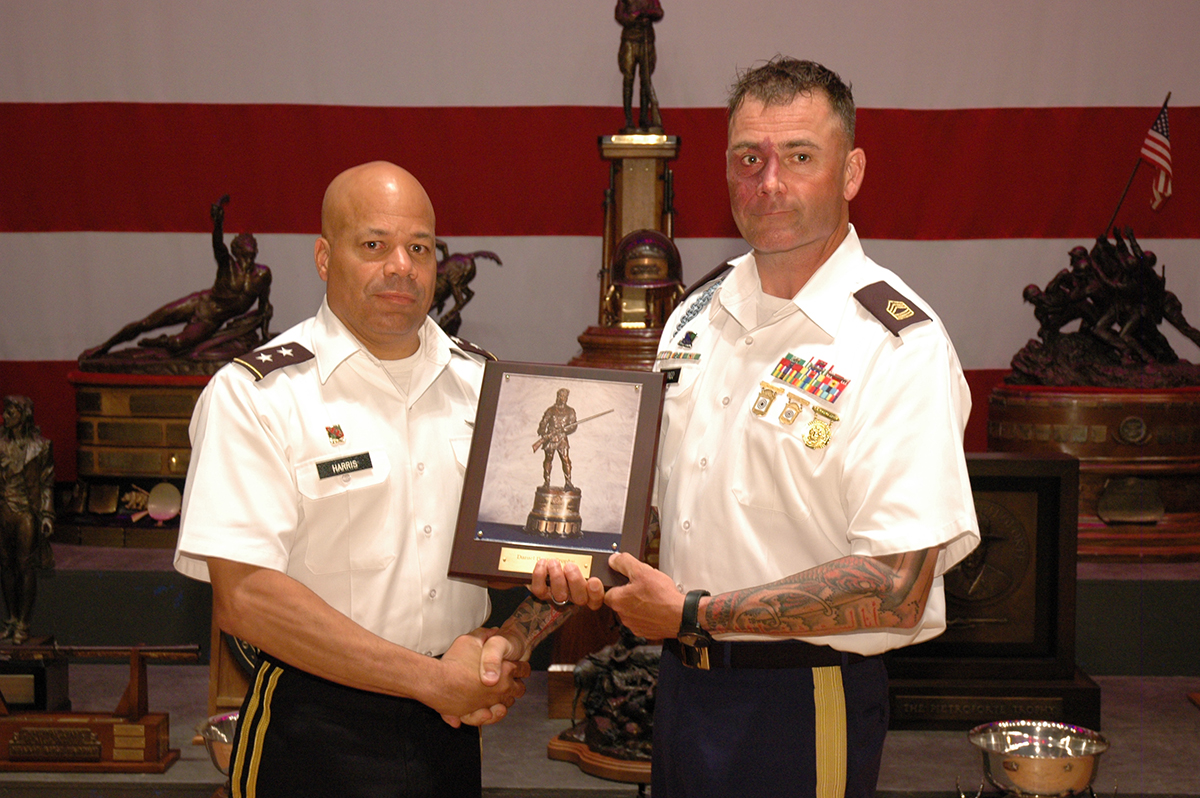 MSG Robert Mango, 42, of Kailua, Hawaii, earned the Daniel Boone Trophy for the second consecutive year as the overall competitor in the National Trophy Individual (NTI) Rifle Match, with an exceptional score of 495-26x.
"I've just been blown away. I truly believe I'm just lucky and fortunate right now," he said. "It's just a matter of being mentally confident and prepared and making the fewest amount of mistakes out there. The person who makes the fewest amount of mistakes, wins. And I'm fortunate enough that it happened to be me. I'm just super lucky."
During the 2016 National Pistol Matches, Mango was the winner of the President's Match and also came in a very, very close second place in the Pistol NTI Match – recording the same score as another competitor who out-fired him by one "x" during the rapid fire portion and was named the winner in the end.
"I preemptively chalked it up as a win after I heard everyone's scores, and so I just assumed it. And I don't like doing that," he said. "And then I was like – no way! But that was an awesome win for [NTI pistol winner, PFC Chris Hudock]. It was his first year, so I'm super happy."
Although Mango fell short in the Pistol NTI, he was still named the Overall Service Pistol competitor of the matches.
Triple Distinguished in Service Pistol, Service Rifle and .22 Rimfire Pistol, Mango has proven himself a tough competitor in both disciplines. Before joining the Reserve team, he spent eight years shooting mostly rifle for the U.S. Marine Corps before moving to the Army Marksmanship Unit. The transition led him to International and Service Pistol competition, and, ultimately, the Reserve team.
"There's a real weird switch you have to flip in your head with fundamentals, going from rifle to pistol," he said. "I'm just able to do that quickly without a whole lot of practice."
MSG Mango bested a field of 1,074 military and civilian competitors in the NTI Rifle Match. He was also the High Reserve competitor and the High Infantryman.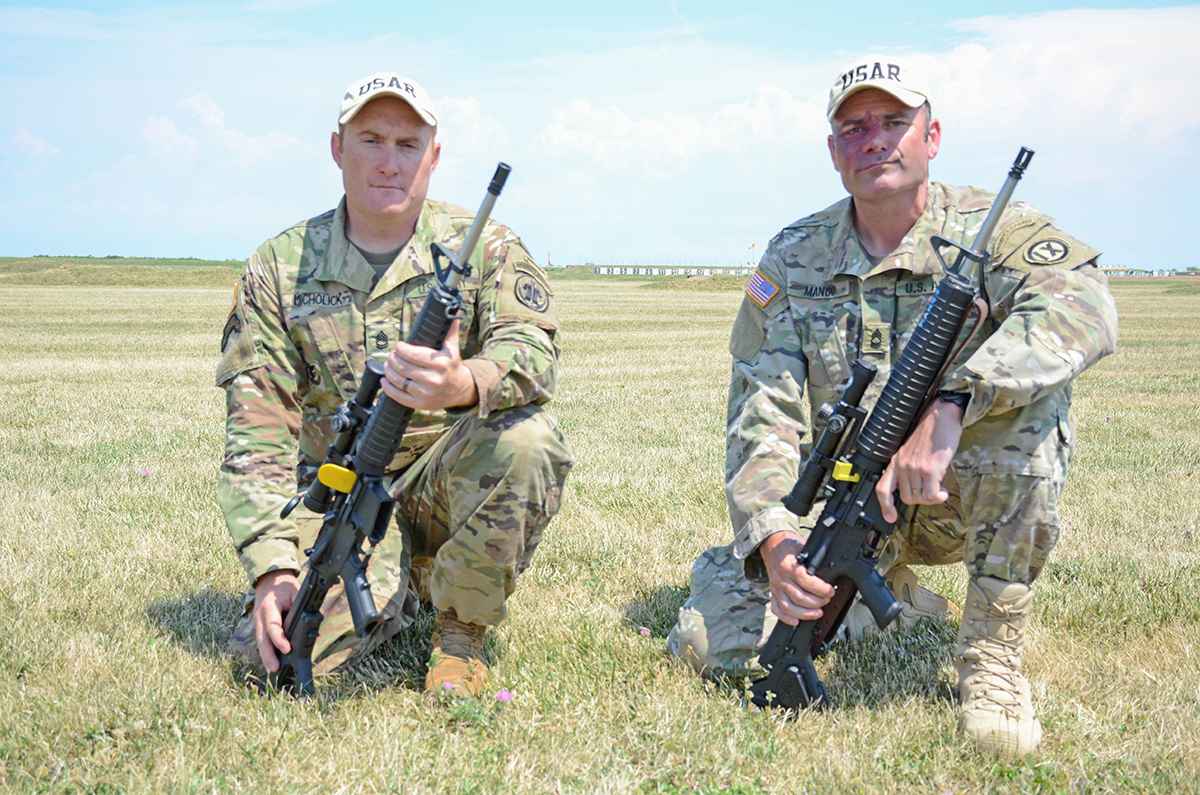 Moving his abilities over into team competition, MSG Mango and his Hearst Doubles partner, SFC Joel Micholick, 36, of Leavonworth, KS, won the match and set a new National Record with a score of 597-24x. Mango and Micholick finished fourth and fifth as individuals overall, respectively. Both men are members of the Army Reserve team that went on to win the 2016 National Trophy Team Match.
"I think we have a good approach, a good mental attitude. We spent a lot of time in preparation," said Micholick of his Hearst Doubles team. "We just jive. That's it."
MSG Mango added, "We bring out the best in each other. It has a lot to do with being positive and visualization – just mentally confident. We both do that, and it works well. We're just good pair fire partners."
For a complete list of results, visit http://ct.thecmp.org/app/v1/index.php?do=match&task=edit&match=14106&tab=results.
Photos can be found by visiting the "2016 National Matches" album on CMP's Zenfolio: http://cmp1.zenfolio.com/f352326966.