Green, Hall Take Hearst Doubles Match at 2015 National Trophy Rifle Matches
July 23, 2015
Civilian Marksmanship Program
▸
The First Shot
▸
Green, Hall Take Hearst Doubles Match at 2015 National Trophy Rifle Matches
By Ashley Brugnone, CMP Writer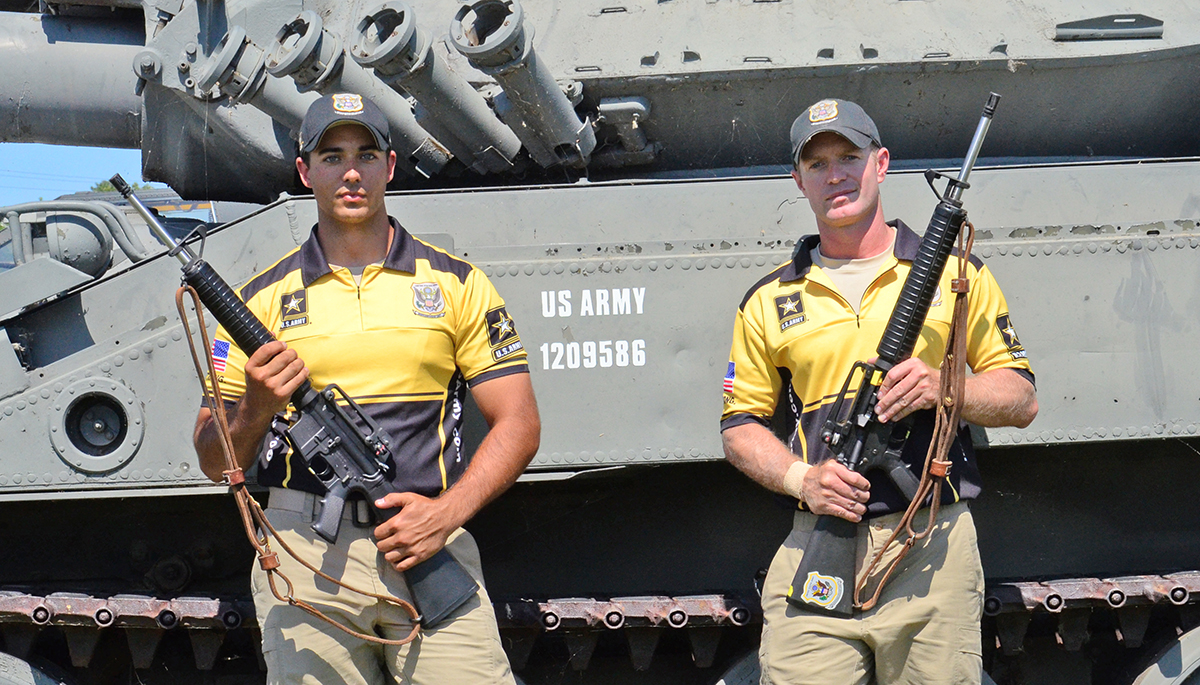 CAMP PERRY, Ohio – Leading the two-man team Hearst Doubles Match at this year's National Trophy Rifle Matches was the team of SFC Brandon Green, 30, and SGT Joseph Hall, 29, with a score of 591-18x – beating out the second place team by nearly 10 points. Both are members of the Army Marksmanship Unit (AMU) Service Rifle team. Individually, Green finished second overall, while Hall also finished in the top five – in fourth place.
The two have shot every team match together so far this year, giving them plenty of insight on each other's weaknesses and strengths. Between the two of them, SFC Green has had the most experience with Service Rifle – now into his 12th season with the AMU. SGT Hall is (no pun intended) green on the team – having only been involved with Service Rifle for a little over a year after switching from the AMU International team.
Speaking on Hall's positive qualities, Green said, "He's just an all-around good shooter. You know he's going to put the shots in the middle. You know he's going to break the best shot he possibly can. You know he's never going to take a bad shot."
He went on, "It's nice to know that your partner isn't going to let one go and shoot one by accident when he knows he can take it down. And he's not scared to take it down. He's not scared to hold and wait a condition out or to make his hold slow down. He'll work it until the time is done. It's nice to have a partner who will put every ounce of effort they have into a match."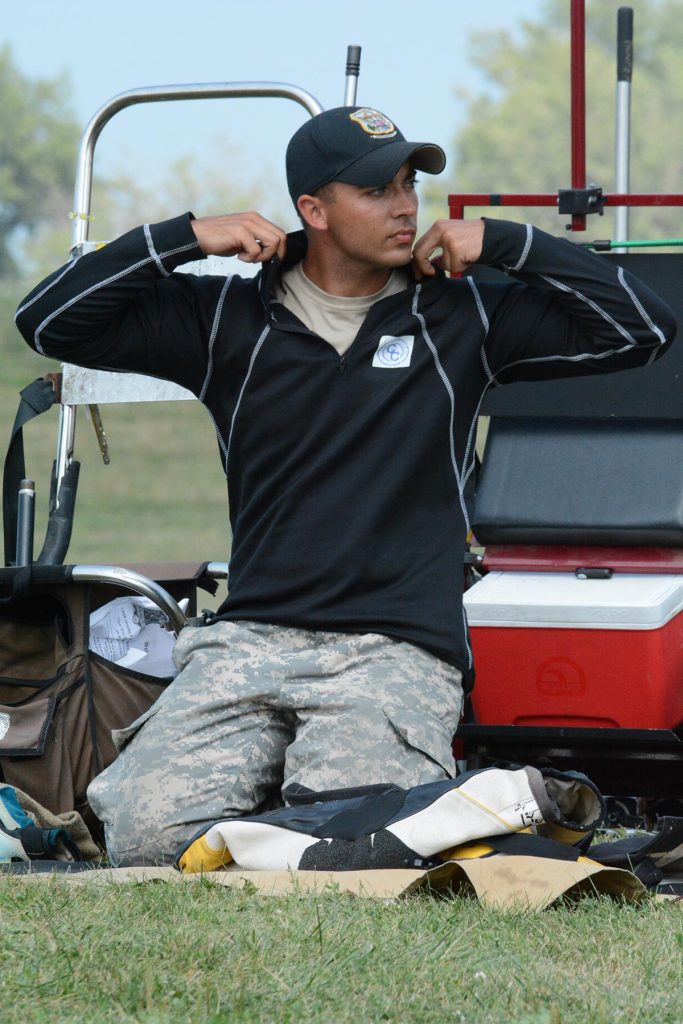 With a strong background in International style shooting, Hall uses some of his knowledge of that sport in his Service Rifle shooting today – but he's still learning. And Green (who has won numerous awards and accolades, such as being named Soldier of the Year, as well as the National Rifle Association's overall Highpower competitor in 2013 and the Overall Individual Service Rifle competitor at CMP's National Trophy Rifle Matches in 2014) is easy to learn from.
"Brandon's been doing this so long he could write the book on Service Rifle," Hall said. "I've mimicked half of the things I do off of him. It was watching him, watching how he controlled the recoil and how he fought with the elements and did all of his things that got me even close to where I am. His strength is his knowledge in this sport."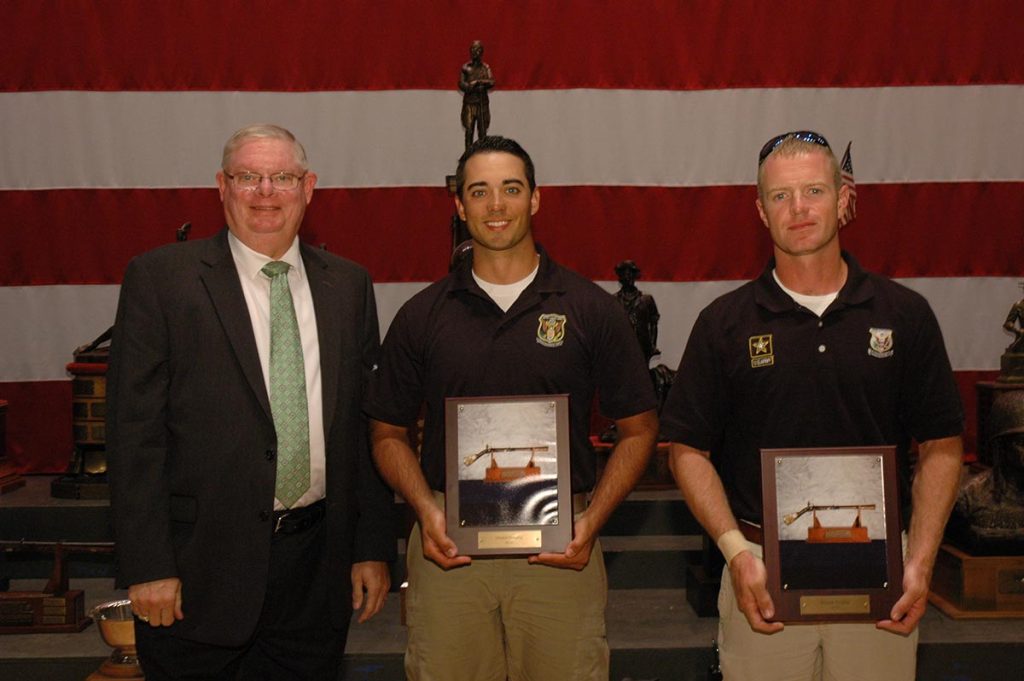 Apart from their praiseworthy skills as individuals, the two talented marksmen have also found strength as a pair. Their confidence within each other has allowed them to be more comfortable on the firing line, knowing that no matter the environment, they both can rely on one another.
"Two pairs of eyes in the scope all the time, watching conditions – when you're calling your shooter's rapid fire as a coach – having a guy who knows what to look for in the wind, knows what to look for in bullet trace, can tell where the shots are going – it really helps you keep it centered," said Green.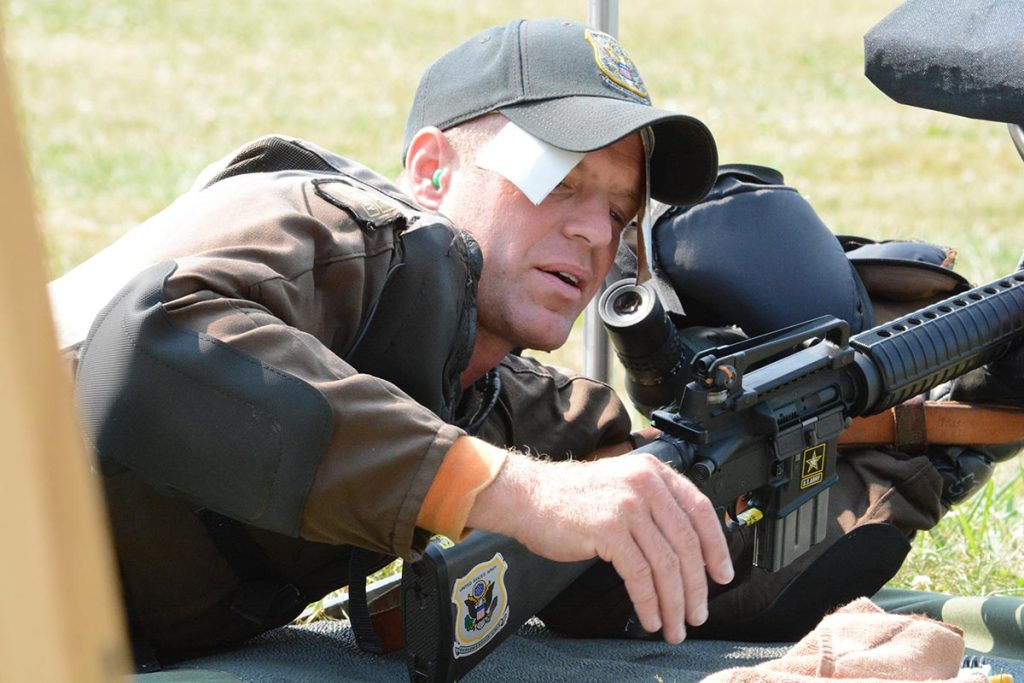 Their communication and natural connection as shooting partners has made them fierce competitors on the firing line, but their win during the Hearst Doubles was derived from more than just their physical game – credit can also be given to their powerful mental game.
"We both have a strong drive to win," said Hall. "We wanted it. We fought hard together. We strove through it together. If he dropped a shot, we talked it out, figured it out and got right back into it."
He continued, "Each yard line, we continued to check each other and make sure that we had what it takes to win. We watched each other and kept taking care of each other."
Also giving a credible performance during the Hearst Doubles was PV2 Verne Conant, 21, of Billerica, MA, who fired a score of 279-4x to finish 89 out of 502 competitors to become the high junior of the event.
For a complete list of results of the Hearst Doubles and other National Match events, visit http://ct.thecmp.org/app/v1/index.php?do=match&task=edit&match=12504.