Granbury High School Recaptures Precision Title at 2019 JROTC National Air Rifle Championship
March 25, 2019
Civilian Marksmanship Program
▸
The First Shot
▸
Granbury High School Recaptures Precision Title at 2019 JROTC National Air Rifle Championship
By Ashley Brugnone, CMP Writer
ANNISTON, Ala. – Defending National Champions, the Granbury High School Marine Corps JROTC program athletes, arrived at the 2019 JROTC National Three-Position Championship, March 21-23, ready to reclaim their roles at the top of the podium. That's exactly what they did, and more, as they brought home not only team awards, but also individual wins in the precision class.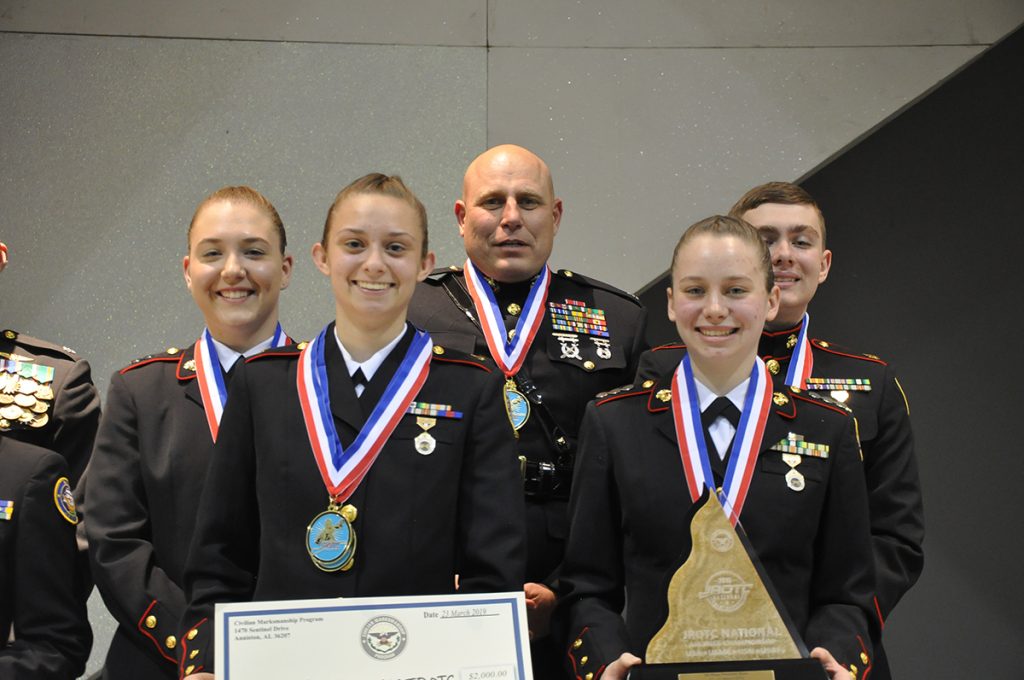 The two-day scholastic competition, held at the Civilian Marksmanship Program's (CMP) South Competition Center in Alabama, hosts both precision and sporter class high school athletes in the three-position event. Each day consists of a qualifying match, followed by a finals event for the Top 8 highest scoring athletes of the day. Overall winners are determined from scores collected from both days.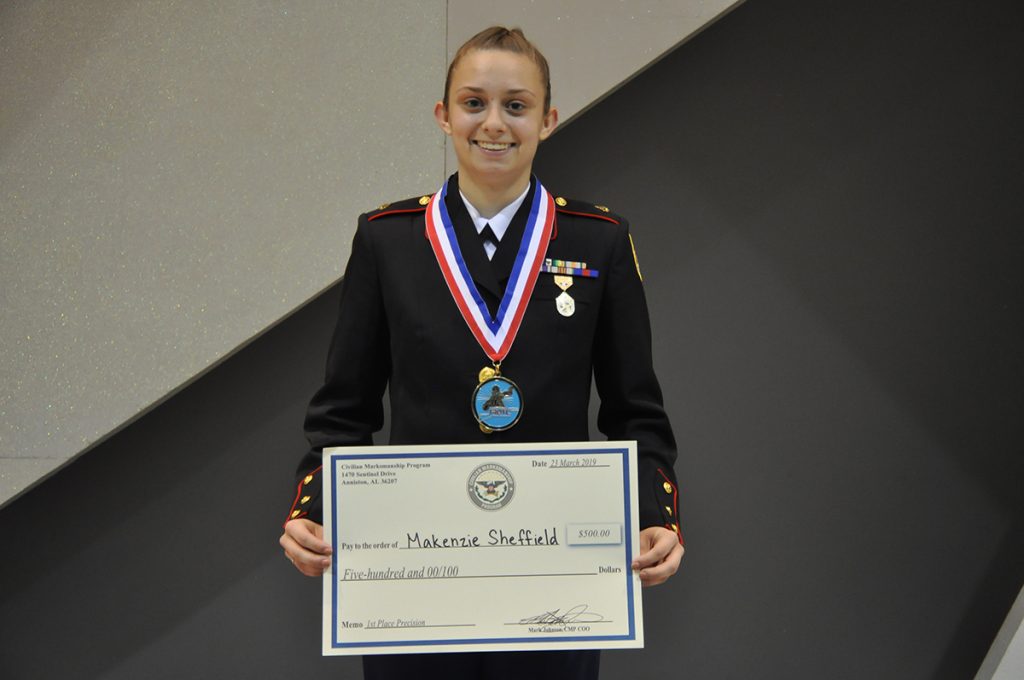 Team member Makenzie Sheffield, 18, helped lead the Granbury, Texas, natives by earning first place in the overall precision individual competition, with a score of 1287.2. Sheffield led the precision class both days of the two-day competition after coming out on top of the eight-competitor final held at the conclusion of each day.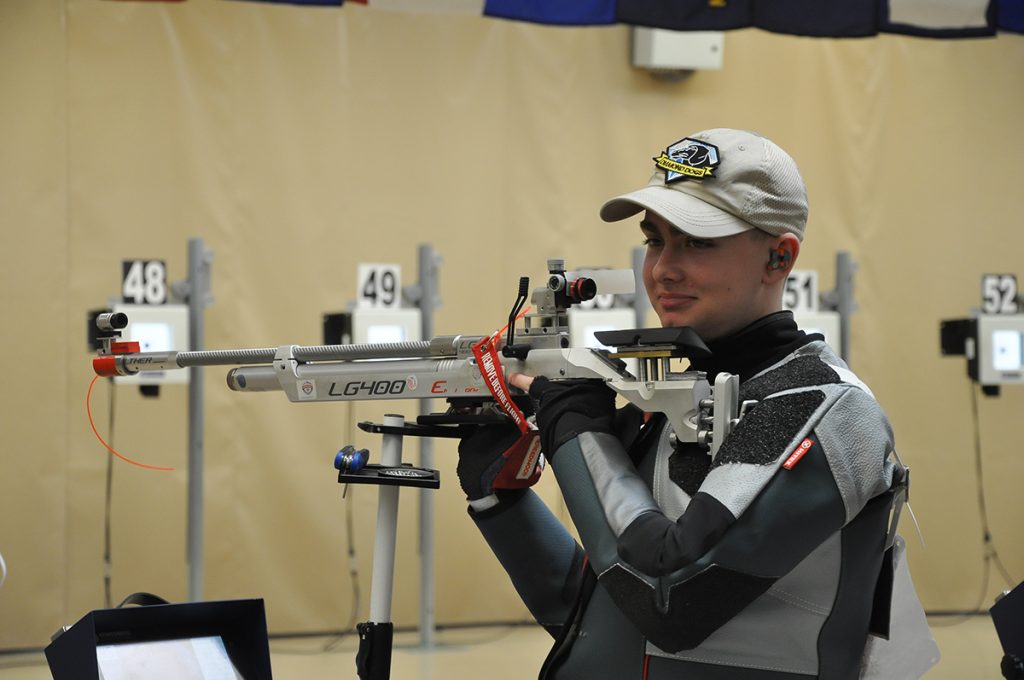 Only one-point shy of Sheffield's overall score was teammate Philip Becker, 17, who accumulated a score of 1286.35 over the course of the weekend. Last year's National Champion, Taylor Gibson, 18, of North Salem High School's Army JROTC in Oregon, earned the third place with a score of 1282.65 in the precision match.
With half of its members earning podium spots and the other half (Clarissa Layland and Elizabeth Plecity) landing in the Top 15 overall, Granbury High School took home the overall team competition for the second consecutive year, with a score of 4704-324x.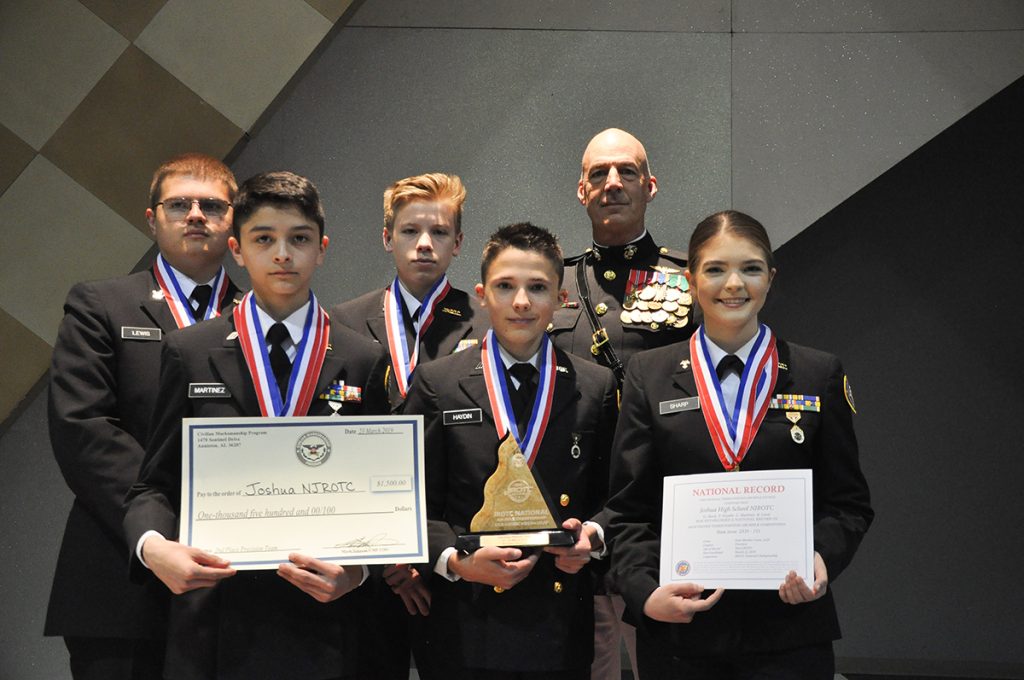 Earning second was Joshua High School Navy JROTC, also of Texas, with a score of 4672-295x, followed by Granbury Team 2, which earned third with a score of 4635-276x.
Joshua High School also set a Navy JROTC National Team record, with their score of 2335-151x. Member Grace Sharp, 17, who finished fifth overall, set a new Navy JROTC National Record for her finals performance on Day 1 of the precision match, with a score of 104.8.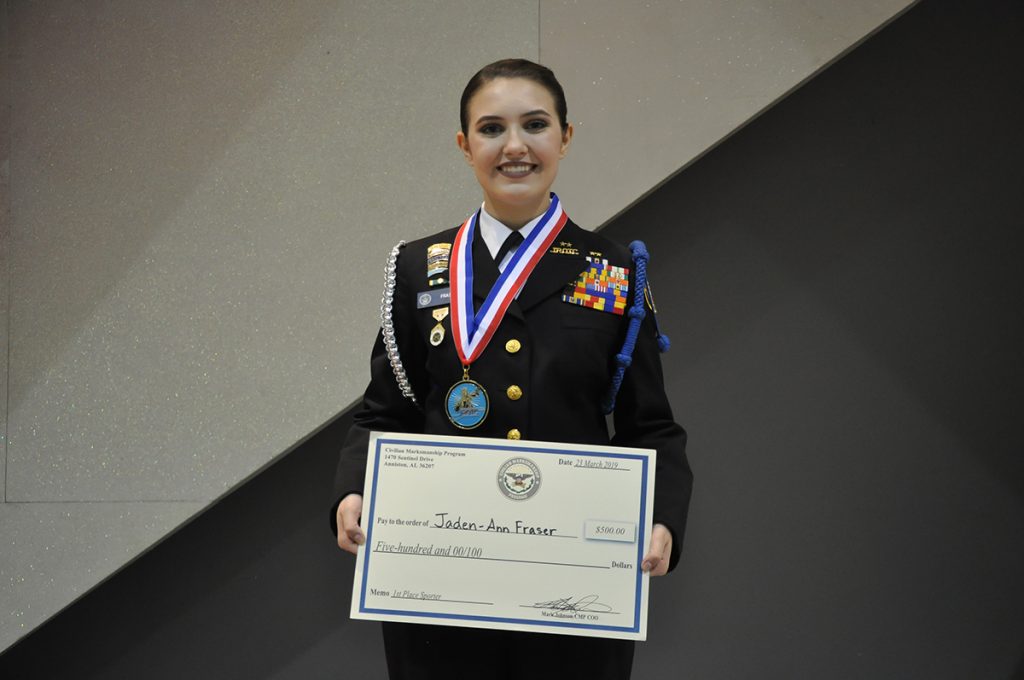 In the sporter event, Jaden-Ann Fraser, 16, of Volunteer High School Navy JROTC in Tennessee, overtook the individual competition by just one point, with a score of 1222.35. Kayla Kalenza, 15, of Nation Ford High School Marine Corps JROTC in South Carolina, followed in second with a score of 1221.15, as Andrew Larson, 18, of Jack C. Hays Red Marine Corps JROTC in Texas, with a score of 1206.85.
Fraser clinched the competition after claiming the Day 1 final and finishing just behind Kalenza in second on Day 2.
Kalenza's Nation Ford High School team, along with members, Deonte Hayes, Nick Noto and Sarah Leininger, led as the overall sporter team with a score of 4437-155x. Santa Fe Navy JROTC landed in second, with a score of 4377-144x, with Zion Benton Navy JROTC of Illinois earning third.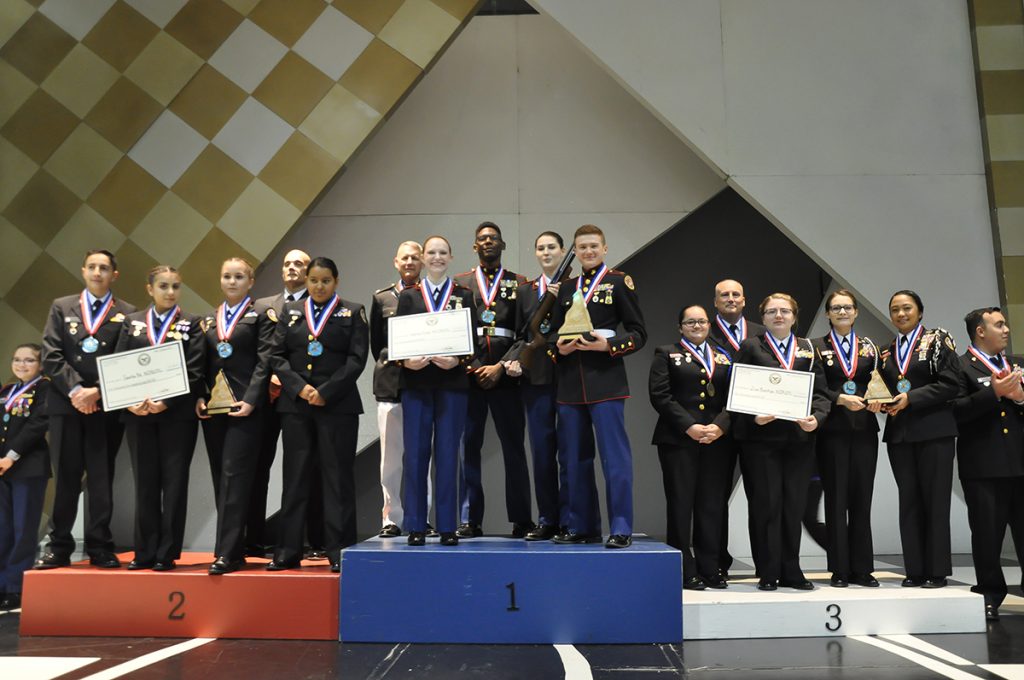 Placing teams earned monetary awards from the CMP for their outstanding performances – $500 for fifth, $750 for fourth, $1,000 for third, $1,500 for second and $2,000 for first. The Top 5 individuals also earned money for placing in the competition: $100 for fifth, $200 for fourth, $300 for third, $400 for second and $500 for first. MidwayUSA has also graciously donated $350,000 to top teams (in Air Rifle, Smallbore and Highpower) that are actively participating in their Midway Accounts. For more information on this program, please visit http://www.midwayusafoundation.org.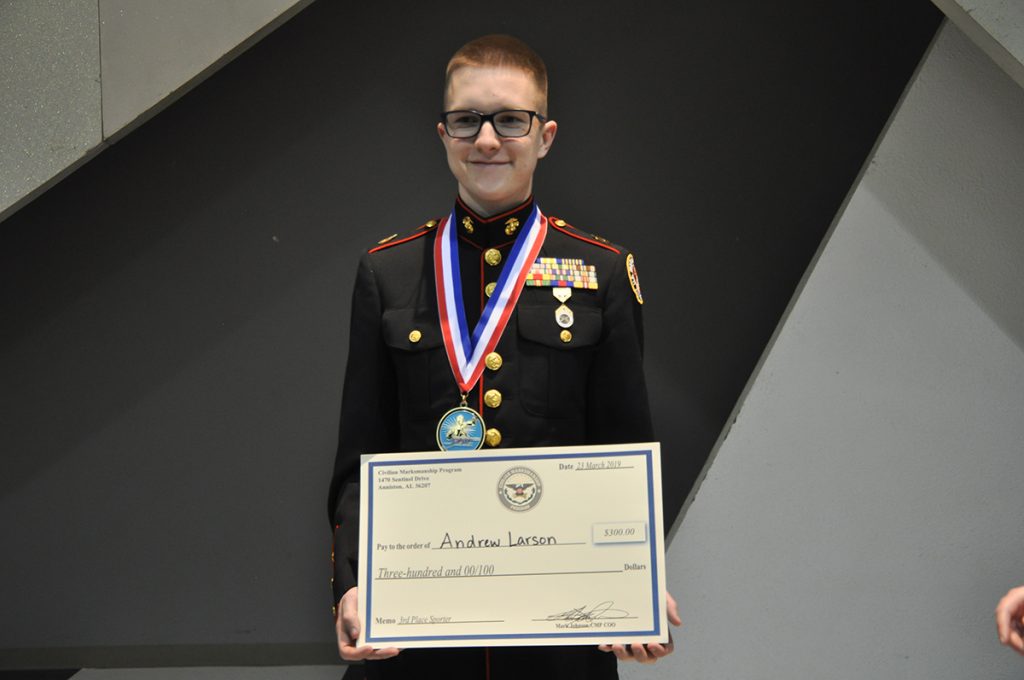 The CMP was proud to exhibit the talent and efforts of each junior participating in the JROTC Air Rifle Championships. Congratulations to all, and we look forward to next year!
For a complete list of results, visit the Competition Tracker page at http://ct.thecmp.org/app/v1/index.php?do=match&task=edit&tab=results&match=18093. Photos from the event, available for free download and for purchase, can be viewed at http://cmp1.zenfolio.com/f546434324.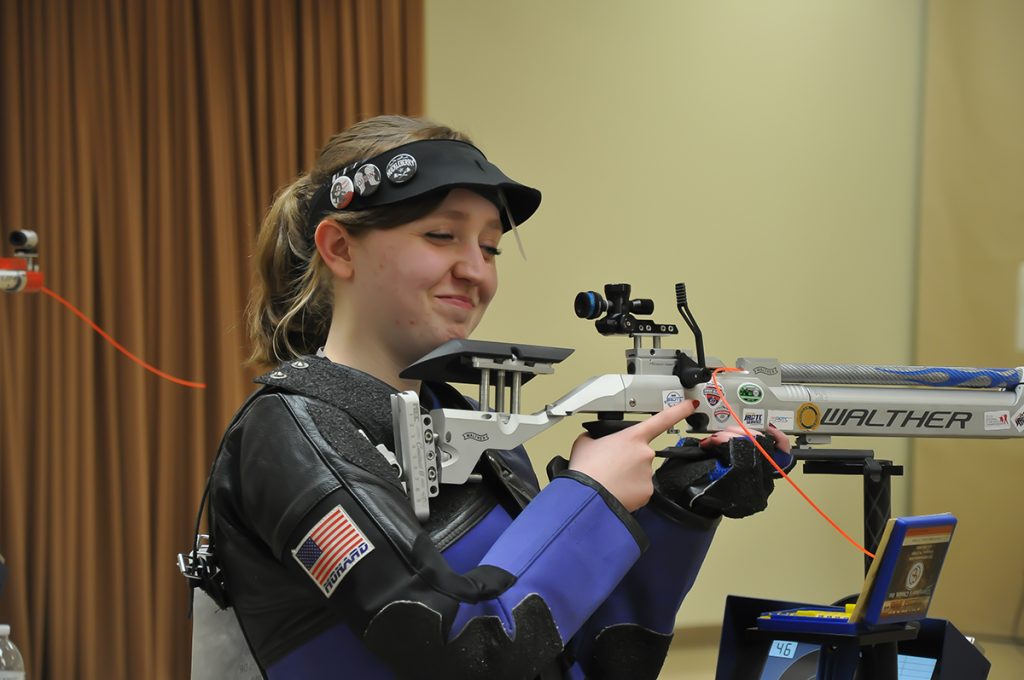 About the JROTC National Air Rifle Championship:
The road to the JROTC National Championship begins with the JROTC Postal Competition in October, with qualifying teams and individuals moving on to the Regional Service Championships in February at Camp Perry, Ohio; Anniston, Ala.; and a western location.
The National Championship is a two-day competition that follows the same format as the Postal and Regional matches, where competitors fire in three positions – prone, standing and kneeling. During Nationals only, the Top 8 competitors of the day from the precision class and the Top 8 from the sporter class then compete in a 10-shot final, vying for daily gold, silver and bronze medals.
Aggregate scores of each athlete from each day of competition (plus finals) are then combined to determine the overall best junior marksmen in the country amongst all four military branches.
For more information on the JROTC Championships, visit https://thecmp.org/air/jrotc-air-rifle-national-championship/.