Ginny Thrasher Finds Many Firsts at 2016 Rio Olympic Games
August 9, 2016
Civilian Marksmanship Program
▸
The First Shot
▸
Ginny Thrasher Finds Many Firsts at 2016 Rio Olympic Games
By Ashley Brugnone, CMP Writer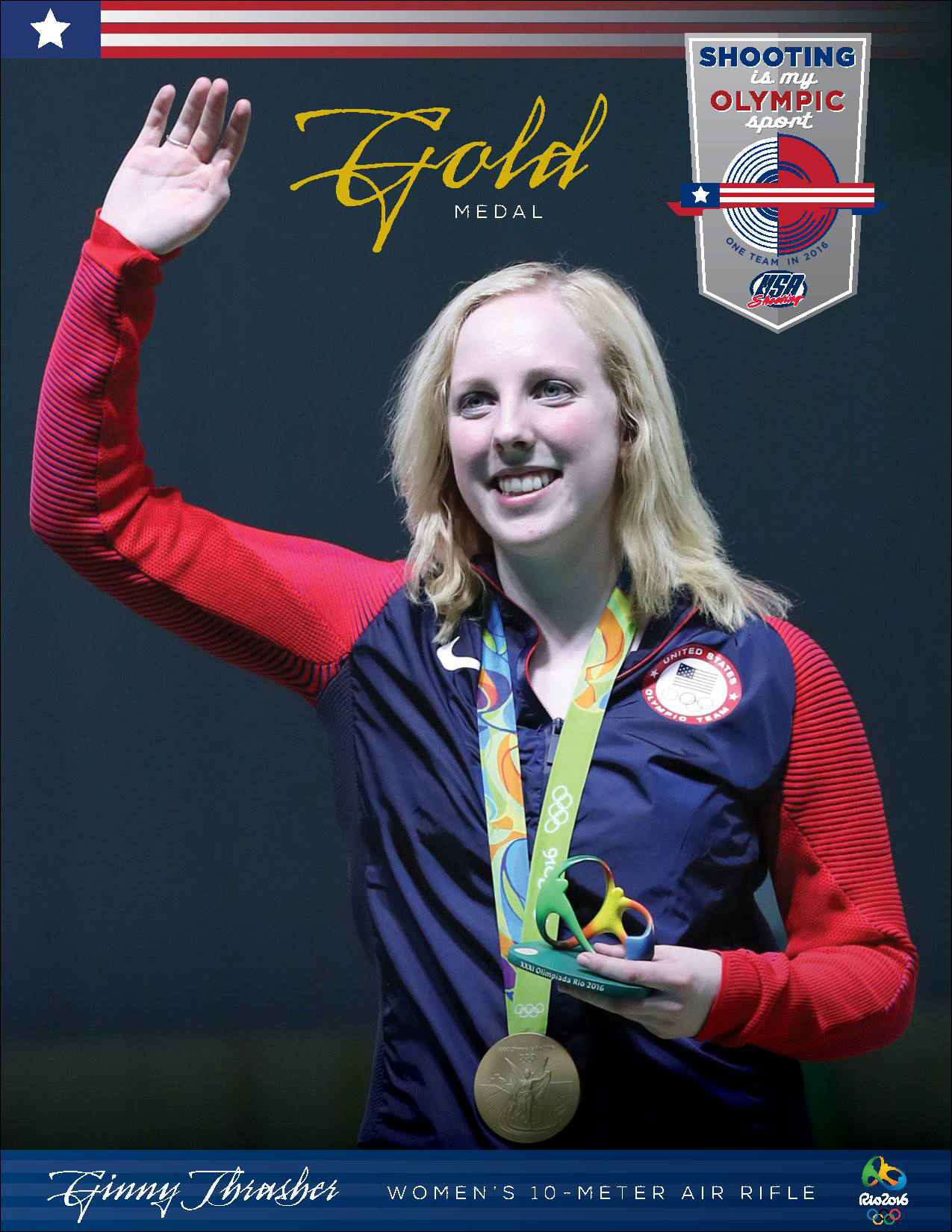 RIO DE JANEIRO, Brazil – During her first Olympic showing, American Ginny Thrasher, shooting member of Team USA currently in Rio for the Olympics, became the first gold medal winner for the United States and the first medal winner of the 2016 Games after firing an unbeatable score in the Women's 10-meter Air Rifle event.
Her unbelievable performance, which included a 10.9 in the qualifying round, also named her the youngest female to ever win the first gold medal and set a new Olympic record with a finals score of 208.0 – finishing an unprecedented full point above Du Li of China, gold medal winner back in 2004 and in 2008 for 50-meter Three Position Air Rifle.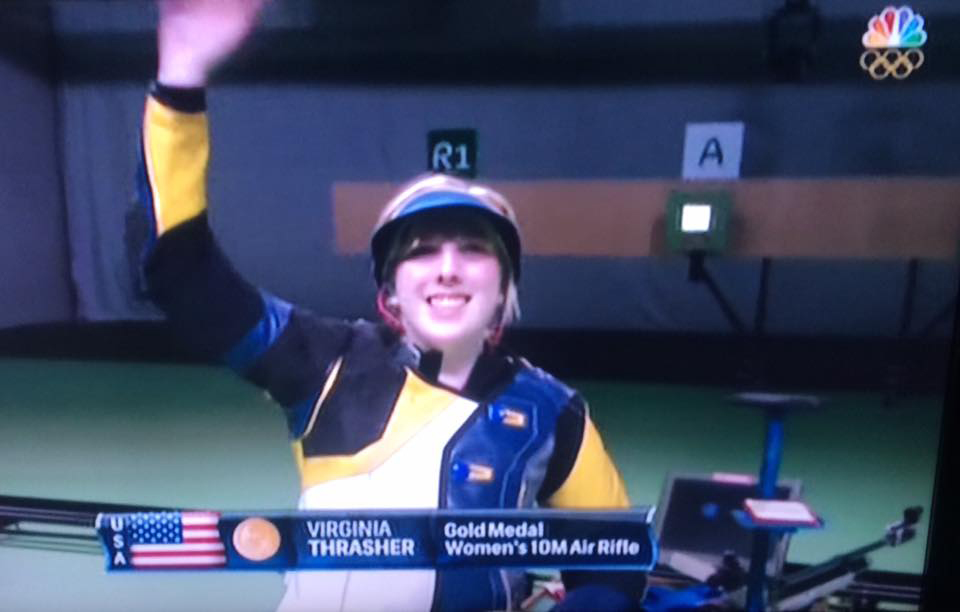 In a post-competition interview with NBC, Thrasher said, "About halfway through the final I knew I was in contention for a medal and that was a great feeling obviously . . . But I had to go and push that thought away and come back and focus on shooting."
She went on to say, "I'm just very proud to start off the 2016 Rio Olympic Games in such a positive manner for my country."
Making history on an Olympic-sized scale, Ginny, at only 19 years old, also marked a notable moment in the story of the Civilian Marksmanship Program (CMP) as she not only became the first CMP Junior Air Rifle Camp alum to ever make it to the Olympic team, but also the first medal winner.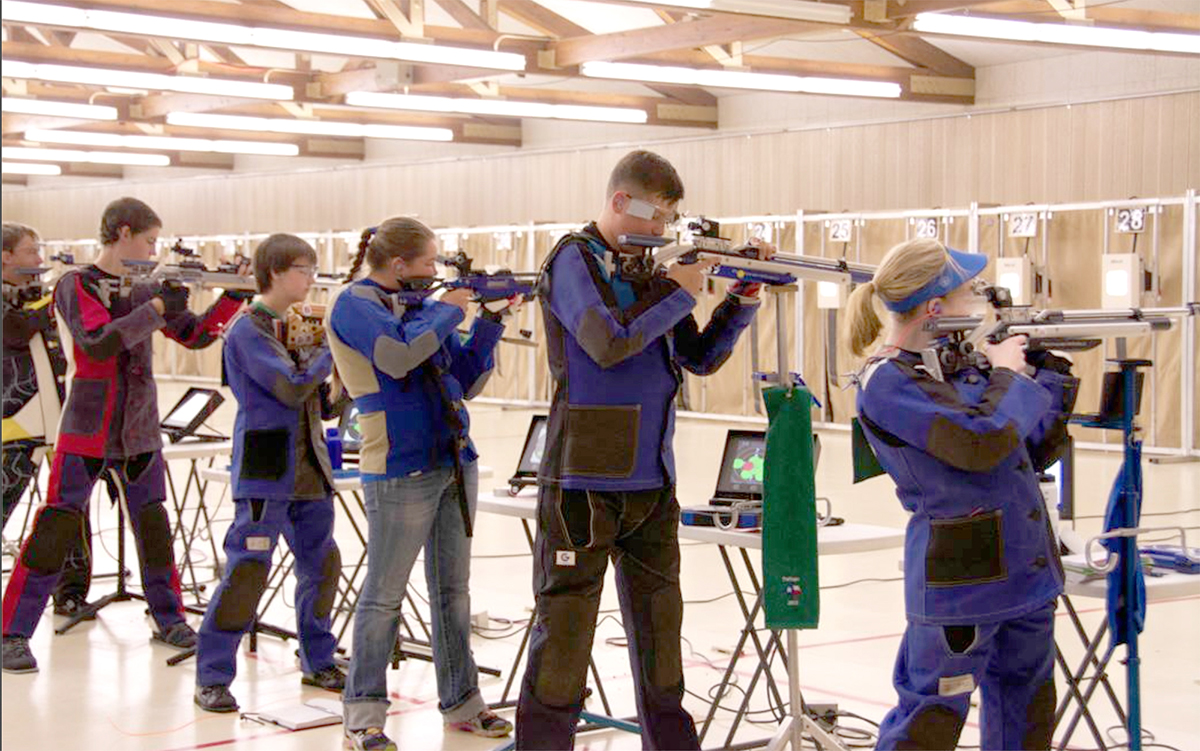 "I am ecstatic for Ginny!" said Sommer Wood, Summer Camp director. "Her focus and commitment to her craft is impressive and will serve as a great example for other young shooters who want to follow in her footsteps."
"In the camps, we talk about dreaming big, and not putting off your goals. Ginny's accomplishment proves how quickly an athlete can reach the pinnacle of our sport when they train with purpose and don't limit their dreams," Sommer added.
Summer Camp co-director, Dan Durben, also commented on Ginny's outstanding feat, saying, "I'm really proud of Ginny, how she prepared, how she performed at the Games and how she has carried herself after her extraordinary accomplishment. She will be a wonderful inspiration for our young shooters."
A familiar face to the CMP, Ginny received eighth place during the 60 Shot National Air Rifle Match at the 2013 National Matches at Camp Perry, along with first place in the Junior match and fourth overall in the Open category during the 2015 Camp Perry Open event. In 2014, she received Junior Distinguished Badge #771 and was awarded a CMP Scholarship for her accomplishments the following year.
She attended the CMP's Junior Air Rifle Camps to further hone her rifling abilities – a Three-Position Camp at the South Competition Center in Anniston, Ala., in 2012, and the Colorado Springs Standing Camp in 2013.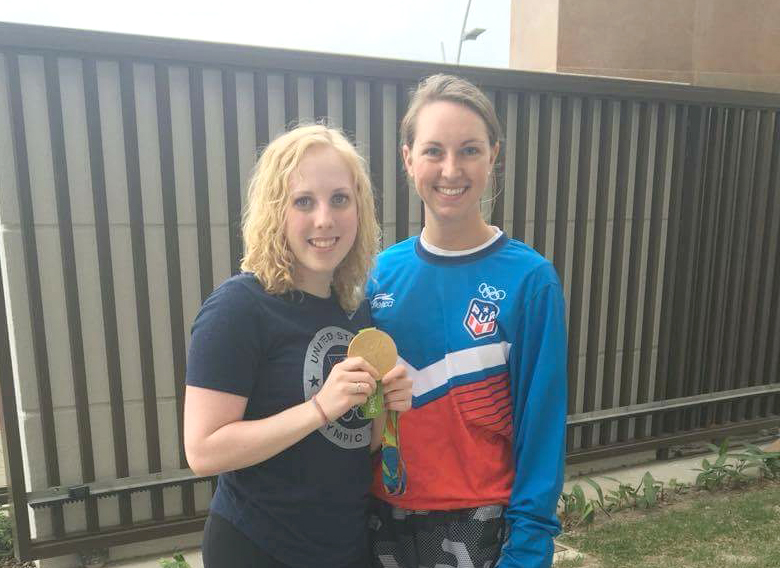 "The best part about CMP camps for me was the focus on the basics," Ginny said in an earlier interview with the CMP. "I think no matter what skill level you are your process can always be improved by going back to the basics. I very much use those basics and the good foundation set for me in CMP and other camps every time I shoot."
A self-described "Army Brat," Ginny has lived in various places around the world. Originally, she wanted to compete in the Olympics for ice skating, but after a hunting trip with her grandfather in 8th grade (and falling in love with the feel of pulling the trigger), she set her sights on rifle.
She joined her West Springfield High School rifle team her freshman year, becoming a three-year team captain and four-time MVP. Outside of school, she also shot for the Arlington Optimist Acorn Rifle Club travel team.
In 2015, she decided the West Virginia University (WVU) Mountaineer rifle team was where she wanted to take her collegiate career, with only four years of competitive shooting experience. And what an incredible first year she had at WVU.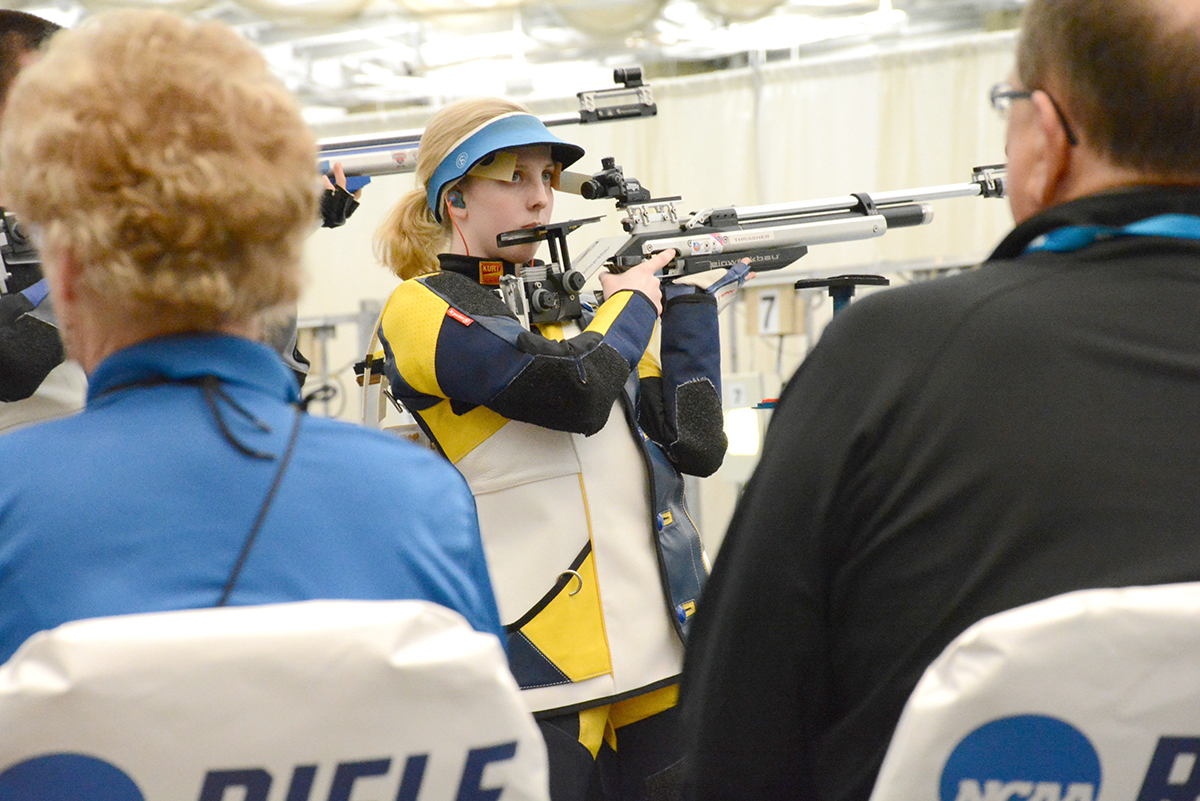 At the 2016 NCAA National Championships in March, Ginny became the first true freshman in NCAA history to overtake both the Individual Air Rifle and Smallbore titles. With her outstanding scores, she helped lead her team to its fourth consecutive National Championship win and its 18th overall.
Ginny was the third WVU female rifle competitor to earn a trip to the Olympics and the first in over a decade – the other two women making Team USA in 1992 and 2000, respectively.
Some of Ginny's other accolades in her fresh, yet stellar rifling career include:
Her name next to more than 20 National Rifle Association and USA Shooting records
Five medals at last year's USA Shooting National – two in the Open competition and three in the Junior event, including a gold medal in 3P
Sixth-place finish in the Women's 50m Smallbore at the 2015 Spring World Cup Selection
Third place at the 2014 Junior Olympics Championships in the Women's 50m Smallbore
Becoming the 2015 Virginia Air Rifle State Champion
Three-time Virginia Smallbore State medalist
Women's Air Rifle teammate Sarah Scherer, 25, who was an Olympian in 2012 and a CMP Summer Camp counselor in 2013, finished in eighth place in the 10-meter event.
In Men's Air Rifle, Lucas Kozeniesky, 21, another CMP Summer Camp alum, finished 21st in a tough 10-meter match.
Congratulations, Ginny, and all of the Team USA Shooting members!
*  *  *  *  *  *  *  *  *  *  *  *  *  *  *  *  *  *  *
Tune in NBC on Thursday, August 11 at 9 AM in UTC-03 to watch Ginny and Sarah compete in the 50m Women's Three Position event. Watch live action from the 2016 Rio Olympic Games at NBCOlympics.com.  To view a full schedule of events, visit http://www.nbcolympics.com/live-stream-schedule.
*  *  *  *  *  *  *  *  *  *  *  *  *  *  *  *  *  *  *