Gibson Fires Record Overall Score During 2017 JROTC National Air Rifle Championship Win
March 30, 2017
Civilian Marksmanship Program
▸
The First Shot
▸
Gibson Fires Record Overall Score During 2017 JROTC National Air Rifle Championship Win
By Ashley Brugnone, CMP Writer
ANNISTON, Ala. – Taylor Gibson, 16, of the North Salem Vikings Army JROTC from Oregon, set a new Army National Record with an incredible 3×20 score of 597-48x during the 2017 JROTC National Air Rifle Championship to lead her to the National title in the precision class.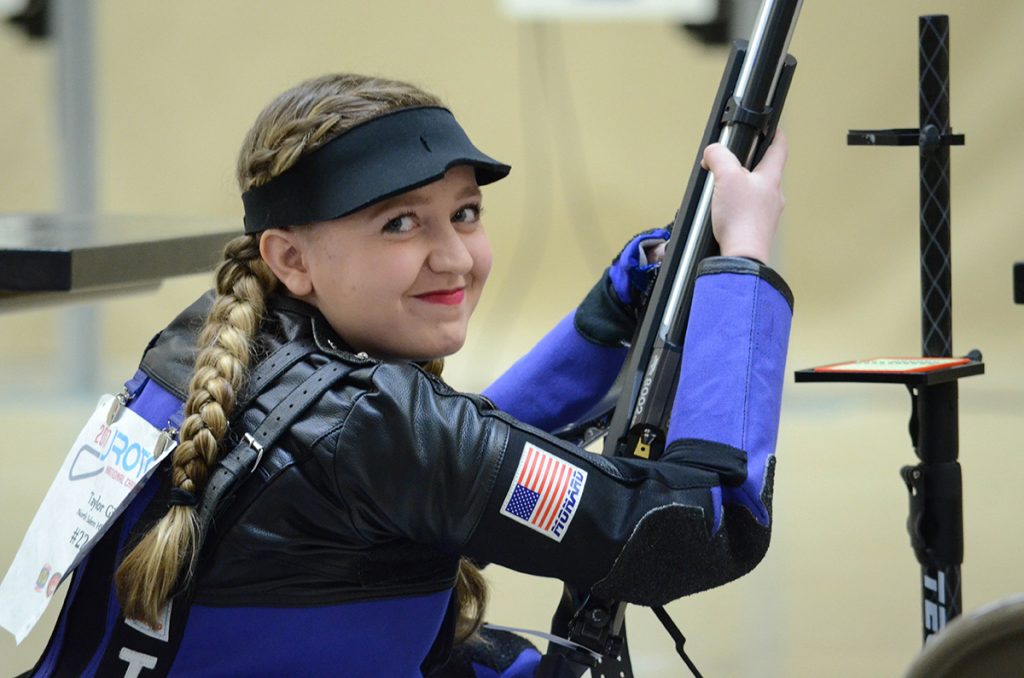 A group of 220 skilled junior sporter and precision class air rifle marksmen in Army, Navy, Air Force and Marine Corps JROTC programs traveled to the South Civilian Marksmanship Program (CMP) Competition Center in Anniston, Ala., March 23-25, 2017, to compete for gold. Astoundingly, Gibson has only been to the National Championship two times before, in 2015 and 2016, finishing just short of the overall title both years with a silver medal.
But, this year, with a new suit and a new approach, she was more prepared than ever – knowing exactly what she needed to do to succeed.
"I came in and thought, I don't care what I shoot – I'm just going to do the best that I can. And I did the same thing every shot," she said. "That's what I kept telling myself, especially in the last few shots of kneeling when I was really thinking, 'Okay, this is when I really need to get serious, because something could happen here.'"
As she went through the motions of her final position, kneeling, on Day 1 of the two-day competition, she stayed focused and remembered to stick to her shot plan. Each pellet she fired down range pierced through the 10-ring – one after another, as she got closer and closer to her last shot and a perfect 200 score.
"I didn't want to overthink or stress myself out worrying about shooting a 9. I just thought, 'You know what, do the same thing every shot, and let it happen.' I was just going through my normal steps – singing songs in my head, doing what I do at practice," she said.
Then, it was time. She picked up the final pellet and gazed at it between her fingers – determining in her head if she was going to let it be a good shot or one that would drop her score. Either way, she knew she had fired a personal record and was content in doing so, but now a crowd had gathered behind her to witness what the last shot would bring.
She loaded, concentrated and pulled the trigger. Gibson turned and looked at the crowd with a beaming smile as they quickly looked to the large monitors above their heads to see her score – a 10 to tie her own National kneeling record and to set a new National Record Army overall score. The spectators cheered at the commendable feat.
"I didn't realize how many people were watching until I shot my last shot and everybody started clapping, and I look back and there are coaches standing in a line behind the chairs, just watching me," she said as she smiled. "I didn't realize that I had gotten attention from other people besides my team. That's when I knew it was big."
From there, Gibson stayed on track by firing the highest overall qualifying score on Day 2 of competition, giving her an 11-point lead over her competitors going into the Finals. She would go on to earn an aggregate two-day score of 1290.1 to finally earn herself the National Champion title.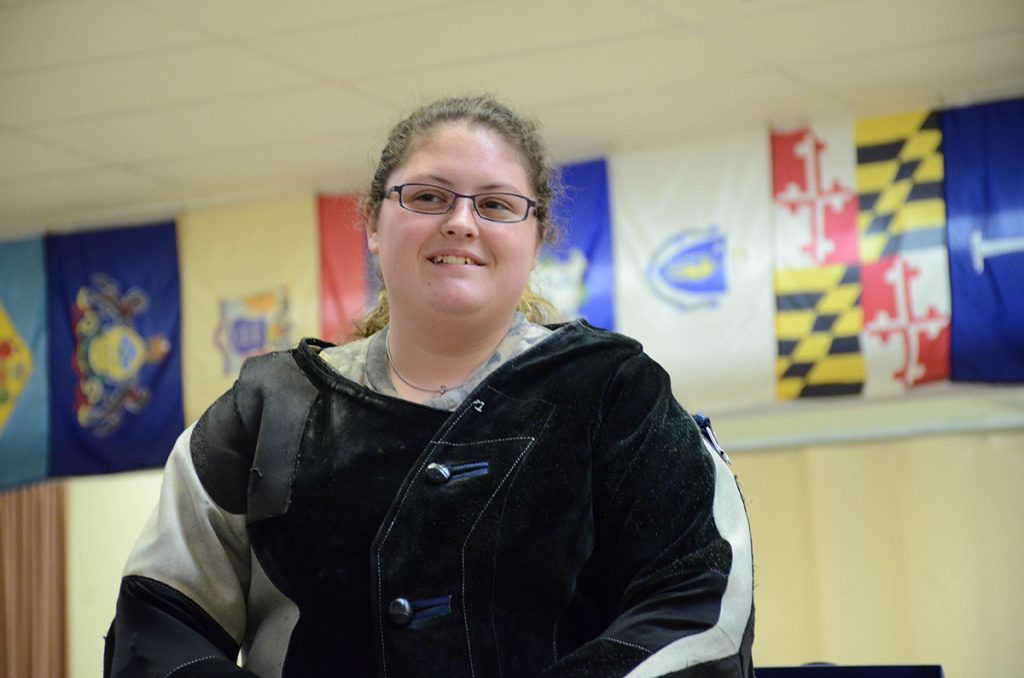 Second place in the precision competition went to Ashley Stacy, 16, from Monroe Area High School Air Force JROTC in Georgia, who set a new Air Force National Record on Day 2 of competition, with a Finals score of 104.1.
As she competed in the Day 2 Finals, standing in third position on the line, she had no idea she was heading toward a new record score. She simply kept a song in her head and ignored everything else going on around her. The extraordinary Finals performance was a satisfying cap on top of a memorable shooting day for Stacy.
"It was the first time I've shot a 590, so it was an amazing day, and I thought I was doing really well. It was great," she said.
"And then in the Finals, I realized I was in first place and I was like, 'This is awesome!' And then they said it's a record and I go, 'Oh, look at that!'" she added with a laugh. "In a sense I was nervous, but at the same time, it's just another match."
Rounding out the Top 3 in the precision match was Haley Castillo, 18, of Eldorado High School Marine Corps JROTC in New Mexico, who beat out her teammate and last year's champion, Mark Amdahl, by only .25 points to earn third.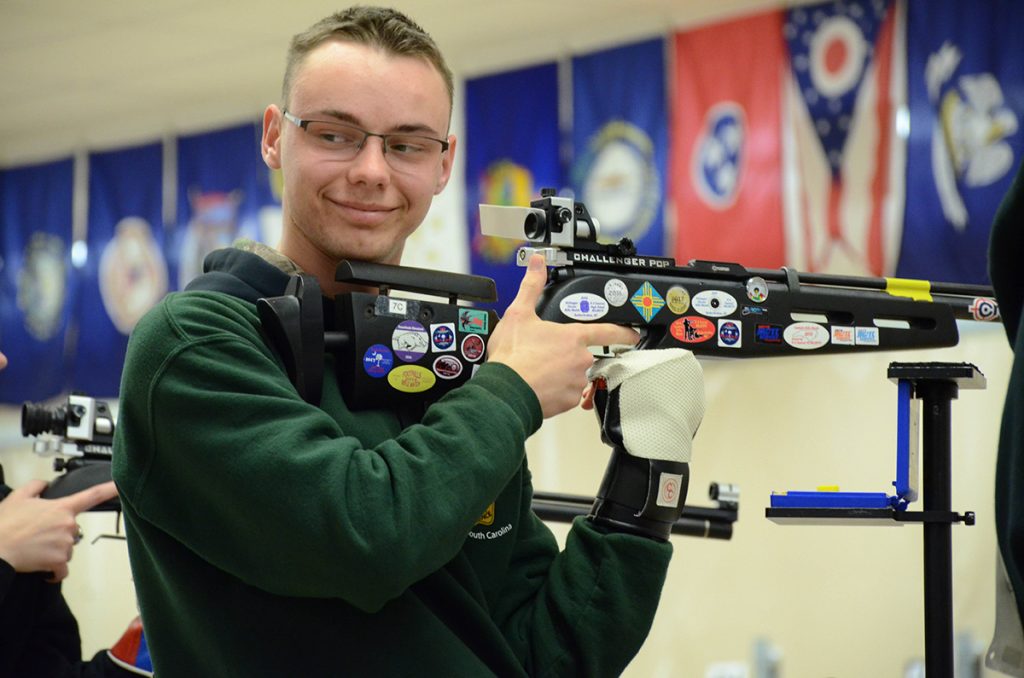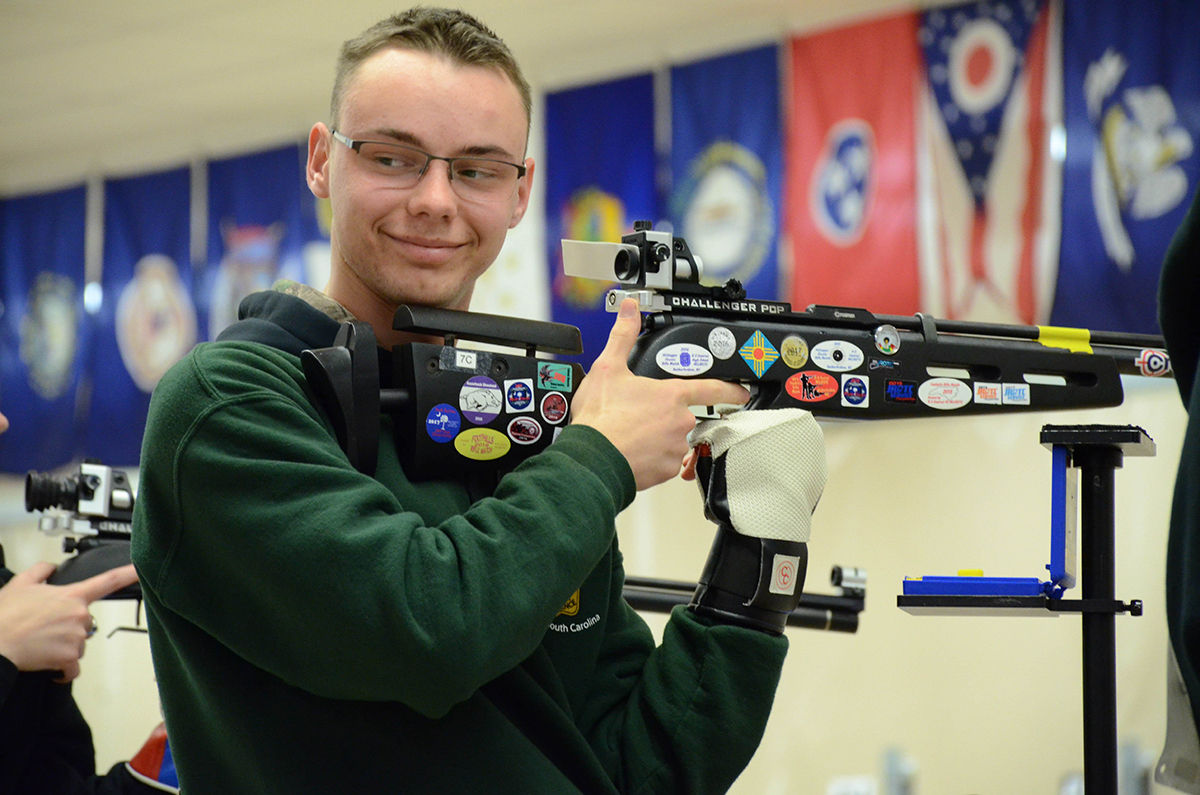 Winning the sporter competition was Levi Carlson, 18, of Nation Ford High School from South Carolina. Last year, Carlson finished in second place but managed to record two Marine Corps records along the way.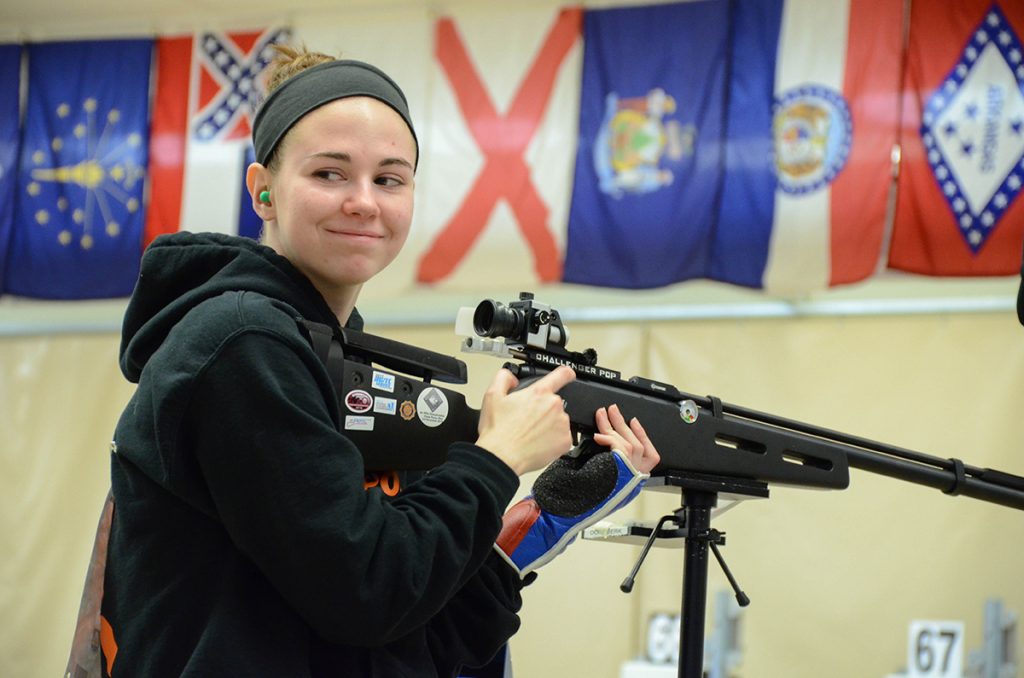 Following this year in second behind Carlson was Emma Thompson, 16, of Freeport High School Navy JROTC from Illinois, who competed in the event despite a bad cold, as fellow Illinoisan Jaycie Hoenig, 17, from Zion Benton High School Navy JROTC, earned the third place spot.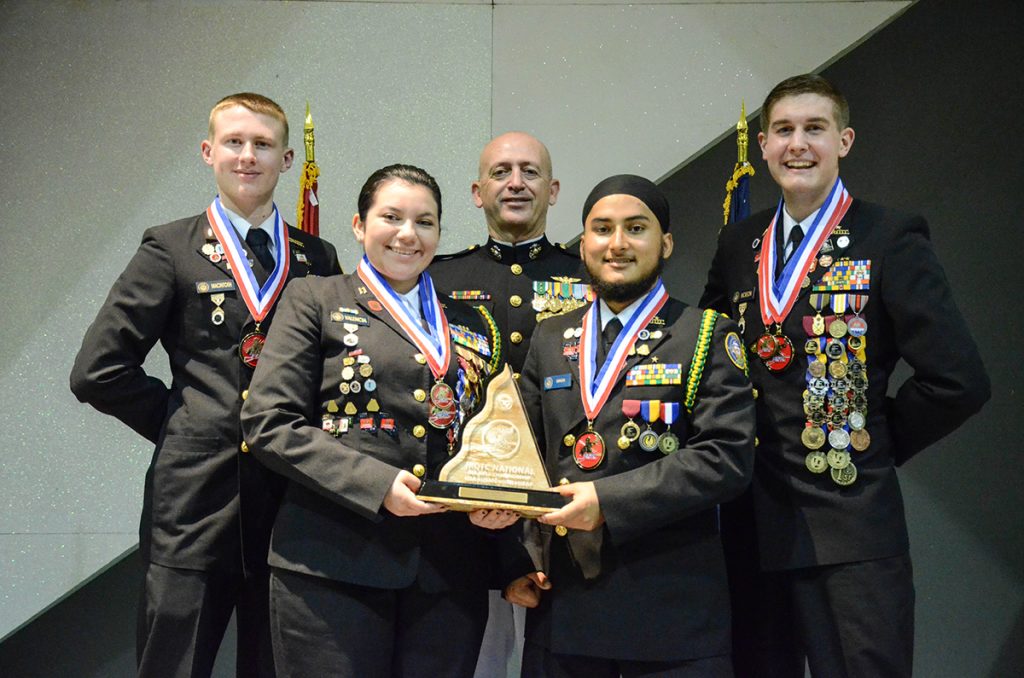 Turlock High School from California rose above the rest to become the overall sporter team champions with a score of 4376-134x. The Navy team consisted of Nicolas McKeon, Dorian Macintosh and Adriana Valencia, with the help of teammate Ramandeep Singh. The team is coached by Maj Kelly Cross.
For their win, the team received four Crosman Precision Diopter Sight Systems, donated by Crosman.
Freeport High School Navy JROTC from Illinois earned second in the competition, while last year's runner-up, Gulfport Marine Corps JROTC from Mississippi, followed in third.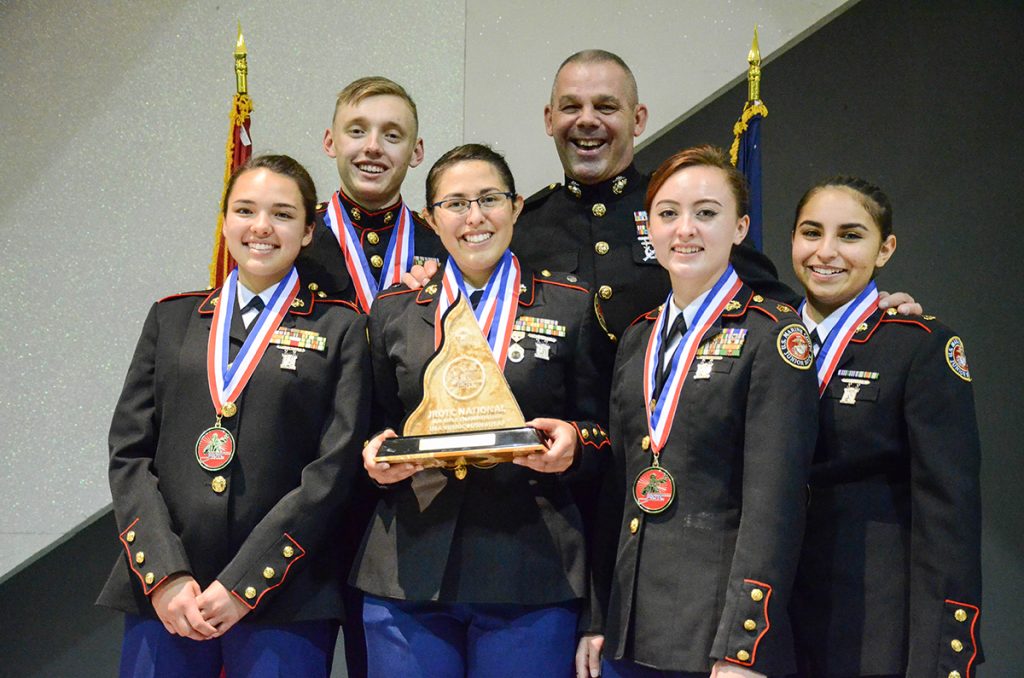 Eldorado High School Marine Corps JROTC from New Mexico fired a score of 4697-325x to earn the win in the precision team match. Coached by Maj James Koerber, the team consisted of Mark Amdahl, Haley Castillo, along with the support of Samantha Deherrera and Brielle Smith.
Navy team John Marshall from Texas stood in second place after breaking the Navy Team 3×20 record with a score of 2328-150x, while the 2015 and 2016 precision champions East Coweta Marine Corps JROTC from Georgia were finally overtaken and landed in third place overall.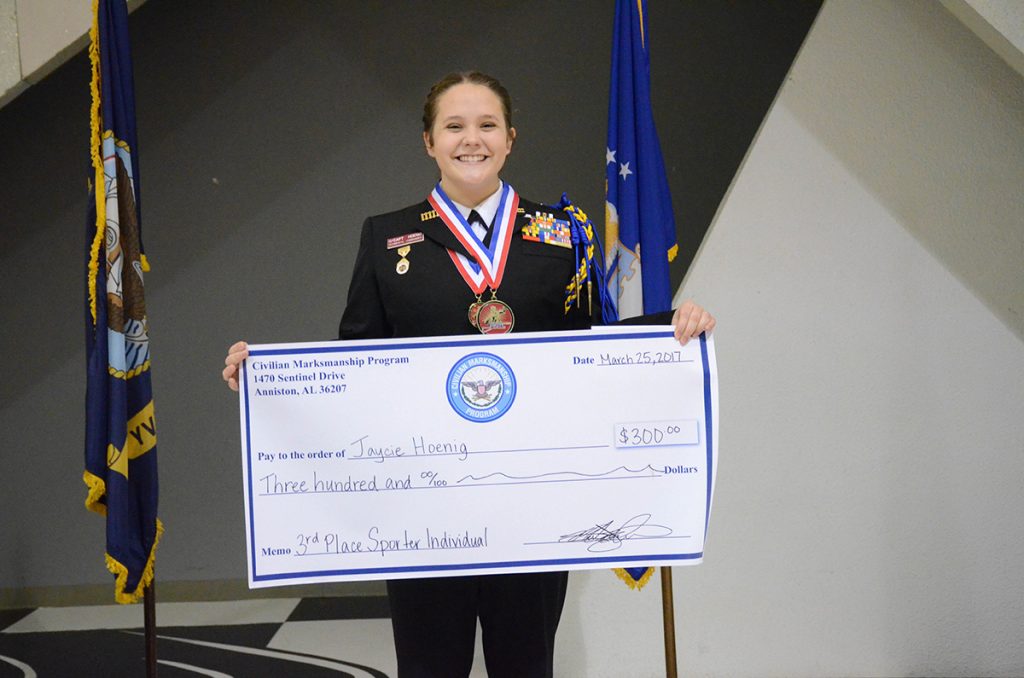 Placing teams earned monetary awards from the CMP for their stellar performances – $500 for fifth, $750 for fourth, $1,000 for third, $1,500 for second and $2,000 for first. In addition, Larry and Brenda Potterfield, co-founders of the MidwayUSA Corporation, provided generous fund donations to winning teams of the JROTC Championships to be placed in each team's endowment account with the MidwayUSA Foundation.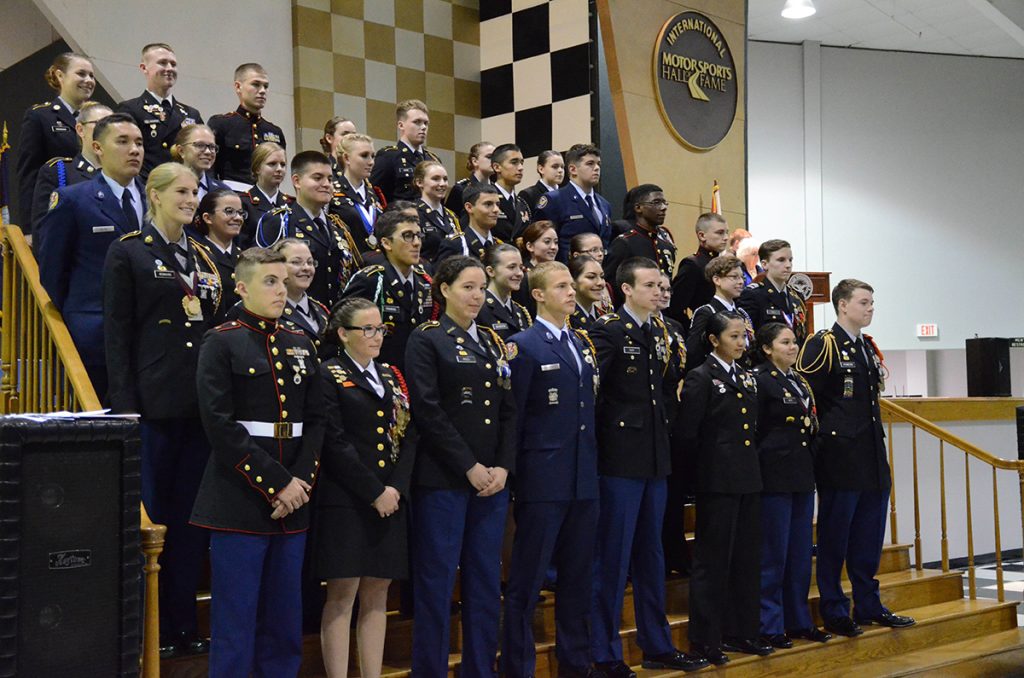 As more evidence of the growing talent in air rifle, over 35 Junior Distinguished Air Rifle Badges were awarded. Of those, 17 had earned their badges while competing in the National Championship.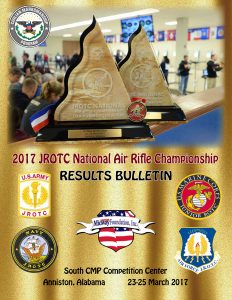 The CMP was proud to once again witness the talent of all of the hard-working juniors who participated in each stage of the JROTC Air Rifle Championships. Congratulations to all!
For a complete list of results, visit the Competition Tracker page at http://ct.thecmp.org/app/v1/index.php?do=match&tab=results&task=edit&match=15390.
Photos from the event can be viewed at http://cmp1.zenfolio.com/f770769247. Photos are available for free download as well as for purchase.
About the JROTC National Air Rifle Championship:
The road to the JROTC National Championship begins with the JROTC Postal Competition in October, with qualifying teams and individuals moving on to the Regional Service Championships in February at Camp Perry, Ohio; Anniston, Ala.; and a western location.
The National Championship is a two-day competition that follows the same format as the Postal and Regional matches, where competitors fire in three positions – prone, standing and kneeling. During Nationals only, the Top 8 competitors of the day from the precision class and the Top 8 from the sporter class then compete in a 10-shot final, vying for daily gold, silver and bronze medals.
Aggregate scores of each athlete from each day of competition (plus finals) are then combined to determine the overall best junior marksmen in the country amongst all four military branches.
For more information on the JROTC Championships, visit https://thecmp.org/air/jrotc-air-rifle-national-championship/.