Franks Brothers Stay Close, Earn Badges at the 2015 National Trophy Pistol Matches
July 9, 2015
Civilian Marksmanship Program
▸
The First Shot
▸
Franks Brothers Stay Close, Earn Badges at the 2015 National Trophy Pistol Matches
By Ashley Brugnone, CMP Writer
CAMP PERRY, OH – Though only a few National Trophy Pistol matches have been fired, this season has already proven to be one to remember – especially for two talented brothers and worthy opponents.
In the EIC Pistol Match, SFC Patrick Franks, 37, of the Army Marksmanship Unit (AMU), led overall with a score of 289-14x. With windy conditions on the Camp Perry ranges that day – at the forefront of an approaching afternoon storm – the weather challenged many competitors on the firing line. But, with his many years of experience, SFC Franks knew exactly what he needed to do in order to record a decent score.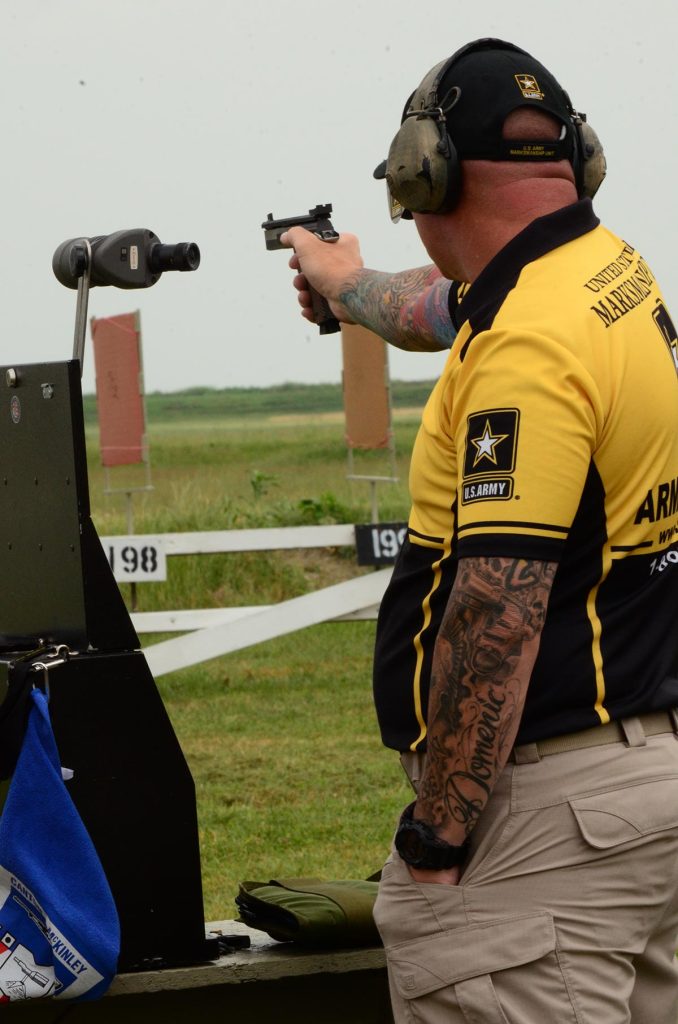 "I picked and chose when I wanted to shoot – waiting for a lull and shooting maybe one or two shots, and that worked out well for me," he said.
SFC Franks also explained how the location of the event may have contributed to his win – proving once again how influential the Ohio National Guard base can be to those within the world of competitive shooting.
"I shoot Service Pistol at Camp Perry, better than anywhere else in the nation. Because it's outdoors in the open, I'm able to see my sights and can focus more intently, a little bit better than when there's an overhang. And I'm a little more aggressive because it's Camp Perry," he said.
"This is my second home, and I love doing as well as I have in Service Pistol since I've been up here, so I hope to continue it," he added.
His brother, SGT Ryan Franks, 27, also of the AMU, was the high non-distinguished shooter – coming close but falling just short of Patrick with a score of 289-13x.
"Considering the weather factors, my score was a little bit low, but I just have a great time no matter what," Ryan said.
Speaking on competing alongside his brother and reaching the level of Patrick's talent, Ryan modestly said, "I'm so far away from him. I'm just hoping to live up to whatever he's done."
"He's nipping at my heels – I think that's keeping me on my toes," Patrick added with a smile.
The match is the last that Ryan will be able to earn the high non-distinguished honor, since his performance helped him earn his final leg points to become Disitinguished in Service Pistol.
"It feels pretty good," he said. "To me, it's just a prerequisite to what it takes to be a champion. Score is not everything, but those are some of the things that are check boxes along the way for me to become a great shooter."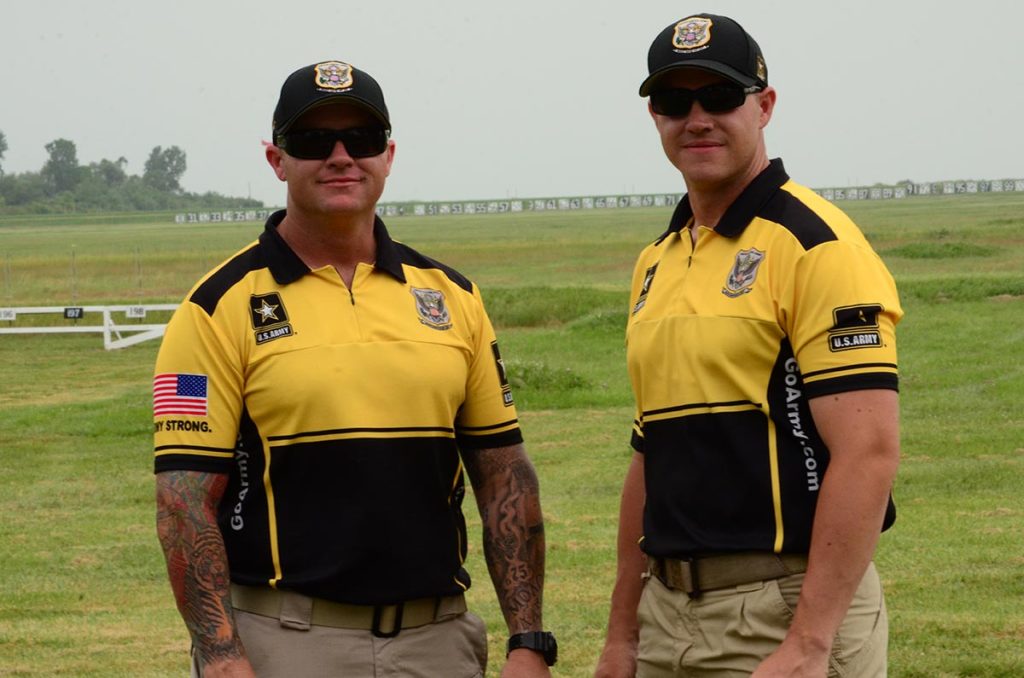 In addition to Ryan's badge, Patrick earned enough points to receive a Distiguished Badge of his own – obtaining the .22 Rimfire Distinguished Pistol Badge #3. The badge was newly introduced in 2015 and quickly became an objective for talented pistol marksmen everywhere.
"It was something I was kind of chasing this year. I wanted to be the first one, but I did end up missing one of the matches where they were offering it, so unfortunately I wasn't able to do that," he said.
Always the encouraging competitor, Patrick did express his genuine excitement for David Lange and SFC Michael Gasser (also a member of the AMU), who earned Badge #1 and Badge #2, respectively, earlier this year.
As for the overall winner of the first .22 Rimfire EIC Pistol match held at the National Matches, SSG Jonathan Rosene, 39, of Courtland, NE, and the U.S. Army Reserve team, fired a score of 288-7x to take the honor.
In addition to the EIC matches, a Small Arms Firing School (SAFS) was also conducted on July 6, to a group of 285 new and experienced marksmen.
The school is led by the AMU and qualified CMP instructors. During the course, students learn firearms safety and fundamental marksmanship skills through classwork, demonstrations and hands-on range firing.
With fresh military team members and techniques mixed with experienced SAFS instructors each year, participants of the school are able to sign up over and over again – always learning more than the year before.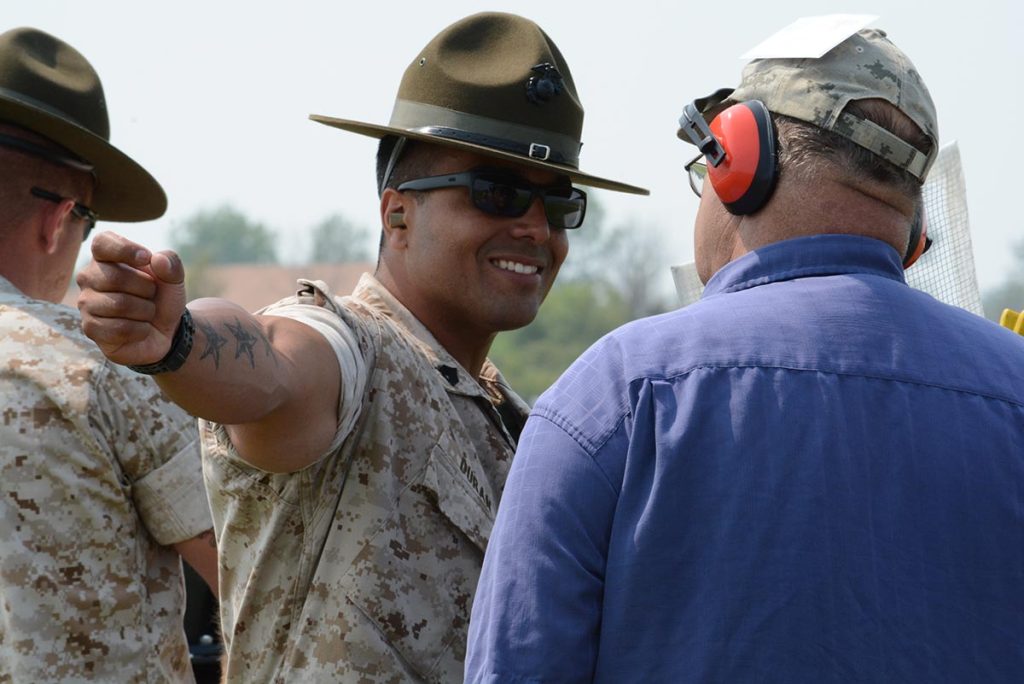 Lisa Bravo and her husband Rey of Manhattan, IL, returned to SAFS for the second year to further advance their pistol skills. Lisa said she was impressed by this year's lead instructor, Hank Gray of the AMU, as well as the rest of the crew.
"They did a really, really good job. The whole classroom, the way everything was set up… I picked up on a lot of things I didn't last year," she said. "The instructor, for as young as he is, he really helped give a lot of tips and stayed with you the whole time."
As someone who doesn't normally shoot open sights, she now has new skills to take back home with her to improve her scores.
Rey earned his final leg points during last year's school, but still returned to participate with his wife just for the fun of the event.
"I shot worse this year, but that's alright," he said with a laugh. "It was still great – loved it."
At the end of the course, participants are given the opportunity to fire in a true M9 Excellence-In-Competition (EIC) match, with the potential to earn leg points towards becoming a Distinguished shooter.
Peter Adams, 63, of Lewisville, TX, was the high non-distinguished shooter in the M9 Pistol EIC Match with a score of 261-1x. The win came as a surprise to him since he only signed up for the match last minute for something to do – not a bad decision.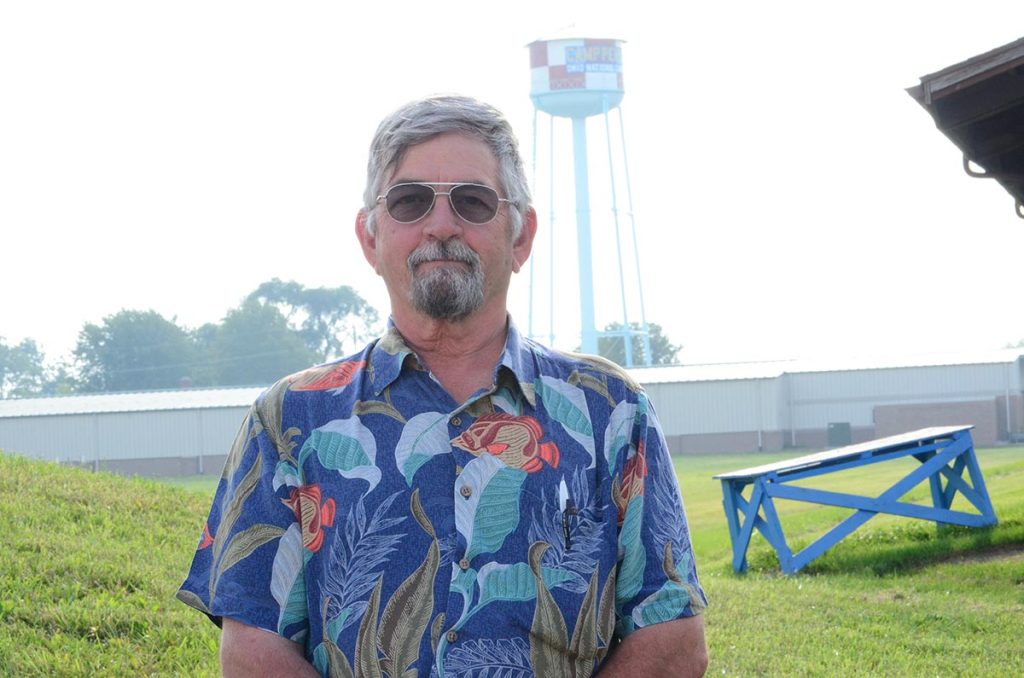 With a few matches in the history books, there are still more to come on Sunday, July 12, as the most prestigious competitions will be fired: the President's 100, National Trophy Pistol Match and National Trophy Team Match, as well as the National Match Air Pistol.
See the leaders of each match and a complete list of results by logging on to our Competition Tracker at http://ct.thecmp.org/app/v1/index.php?do=match&task=edit&match=12169.