Former Member of California Grizzlies Junior Rifle Team Heads to Tokyo Olympics
June 30, 2021
Civilian Marksmanship Program
▸
The First Shot
▸
Former Member of California Grizzlies Junior Rifle Team Heads to Tokyo Olympics
At 27, Spc. Sagen Maddalena of the Army Marksmanship Unit has already compiled a striking collection of awards and recognitions over her rifling career. Her latest accomplishment is arguably one of her most impressive – earning a spot on the United States rifle team bound for Tokyo in July, after qualifying to compete in smallbore. She also made second-alternate for the Olympic air rifle team.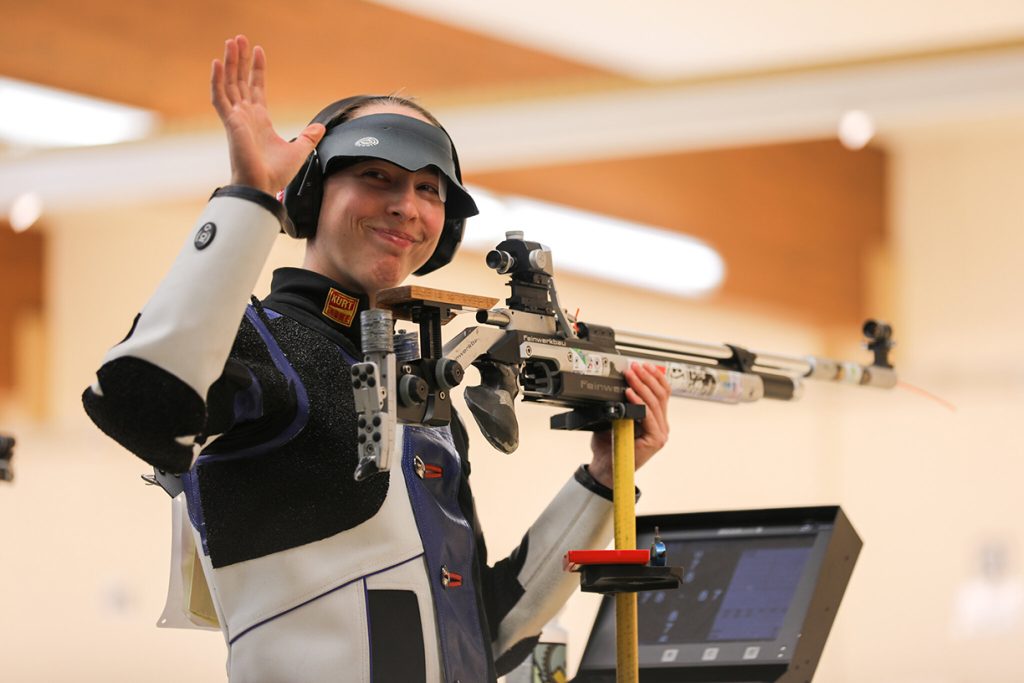 Though the experience will undoubtedly create incredible memories and engrain lessons that she'll carry with her for the rest of her life, it's the unforgettable moments she already collected over the years that granted her the ability to ultimately gain her ticket to Tokyo.
Seemingly from the start, Sagen has harvested enormous marksmanship achievements. As a junior, she earned her Distinguished Rifleman Badge from the Civilian Marksmanship Program (CMP) in 2011 and a place within the prestigious President's 100 during the National Matches at Camp Perry in 2010 and 2011. She was also named the National Matches High Overall Junior by the National Rifle Association that same year and went on to help lead her team to a Junior Rifle Team Whistler Boy Trophy as well as the Freedom's Fire Trophy in 2013 (awarded to the high State/Club team of the National Trophy Junior Team Match).
In college, she became an eight-time All-American at the University of Alaska Fairbanks and a World Championship team member in 2014 and 2018 before enlisting in the Army in March 2019 as a part of the International team as a shooter/instructor. In 2020 alone, Sagen set two National Records in conventional prone and three-position rifle, respectively.
It's clear that Sagen has worked hard over the years to achieve several commendable milestones, but much of her pathway was paved thanks to the help of her involvement with her junior team, the California Grizzlies.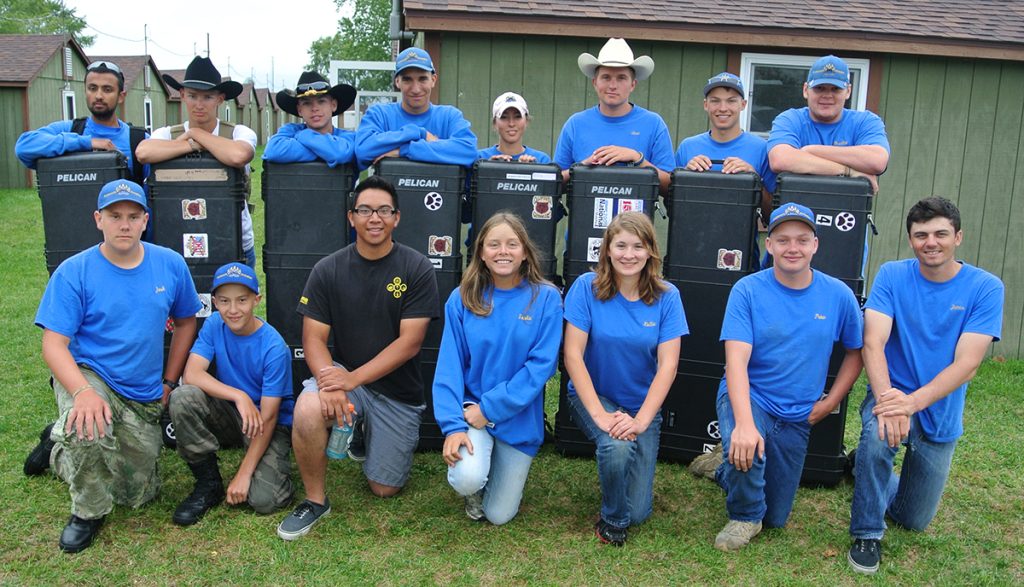 The Grizzlies rifle team has been in existence for over two decades, with members aged 13 to 20 hailing from across the state of California. Many Grizzlies have advanced to the Air Force Academy, Army Marksmanship Unit, U.S. Rifle Team, Navy and other remarkable entities. Now, the team can add "Olympian" to its list of alumni.
Sagen grew up in northern California's Tuolumne County, in Groveland, where she was in the thick of some of the state's most scenic areas.
"My backyard was the Sierra National Forest, so I was outside all the time," she said.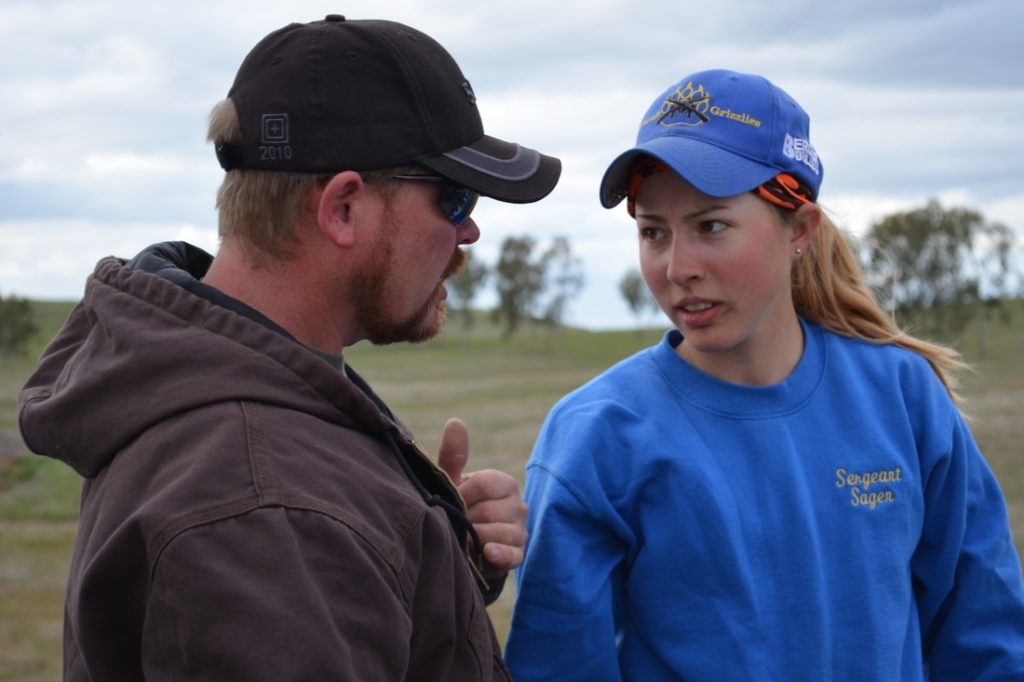 She learned a lot about nature that way. At age 9, her grandpa showed her gun safety and patience. Homeschooled and part of a charter school, Sagen was interested in sports but limited in her options. Eventually, around age 13, she got involved in 4-H where she raised livestock and participated in other activities like her local 4-H .22 program – that's when it all started to click for her.
"I wasn't good at it – I was in no sense good or natural. I just worked really hard," she said of her initial marksmanship skills. "I wanted to beat the boys and try to win the events in my age group. And I grew from there."
It was during her time in 4-H that she noticed a group of juniors who served as Range Safety Officers during competitions. Sagen carefully observed how each took the time to do more than just monitor during the matches – they also taught the athletes on the range.
She would come to learn that the juniors were members of the California Grizzlies rifle team.
"Right away, I looked up to them," she admitted.
During those matches, it wasn't just the Grizzlies who were drawing attention, but Sagen herself. The Grizzlies took notice of her talents and asked her to try out for the team. She jumped at the opportunity and quickly became an integral part of the organization she used to only idolize from afar.
"From there, the hook was set. I was latched on," she said.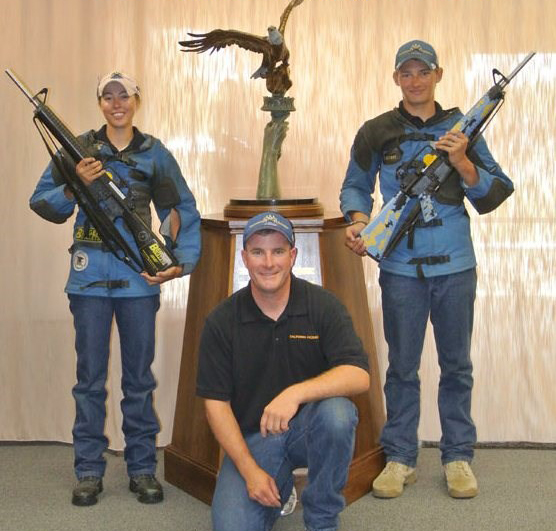 The team was led by Robert Taylor, who serves as the Grizzlies coach even today. An accomplished marksman and member of the CMP's Highpower Team, Taylor's influence on the Grizzlies and emphasis on leadership and support made a major impact on Sagen.
"Robert Taylor – I've had so many great mentors, but I always will and always have looked up to him because of the example he set as a coach," she said, proudly.
Her connection with the team also led her to her first chance to travel to the famous Camp Perry National Matches in Ohio – though not as soon as she had hoped.
In 2009, two weeks before the Grizzlies were set to board the plane for the trip, she got into a horse accident where she dislocated and damaged her shoulder. She said she was fine with the injury and didn't even cry – that is, until the doctor told her she wouldn't be able to go to Camp Perry.
"That's when I started bawling!" she joked.
Eventually, she healed up and made her Camp Perry debut in 2010.
"That was such a great experience because it's eye-opening," she said.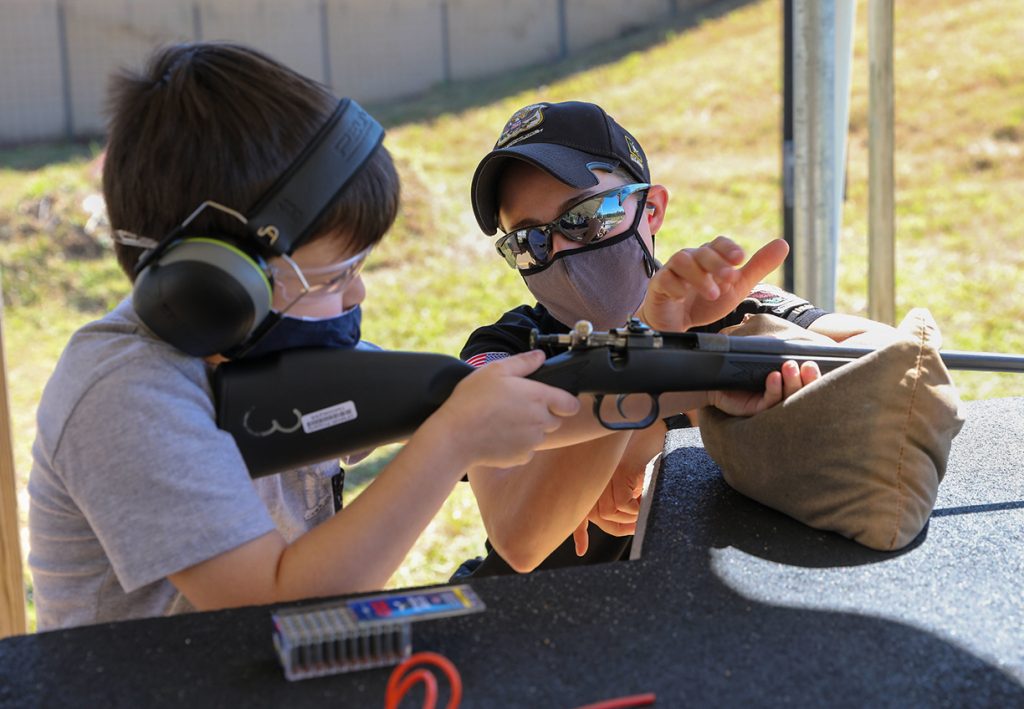 It was her first time seeing hundreds of people instead of only a few at the matches she had competed in previously. It was also her first time laying eyes on the Army Marksmanship Unit (AMU), which came into play later in her marksmanship journey.
After she showed promise as a talented marksman and became captain of the Grizzlies toward the end of her service rifle career, her coaches mentioned that she could expand her abilities by shooting collegiately. Beyond that, they put the idea in her head that commitment in college could lead to a spot on the U.S. Olympic team.
But, she didn't immediately go to college. She worked to buy her first air rifle and borrowed a .22 rifle. Then, she got into contact with the University of Alaska Fairbanks head coach, Dan Jordan, to learn how to become a member of his rifle team.
Sagen realized that the school had the education she was looking for, hoping to go into forestry, and that she would have to give a tremendous effort to achieve her goals – which was exactly what she was looking for.
"I wanted a team that was going to make me work," she said.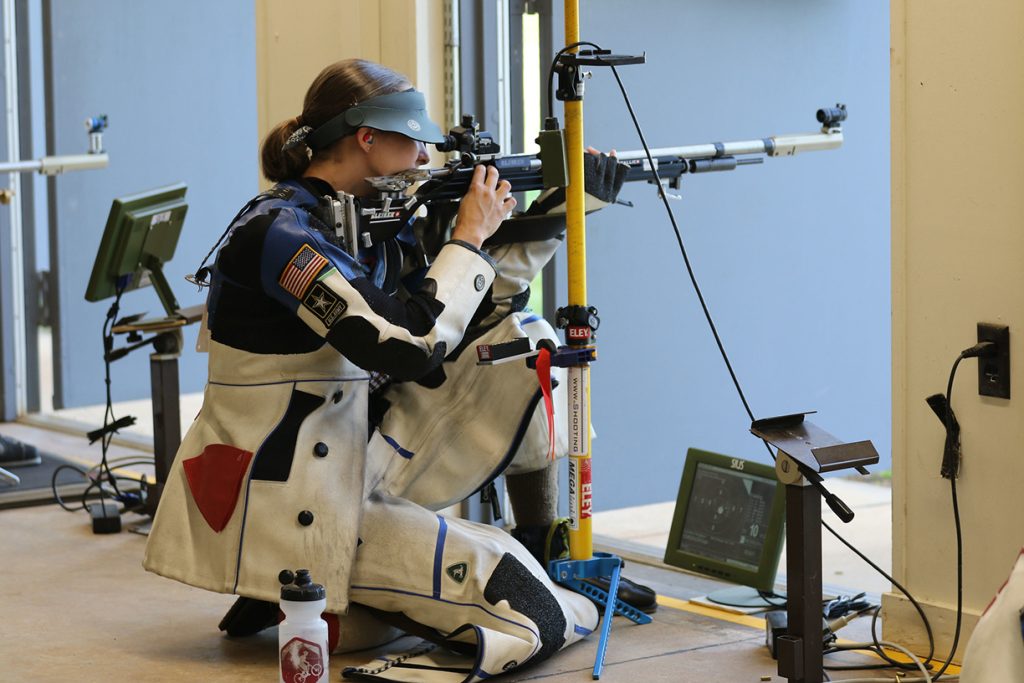 Coach Jordan offered her a spot on the team as a red-shirt walk-on, with the opportunity to earn scholarships based on her performance. She quickly accepted, without even visiting campus. She traveled up the coast to Alaska with her mom and quickly settled in her dorm.
It was all business from there.
"As soon as I got access to the range, that's where I lived," she said.
Astoundingly, she had only competed in one air gun match in her lifetime before heading to Alaska. She took what she knew from service rifle and kept an open mind toward learning air rifle and improving her smallbore. She worked on the SCATT training system to stabilize her hold and did everything she could to become comfortable in the new disciplines.
"Nothing really held me back," Sagen said.
Her long-term goals in college were simple: she wanted to be a World Championship team member, set a National Record and make the Olympic team. She also set seasonal goals, like having the highest aggregate of the NCAA season. They were all drivers in her motivation.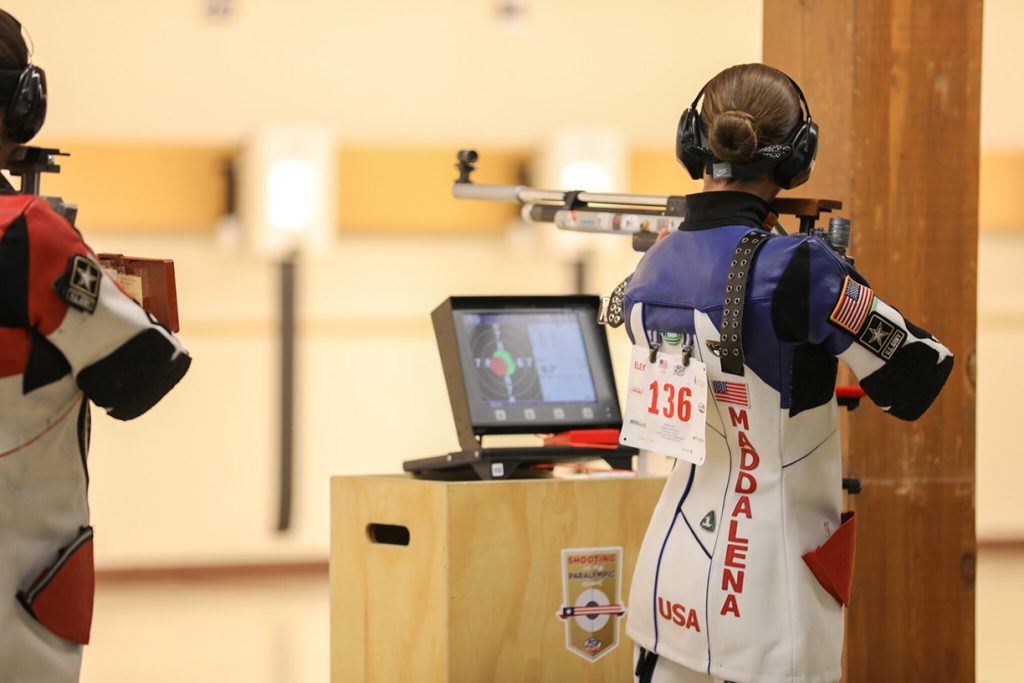 "Now, I want to be the best that I can be," she said of her competitive mentality. "I want to compete at my very best."
As she became more involved in air gun and smallbore shooting, she switched her sights from service rifle to International competition. Coach Jordan encouraged her to sign up for an air rifle selection match at Fort Benning, Georgia, where the AMU is stationed. Although she was looking forward to seeing the service rifle team, she became connected with the International rifle team instead.
Unbeknownst to her, that match was a selection match for the World Championships, which was, of course, one of her college goals. She received third and fulfilled her dream by making the team for air rifle – all in a sport she had been training in for less than a year.
After college, she would go on to achieve her other long-term goals. She also returned to Fort Benning and made it her permanent home as a member of the AMU – exactly where she wanted to be since first seeing the remarkable team at the National Matches so many years ago.
"For me, they set an impression of people who were very professional and very good at what they did," she said.
When it comes to marksmanship, she gives credit to two things that keep her inspired: the progress of hard work and what she describes as "flow' – being fully aware in the moment.
"Shooting allows for me to get into that state," she said. "It's like the perfect dance . . . the way the process flows with the rhythm and shot."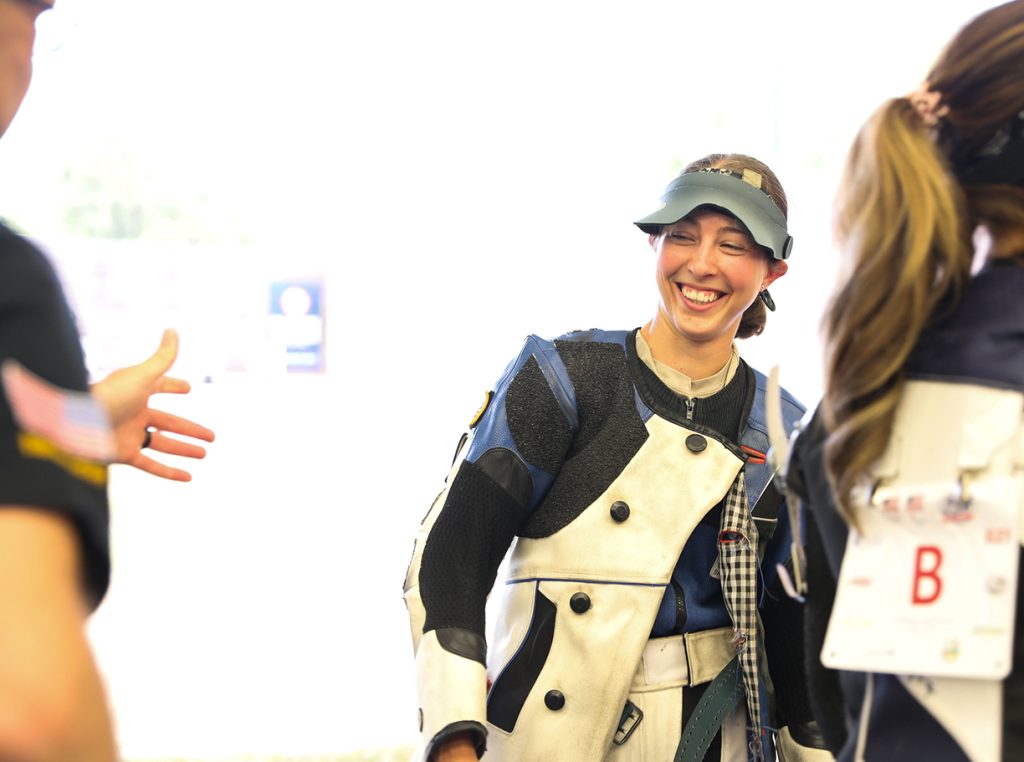 "It's not thinking, it's just doing," she added. "The physical aspect of competing – that is what drives me every day."
For now, Sagen's remaining focused on her Olympic unveiling, eager to get to Tokyo. Her biggest hopes for the experience in Japan is that her surrounding dorm mates aren't too noisy (she certainly values her sleep) and, of course, performing well on the range.
"I definitely want to do the very best that I can do, prepare the best that I can, and make the small Tuolumne County proud and the country proud and definitely represent the Army and the United States," she said. "So, I'm looking forward to the opportunity that allows me to do."
Good luck to Sagen and the rest of Team USA in Tokyo this summer!
– By Ashley Brugnone, CMP Writer