First Pistol Events Fired at 2016 National Trophy Matches at Camp Perry
July 14, 2016
Civilian Marksmanship Program
▸
The First Shot
▸
First Pistol Events Fired at 2016 National Trophy Matches at Camp Perry
By Ashley Brugnone, CMP Writer
CAMP PERRY, Ohio – On July 11, the 2016 National Trophy Pistol Matches officially kicked off with an incredible show of historic tributes and the rise of today's marksmanship talent on the ranges of Camp Perry.
It all began with the traditional First Shot Ceremony, held this year at Shooters' Memorial Plaza in front of Rodriguez Range. The 122nd Army Band played to the crowd as a WWII Navy TBM Avenger, B-25 bomber and B-17 bomber soared overhead, with bomb bay doors open. Pyrotechnic "bombs" exploded in the range in front of the stands – producing a cloud of smoke and resonating applause.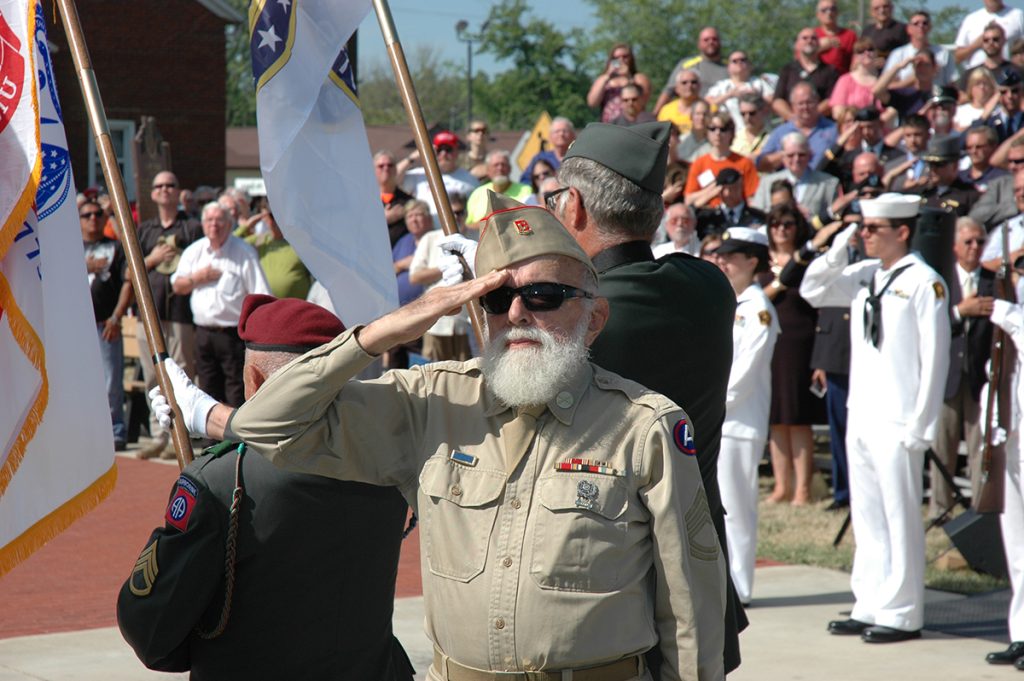 Colors were elegantly presented by real-life WWII veteran Lloyd Boyer, who was dressed in his military garb. First shot speaker was CMP Board member, Oscar Mahlon Love. Mr. Love was given the privilege of firing the ceremonial first bullet downrange to begin the National Matches.
Among his many accolades, Mr. Love has been a CMP Board member for the last 20 years. He is a retired executive vice president and director of the largest bank in New Mexico as well as a former Commissioner of the New Mexico State Police (a graduate of their academy) and the New Mexico State Fair. Mr. Love is also a graduate and former Chairman of the Board of Trustees of the Colorado Regional Graduate School of Banking and former Chairman of the Albuquerque Public Safety Commission. A Civilian Aide Senior to the Secretary of the Army, Mr. Love has assisted on many governmental and private boards, and he is also very involved with youth-oriented activities.
"It is my great pleasure and distinct honor to have been asked to visit with you as we kick off the First Shot Ceremonies to begin the National Matches," Mr. Love addressed to the crowd.  "I'm in awe as I stand on this hollowed piece of ground."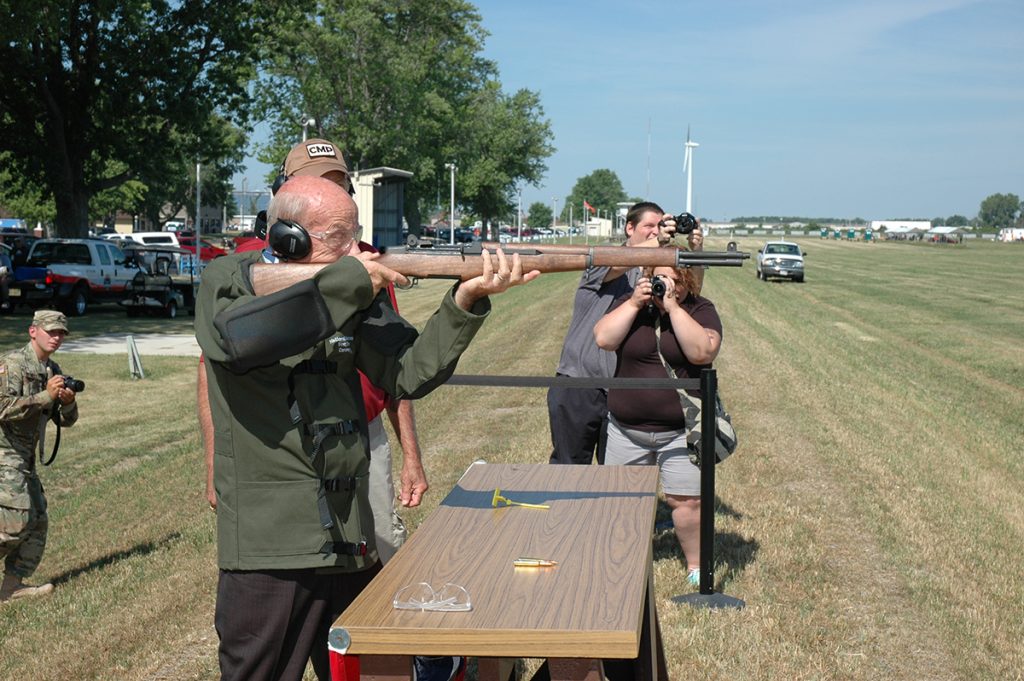 After the ceremony, the first official pistol match of the 2016 season unfolded during the Small Arms Firing School (SAFS). The school is led by the Army Marksmanship Unit (AMU) and military shooting team members, along with qualified CMP instructors. During the course, students learn firearms safety and fundamental marksmanship skills through classwork, demonstrations and hands-on range firing. View our video highlighting the First Shot Ceremony at http://youtu.be/CtUXH9WQpWU.
Following classroom instruction and practice on the range, each SAFS participant fires a true M9 EIC Match to gain a first-hand look at real competitive shooting and the opportunity to earn his or her first Excellence-In-Competition (EIC) points towards a prestigious Distinguished Badge.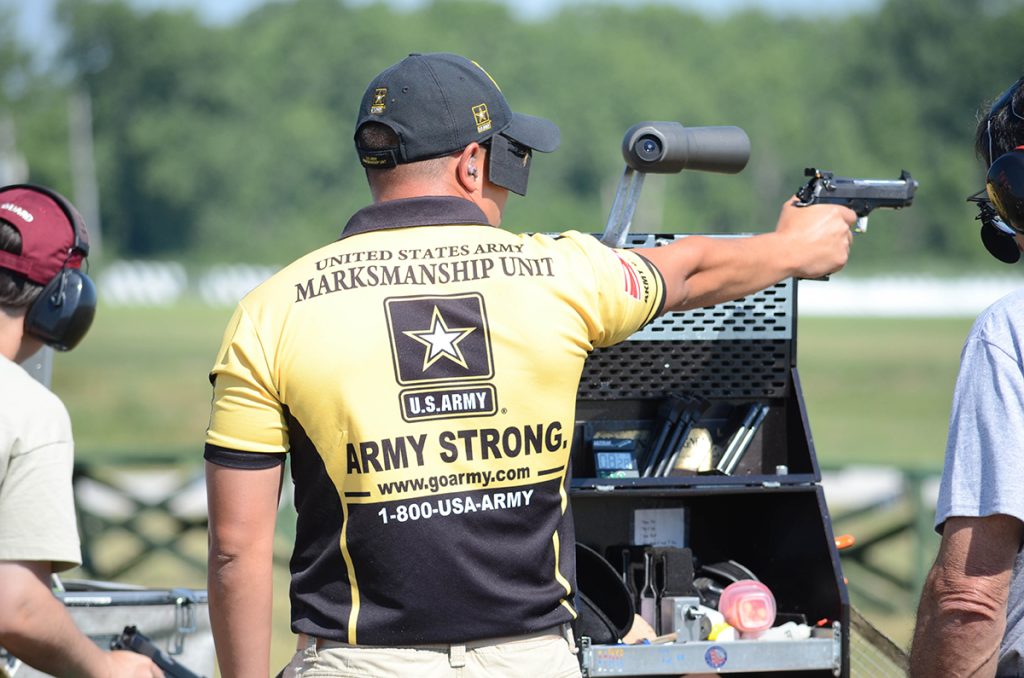 Winning this year's M9 EIC Match was junior Sam Kwon, 16, of New York, NY, with a score of 269-2x. At the 2015 National Trophy Pistol Matches at Camp Perry, Kwon was the overall winner of the Junior Individual Pistol Match, placed second in the Junior President's Match and third in the Overall Junior Pistol rankings.
With his success at last year's event, he returned to the ranges of Camp Perry with the mindset of staying focused on achieving that same level of accomplishment.
"I was really excited for this year because I really didn't expect to win anything last year, so coming back in, it kind of set a bar, in a way, that I had to do really well this year too," he said.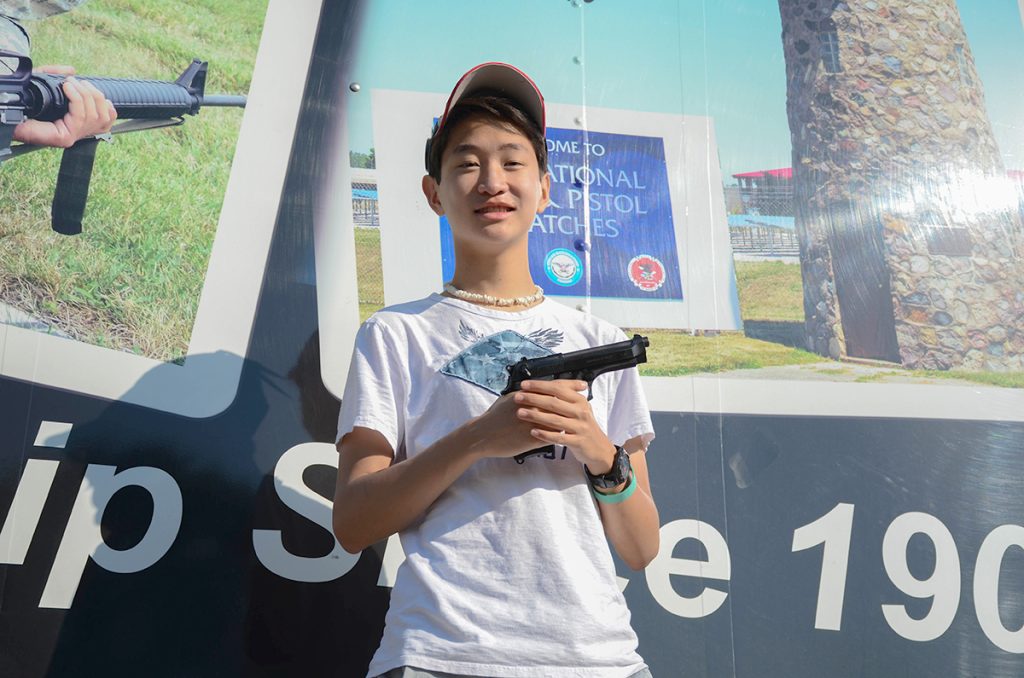 Though the two-handed grip on the M9 was quite a bit different from the one-handed stance Kwon was used to, his instructor, decorated AMU member SSG Greg Markowski, helped him through the challenge.
"I had never really shot centerfire before or properly for any competition, and to have my own instructor teach me, it was a really, really cool experience," said Kwon.
Reflecting on his time in SAFS, he went on to say, "Centerfire can be sort of intimidating to some people. People think the kick is really high, but with the people that will teach you and the open classroom, I think it's a really good experience for anyone."
Following Kwon in second place in the match was Steve Turner, 49, of Elmhurst, IL, who fired a score of 265-4x, while Brandon Edwards, 38, of Alexandria, KY, recorded a score of 263-2x for third.
As proof of the quality of instruction within the SAFS course, SSG Markowski, 43, was the overall winner of the Service Pistol EIC Match, fired on July 12, with a score of 293-11x. Fellow AMU team members SFC Lawrence Cleveland, 31, and SFC James Henderson, 49, trailed Markowski in second and third, respectively – Cleveland with a score of 286-5x and Henderson with 284-9x.
Taking a deeper look at the competitors within the Service Pistol EIC Match can easily show the intense competition the event demands. Of the 400 competitors in the match, the leading 18 were Distinguished Pistol shooters, along with 43 of the Top 45. Amazingly, only four of the Top 50 competitors were Non-Distinguished.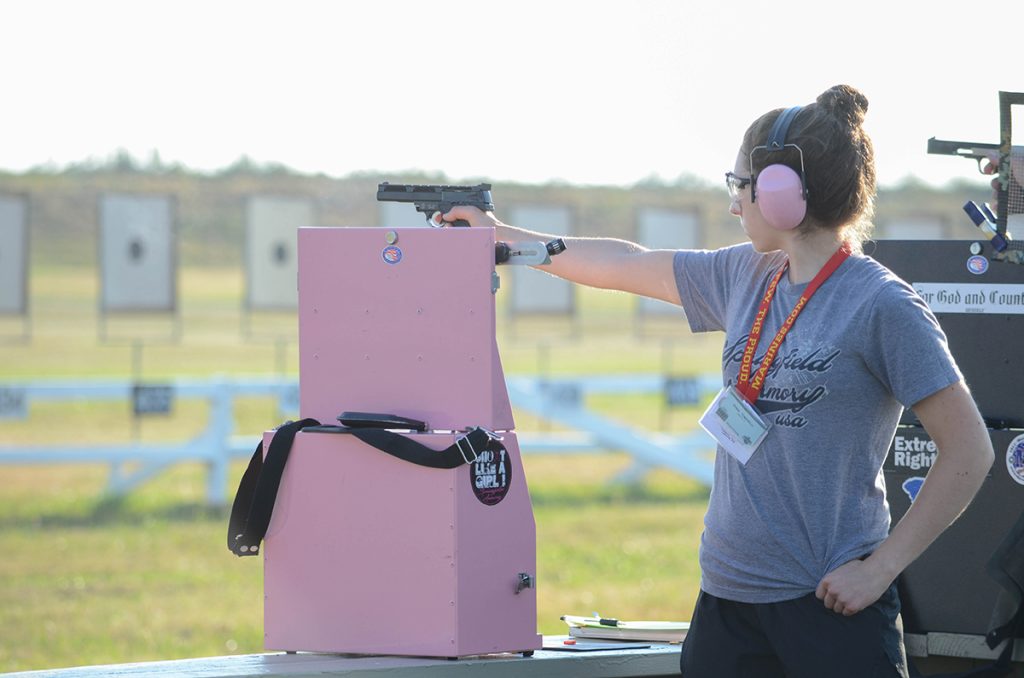 In the .22 Rimfire EIC Pistol Match, fired at Nationals for only the second year, SFC Michael Gasser, 33, of the AMU, recorded a score of 293-5x to become the overall winner. Jonathan Shue, 34, of Stafford, VA, and SGT Ryan Franks, 28, both fired a score of 292-11x, while SFC Patrick Franks, 38, fell behind the two only by x-count, with a score of 292-6x.
Last June, just a few months after the badge was introduced, SFC Gasser earned .22 Rimfire Pistol Badge #2 and SFC Patrick Franks was the recipient of Distinguished Badge #3. The men were awarded their badges on stage during the 2015 National Pistol Matches at Camp Perry. SGT Ryan Franks went on to earn his badge in 2016, as did Shue.
Over 25 badges have been presented since the installation of the .22 Rimfire EIC Match in 2015. So far, no women have been awarded the new badge, leaving that history-making role open for some female competitor in the future.
For a complete list of National Pistol Matches results, visit http://ct.thecmp.org/app/v1/index.php?do=match&task=edit&tab=results&match=14105.
Photos of each event can be viewed and downloaded for free at http://cmp1.zenfolio.com/f352326966.