Father and Son Earn Rare Consecutively Numbered Distinguished Badges
December 9, 2020
Civilian Marksmanship Program
▸
The First Shot
▸
Father and Son Earn Rare Consecutively Numbered Distinguished Badges
RETRACTION: An earlier version of this story indicated that the Merritt's could be the first family to earn consecutively numbered Distinguished Badges, but readers have brought to our attention that another family, Katye Foster and Gregg Foster, earned Distinguished Rifleman Badges #1979 and #1980, respectively, in 2010. We apologize to the Foster family for overlooking their accomplishment and would like to congratulate them again, a decade later, for reaching such a milestone!
Mike Merritt, 61, and his son, Jacob, 30, of Annapolis, Maryland, achieved a rare feat in the marksmanship world – earning consecutive Distinguished Badge numbers.
Distinguished Badges are distributed by the CMP to exceptional marksmen and women who earn a certain amount of Excellence-in-Competition (EIC) or "leg" points in CMP matches. Separate Distinguished Badges are awarded for Service Pistol, .22 Rimfire Pistol, Highpower Rifle and Smallbore Rifle. CMP also awards a Junior Air Rifle Distinguished badge to school-age junior three-position air rifle shooters and an U.S. Distinguished International Shooter Badge to competitors who compete in International shooting competitions.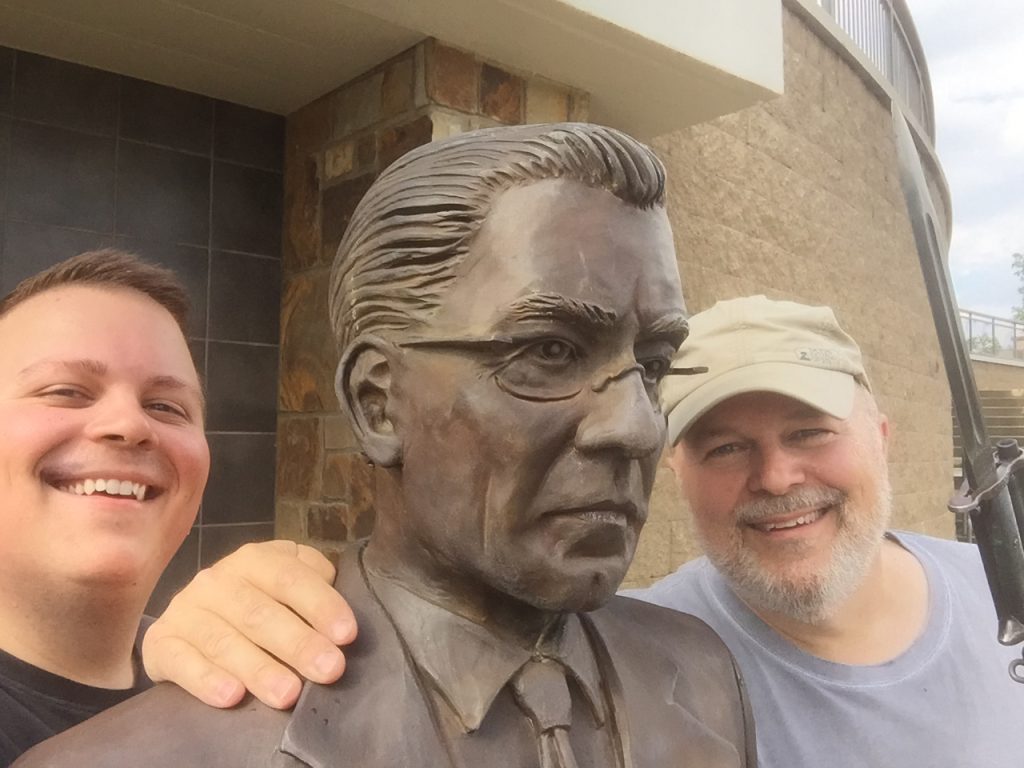 On Oct. 10, 2020, Mike earned his Distinguished Pistol Badge #1686, while Jacob earned his .22 Rimfire Pistol Distinguished Badge on the same day, at the same match. A month later, on Nov. 7, Jacob received the final points needed to earn his own Distinguished Pistol Badge – #1687.
The men earned their final points while participating in the EIC events offered at their local CMP Affiliated Club, the Anne Arundel Fish & Game Association.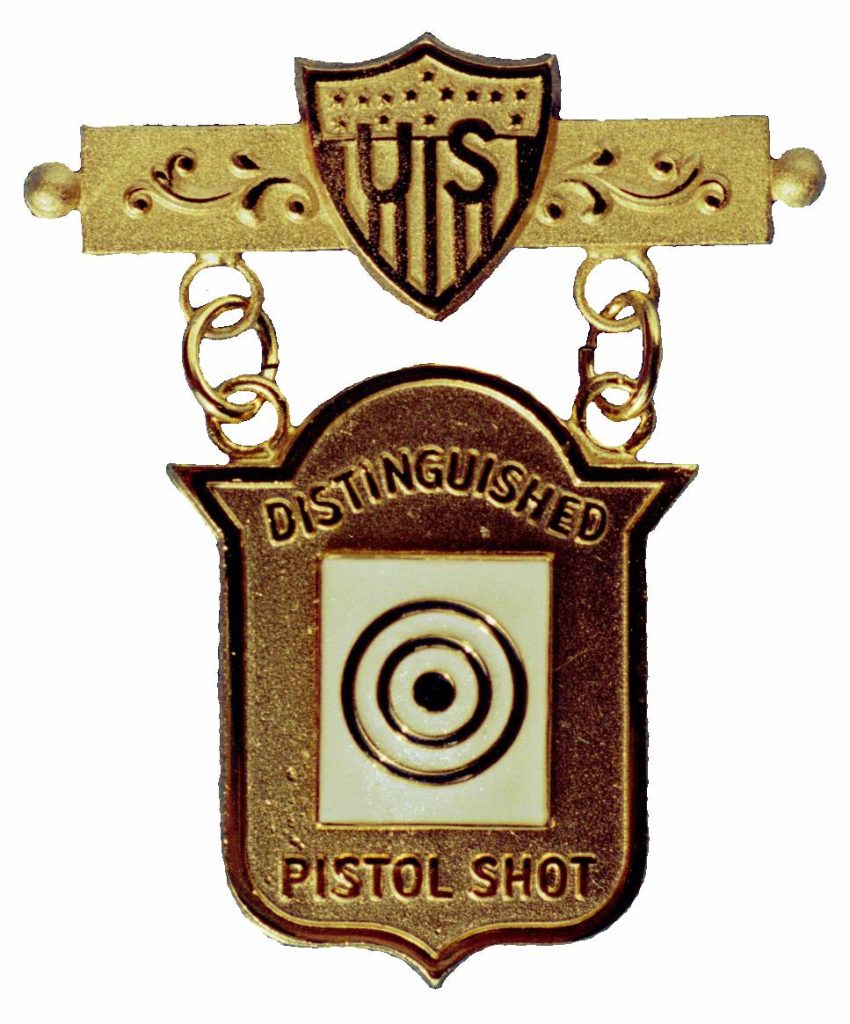 "It's always been a goal," Jacob said of earning his Distinguished Badges. "I started out by lucking into points one time, and that caught my interest."
Jacob made a deal with himself that he would buy a Pardini pistol after legging out with his Ruger Mark III Target. With his goal met, he made good on his word and now has a new pistol to use to excel his competitive game even more.
"It's definitely all a lot of fun," Mike added. "I would have legged out in September, but one guy outshot me in that match. Guess who…"
Though Mike and Jacob have an unspoken competition between them as they stand together on the firing line, they admit it to be more of a playful rivalry – both supporting each other in their performances, even if it interferes with their own objectives.
"During the match when we both made Distinguished, I wasn't thinking, 'I have to outshoot my dad with the .45 today,'" Jacob said. "Even though I would have made Service Pistol Distinguished if I'd beat him…"
The father and son duo shoot in many of the same regional matches at their local facility and at other nearby clubs. Mike, who is also a member of the Bridgeville Rifle and Pistol Club in Delaware, says the Arundel Fish and Game has an enviable bullseye program and a full sanctioned match schedule, with EIC events.
"Maryland has a lot of opportunities for people who like to shoot," Mike said.
Outside of their home state, Jacob and Mike have traveled to the Eastern CMP Games in Camp Butner, North Carolina, and have tried out a variety of rifle matches over the years, like the Rimfire Sporter, Garand/Springfield/Modern/Vintage Military (GSMM) and Service Rifle events. The pair has also participated in educational rifle and pistol Small Arms Firing Schools, offered by the CMP.
"(My dad) can probably edge me out in GSMM events, but I think I'm still slightly better with rimfire rifles and in any shotgun games," Jacob admitted.
Mike teased, "I don't mind (Jacob's) outdoing me – I taught him how to shoot, so I take half the credit anyhow."
Mike was 58 when he earned his first Distinguished Badge for.22 Rimfire Pistol. He stays modest when talking about his ability to earn a badge, even as an older competitor, by giving credit to his tenacity rather than his talents.
"More than once I got leg points by barely squeaking past the minimum cut score," he said. "This is more of a perseverance story than an ability story. Anyone can do it because anyone can persevere."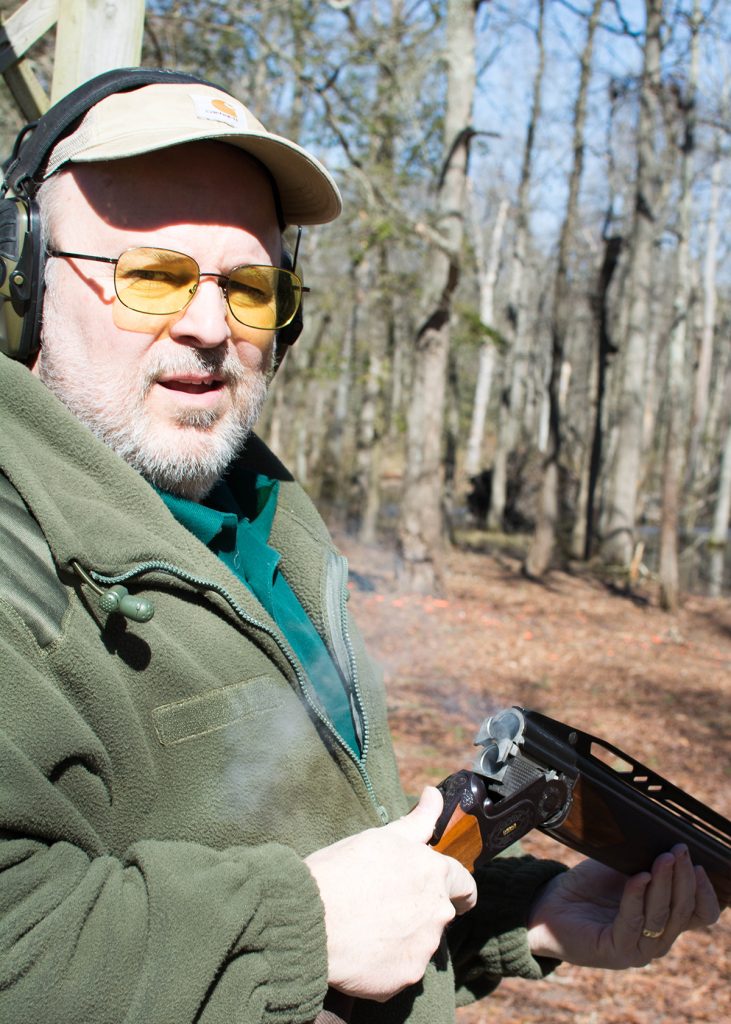 Growing Up and Growing Together:
As a child, Mike was raised around firearms, with a father who was a Master Sergeant in the Army. When Mike was around 10 years old, his dad bought him a used Mossberg bolt-action .22 rifle and taught him how to shoot. Soon, he moved on to a junior indoor rifle league at the Army base.
"I stuck with it until girls and cars pushed rifles aside," he joked.
For the next several years, Mike's guns collected dust in his closet as life moved on – marriage, jobs, kids. Then, when Jacob was around that same age of 10, Mike decided it was time to pass on the marksmanship tradition.
Mike got Jacob involved in three-position rifle shooting and enrolled him in a junior smallbore league. Though Mike tried to show his older daughter the ropes as well, she didn't show an interest like Jacob.
Mike felt knowing how to use a rifle was an important life lesson, and Jacob was more than willing to learn. As he grew older, Jacob moved on to other disciplines and higher calibers, with Mike by his side.
"Teaching him got me back into the game," Mike said.
About six years ago, Jacob connected with the local bullseye program at Arundel. He grew more and more curious about the discipline and decided to borrow his dad's Ruger 22/45 to practice with once a week. Jacob even joined a Thursday Bullseye League, using his borrowed pistol.
After Mike retired in 2015, he decided to join Jacob on Thursdays as well – only, with a new pistol, since Jacob was still using the Ruger.
"I never thought of myself as a pistol shooter, but, as I tell the guys at the club who are envious that my son and I shoot together – if you want to do things with your kids, you have to do what THEY want to do. So, I started shooting bullseye in earnest in 2016," he explained.
He powered through the learning curve, and within a year, pistol became Mike's passion.
"When I first started bullseye, I was bewildered – not sure who was sanctioning the matches or even exactly what the matches were. All the bullseye slang didn't help," he said.
"I realized three things about the CMP's Distinguished Badges," he went on. "First, they were meaningful. Second, they were not easy to get. Third, I wanted them."
With a new set of goals to obtain, Mike put away his wad gun, got out the ball gun and took off the optic from his .22.
"I knew I'd be giving up a lot of points in the 1800's and 2700's, but I started thinking of those matches as just a way to practice for the EIC's," he said.
In 2017, he earned his .22 Rimfire Pistol Distinguished Badge, saying of his competition strategy, "I guess it worked."
Jacob and Mike now fire in the Saturday league at the Anne Arundel Fish and Game Conservation Association, which is conducted by Mike himself.
During the summers, the Merritts head to the Camp Perry National Guard Training Facility in Ohio to take part in the pistol series of events at the famed National Matches (which overlaps Mike's wedding anniversary, but he still manages to make the trip anyhow).
He and Jacob also attended one of the Advanced Maintenance Classes offered by the CMP Custom Shop in Anniston, Alabama. There, the two were able to build and keep their own workable M1 Garand rifles – led by the guidance of CMP's armorer experts. Mike describes the experience as a "lifetime memory," that he was able to share with his son.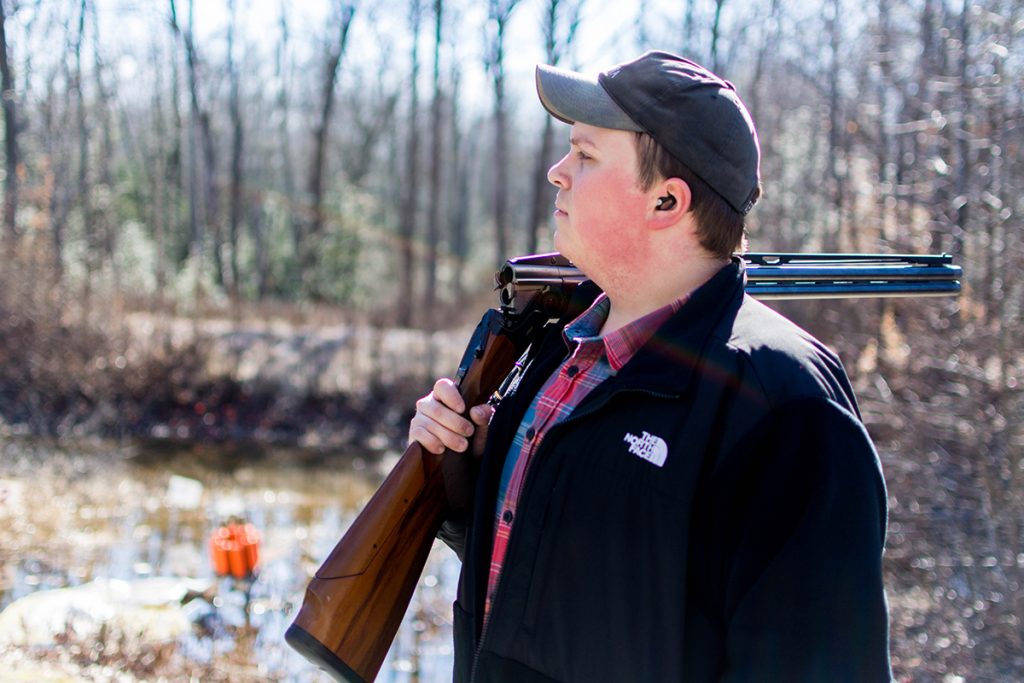 For the Future:
"I know I have to go back to an optic at some point, but I've learned to love to shoot a 1911 with iron sights," Mike confessed. "Something about it speaks to me…it just feels right, and I am reluctant to change."
He also has his hopes for rifle competition, like making the President's 100 in the prestigious President's Rifle event at the National Matches, but, for now…
"I'm really looking forward to the new program the CMP has planned for pistol week," he said. "I can't say enough good things about the Distinguished Program, the EIC program or the CMP in general."
Jacob has a similar view, saying, "I've only ever shot iron sights, and I'll continue to do so. I'm looking forward to competing in the CMP's new 1800 and 2700 matches, locally and at Perry in 2021."
Already a High Master in .22 Rimfire Pistol, Jacob says he's close to receiving an "Expert" classification in Pistol. He's working hard on his .45 scores while also staying focused on keeping up with his favorite shooting partner.
"My dad, being retired, has an edge because he shoots more. But I've always been in competition with myself, until recently when I've been outshooting him with my new gun," Jake explained. "So now that I'm winning, yeah, it's a competition."
Interested in earning your Distinguished Badge? Find out more about the CMP's Distinguished Badge program on the CMP website at https://thecmp.org/competitions/distinguishedbadges/ or contact CMP Competitions at 419-635-2141, ext. 714 or competitions@thecmp.org.
— By Ashley Brugnone, CMP Staff Writer