Through the Eyes of a Father and Son: The Affinity of Marksmanship
October 26, 2017
Civilian Marksmanship Program
▸
The First Shot
▸
Through the Eyes of a Father and Son: The Affinity of Marksmanship
By Ashley Brugnone, CMP Writer
TALLADEGA, Ala. – With late fall soon approaching, there are only a few more chances to enjoy outdoor marksmanship fun in 2017. The Civilian Marksmanship Program (CMP), an organization passionately dedicated to marksmanship safety and competition, has delivered several events all year long to both teach and provide exciting outlets for friends and families to come together and enjoy.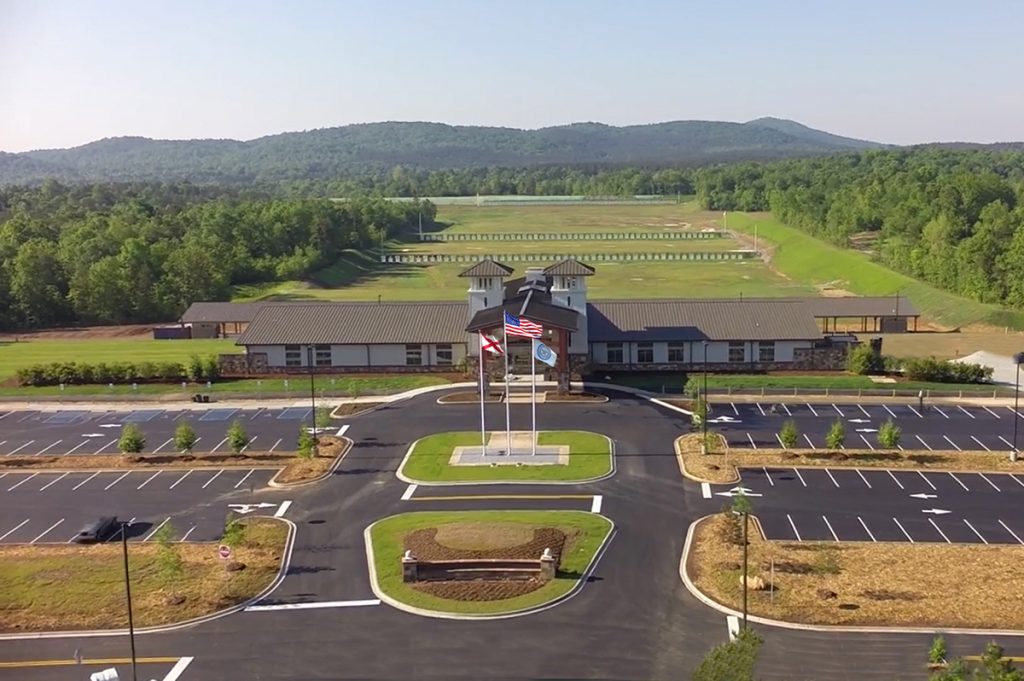 The CMP's last outdoor marksmanship event of the year will be the Talladega 600 – set to fire Dec. 5-10 at the organization's own Talladega Marksmanship Park. Talladega is a 500-acre facility that houses rifle, pistol and shotgun opportunities, along with CMP's special electronic targets – designed specifically for the organization. The park is a place suited even for those who prefer to stay off of the firing line, with the 13,000 square feet of the CMP Club House holding a retail store, lounge chairs and large television monitors that keep guests entertained through cable channels or with a live view of current scores on the 600-yard range below.
A mecca for firearm enthusiasts, the Talladega Marksmanship Park is an ideal setting for enhancing abilities, reiterating safety practices and creating unforgettable memories. Just ask father/son duo Dusty and Terry Mathy who used the facility both as a small getaway and as yet another way to participate in one of their favorite pastimes – shooting.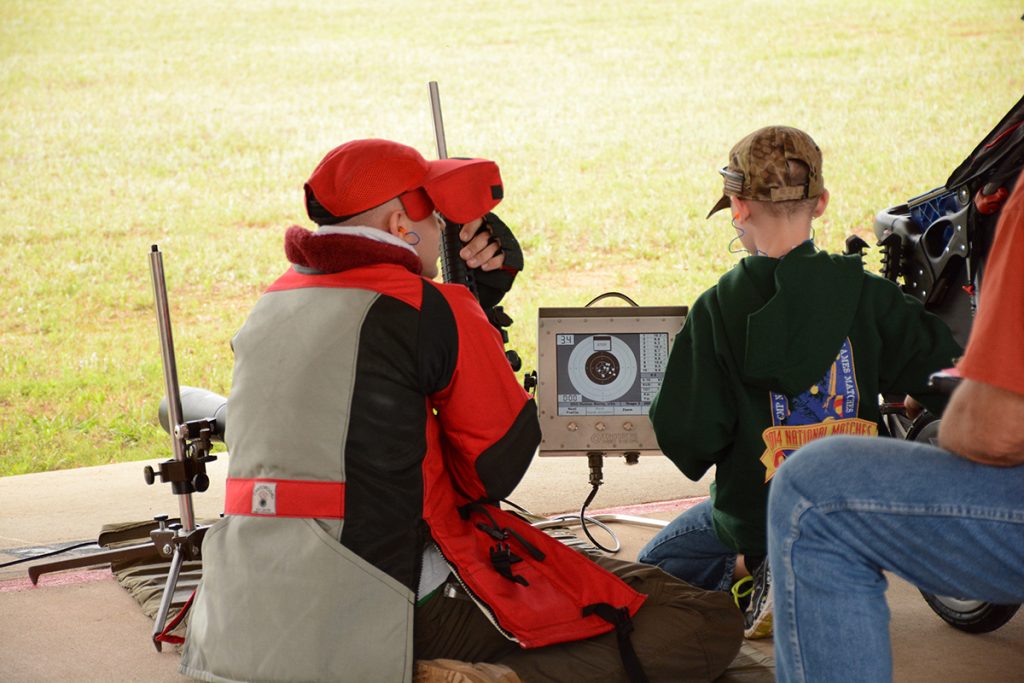 Back in June, SSG Dusty Mathy, 44, of the U.S. Army, set his eyes on Talladega's grounds for the first time. Along with an eagerness to get onto the range, Dusty also brought along all four members of his family: his wife, Rachel, son Terry (9) and daughter Olivia (8). The Mathy family traveled all the way from their home in Kansas to the Alabama facility to attend the Talladega D-Day matches – a multi-day marksmanship event that commemorates World War II through competitive matches, with some individuals even garbed in period costume.
Since it was such a long journey and the family's first to the CMP facility, they treated the excursion like a summer vacation, staying in nearby Lincoln and even making a run to the South CMP Store in Anniston to purchase a few rifles. They also took a tour of the CMP's armory, where the company stocks all of the vintage rifles, M1 Garands, and equipment the company is famous for selling. The family even attended the large barbeque the CMP hosts as a "thank you" to its competitors and guests.
"It was outstanding," said Dusty of his family's experience. "We met some really great people at the matches. The staff there was really great, very friendly and helpful."
Dusty expressed how the group looks forward to spending time together as a family, and how the Talladega Marksmanship Park's accommodations made it all the more enjoyable for everyone, particularly the ladies in the family.
"We've spent enough extended time apart to understand how important it is to take full advantage of every opportunity to spend time together," he said. "Rachel and Olivia really appreciated the relaxing environment in the Club House and also being able to sit at the little covered bleachers during the matches."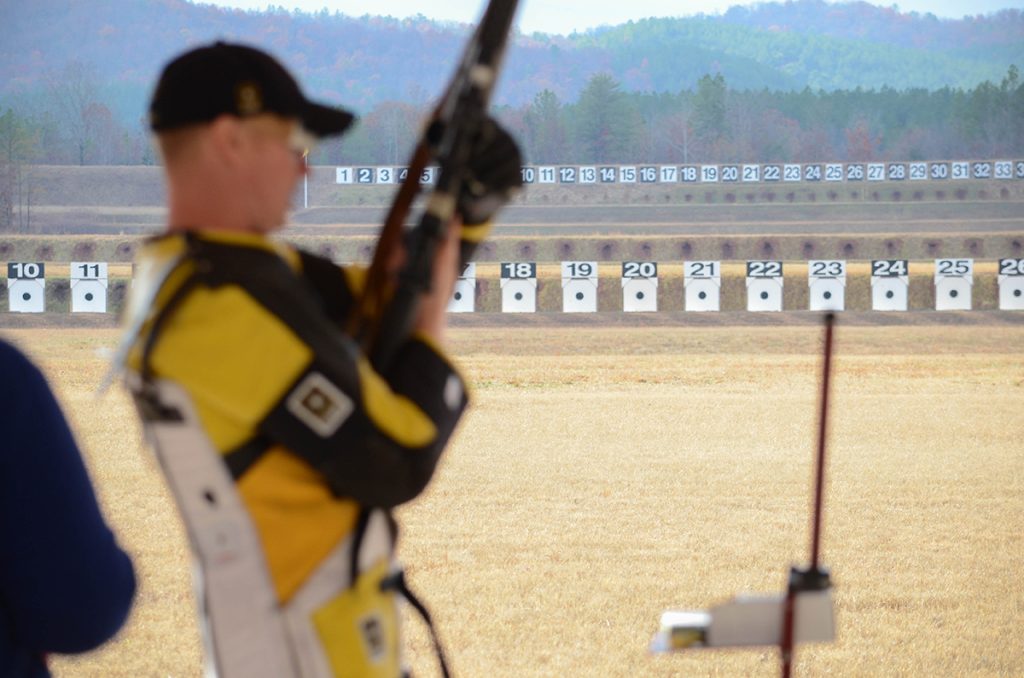 Besides being his first trip to Talladega, Dusty also took his first shots on outdoor electronic highpower targets, which are exclusive to CMP's facility – and it's an experience he won't soon forget.
"That alone was worth the trip, for me anyway," he said. "Shooting an entire EIC match, start to finish in about 90 minutes, with no pit duty – priceless."
Mathy is a seasoned marksman who has enjoyed shooting most of his life, beginning as a young hunter at 7 years old with a classic BB gun. Over the years, he has belonged to the Hawkeye Rifle and Pistol Club near Sioux City, Iowa, and the Mill Creek Rifle Club near De Soto, Kansas.
"I've enjoyed participating in various matches and leagues at both clubs to include both rifle and pistol shooting," he said. "I particularly enjoy shooting and collecting vintage military firearms."
"It seems my son has caught this bug as well," he added.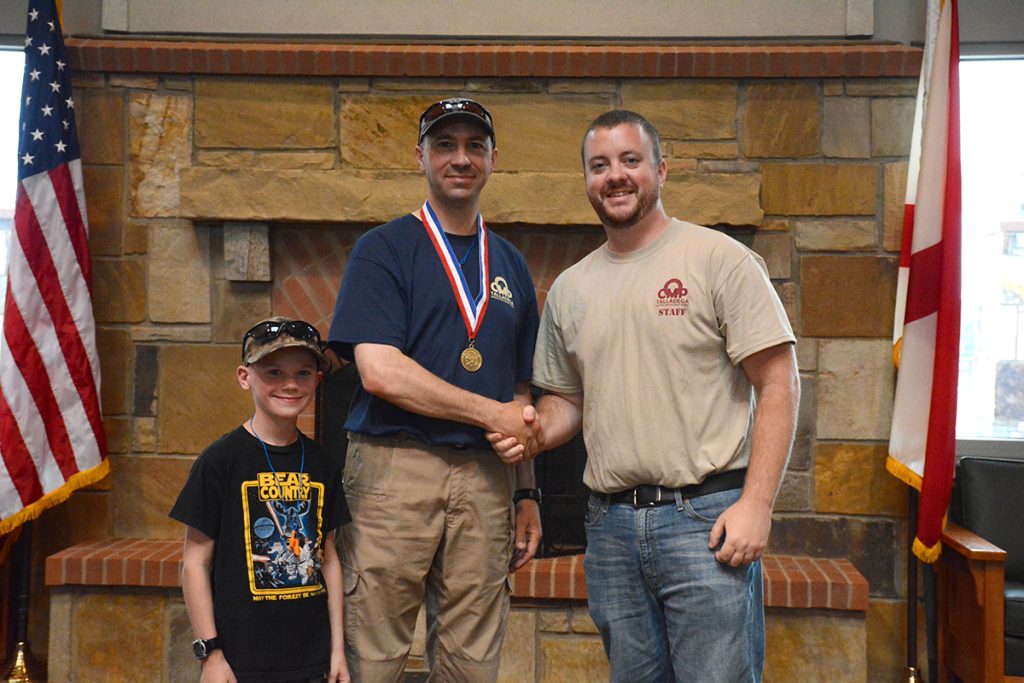 His son, Terry, helped his dad at Talladega by recording his scores – carefully keeping a watchful eye on every shot his dad sent downrange. Though thrilled to be spending time with his dad on the firing line, Terry also took the time to admire the aspects of the CMP range.
"I thought it was very fun. I marked my Dad's shots in the data book, and looking at the electronic targets saved time from looking through the spotting scope," Terry said. "It was very nice, the match was much faster, and it was easy to see how my dad was doing. And easy to mark his shots."
He went on to say, "The lobby (of the Club House) was very nice. The shop and South Store were very fun to look through. I loved the BBQ, the M1 Garands were cool, and the best thing was hanging out with my dad – watching him shoot and seeing all the cool costumes and rifles."
For Dusty and Terry, marksmanship is more than putting shots through a target – it's a way of building character and reflecting on the liberties that make life so meaningful. And, it's a way of, simply, enjoying life together.
"We enjoy spending time at the range as often as we're able. We also enjoy hunting," Dusty said as he described Terry's habit of cutting pictures of elk, deer and other animals out of magazines and gluing them to cardboard. "He put several squirrels on the table this year with his little 410 Mossberg Bantam, and he has shown an interest in clay targets shooting."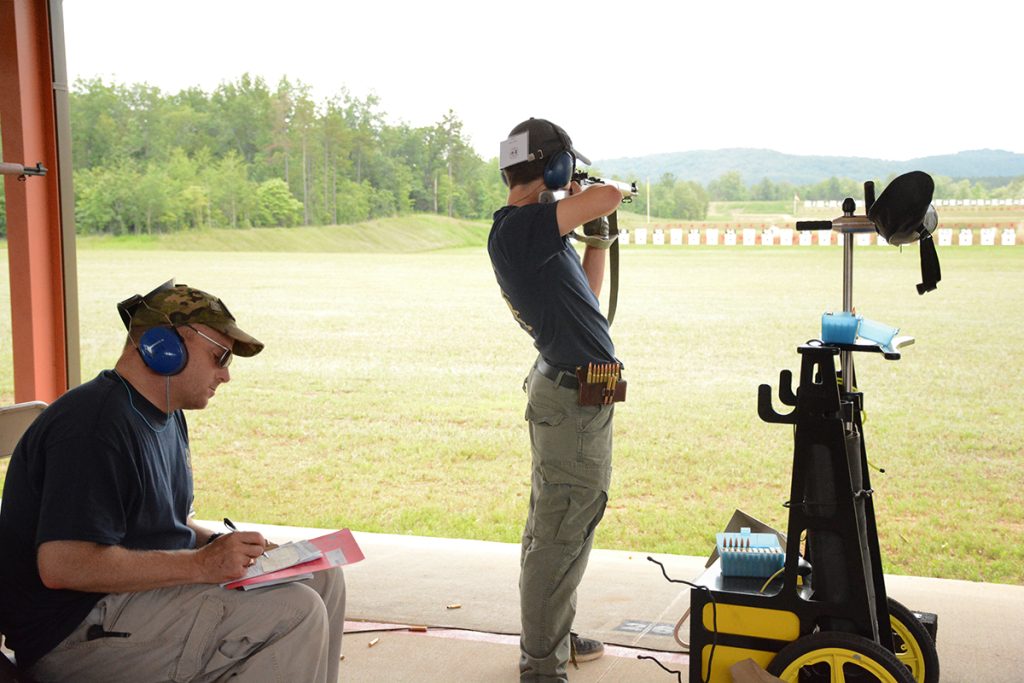 Terry also likes to compete at a variety of matches at Mill Creek. He caught the marksmanship bug at a young age, starting, like his dad, with a BB gun at age 5, as Dusty supervised. That same year, Terry got his first bow for Christmas.
At age 6, he moved up to a .22 rifle, with Dusty holding each round for young Terry until he was ready with his gun secured in a shooting sled on the bench, repeating the phrase his dad taught him – "Bolt to the rear, safety to the rear."
"There, he learned to always put the safety back on after a shot, and also to keep his finger off the trigger until he had a proper sight picture. Both are habits he maintains to this day," Dusty said.
When Terry was 7, the two shot at their first Project Appleseed event, where they learned about American history as well as marksmanship. Now the father and son pair regularly shoots at their local 300-yard Vintage Sniper Match using Terry's .223 Savage Axis in the Open class. Terry's skills continue to improve each time he fires, scoring his personal best in a Vintage Sniper match with 97-3x.
"In my opinion, there is no better way to teach responsibility, self-discipline, integrity and to build trust," Dusty said. "There are so many lessons in shooting sports, and in hunting, which apply to other areas of life. It's also an opportunity to build an understanding of the freedoms we enjoy, why we have those freedoms and why we must act responsibly to preserve them."
He added, "It makes me proud when others approach us at the range and compliment Terry on his safety and etiquette. There are no stronger bonds between father and son than those formed in the woods, on the water and at the range."
To view upcoming events at the CMP Talladega Marksmanship, visit https://thecmp.org/talladega/ and click on "Calendar of Events".