Eric Pauls Sweeps Military Rifle 3-Gun & 4-Gun Aggregates and SAFS M16 EIC Rifle while Ronald Doggett Dominates Pistol at CMP Oklahoma
June 1, 2016
Civilian Marksmanship Program
▸
The First Shot
▸
Eric Pauls Sweeps Military Rifle 3-Gun & 4-Gun Aggregates and SAFS M16 EIC Rifle while Ronald Doggett Dominates Pistol at CMP Oklahoma
By Steve Cooper
CMP North General Manager & Marketing Manager
ARCADIA, OK – Eric Pauls, went on a tear in April at the 2016 CMP Games Oklahoma, winning the Games Rifle 3-gun and 4-gun aggregates in the days following his first place overall finish in the CMP Small Arms Firing School (SAFS) M16 EIC Rifle Match at the fifth annual event at the Oklahoma City Gun Club. Similarly, Ronald Doggett, 55, of Oklahoma City, OK, put on his own display, winning four out of five individual pistol matches.
Taylor Davis, 27, of Brandon, MS, was the high scoring SAFS M16 EIC points leader among eligible points competitors, firing a 373-6x of a possible 400. Davis, George Eichenberg, 61, of Stephenville, TX, and Barrett Kilgore, 32, of Midland, TX, won four introductory leg points toward their Distinguished Rifle Badge in the match. The top 10 percent of eligible shooters received Excellence-In-Competition points.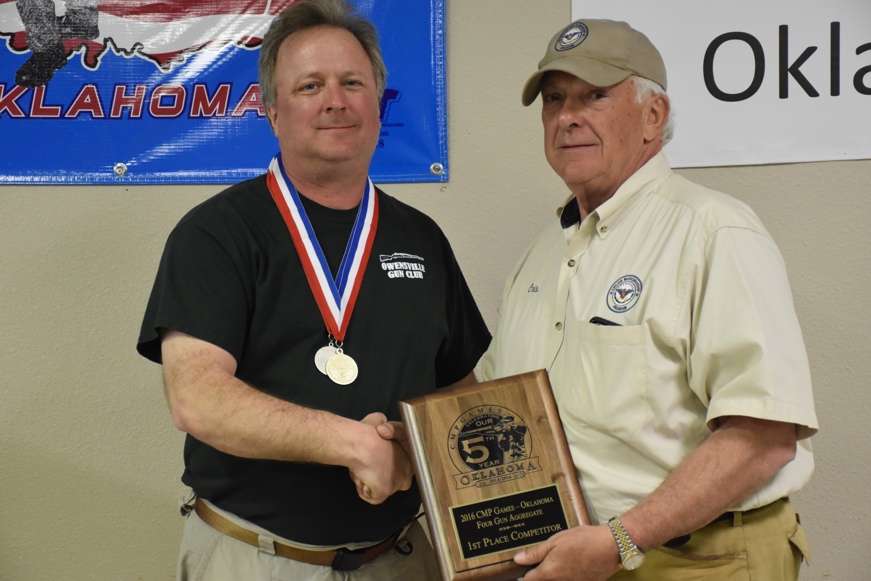 In the SAFS rifle match, Pauls, 50, of Fenton, MO, fired a 3-rifle aggregate score of 842-18x, (282-3x Garand-276-5x Springfield-284-10x Vintage Military), leading the 3-gun pack. Kent Stonecipher, 63, of Ada, OK and SSGT Timothy Hessel (USAF), 27, of San Antonio, TX, placed second and third, respectively, in 3-gun. Stonecipher was also the high-scoring senior in the series.
Pauls won the Vintage Military Match outright and his performance in Modern Military Rifle (285-8x), helped him clinch the 4-gun (1127-26x) title. Stonecipher's 288-9x in Modern Military locked up second place in the series (1123-25x) and he earned high senior honors. William Fairless, 61, of Vienna, IL, placed third in the 4-gun with an aggregate score of 1119-21x.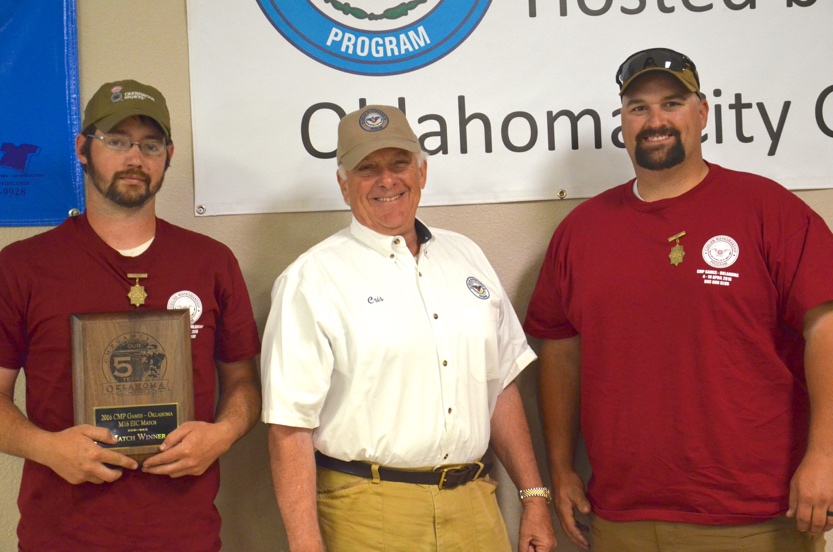 In pistol, Doggett captured the As-Issued 1911 Pistol Match with a score of 365-6x, defeating Young Chang, 61, of Stillwater, OK, (357-2x) and Charles Meloy, 77, of Noble, OK, (345-5x), who finished second and third respectively, out of 13 entrants. Doggett edged Chang in the Military & Police Service Pistol Match, 370-5x to 369-12x in a field of 13 shooters. Kent Stonecipher finished third with a total score of 358-4x.
In the 40-Shot Pistol Match, Doggett led a group of 12 shooters with a combined score of 360-5x in the slow fire, timed fire and rapid fire event. Daryl Taramasso, 67, of Amarillo, TX, placed second (338-2x) and Chang finished third at 334-4x. Doggett edged Taramasso in the Pistol EIC Match, scoring a 264-4x to Taramasso's 262-2X. Peter Adams, 64, of Lewisville, TX, placed third with a combined score of 258-3x.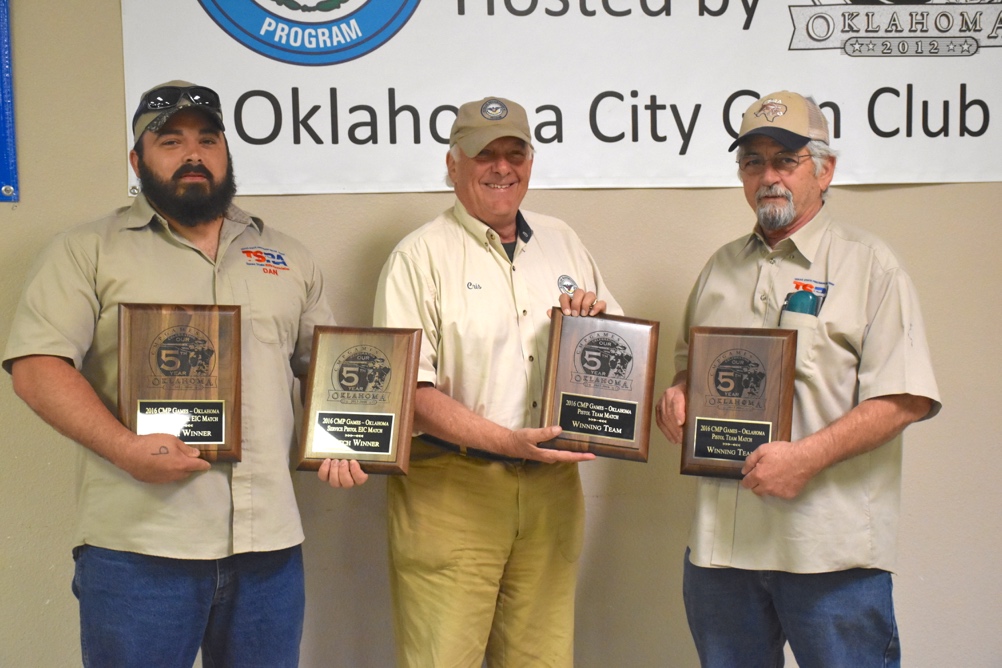 In the most popular pistol match, Daniel Miller, 34, of Mineola, TX, won the .22 Rimfire Pistol EIC event with an aggregate score of 279-6x, topping Doggett (271-7x) and Adams (268-2x) leading the field of 31 contestants.
In the four-team Pistol Team Match, team "Moonshine Monkeys" placed first with a team score of 524-6x. The Monkeys team was composed of Miller (262-4x) and Adams (262-2x). Team "Beat the Girls," (516-8x), comprised of Doggett (267-5x) and GySgt John Lefebvre, USMCR, (249-3x), placed second, with Doggett firing a 267-5x and Lefebvre, 249-3x. Team "West Texas Baers" placed third with a team score of 506-6x. The Baers' firing members were Michael Carter, 61, of Lubbock, TX, (259-4x) and James Redman, 68, of Big Spring, TX, (247-2x).
In rifle, SSGT Timothy Hessel led all shooters in the Service Rifle EIC Match with an aggregate score of 487-12x, dropping only 13 points overall. His breakout scores were 93-3x standing, 100-3x sitting, 100-2x prone rapid fire, and 194-4x prone slow fire.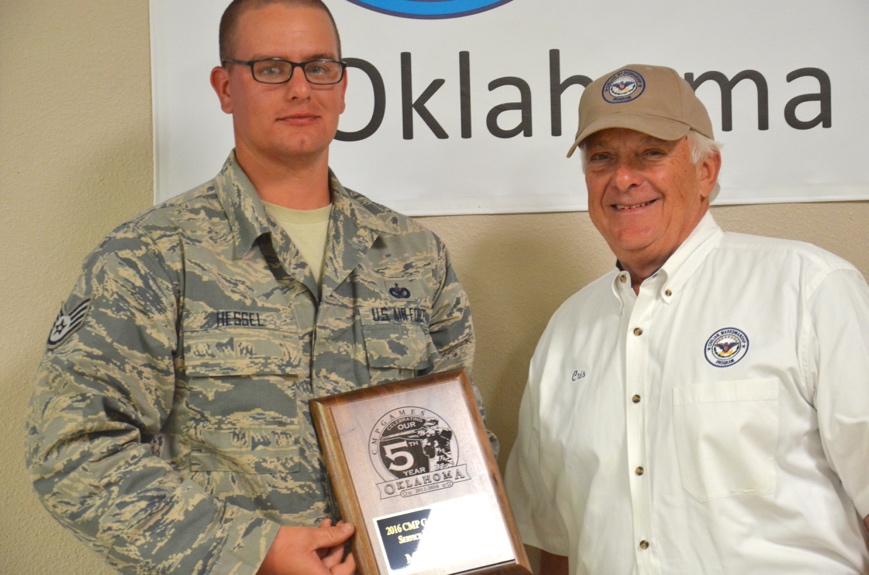 Greg Krebaum, 50, of Hutchinson, KS, placed second with 476-6x and Michael Borkon, 66, of Mission Hills, KS, finished third overall with a total of 474-12x. All three place finishers in the field of 64 match participants had previously earned their Distinguished Rifle badges.
Of special note, Mike Sexton, 58, of Tulsa, OK, legged out in the Service Rifle EIC Match with 10 EIC points. Also earning points in Service Rifle were Ramon Dry (8), 42, of Ada, OK, James Fletcher (6), 64, of Whitney, TX, Michael Judd (6), 52, of Ft. McCoy, FL, and Michael Larkin (6), 64, of Sugarland, TX.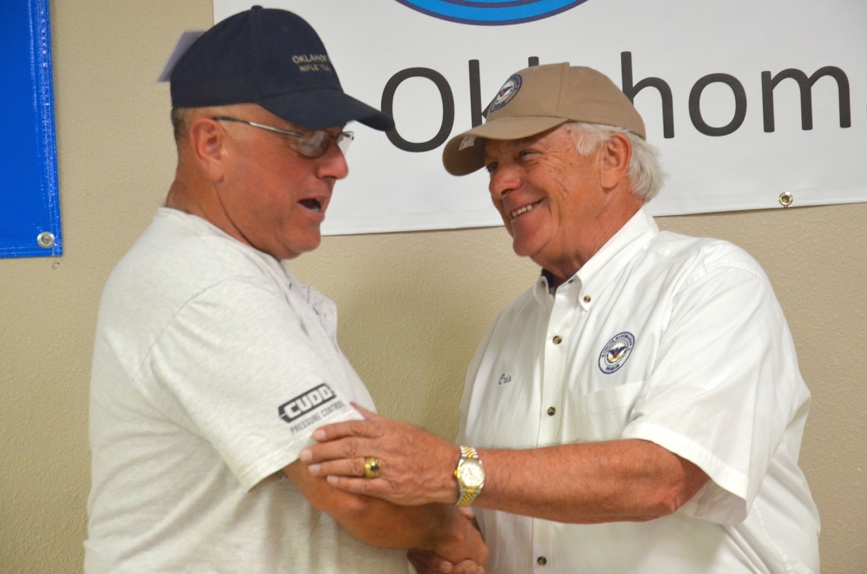 Robert Spurrier, 55, of Lakewood, CO, topped all 100 M1 Garand shooters with an outstanding 290-3x total score. His breakout was 98-1x prone, 98-1x prone rapid and 94-1x standing. High Senior, Kent Stonecipher placed second (286-8x) and David Geyer, 41, of Phoenix, AZ, finished third with 284-4x.
The high junior M1 Garand competitor was Garyn Sanderson, 15, of Boonville, AR, and the high grand senior in the match was Steward Cole, 74, of Owasso, OK.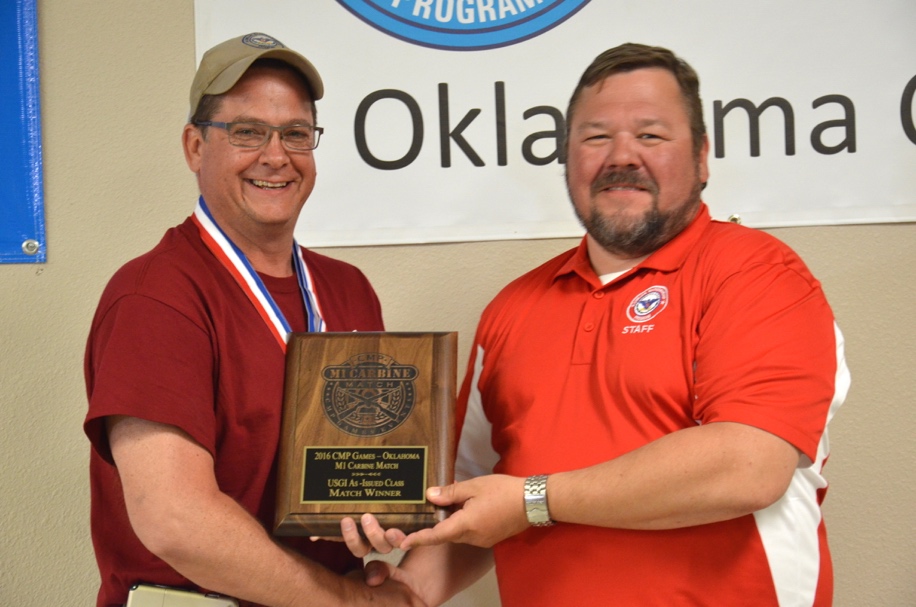 William Fairless was the high Springfield Rifle scorer and high senior, carding a 279-7x. His subtotals were 98-4x prone, 93-1 prone rapid and 88-2x standing. SSGT Timothy Hessel placed second with a combined score of 278-7x. William Aten, 64, of Kingwood, TX, placed third with an aggregate score of 278-3x. The Springfield high grand senior was David Hartman, 72, of Beaumont, TX. A total of 54 competitors fired the Springfield match.
Fairless was also the winner of the Modern Military Rifle Match, posting an impressive aggregate score of 289-7x. His stage scores were 100-5x prone, 99-2x prone rapid fire and 90 offhand. Kerighan Wheeler, 17, of Flower Mound, TX, was the high junior shooter in the match (275-5x).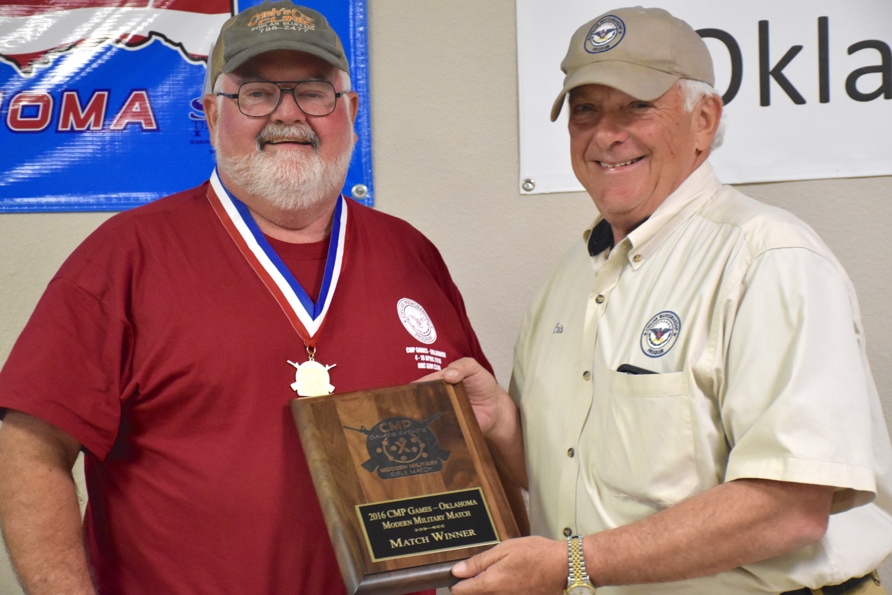 Eric Pauls' Vintage Military Rifle stages were 99-6x prone, 96-3x prone rapid and 89-1x standing. Gere Goodenberger, 52, of Claremore, OK, (283-7x) placed second and Bob Thomas, 57, of Del City, OK, (282-4x) finished third. James Fletcher was the high senior shooter in the Vintage Military Rifle Match, posting a 277-7x. The high grand senior in Vintage was Louis Billones, 74 of Omaha, NE. The Vintage match field was comprised of 34 shooters.
In the as-issued M1 Carbine Match, Robert Spurrier led all shooters with a score of 366-4x, including a 92-1x offhand in the four-stage match. A total of 51 shooters fired the .30 caliber carbine at 100 yards, prone slow fire, prone rapid fire, sitting rapid fire and standing. Mark Zwicky, 53, of Council Bluffs, IA, placed second with an aggregate score of 362-6x and SSGT Timothy Hessel took third with a combined score of 361. The M1 Carbine high senior was James Fletcher, who fired a 360-4x.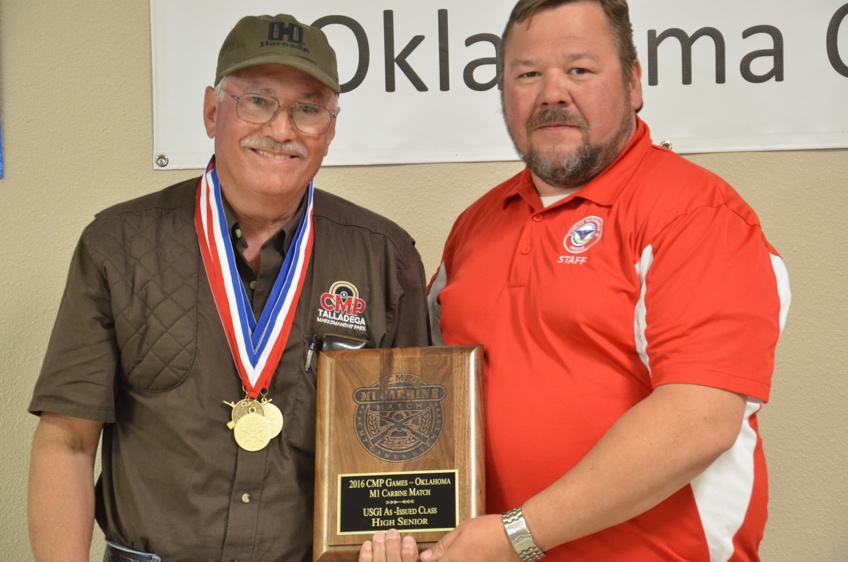 The rain-soaked and abbreviated Vintage Sniper Rifle Team match was won by "Team CMP," by firing members Cris Stone, 73, of Mountain Brook, AL, and Don Rutherford, 64, of Tallapoosa, GA with a team score of 199-7x. Stone and Rutherford topped the bolt-action sniper rifle class of 31 teams.
Stone fired a clean 100-4x at 300 and Rutherford followed with a 99-3x to complete scoring. "Team Billy Bob," comprised of William Fairless and Bob Thomas, placed second with an aggregate score of 197-5x. Team "Tejas Pest Control" finished third with a combined score of 196-5x. The pest controllers were Harold Pate, 54, of Ft. Worth, TX, and Kelly Worth, 55, of Richardson, TX.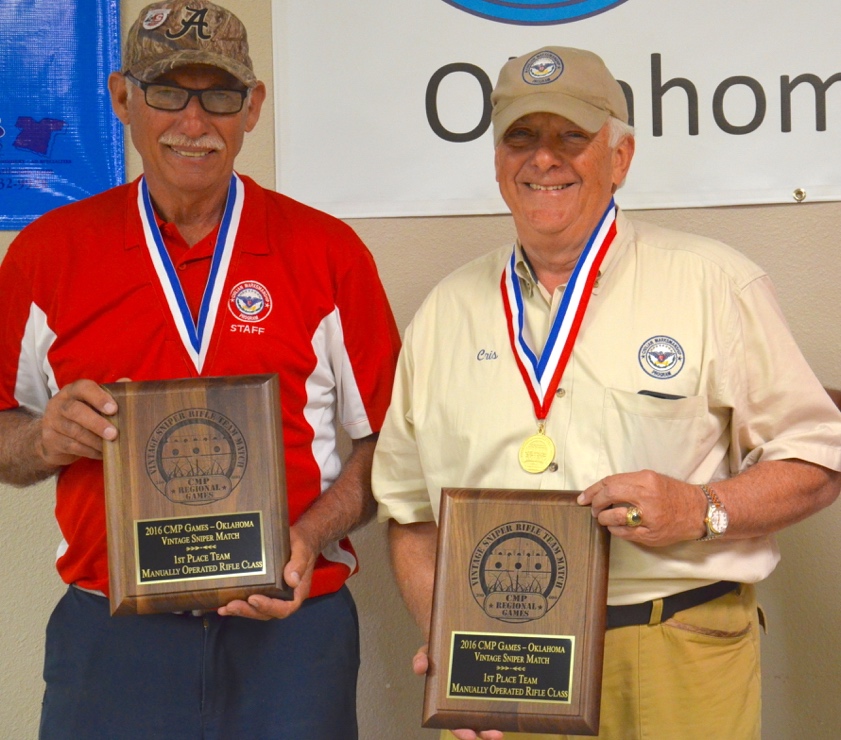 In the five-team semi-automatic class, team "Distinguished Pit Pigs" scored a 196-6x for first place – team members were William Meade, 42, of Owasso, OK, and Curtis Bohlman Jr., 51, of Luther, OK. Meade fired a 99-3x and Bohlman a 97-3x. Second place went to team "Pokorny-Schumacher" (179-1x) – firing members Jerry Pokorny, 69, of Colorado Springs, CO, and Edward Schumacher, 68, of Westchester, IL. Third place went to team "WD-40" (177-1x) – firing members David Geyer and William Aten.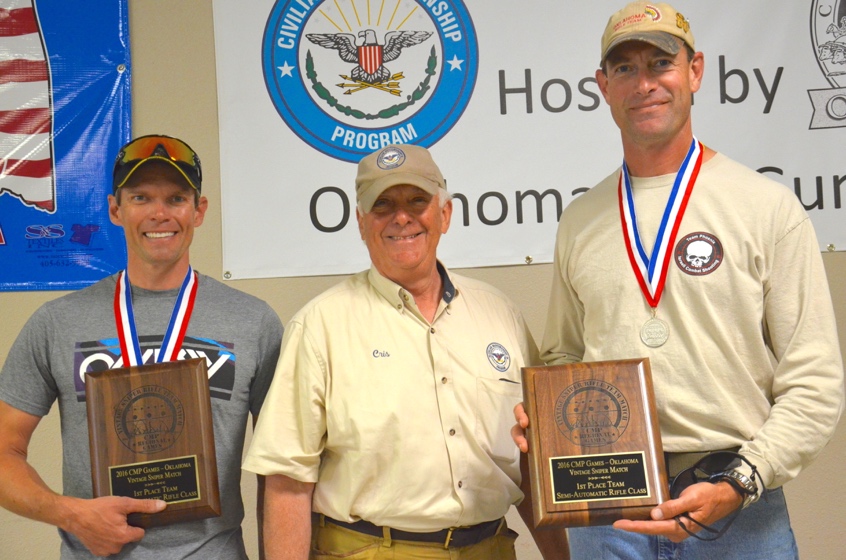 Late day high winds on the eve of the sniper match slammed an equipment case lid on the CMP's Wi-Fi electronic target transmitter and resulted in poor communication at the end of the 300-yard stage of the sniper match the next day. Rather than limp through the 600-yard stage with an intermittent transmitter, CMP chose to halt the match using scores posted at 300.
In 2017, CMP will return to OKC Gun Club with 25 electronic targets which will be hard-wired in anticipation of Oklahoma's volatile spring weather.