Competitors Set the Bar in 2018 at Evolving Western CMP Travel Games
November 16, 2018
Civilian Marksmanship Program
▸
The First Shot
▸
Competitors Set the Bar in 2018 at Evolving Western CMP Travel Games
By Ashley Brugnone, CMP Writer
PHOENIX, Ariz. – In October, the Civilian Marksmanship Program (CMP) loaded up its traveling targets and headed across the country to set up for its annual Western CMP Games event, held at the Ben Avery Shooting Facility in Phoenix.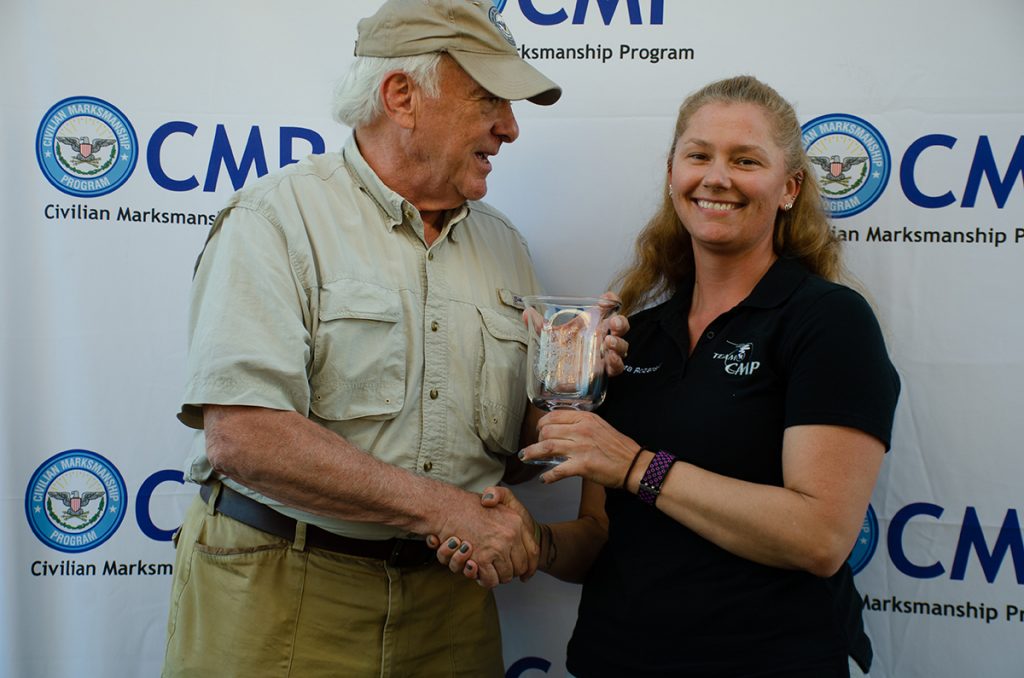 Western Games contains a combination of specially designed vintage and modern rifle events, created by the CMP as a recreational getaway for marksmanship enthusiasts of all ages and experience levels. Currently, pistol events are not offered at the Western Games location.
With an expanding lineup of events, new this year to the Western Games schedule and other Travel Games events was the CMP Cup Matches, which included across-the-course competitions like the 80 Shot Aggregate and Excellence In Competition (EIC) Service Rifle matches, fired at the 200, 300 and 600 yard lines. A 4-Man Team Match was also fired during the Cup series of competitions.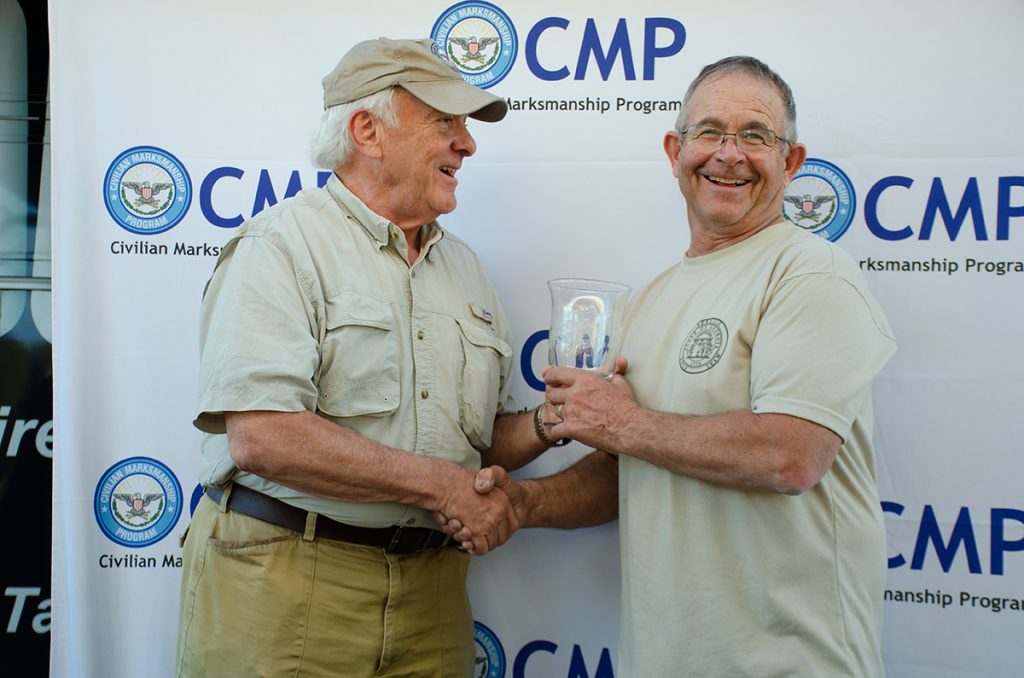 Winning the first overall CMP Cup Service Rifle Aggregate fired at Western Games and starting off the new tradition with distinction was Sara Rozanski, 40, of the CMP, with a score of 1957-85x. Rozanski won by more than 20 points over the second place competitor. Kenneth Lankford, 65, of Laramie, WY, recorded a score of 1957-81x to become the first Match Rifle CMP Cup recipient at Western Games.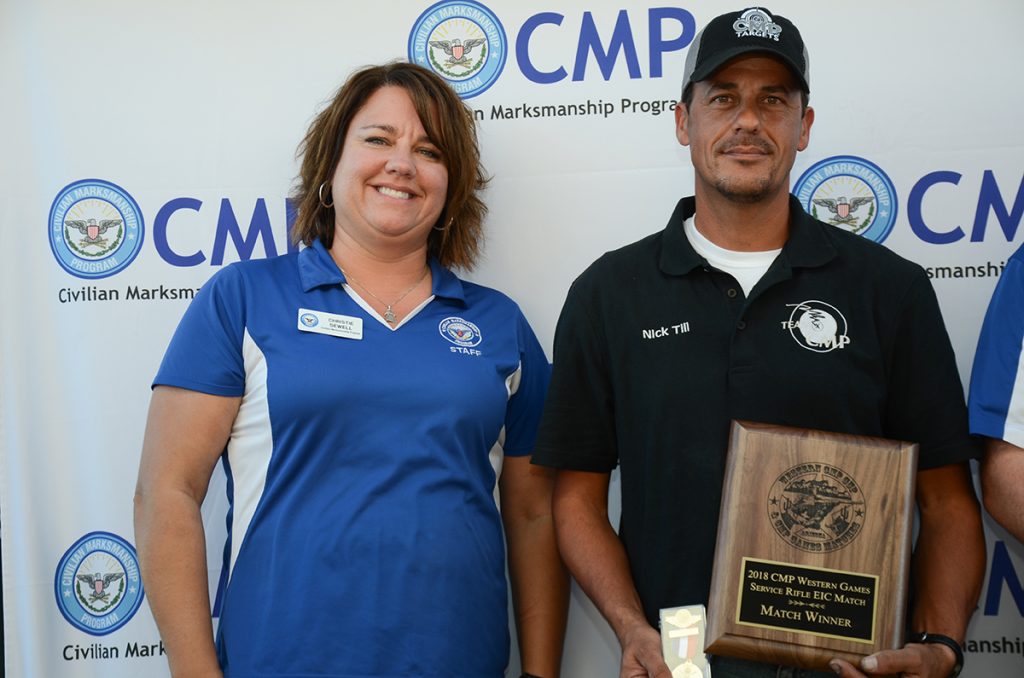 In the Service Rifle EIC Math, Nick Till, 44, of Howell, MI, and Team CMP, fired a score of 490-16x to earn the overall win. CMP armorer Christopher Knott, 24, who fired in his first EIC competition, reached second in the event and the high non-distinguished competitor honor.
Team CMP members Sara Rozanski, Nick Till, Danny Arnold and Robert Gill came together to collect a score of 1946-66x to claim the 4-Man Team event.
Along with competitive matches, a Small Arms Firing School (SAFS) is held at each Travel Games event. Participants at this year's Western Games SAFS course were led by experienced members of the Army Marksmanship Unit (AMU), including SGT Ben Cleland, who earned this year's Pershing Trophy and other accolades at the National Trophy Matches at Camp Perry, and SFC Brandon Green, this year's overall rifle competitor at the National Matches and the first marksman to ever fire a perfect 400 score in the prestigious President's Rifle event.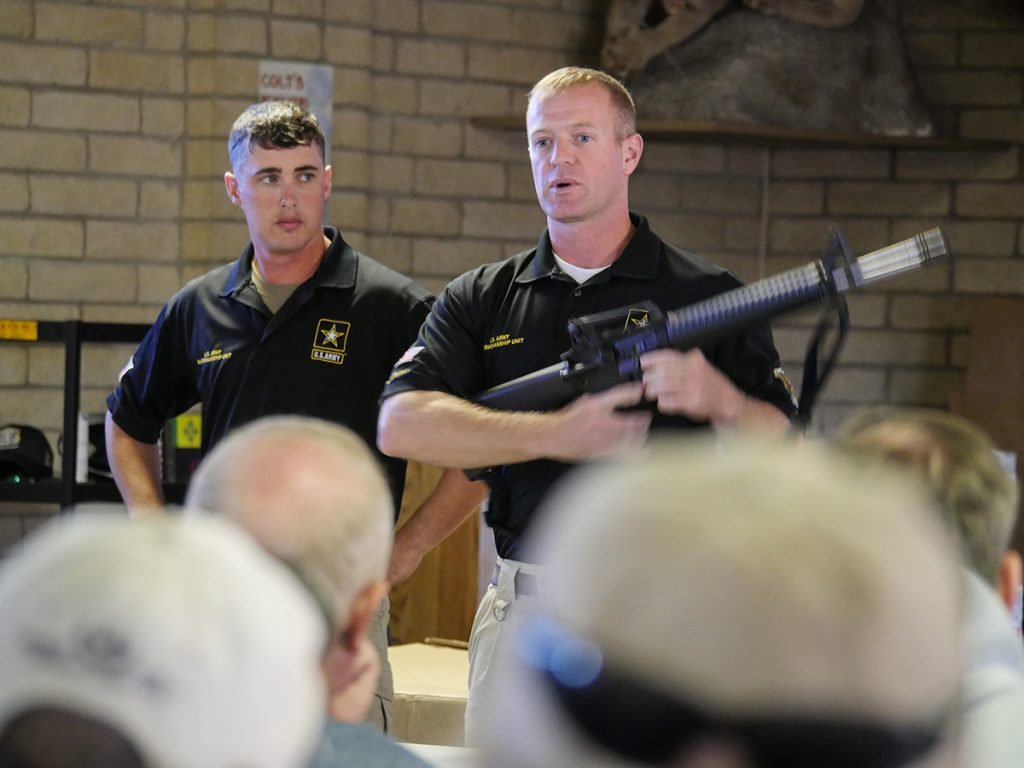 Over 30 students watched as the AMU pair gave classroom demonstrations before taking questions and heading out onto the firing line for real, hands-on training. The class also participated in a true M16 EIC Match.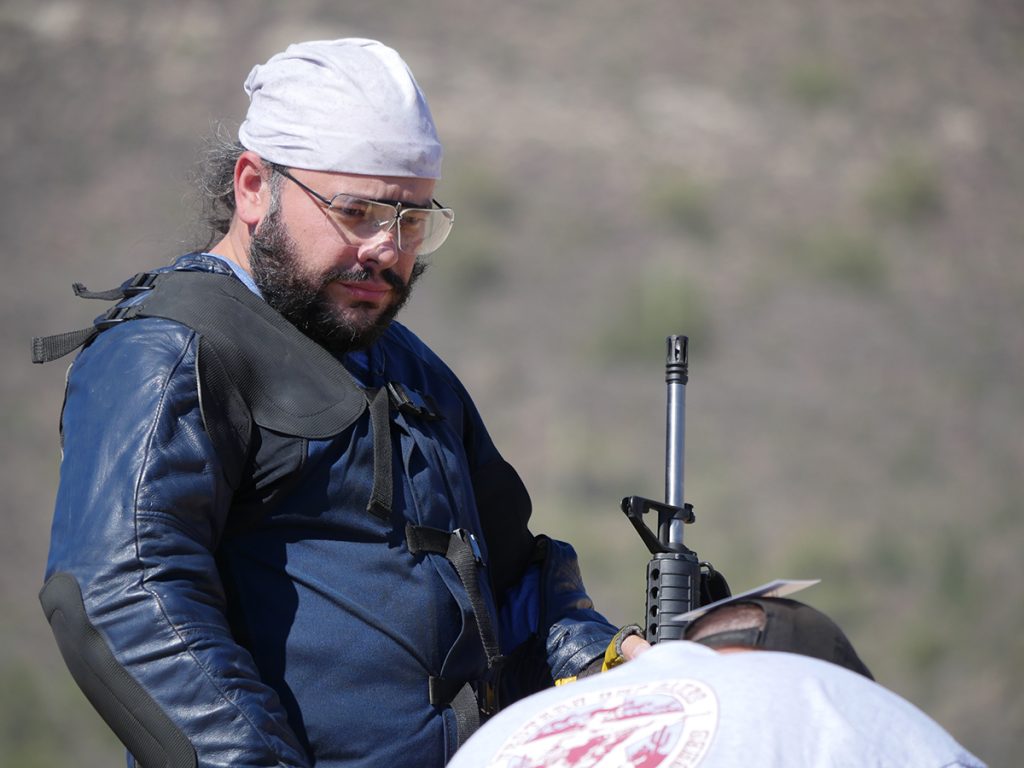 Boris Batkin, 40, of Sherman Oaks, CA, overtook the M16 EIC Rifle Match with a score of 384-8x, only four points above second place finisher Justin Allred, 43, of Las Vegas, NV.
Landing in third as the high female of the event was Joyce Van Curen, 40, of San Jose, CA, who earned her first EIC points during the match.
This was Van Curen's second trip to Western Games. She began shooting nearly five years ago, when she picked up a rifle for the first time – in fact, it was the first time she had ever shot anything. Soon, friends got Van Curen and her husband involved in highpower, where they eventually learned about the CMP and the path to earning Distinguished Badges.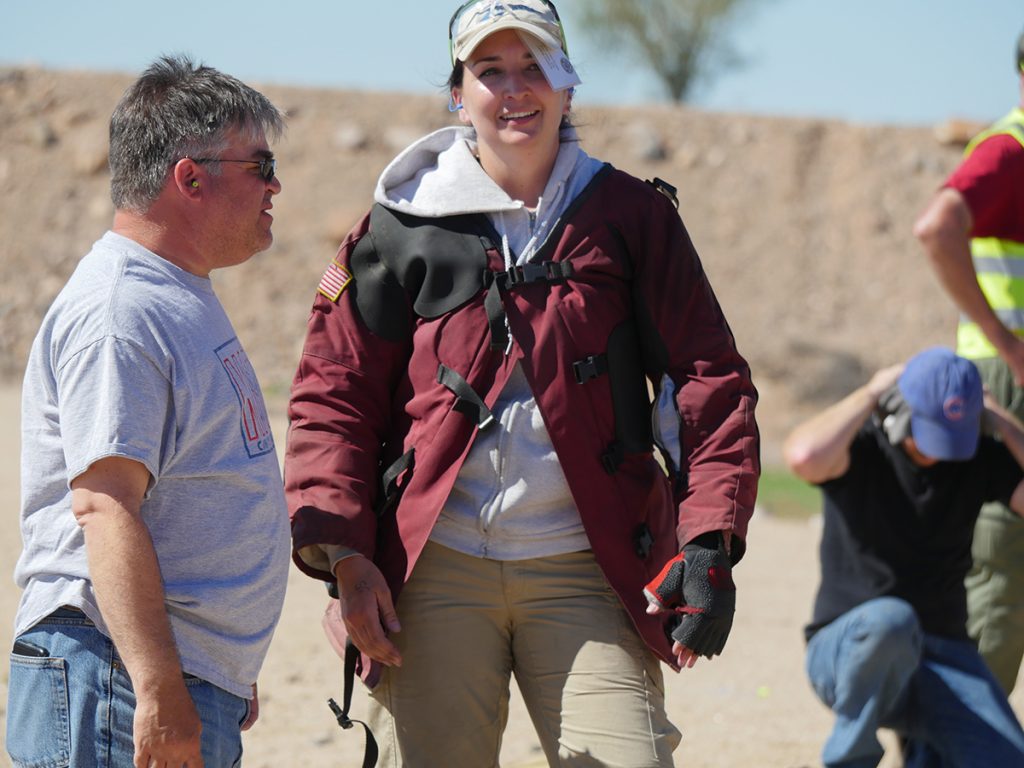 "I got hooked," she said with a laugh. "My husband and I said, 'That's for us.'"
After reading more into the CMP, the couple decided to give SAFS a try in order to learn even more about marksmanship and the sport of competitive shooting. Van Curen enjoyed the course so much, she decided to take it again in 2018.
"It was amazing. Awesome instructors," she said. "And really cool people – the camaraderie is really good. Everyone is cheering each other on."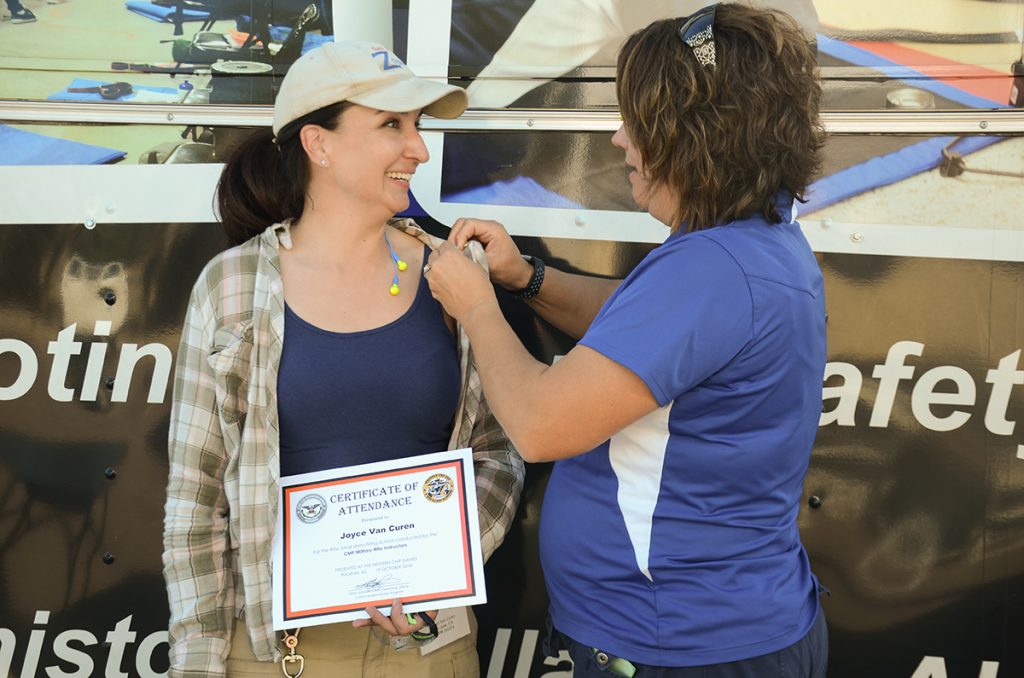 And, she added with enthusiasm, "To finally come away with some points – I feel like I'm at a good start!"
Van Curen said she approached the class knowing she still had some things to learn, so she stayed open-minded and picked up a few pointers she didn't know before. She then took her new advice out to the firing line where she tried her best to put it into practice.
"And things came together. So that felt like, whether I had points or not, felt like a win to me," she said. "To actually have that be productive on the other end felt so good!"
When her SAFS class was over, and she was loading up to head back home, the CMP staff made a point to grab her attention and bring her to the check-in area where they informed her she had actually received her first EIC points towards a Distinguished Badge. Her reaction was, in her words, "a happy dance."
"I turned around, mouth open, arms up, like, 'It really happened!' I am absolutely thrilled."
She says she and her husband will keep their eyes open for more CMP matches in the future, where she can again put her skills to the test and possibly inch even closer to earning a Distinguished Badge of her own.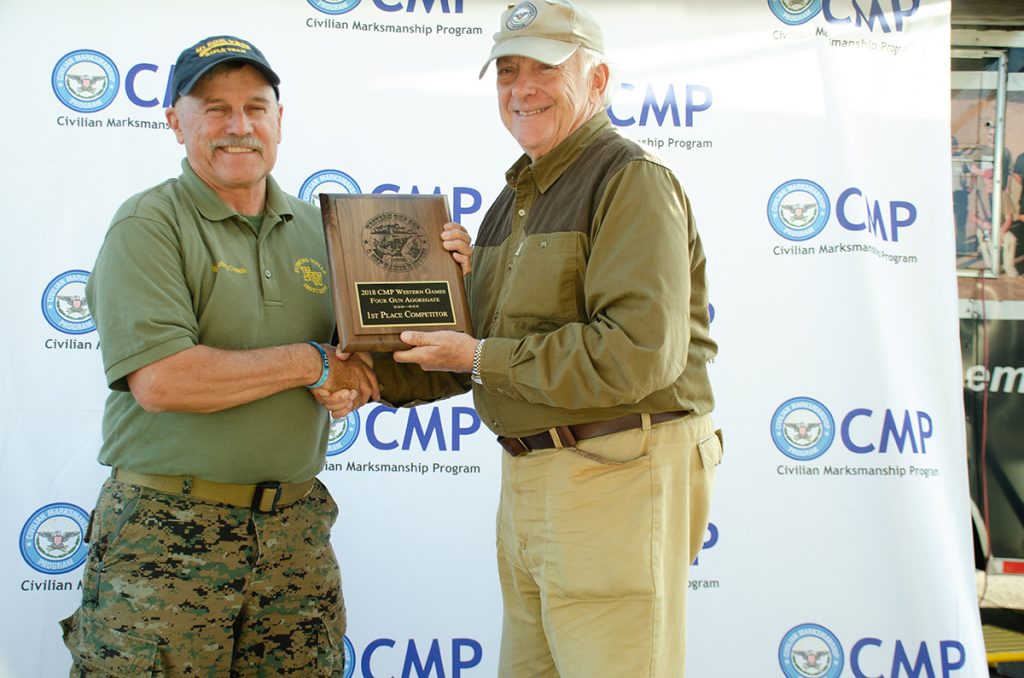 In Games Match results, Jeffrey Schneider, 67, of Tucson, AZ, led the Springfield event with a score of 288-4x. Schneider went on to earn the Four Gun Aggregate honor, earning a combined score of 1139-32x.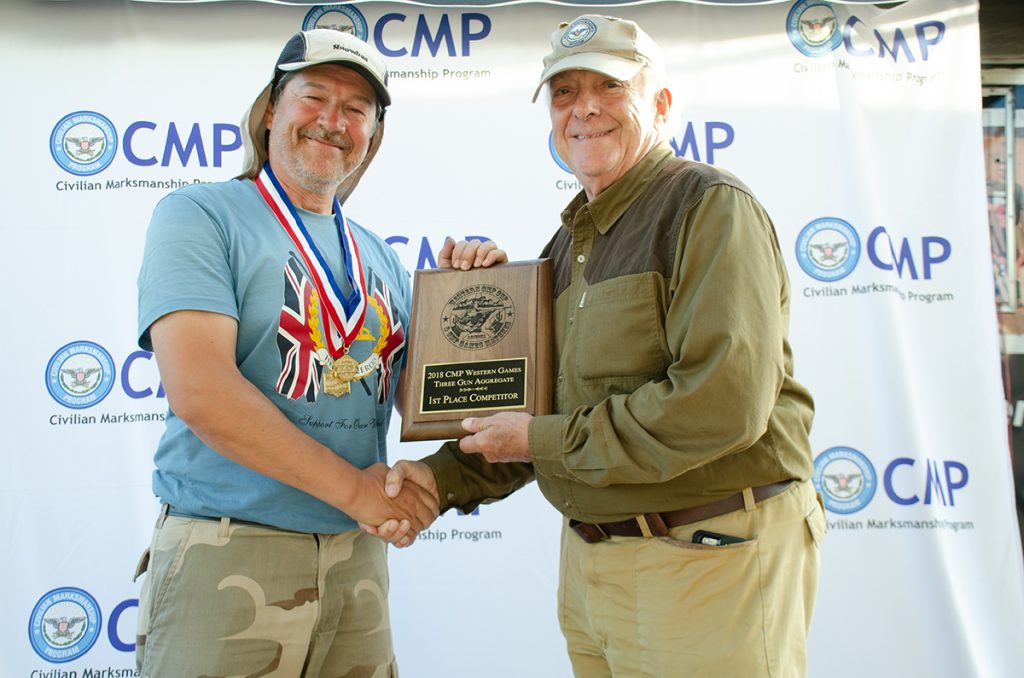 Claiming the Three Gun Aggregate was William Ellis, 53, of Langley, England, with a score of 853-16x. Ellis also led the Carbine Match Course, with a score of 360-7x. This was the second consecutive Three Gun Aggregate win for Ellis at Western Games.
Lee McKinney, 72, of Rio Rico, AZ, marked a score of 283-6x to lead the Vintage Military Match.
Larry Stonecipher, 66, of Ada, OK, was one point shy of reaching the current Western Games record score in the Modern Military event, reaching a score of 292-10x for an overall win. In Rimfire Sporter, Stonecipher managed to snag the Tactical Class win with 587-21x and a new Western Games record – beating the previous record of 582-34x set in 2014.
Randall Dwornik, 58, of Tucson, AZ, claimed the win in the O-Class in the Rimfire Match, with a score of 555-9x. Christopher Hook, 47, of Prescott, AZ, led the T-Class, with a score of 584-19x.
L. Dwayne Lewis, 53, of Greenville, SC, fired a score of 288-8x for the overall win in the Garand Match.
In the Vintage Sniper Team event, the team of Gonda-Stonecipher (Thomas Gonda and Larry Stonecipher) picked up the win in the manual competition, with a score of 392-14x.
Like last year, competitors at the 2018 Western Games had the opportunity to fire on CMP's traveling electronic target system, which is designed to speed up match times through prompt, accurate scoring and the elimination of pit duty, while also accommodating a more relaxed experience with less bodily and mental wear throughout the competition day. All rifle events, including the Small Arms Firing School, were held on the target system. With extensive field testing, the traveling targets are now regular figures at Travel Games matches and other CMP events throughout the year.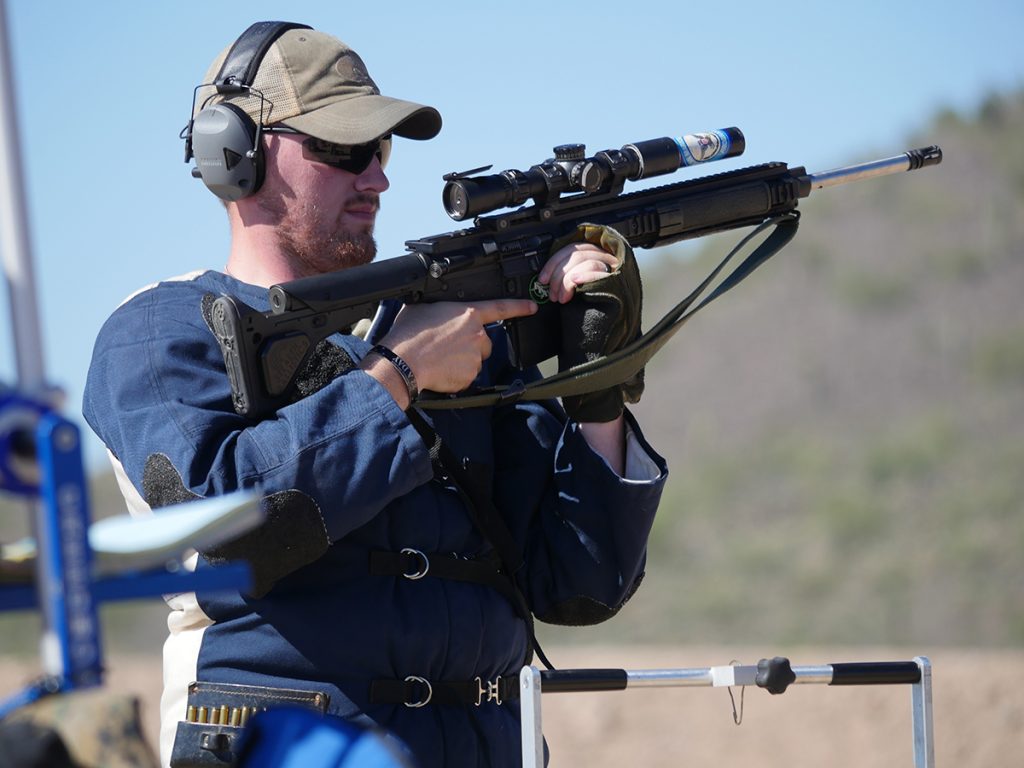 Though held each year for over a decade, the Western Games event will be going on a short hiatus in 2019 and moving from its usual October date to March, returning in 2020. The match will still be held at the Ben Avery location in Phoenix.
For a complete list of results of the 2018 Western Travel Games, visit http://ct.thecmp.org/app/v1/index.php?do=match&task=edit&match=16510.
Photos of the event can be found on the CMP Zenfolio page: http://cmp1.zenfolio.com/f97844934.