Competitors Earn Cash Prizes, Explore New Facilities at 2014 National Match Air Rifle Events
August 9, 2014
Civilian Marksmanship Program
▸
The First Shot
▸
Competitors Earn Cash Prizes, Explore New Facilities at 2014 National Match Air Rifle Events
By Ashley Brugnone, CMP Writer
CAMP PERRY, OH – The National Match Air Events Matches were held July 6-23 in the newly dedicated Gary Anderson CMP Competition Center. The center is a world-class facility, housing 80 firing points with electronic targets, classrooms, large reception and common areas, several large screen televisions, elaborate modern architecture and display cases filled with authentic memorabilia from the unparalleled career of Gary Anderson.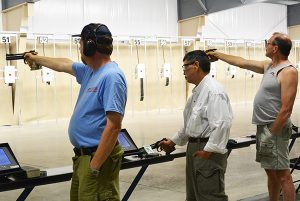 In the 30 Shot Pistol Match, held July 6-13, John Zurek, 50, of Tucson, AZ, was the overall high shooter with his score of 294-6x. Alex Chichkov, 20, of Tampa, FL, claimed the second place spot with a score of 291-10x, while Nick Mowrer, 25, of Colorado Springs, CO, fired 288-9x for third. Competitors were allowed to re-enter the 30 Shot Match as many times as they wished.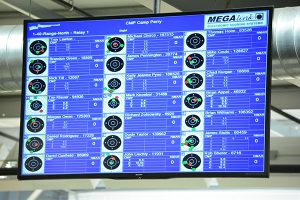 Steve Locatelli, 72, of Conifer, CO, won the Top Center Shot competition during the event, with a 10.9 shot that was within 0.0583 mm of center. For his outstanding accuracy, Locatelli received $157. Tom Pfau, 67, of Sylvania, OH, earned $125 for second place, with his shot of 10.9 within 0.1772 mm of center, while Alan Toler, 53, of Richmond, VA, secured $94.20 for third, with a 10.9 within 0.2778 mm of center. The top eight places received monetary prizes.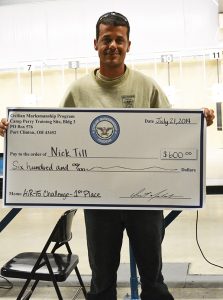 In the 60 Shot Air Pistol Match, fired July 8-13, Alexander Chichkov earned the title of overall winner, with a score of 578-16x. Following in second was Luis Lopez, 39, of Fajardo, PR, with 570-13x, and Brenda Silva, 52, of Snowflake, AZ, with her score of 568-16x for third. Competitors were only permitted to enter one time for the 60 Shot Match.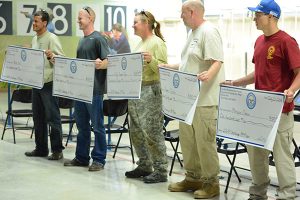 Silva also received the High Woman award for the match, as Chichkov was named the High Junior. Ben Amonette, 59, of Radford, VA, earned the title of High Senior, with a score of 560-13x.
For air rifle, a 20 Shot Standing Re-Entry Match was held July 6-23 for sporter, match and AR-type rifles. A 20 Shot Novice Prone event was also held for beginning marksmen between the ages of 8-12. Competitors were able to fire the 20 Shot matches as many times as they pleased during the scheduled period.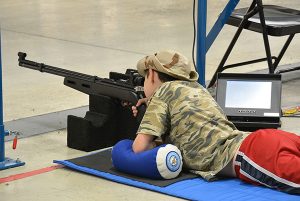 Those competing in the 20 Shot Standing match with a sporter rifle were also entered into a Top Center Shot match, where the top eight shooters closest to center received prize money.
Devin Schwindt, 14, of Lee's Summit, MO, was the first place finisher in the competition, with a 10.9 within a 3.3054 mm radius of center. For his excellent shot, Schwindt received $92.50. Following in second, as well as third place, was Daniel Slanker, 70, of Huber Heights, OH, who fired a 10.9 within an 8.2311 mm radius and a 10.8 within a 14.6866 mm radius of center. Slanker earned $74 for second place and $55.50 for third.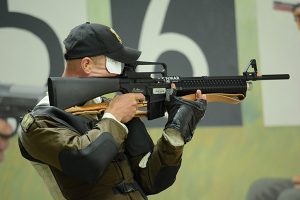 In the AiR 15 Challenge, competitors use air rifles modeled off of the AR-15 in a 20 shot match. Shooters were permitted to re-enter the match as many times as possible during the July 14-20 period.
Troy Lawton, 51, of Columbus, GA, finished in first place in the event, with a score of 198-6x. Following in second was Michael Chirco, 17, of St. Louis, MO, and Thomas Holm, 45, of Sioux City, IA, both with a score of 197-4x.
On July 21, the Top 20 competitors of the AiR 15 Challenge met on the firing line for a Shoulder-to-Shoulder final and a chance to earn prize money. During the competition, shooters receive a 5-minute sighter period, followed by 20 record shots in a time limit of 22 minutes. The marksman with the highest score derived from those 20 shots is deemed the winner of the final.

In the end, Nick Till, 40, of Howell, MI, arose victorious, with an impressive aggregate score of 199-8x. SSG Brandon Green, 29, of Box Springs, GA, finished in second, with a score of 197-7x, followed by KellyJeanne Pyne, 46, of Alexandria, VA, with a score of 195-5x. James Stutts, 41, of Huntsville, AL, fired a 195-4x for fourth place, and Morgan Owen, 18, of Sonora, CA, earned a score of 194-1x for fifth.
The Top 5 places each received a check from the CMP, derived from 75 percent of all of the entry money earned for the AiR 15 Challenge. Till, for his first place finish, received a check for $600. The rest of the money was divided up as follows: $400 for second, $250 for third, $150 for fourth and $100 for fifth.
For a complete list of results, visit http://ct.thecmp.org/app/v1/index.php?do=match&task=edit&match=11753. National Match photos can be viewed at http://cmp1.zenfolio.com/.