Competitor Embodies British Marine at 2015 Eastern CMP Games Vintage Sniper Match
May 29, 2015
Civilian Marksmanship Program
▸
The First Shot
▸
Competitor Embodies British Marine at 2015 Eastern CMP Games Vintage Sniper Match
By Ashley Brugnone, CMP Writer
CAMP BUTNER, NC – Jeff Rowsam, 59, of Denmark, WI, stood out at the Vintage Sniper Match at the 2015 Eastern Games at Camp Butner, NC, in his authentic British WWII Royal Marine uniform. He toughed out the entire match, shot at both the 300 and 600 yard lines, in his Denison smock in the sweltering southern heat.
"I'm advocating that anyone who shows up in uniform and fires ought to get another 10 points," he said, with a laugh.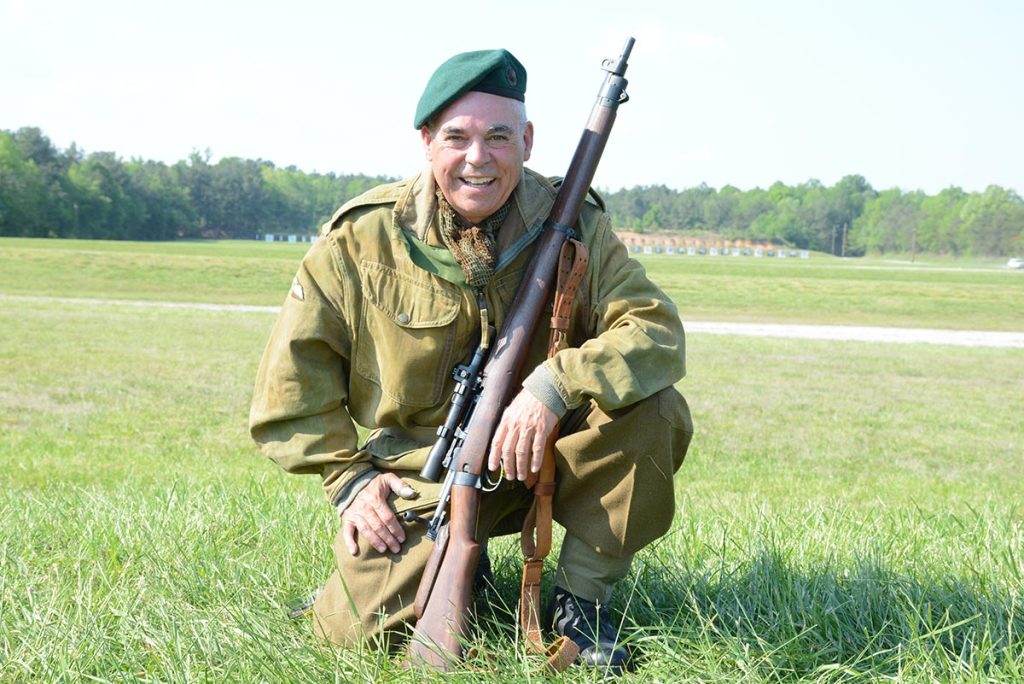 Rowsam chose to fire a British WWII Lee-Enfield No. 4 (T) Sniper Rifle during his third time shooting in the Vintage Sniper match. He inherited the impressive piece of history through his father. The firearm, made for parachute troops, features a Canadian scope and is in no way a reproduction – every piece is original.
"I always wanted to shoot it, and I had the jacket. My father bought it in about 1969, and I thought that was long enough for it to sit," he said. "I think it does lend something to the match. I've seen the guys in ghillie suits and stuff, WWII fatigues, so I thought I'd do it."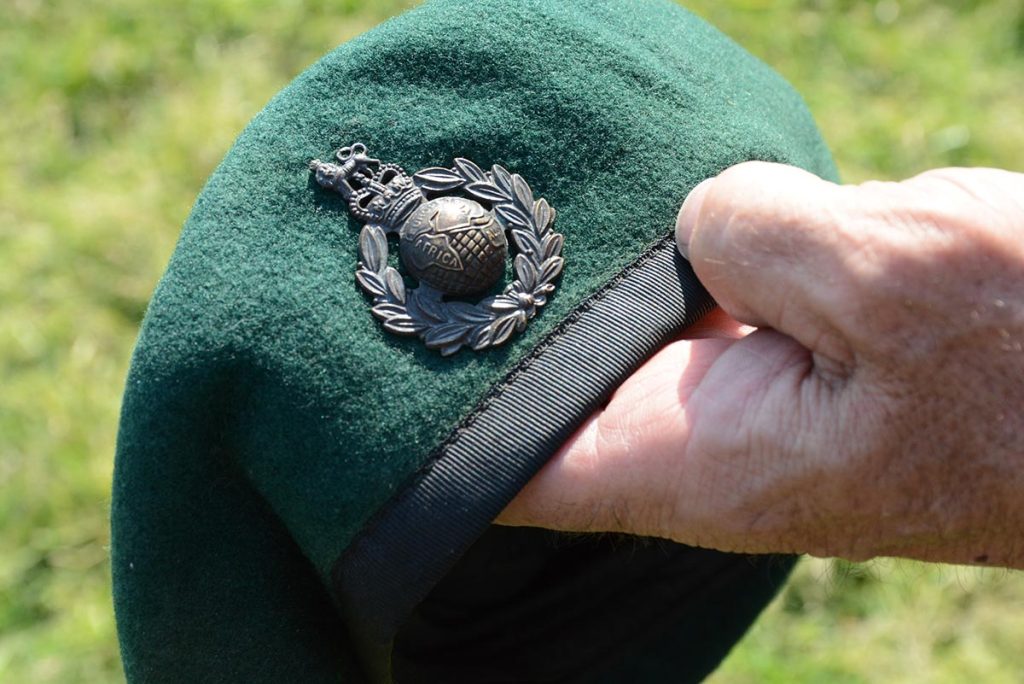 A unique and interesting detail of the uniform is displayed on the beret. The U.S. Marines emblem contains a sculpture of North America and South America on a globe, recognized by many within the United States. But the British emblem, as worn by Rowsam during the match, features Africa, Europe and the far east.
With a variety of historical uniforms worn on the firing line throughout the event's existence, the Vintage Sniper Match is unique to others by allowing competitors to honor military personnel of the past as well as educate those around them.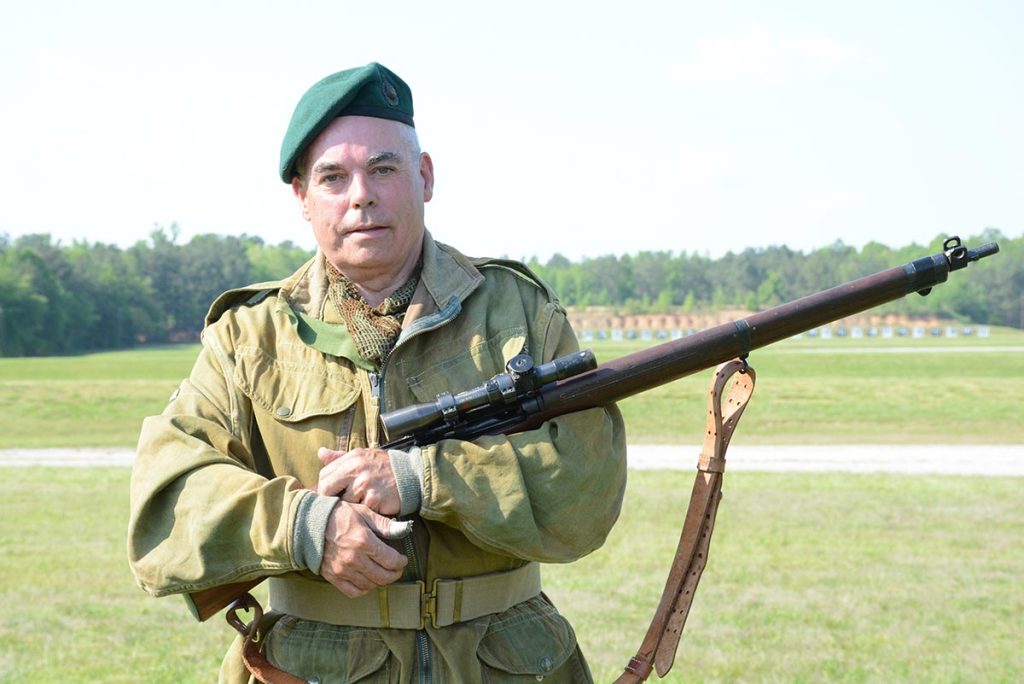 "That's kind of the spirit of the thing, and not a lot of people are doing it anymore. Early on, more people did it. I just thought, this is the first time I've fired this rifle, there aren't too many of them in the match, so it's the right sniper smock," he said. "It's fun to shoot the match."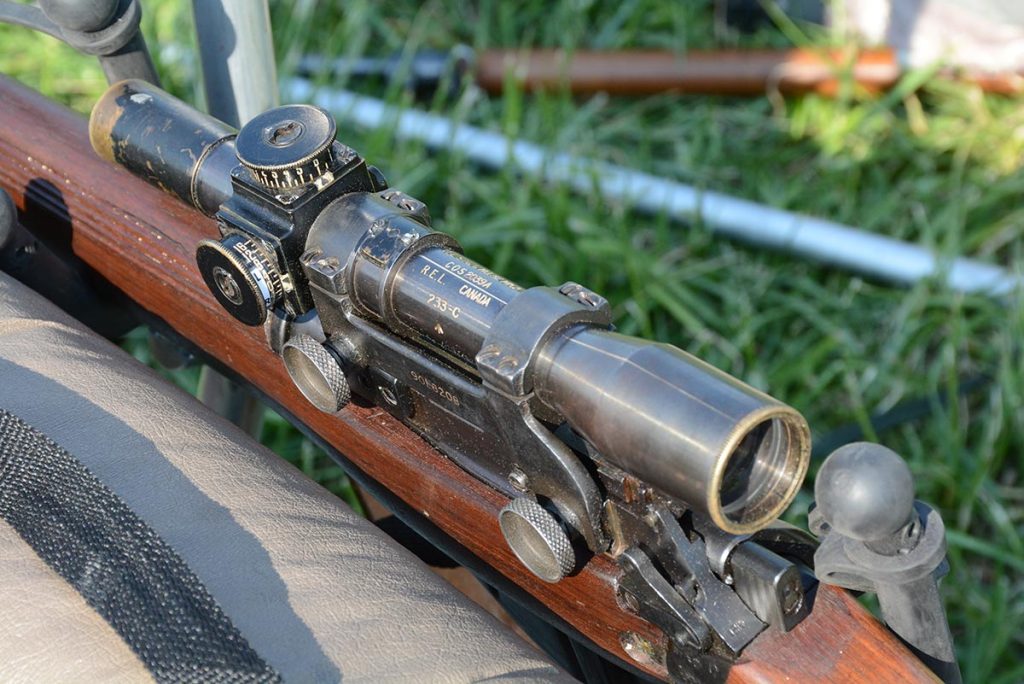 Rowsam and his teammate, Winfield Stacey, 62, of Manchester, TN, (a.k.a. Total Strangers) faired well with the rifle – tallying a score of 354-3x in the match. Now that he has fired his British Enfield, Rowsam has his eye on future matches and new outfits he can bring to the firing line.
"Next time, French Foreign Legion," he joked. "I've got a lot of rifles."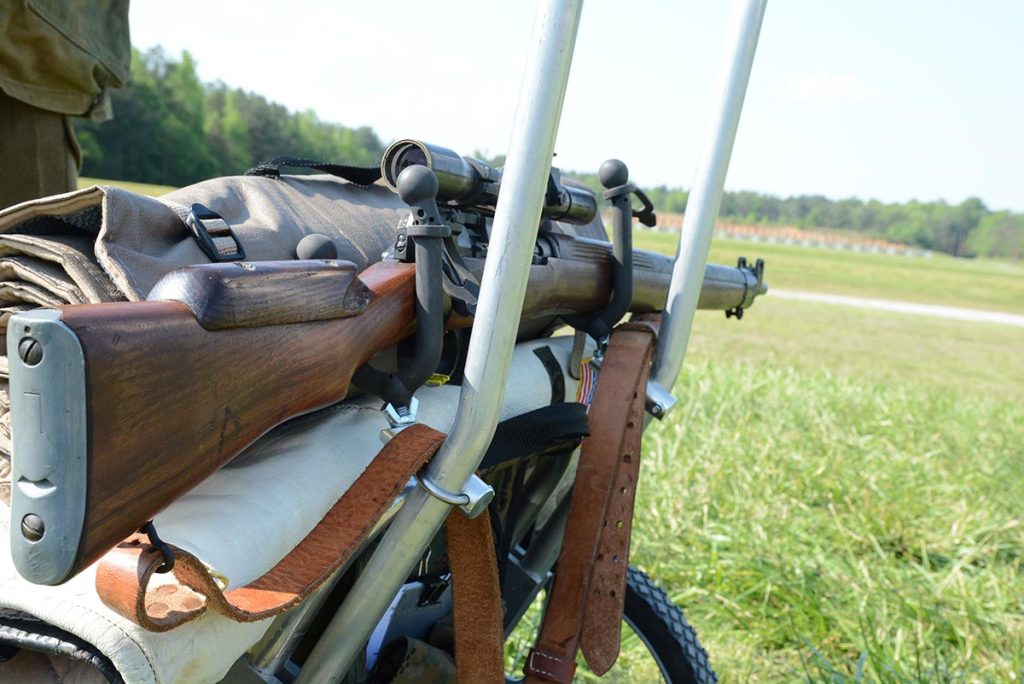 For others wanting to step back in time with their own rifles and vintage uniforms, the Vintage Sniper Match will be fired again in the near future at the National Trophy Rifle Matches, held July 5-August 1 at Camp Perry, OH, and at the Minnesota CMP Travel Games, August 19-23 at the Gopher Rifle & Revolver Club in Minneapolis, MN. More information on these and other matches can be found by visiting https://thecmp.org/competitions/.