Come Join the Fun During the Monthly Pneumatic Bench League
October 5, 2014
Civilian Marksmanship Program
▸
The First Shot
▸
Come Join the Fun During the Monthly Pneumatic Bench League
By Ashley Brugnone, CMP Writer
CAMP PERRY, OH – A new and enticing match for all ages, the CMP Monthly Pneumatic Air Rifle Bench League provides the excitement of a long-distance match from the comfort of a climate-controlled indoor air rifle range.
Competitors fire from a bench rest while seated towards our state-of-the-art electronic targets. Marksmen may choose to fire with aperture receiver sights or a scope with a Weaver base.
Course of fire includes 20 shots from a bench at 300-yard reduced targets and 20 shots from a bench at 600-yard reduced targets, with 10 sighters in each phase. No need to change firing lines during this match, as each distance is controlled electronically.
Competitors may use their own rifles or borrow rifles that are available for use at the range. All shooters must use a sporter, single-pump, pneumatic air rifle chambered in .177 caliber with a velocity of 600 FPS or less. Entry fee for the match is $2, with 100 percent payout each month to the first, second and third place finishers.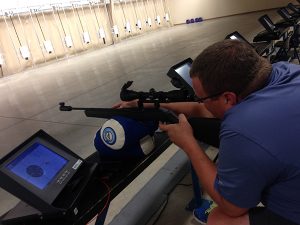 In September, 86 entries posted a total amount of $204 in prize money to be distributed between the three places: $102 for first, $61.20 for second and $40.80 for third.
Winning the first place prize was Mark Montgomery, 62, of Gibsonburg, OH, who fired an aggregate score of 385-8x. Following closely in second was Michelle Lee, 45, of Clyde, OH, with a score of 384-10x, while Frank Alcorn, 74, of Swanton, OH, recorded a score of 380-9x for third.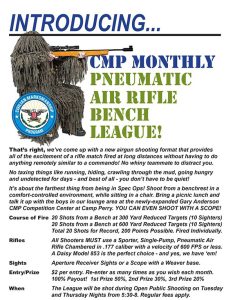 Those interested in firing in the Monthly Pneumatic Air Rifle Bench League can join us for Open Public Shooting, every Tuesday and Thursday from 5-8 p.m. at the Gary Anderson Competition Center at Camp Perry. Open Public Shooting fees are $5 for adults and $2 for juniors.
The Gary Anderson Competition Center is the completed result of the $1.1 million-dollar expansion to the formerly known CMP North Marksmanship Center. The expansion includes an open reception and common area, fully equipped classrooms, cylinder filling room and CMP retail store. The addition also includes projection screens and flat-screen television sets throughout the building, as well as authentic Olympic memorabilia and other remarkable items from the career of Gary Anderson.