CMP's Talladega Marksmanship Park to Return to Daily Activities in May
May 7, 2020
Civilian Marksmanship Program
▸
The First Shot
▸
CMP's Talladega Marksmanship Park to Return to Daily Activities in May
By Ashley Brugnone, CMP Writer
TALLADEGA, Ala. – The Civilian Marksmanship Program (CMP) has announced that its outdoor rifle, pistol and shotgun facility in Alabama, the Talladega Marksmanship Park, plans to resume activity in May with updated protocols for staff and guests. The new requirements are carefully set in place to ensure the well-being and safety of everyone during the ongoing coronavirus pandemic. 
Starting Wednesday, May 13, the facility will be open to the public Wednesdays and Thursdays from 11 a.m. – 5 p.m. and Fridays, Saturdays and Sundays from 9 a.m. – 5 p.m.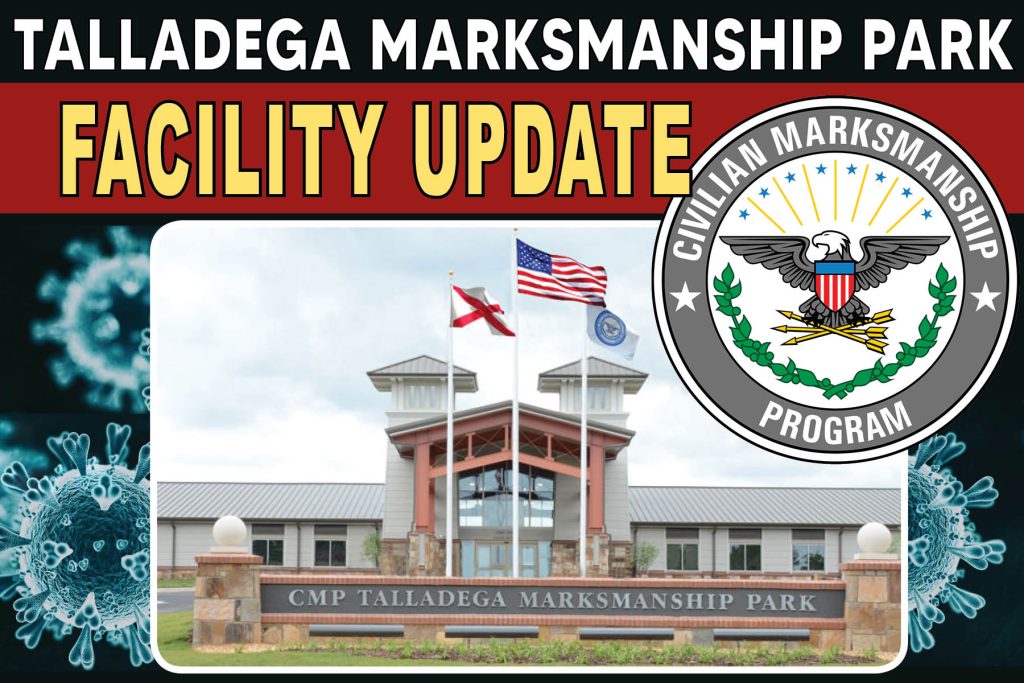 All visitors to the park will be required to have his/her body temperature checked and will also need to answer a few simple questions about current health and recent activities that could relate to COVID-19 before being permitted to use the ranges.
The number of guests within the Clubhouse will also be monitored, and those on the ranges will adhere to social distancing guidelines put in place by CMP personnel.
Though staff members of Talladega Marksmanship Park will be equipped with face masks, they will not be required for visitors to the facility. However, for the protection of everyone present, masks are highly recommended.
The CMP also asks that guests stay mindful of social distancing and hygiene practices in all areas of the grounds and also remain respectful of others during their visit.
Additionally, monthly clinics, matches and classes regularly held at the park have been cancelled for the entirety of May and June. All activities scheduled after June 30th will be reassessed at a later date.
To keep up-to-date on park events returning to operation or those maintaining delay, check in regularly to the Talladega Marksmanship Park webpage at https://thecmp.org/ranges/talladega-marksmanship-park/ or any of the CMP's social media pages (Facebook, Twitter, Instagram).
About Talladega Marksmanship Park:
The 500-acre Talladega Marksmanship Park, open to the public year-round, is loaded with a 600-yard rifle range, a 100-yard multi-purpose range and a 50-yard pistol range, each equipped with Kongsberg electronic targets and scoring monitors that allow shooters on the firing line to review shots in a matter of seconds.
The intricate electronic targets have the ability to be reused, so there is no pit duty required at Talladega. For even more convenience, competitors unable to transport their equipment through the hilly terrain of Talladega Marksmanship Park will be provided with transportation to and from the ranges. All firing lines are covered, so competitor and guests will stay dry and in the shade throughout the matches.
The Park also includes 15 action pistol bays and a trap field, 5-stand field and a 15-station sporting clays field – all with automated trap machines.
Talladega Marksmanship Park is crowned by 13,000 square feet of the Park Club House overlooking Alabama's mountain views. Inside is the CMP Pro Shop, guests are given the opportunity to purchase firearms, ammunition and other shooting supplies, as well as CMP memorabilia. Big TV screens located throughout the Club House display shots fired on the John C. Garand Range (600 yd range) throughout the day.