CMP Sponsor Feature: ELEY Ammunition
September 17, 2020
Civilian Marksmanship Program
▸
The First Shot
▸
CMP Sponsor Feature: ELEY Ammunition
Since 2018, ELEY has served as a consistent award sponsor for the Civilian Marksmanship Program (CMP), especially at the CMP Smallbore Matches held at Camp Perry. ELEY has a distinguished tradition of involvement in competitions, maintaining its significance in the marksmanship community today.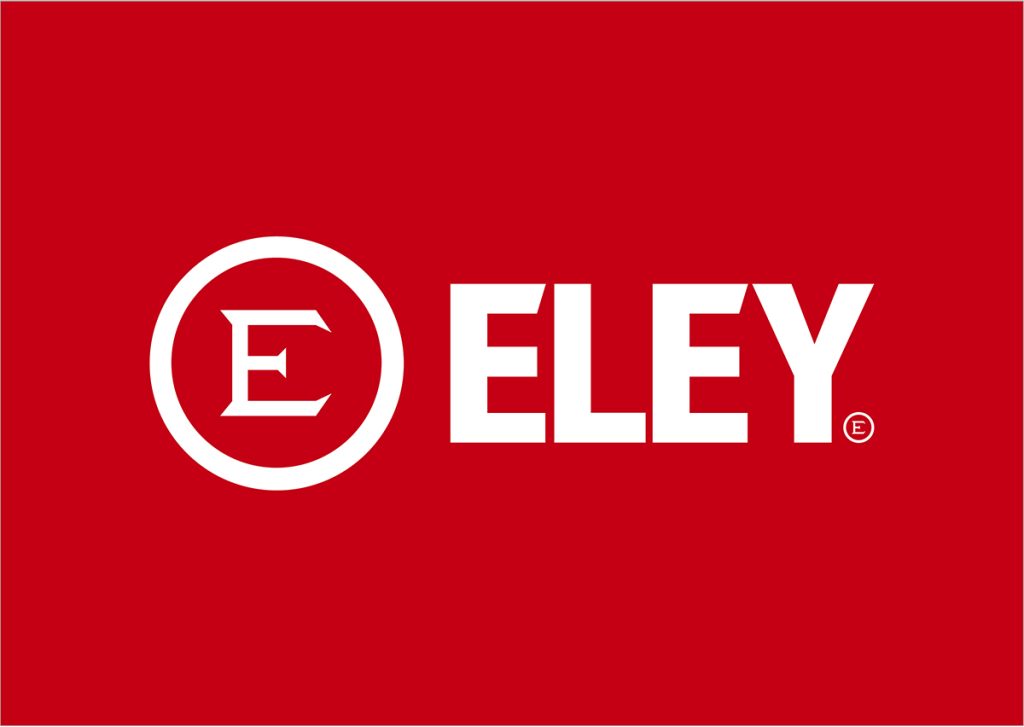 Michelle Makucevich, an active competitor and Competitions Development Manager for ELEY, explains the new ELEY Precision Club and the company's goals and current endeavors, including its continued patronage of the sport:
What is ELEY's goal / mission?
ELEY is globally recognized as the manufacturer of the most consistently accurate .22LR rimfire ammunition in the world. Innovation and continuous product development separate ELEY from its competitors.
With 190 years of manufacturing excellence, ELEY has always been at the forefront of the ammunition industry, pushing technological boundaries which have resulted in patented new methodologies and techniques. The ELEY team includes internationally recognized specialists with extensive knowledge in internal and external ballistics, powder dynamics, and Six Sigma qualified engineers.
Dedication, commitment and innovation are at the heart of the ELEY philosophy." That's why our products allow target shooters at Club, World and Olympic level to realize their potential and win", says Makucevich. "From world class competitors to recreational shooters and hunters, ELEY tailors our cartridges to your specialty. Our goal is to help you reach yours."
Is there anything ELEY is especially proud of taking part in?
ELEY is incredibly proud of its Olympic heritage and helping athletes reach the highest level in shooting sport. To date, ELEY's premium cartridge, ELEY tenex, has helped win 125 Olympic medals, not to mention the hundreds earned at various ISSF World Cups and Championships. This is a result of the excellent relationships we have developed with shooting federations, national teams and coaches.
As the exclusive rimfire sponsor of the U.S. Shooting Team, we work closely with the country's top athletes and Olympic coaches to ensure Team USA has the best ammunition to bring home medals. This filters down into our support of other target shooting disciplines and up and coming talent.
For example, we sponsor a variety of matches in smallbore rifle, benchrest and steel challenge as well as supporting a number of junior camps and programs. For ELEY, it isn't just about manufacturing world-class ammunition. It's about preserving and growing the shooting sports. Nurturing talent and developing athletes.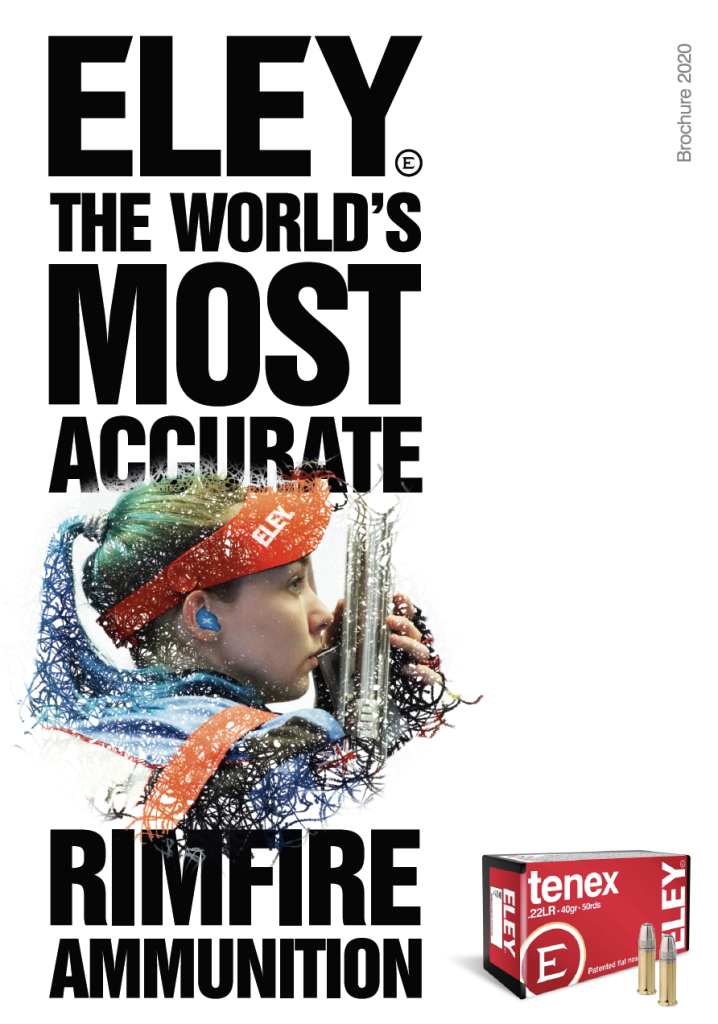 Are there any new projects ELEY is working on that you'd like to announce?
ELEY is constantly striving to develop and revolutionize the shooting sports. It's an exciting time as ELEY is launching a brand new online competition platform for club shooters so they can compete at a new international level.
The ELEY Precision Club allows competitors from all over the world to compete against each other from the comfort of their local shooting club.
ELEY believes online competition is a perfect opportunity for competitors to participate in global competitions and has an exciting "Masters" series of events scheduled, with the opportunity of becoming a "World Champion." Not to mention the amazing cash, ammunition and clothing prizes that are up for grabs.
Hosted by the myELEY.com platform, ELEY's vision is to unite shooters by encouraging greater club interaction and securing a positive future for our sport. To find out more, visit the ELEY precision club website.
ELEY's relationship with the CMP – why does ELEY choose to support us?
ELEY is excited to partner with the CMP as we share a common vision when it comes to target shooting sports. ELEY offers accurate, affordable ammunition for all competitive shooters to enable them to compete at the highest level. With the CMP working to encourage youth shooting, this partnership is a perfect fit. As shooters continue to improve, they have the opportunity to purchase other grades of ELEY match-ammunition through the CMP. This will continue to help grow competition shooting and encourage safe firearm practices through the CMP.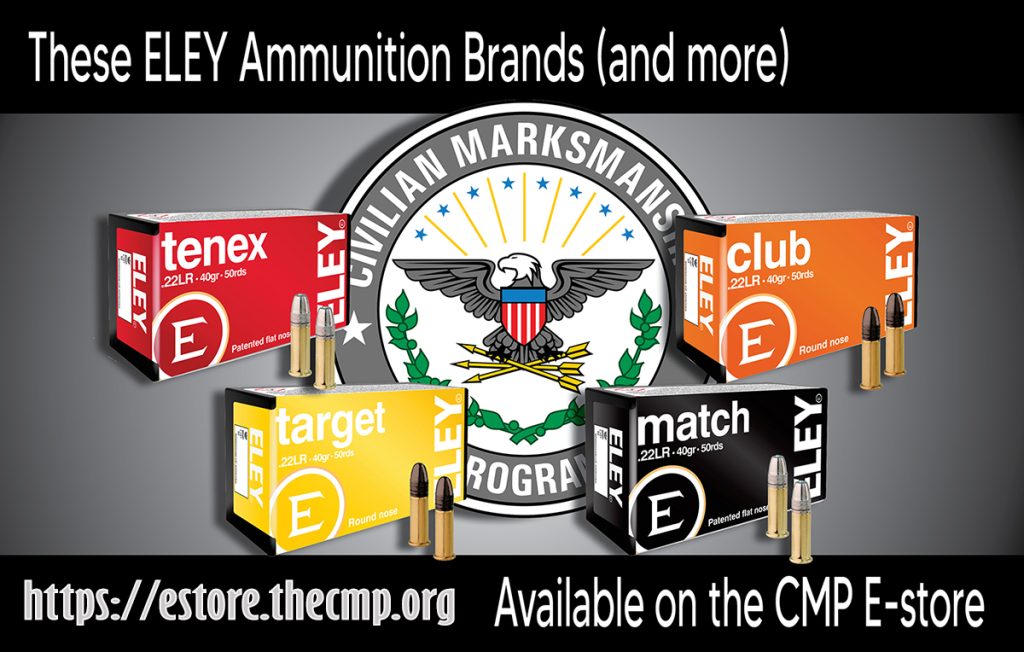 A wide assortment of ELEY's ammo, including high-velocity, mid-range and their innovative tenex varieties, can currently be found within the CMP's E-store at https://estore.thecmp.org/?cat=AMC.
CURRENT COMPETITION OPPORTUNITIES:
To promote and support junior shooting in the U.S., ELEY has pioneered the ELEY High School All American program, first introduced in 2015. The ELEY High School All American program celebrates the top 10 scholastic smallbore and air rifle shooters across the United States. Eligibility criteria include being an American citizen and a full-time high school student with a cumulative GPA of at least 3.0.
The athlete fires a minimum of three scores from a variety of national-level matches and must be nominated for the award by a parent, coach or teacher. A per-shot average is then calculated from the scores submitted.
Due to COVID-19, nominations have been extended through September 15, 2020. To find out more, or submit a nominee, visit: https://www.eleyammunition.com/high-school-all-american/.
HISTORY:
ELEY was established in 1828 by William and Charles Eley in London, when the brothers earned the patent for wire cartridges. The company quickly became known throughout Great Britain – moving on to its first waterproof percussion caps in 1837 to metallic and shotgun ammunition in 1926 and even developing the world's first and only automated dry priming system in 1979. In 2017, the company introduced its line of competition air pellets.
Over its near 200-year history, the company has continued to develop the highest quality of ammunition, featured at international exhibitions, national and world championships and the Olympic Games. In 2012, ELEY opened its United States expansion office in Winters, Texas, where its innovators test up-and-coming equipment for the future.
To learn more about ELEY and to stay current on the company's latest news and updates, visit www.eley.co.uk. ELEY is also live on social media: Instagram (@eleyusa), Facebook (/ELEYUSA) and Twitter (@eleyusa).