CMP Sees Large Turnout During Inaugural Talladega Quarterly Matches
March 3, 2023
Civilian Marksmanship Program
▸
The First Shot
▸
CMP Sees Large Turnout During Inaugural Talladega Quarterly Matches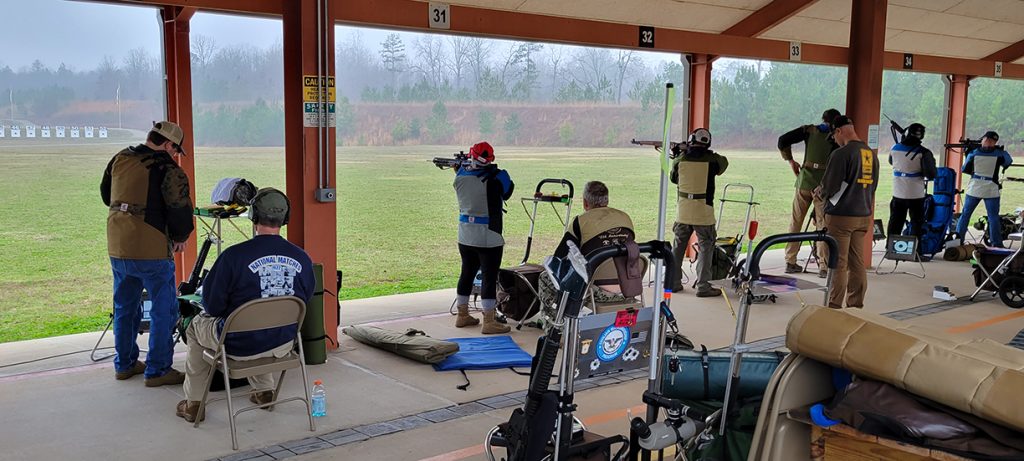 TALLADEGA, Ala. – On Feb. 23, the Civilian Marksmanship Program (CMP) hosted its first installment of the new Talladega Quarterly Matches, with great success. Over 90 competitors attended the inaugural event, which featured both rifle and pistol outdoor competitions.
"The matches went great, and we had a good crowd!" said Jim Henderson, CMP pistol coordinator. "For our first Talladega Quarterly, we had 15-plus people for each of the EIC matches! It was good to see not only the .22 and Service Pistol EICs well attended, but the Revolver EIC was too!"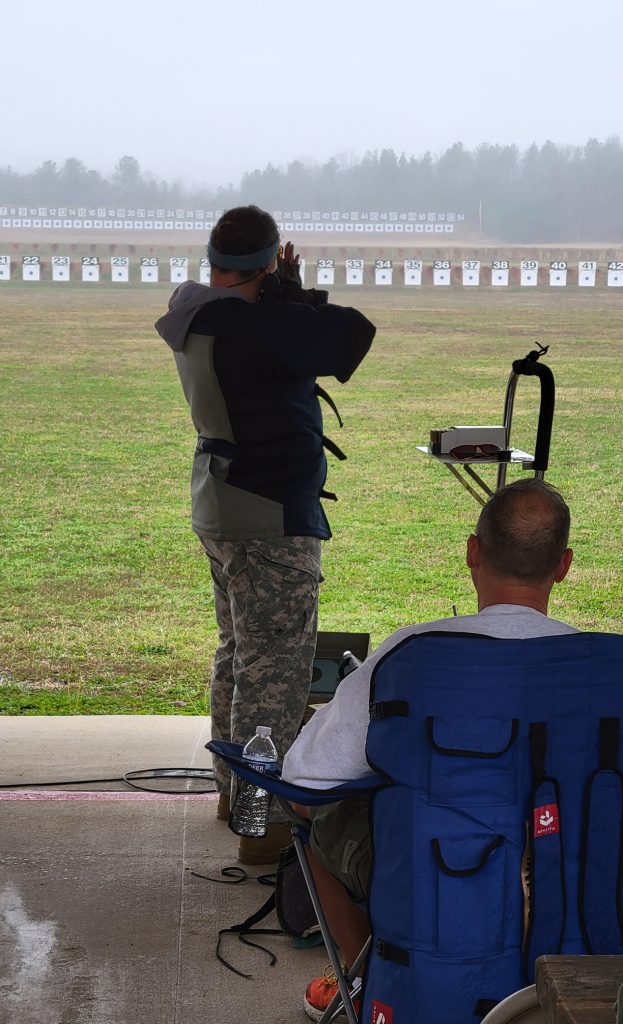 Those who earn Excellence-in-Competition (EIC) points are on their way to earning a Distinguished Badge – a prestigious honor in the marksmanship community. The Talladega Quarterly lineup allows ample opportunities to earn those points, comprised of such competitions as the Service Rifle EIC matches along with Service Pistol, .22 Rimfire and Service Revolver Pistol EIC events. Other competitions like the 80-Shot and Mid-Range matches add even more chances for guests to find fun challenges on the range.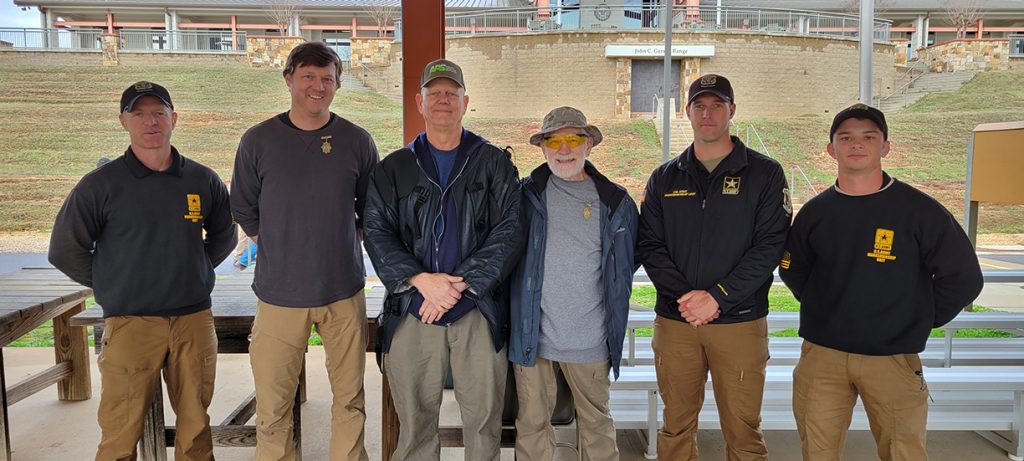 "I certainly see these Quarterly matches as being a great place to pick up EIC points in the future," Henderson added.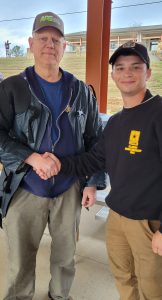 A Rifle Marksmanship 101 training class was also held during the Talladega Quarterly event (led by members of the U.S. Army Marksmanship Unit) and included an accompanying M16 EIC Rifle match. In February, Todd Chandler, 58, of Mobile, AL, reached a score of 385-15X for the overall win, as James Diehl, 61, of Hardinsburg, KY, earned his 4 introductory EIC points in the match with his third-place finish. Also earning introductory points were Richard Young, 75, of Marietta, GA, and Steven Irvan, 40, of Gilbertsville, KY.
Likewise, Robert Meyer, 49, of Athens, GA, will receive 6 points for his fifth-place finish in the Service Pistol EIC Match.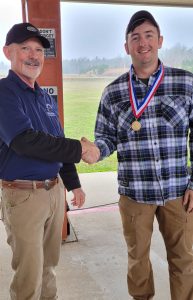 Giving another noteworthy performance was PFC Dustin Carr, 21, of San Diego, CA, who fired a score of 278-4X to take a 10-point lead in the Service Pistol EIC event, while Chance Cavin, 35, of Madison, MS, collected a similar score of 278-2X to nab the win and 6 EIC points in the .22 Rimfire Pistol EIC match by just one point. John O'Donnell, 65, of St. Louis, MO, also earned a victory by a double-digit margin – tallying 6 EIC points and a score of 347-7X in the Service Revolver Match, which was an 11-point lead over the field of competitors.
Ruling over the February Talladega Quarterly Rifle Matches was SSG Verne Conant, 26, of Cataula, GA, who claimed wins in the 80-Shot, Mid-Range 3×600 and 50-Shot EIC rifle matches. Rebecca Harrington (27, of Cataula, GA) earned 8 points of her own in the 50-Shot Rifle EIC Match, while Jeffrey Smith (60, of Pleasant Garden, NC) and David Fugate (56m Kingston, TN) each earned 6 points in the event.
Overall Winners of the February Talladega Quarterly Matches:
M16 EIC Rifle:
Todd Chandler, 58, of Mobile, AL – 385-15X
80-Shot Rifle:
SSG Verne Conant, 26, of Cataula, GA – 792-38X
Mid-Range 3×600 Rifle:
Service Rifle: SSG Verne Conant, 26, of Cataula, GA – 596-40X
Match Rifle: James Diehl, 61, of Hardinsburg, KY – 588-21X
F-Open: Robert Barnes, 64, of Grove Hill, AL – 589-27X
Service Pistol EIC:
PFC Dustin Carr, 21, of San Diego, CA – 278-4X
.22 Rimfire Pistol EIC:
Chance Cavin, 35, of Madison, MS – 278-2X
Service Revolver:
John O'Donnell, 65, of St. Louis, MO – 347-7X
EIC 50-Shot Rifle:
SSG Verne Conant, 26, of Cataula, GA – 492-20X
If you missed the February matches, no problem! The next set of Talladega Quarterly Matches will take place on May 13-14. Registration and more info is now available online at https://thecmp.org/cmp-matches/talladega-quarterly-matches/. Questions or registration help may be directed to CMP's Christina Roguski at croguski@thecmp.org or 419-635-2141 ext. 714.
For a complete list of results of the February Talladega Quarterly Matches, visit the CMP's Competition Tracker page at https://ct.thecmp.org/23FebTQMresults. Photos of the event may be viewed and downloaded for free at https://cmp1.zenfolio.com/p682734452.
About the CMP Talladega Marksmanship Park:
Aptly named "The Home of Marksmanship," the park is a worthy destination for firearm supporters and guests looking for practice, competition and mindful learning opportunities. Featuring CMP electronic targets and scoring monitors that can only be found at the 500-acre facility, the park regularly hosts rifle, pistol and shotgun events all year long. The CMP's Unknown Distance Range at Talladega also allows guests to practice their skills in the field of over 100 steel targets, out to 625 yards, while the 20-lane life-size 3D target Archery Range provides even more marksmanship fun at the Park.
The public is welcome daily, all year long, to test out their firearms or to simply take a tour of the grounds. Off the firing line, the Club House holds a fully stocked Pro Shop that includes an exclusive collection of rifles, ammunition, marksmanship accessories and CMP memorabilia that is always open during park hours. Learn more about Talladega Marksmanship Park at https://thecmp.org/ranges/talladega-marksmanship-park/.