CMP Runs Record-Shattering Relays with Electronic Targets at 2017 Eastern Games
May 16, 2017
Civilian Marksmanship Program
▸
The First Shot
▸
CMP Runs Record-Shattering Relays with Electronic Targets at 2017 Eastern Games
By Ashley Brugnone, CMP Writer
CAMP BUTNER, N.C. – The Civilian Marksmanship Program's (CMP) 2017 Eastern Games made a mark in the history of the organization as it featured its mobile electronic targets for the time in North Carolina – resulting in the most relays ever ran at Eastern Games. GSM Matches, which typically run four relays each day, saw days with a total of nine and 10 relays during its scheduled times, while the Vintage Sniper and other matches finished in record time. The targets eliminate the need for pit duty, allowing more time for the fun part of CMP Games events – the shooting.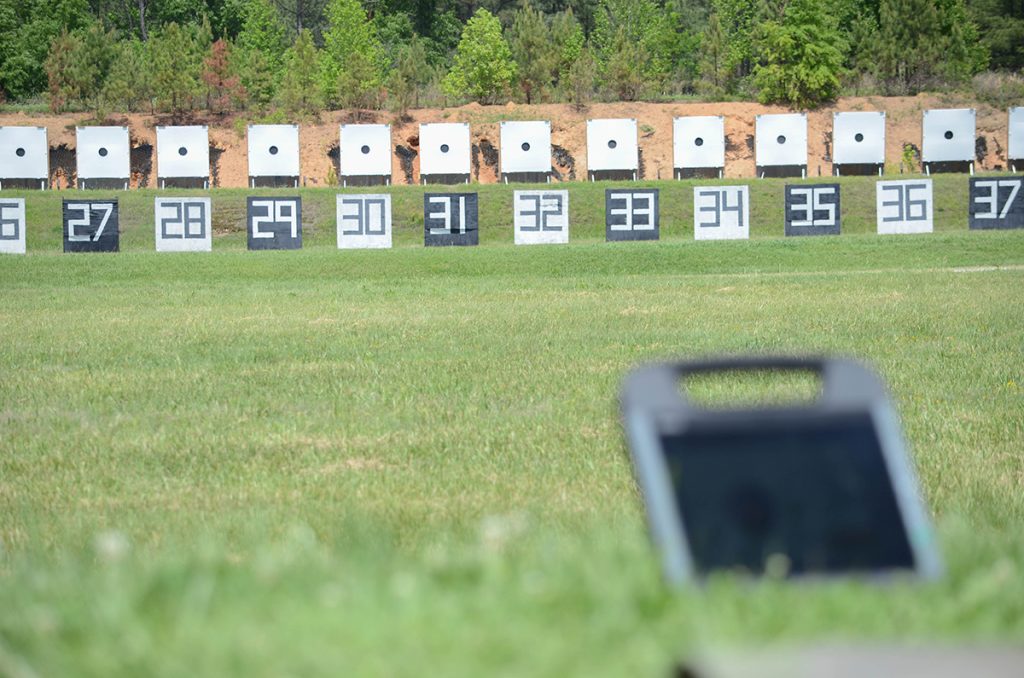 Eastern Games, which combines rifle and pistol competitive matches as well as educational clinics, fired April 28 through May 2 at the Camp Butner Training Center with a group of over 360 competitors.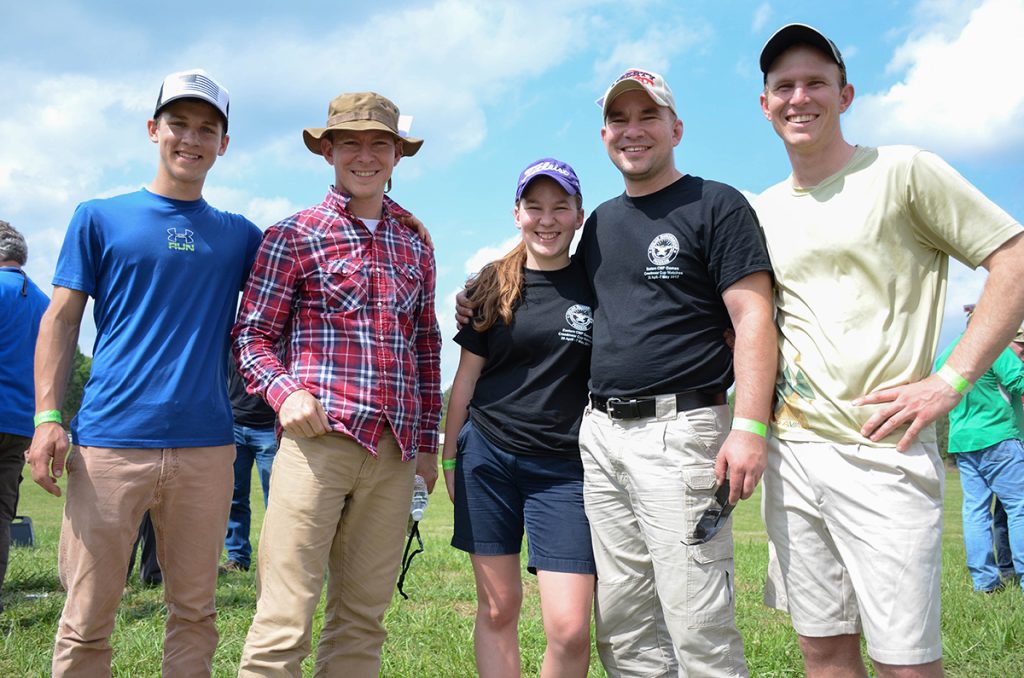 Piling into a van and traveling to the event for the first time was the Mast family – Richard Mast from Lynchburg, VA, and his daughter, Amanda, as well as Richard's two brothers, Caleb and Jonathan. The family members all participated together in the rifle Small Arms Firing School (SAFS), which features classroom and firing line instruction, along with a true M16 EIC competition. Family friend Elijah Jantomaso also joined in on the carpool to gain his first experience with the AR-15.
"I didn't do very good, but I still learned a lot," Jantomaso, 18, joked. "Every tip they gave me, my points got better."
"I do a lot of pistol shooting," he went on. "I have a brother in the military and my mom was in the military, but I haven't ever shot on the AR platform at all, so it was a lot of fun."
Caleb and Jonathan Mast, who used to compete in 4-H air rifle back in high school, admitted that it had been a while since they had shot on a competitive platform. The pair, along with Richard and their other three siblings, grew up target shooting – initially learning from Richard with a .22 rifle. The family also says they have family shoots on holidays, both paintball and military styles, to celebrate their freedoms.
2LT Caleb, 30, serves in the National Guard in Winchester, VA, but says he rarely gets the opportunity to shoot. And though he learns valuable marksmanship lessons from military training, he was also impressed by the tutoring he received from SAFS.
"I enjoyed the instruction in the classroom," he said. "I'd like to bring my wife out here next year because the instruction was so good, and I really liked the instant feedback of the electronic targets."
"The electronic targets are phenomenal," echoed Richard and Jonathan, simultaneously.
Jonathan, 28, added, "It was the best shooting experience I've ever seen as far as immediately finding out where you're shooting – best I've ever had."
Participants in the SAFS course and all competitors at Camp Butner throughout the event had the opportunity to fire on CMP's mobile electronic highpower target range – presented along the entire firing line. The targets contain internal microphones that locate shot position and instantly report the score to a tablet monitor on each firing point.
The new targets were well received, especially by Caleb, who remarked on the simplicity the electronic targets provide to shooting – from the quick and accurate response of scores on the monitor as well as the convenience they deliver for those wanting to learn how to shoot on a budget.
"This makes it easier for people who don't have equipment, like a scope, to get in. All you pay is the registration fee, and I just brought what I'm wearing and was still able to score well enough to get my feedback on the monitor."
Amanda Mast, 14, is currently following in the footsteps of her uncles as an air rifle competitor at her local 4-H club. Having followed her dad as a marksman throughout her life, she was thrilled to finally be next to him on the firing line during competition.
"I like it a lot. He's been at everything I do," she said. "Shooting with him is a lot of fun since I've been watching him since I was little."
Richard smiled and complemented his daughter's remark, saying, "I planned when she was a baby to be out here with her, so it's kind of a dream come true. It's something we both enjoy. Getting to spend time with her is a lot of fun."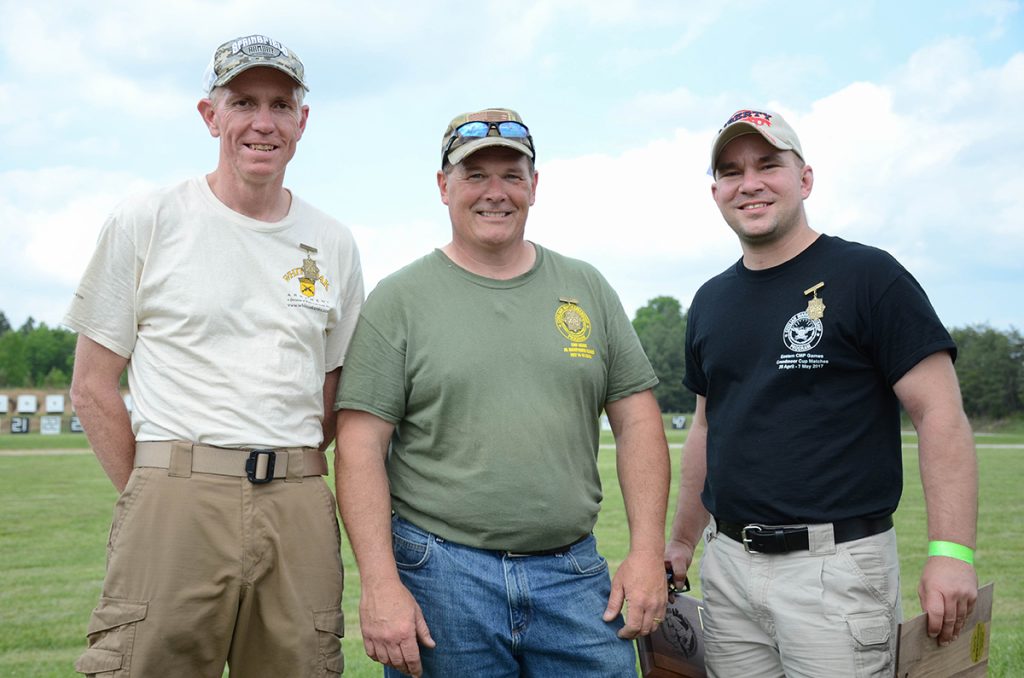 Along with the obvious accomplishment of creating lasting memories with his daughter and his family, Richard also gave a memorable performance during the SAFS M16 Match, taking home the overall win and earning his first LEG points towards a Distinguished Rifleman Badge.
Also earning wins at the 2017 Eastern Games: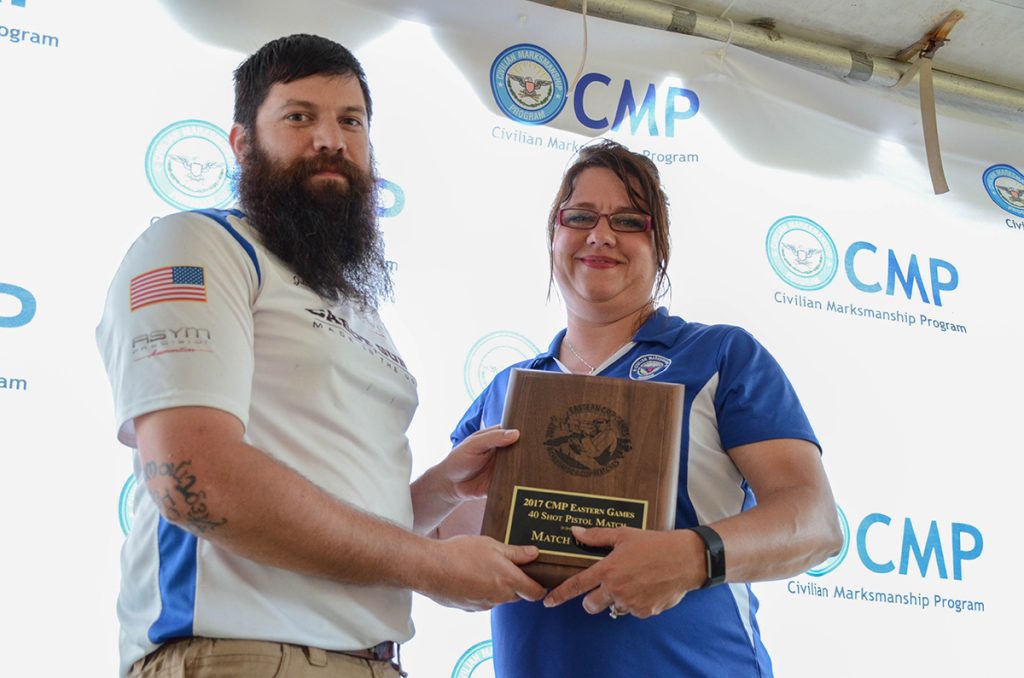 Jonathan Shue, 35, of Stafford, VA, who took control of the pistol portion by coming out on top of the Military & Police Service Pistol Match, .22 Rimfire Pistol EIC Match, 40 Shot Pistol Match and the Pistol EIC Match.
PFC Christopher Hudock, 27, of Fort Benning, GA, led the As-Issued 1911 Pistol Match and also, along with teammate Steve Huff, claimed the overall win in the Pistol Team Match – landing third overall amongst individual competitors in the team event.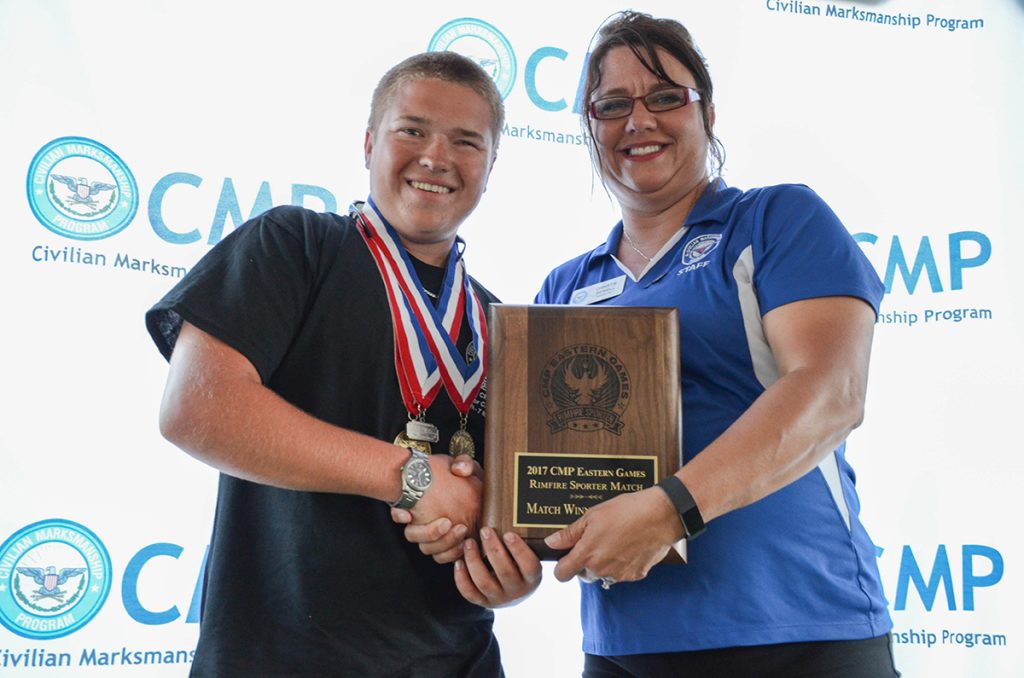 Junior Ryan Ward, 20, of Greenville, NC, made his name known amid the adult competitors as he took home the High Junior honors in the Vintage Military, Springfield and Garand matches. He was also the overall winner of the O-Class in the Rimfire Sporter Match.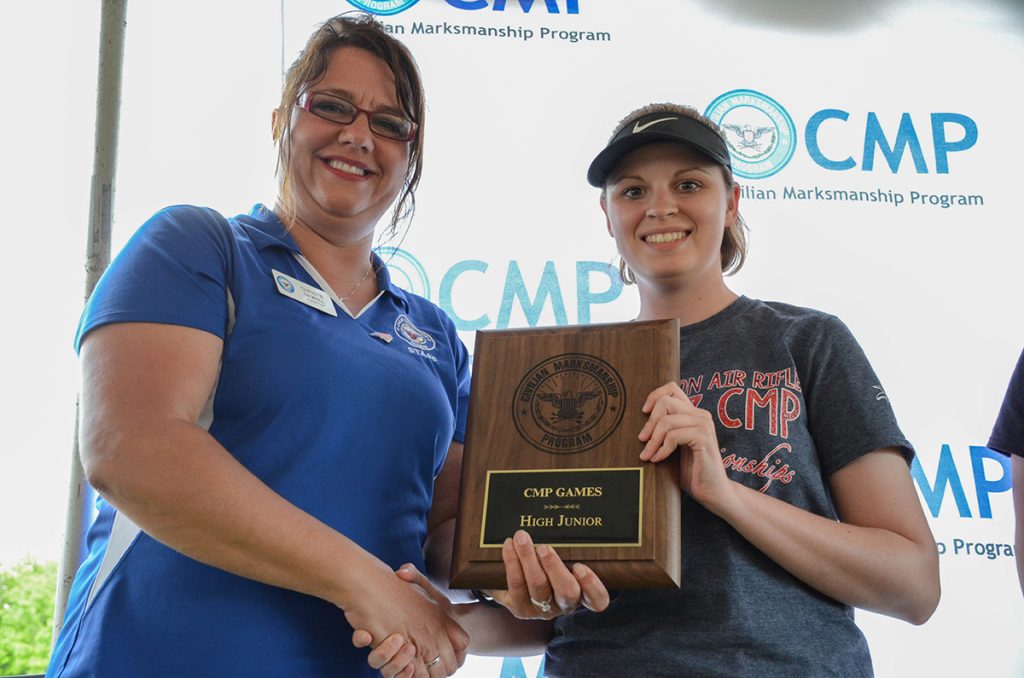 Fellow juniors Hayden Thomas, 18, of Franklinville, NC, and MaKayla Rider, 18, of Mt. Pleasant, NC, dominated the T-Class in the Rimfire Sporter Match, as Rider claimed the overall win and Thomas earned the High Woman and High Junior awards. Rider was also the overall High Junior of the Games. Kathryn Cheek, 12, of Kernersville, NC, was the High Junior of the Tactical Class.
Bill Ellis, 52, who travels to North Carolina each year from England, had a lot of hardware to ship home as he earned overall wins in the Carbine Match, Springfield Match and the Tactical Class of the Rimfire Match.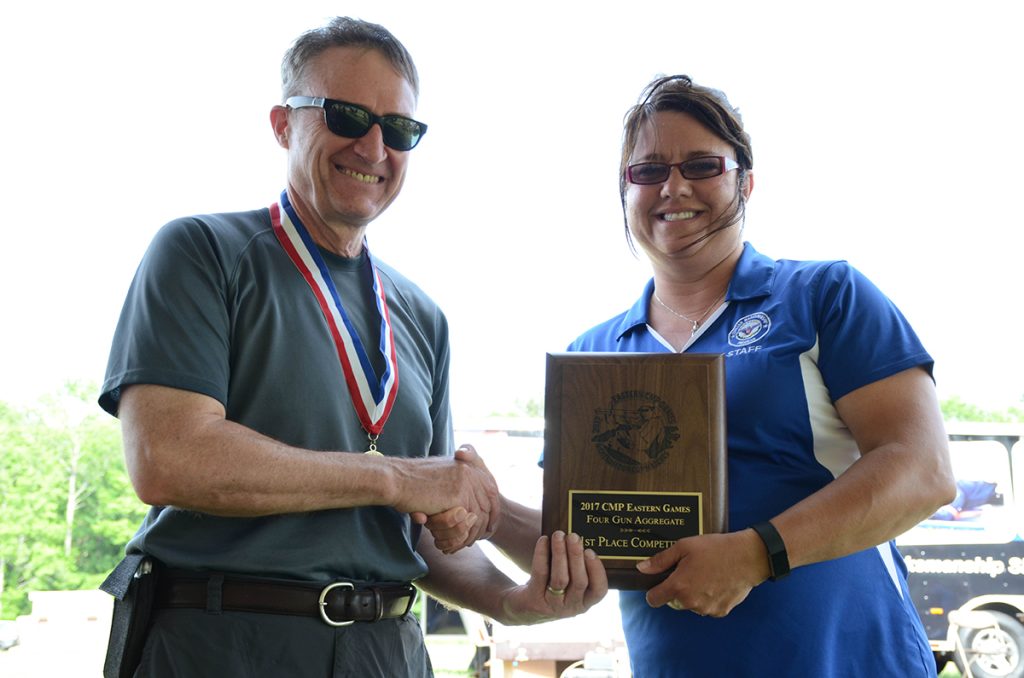 Keith Schachle, 58, of Brooks, GA, took home the Three Gun Aggregate honor, while Victor Betzold, 62, of Bel Air, MD, earned his name as the overall winner of the Four Gun Aggregate competition.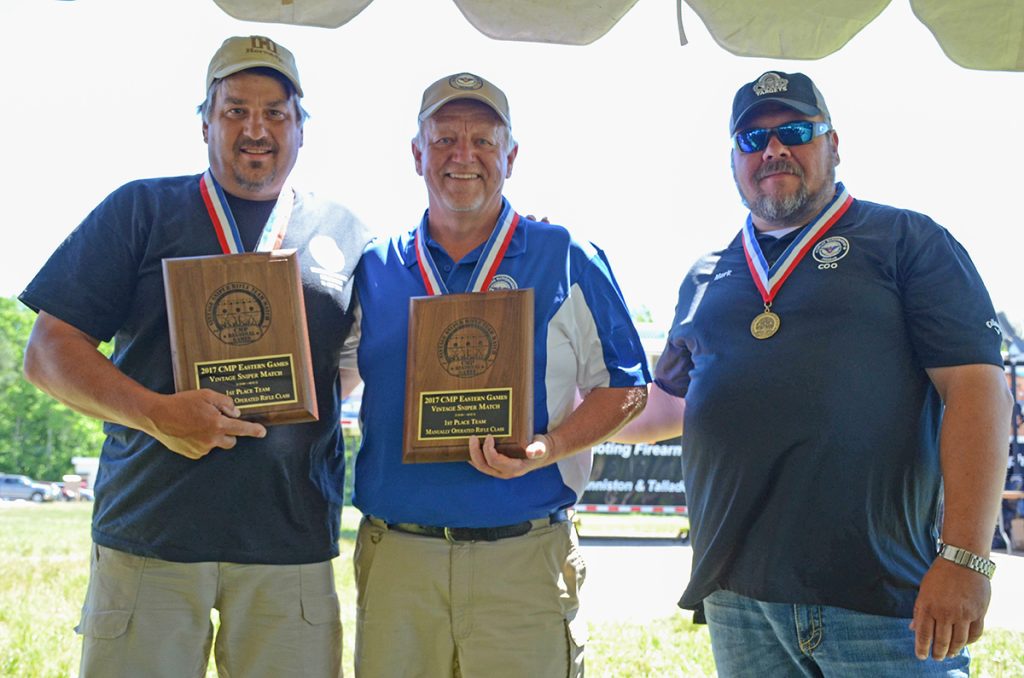 CMP North General Manager Steve Cooper, 60, along with teammate Ken Lore, 60, won the Manual Vintage Sniper Match, and Team CMP highpower team member Nick Till, 43, of Howell, MI, came out on top of the Modern Military Match.
For a complete list of Eastern Games results, visit the CMP Competition Tracker page at http://ct.thecmp.org/app/v1/index.php?do=match&task=edit&match=14988&tab=results.
Photos of the events can be found on the CMP Zenfolio page at http://cmp1.zenfolio.com/f278311523.