CMP Mobile Range Aides Wounded Warrior Trials in March
March 10, 2016
Civilian Marksmanship Program
▸
The First Shot
▸
CMP Mobile Range Aides Wounded Warrior Trials in March
By Ashley Brugnone, CMP Writer
At the beginning of March, the Civilian Marksmanship Program's (CMP) Mobile Range traveled the country to assist with Wounded Warrior Selection Camps in California, Florida and Nevada in preparation for the annual Wounded Warrior Games. The camps, also serving as trials for the Games, are held annually and promote rehabilitation for wounded service members through several different sports – including both rifle and pistol shooting events.
While CMP staff are recruited primarily for their expertise in electronic targets, they also aide in coaching the athletes.
"Many of these military members attending the camps have never seen the precision aspect of shooting and are learning about rifle adjustments, different positions and mental training of shooting sports," explained CMP staff member Sarah Hall, who attended the Marine Corps Wounded Warriors during their trials at Camp Pendleton, Calif.
Over 200 athletes attended the Marine Corps trials in Camp Pendleton, with around 70 of them having competed in the shooting sports. The majority of the athletes at the trials and those going to the Warrior Games are active duty. This is the 6th year for the Marine Corps Wounded Warrior Trials, which is hosted by the Wounded Warrior Regiment.
At the conclusion of the trials, several athletes are chosen to represent the different services (Air Force, Marines, Navy, Special Forces, Army) at the Warrior Games and compete for the coveted Commanders Cup. This year's Warrior Games will take place at the U.S. Military Academy in West Point, N.Y. in June.
The CMP's Mobile Range also traveled to the Air Force Wounded Warrior Selection at Nellis Air Force Base in Las Vegas, Nev., and the USSOCOM (Special Operations) Warrior Games Selection at MacDill Air Force Base in Tampa, Fla.
In Tampa, 43 total USSOCOM Wounded Warriors attended the trials. Out of the 43 Warriors at the camp, 23 competed for one of the 20 allotted spots on the USSOCOM shooting team.
"As coaches, it is an honor to teach and coach these Wounded Warriors and help them get reconnected through the shooting sports," said head coach of the SOCOM team, Maj John Schwent, USMC (Ret.).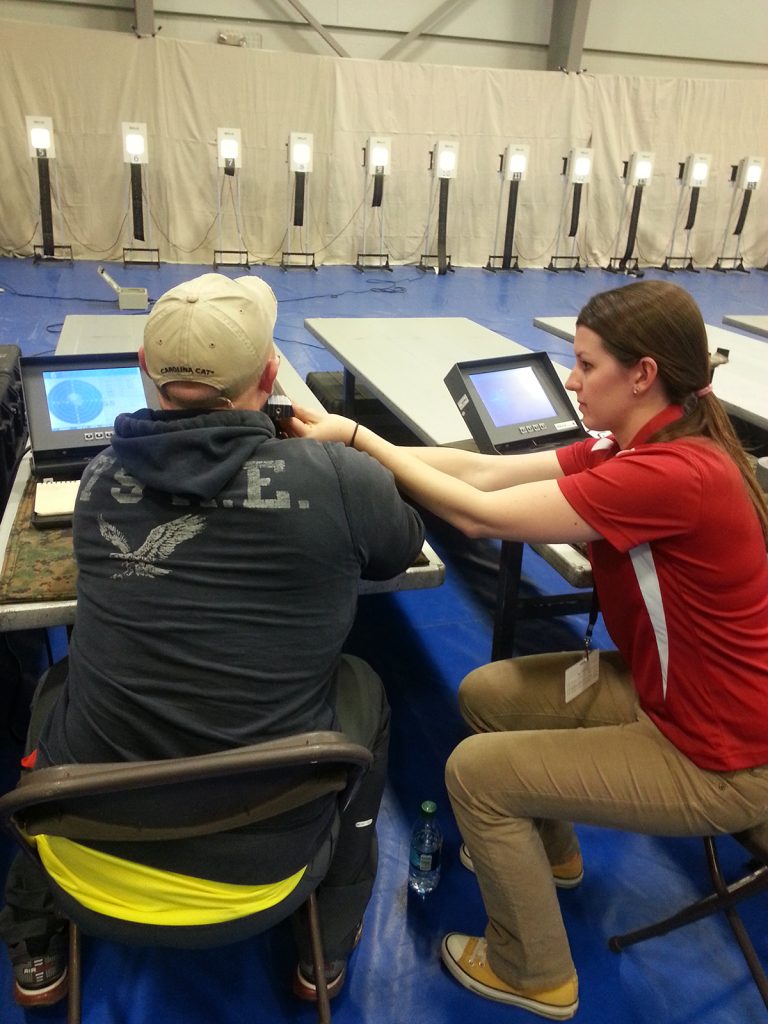 During the matches, competitors fire in three shooting categories: rifle prone, rifle standing and pistol. During trials and the games, athletes are only permitted to fire two of the three disciplines. Each has different classifications to accommodate a variety of disabilities: pistol has SH1 and Open, while rifle has SH1, SH2, SH3 (Visually Impaired) and Open classes.
About the CMP Mobile Range:
The CMP's portable air gun range was designed in an effort to expand its outreach to shooters around the country. The Mobile Range has 60 firing points and uses the same electronic target technology found in the CMP's static air gun ranges in Ohio and Alabama. The range has the ability to cater to virtually any space, allowing our state-of-the-art marksmanship opportunities to become available practically anywhere imaginable.