CMP Highpower Clinics Held During 2019 National Matches
September 25, 2019
Civilian Marksmanship Program
▸
The First Shot
▸
CMP Highpower Clinics Held During 2019 National Matches
By Serena Juchnowski, Contributing Writer
While the Civilian Marksmanship Program's (CMP) National Rifle Matches are most well-known for the President's Rifle Match and other prestigious National Trophy Individual Rifle matches, the CMP offers several training programs for shooters of all levels.
Each year, the National Matches at Camp Perry in Ohio present an opportunity to learn on and off the range. Clinics offer competitors an opportunity to receive outside feedback and instruction from experienced shooters before the big matches. This may fix issues before they cause lost points or prevent potential ones!
The Small Arms Firing School (SAFS) is most tailored to new shooters and is also of interest to shooters looking to earn introductory Excellence-in-Competition (EIC) points. Junior competitors (those at his/her 20th birth year or younger) can sign up for the USMC Junior Highpower Clinic. Experienced adults experienced as well as juniors seeking something different may find Team CMP's Advanced Highpower Clinic a better fit.
The United States Marine Corps (USMC) Junior Highpower Rifle Clinic offers personalized training, dry-fire and live-fire practice and an opportunity to confirm zeroes. Many juniors attend the USMC clinic year after year, using the opportunity to sharpen their skills before the bigger matches, to reconnect with friends and to meet new juniors and to learn from members of the USMC Shooting Team.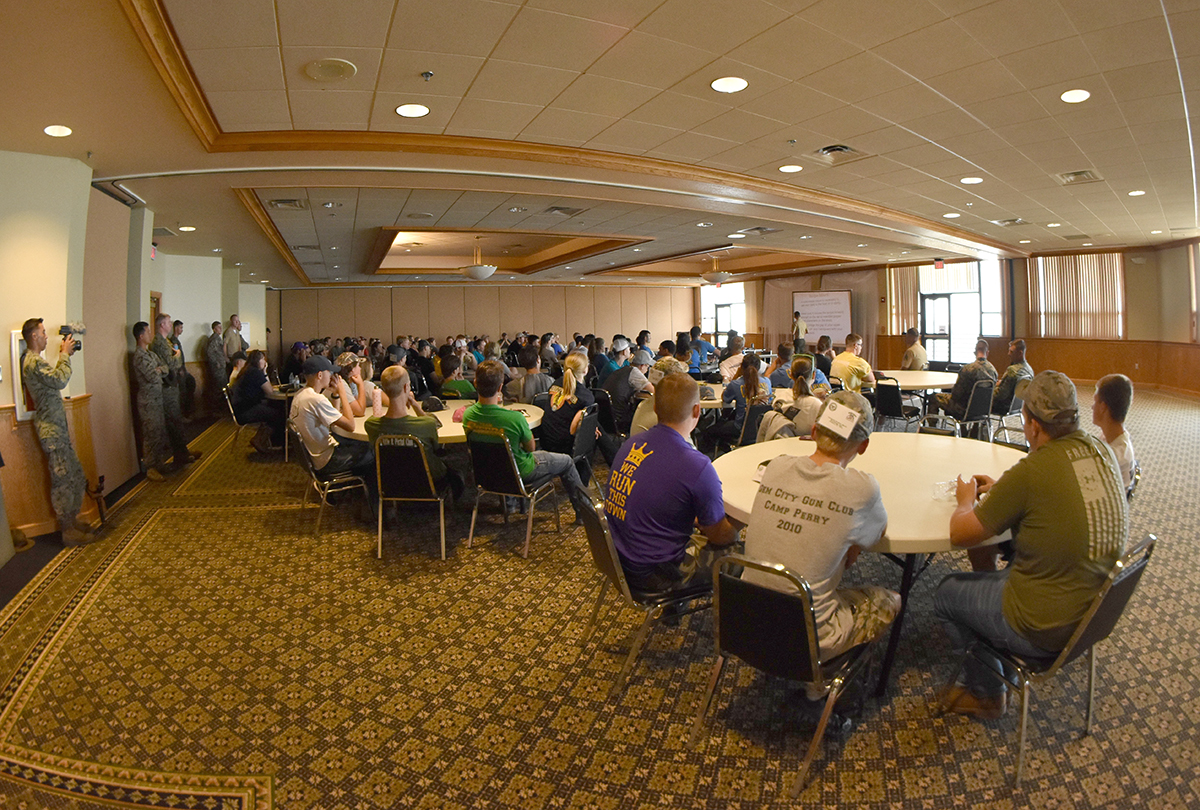 A classroom session is held on the first day of the USMC clinic where basic safety and other information is covered. The 2019 clinic included a new presentation on optics, considering the rise in their popularity after the use of optics in service rifle was legalized a few years ago. Following this segment, previous students attended a dry-fire practice at Petrarca Range, while newer shooters remained in the classroom for more instruction. Following the extended classroom portion, newer students finished their day at Petrarca with dry-fire practice.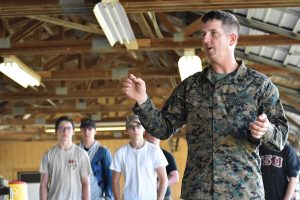 The Marines give several examples of their own standing, sitting and prone positions and break them down before having all participants get into their positions and dry fire. Coaches are open to answering questions and to helping each junior to find the positions that work best for him or her.
SSgt Stephen Ferguson calls the clinic, "the best part of our year." SSgt Ferguson, who is retiring, has coached the clinic for four years and will be missed in the future.
Gabriel Gaddie of Mason, Mich., spoke specifically of SSgt Ferguson in his recollection of this year's clinic. He has attended the clinic for five years, along with his brothers and the Michigunners junior team. This year, Gabriel had the honor and learned a considerable amount about shooting a .308 from SSgt Ferguson.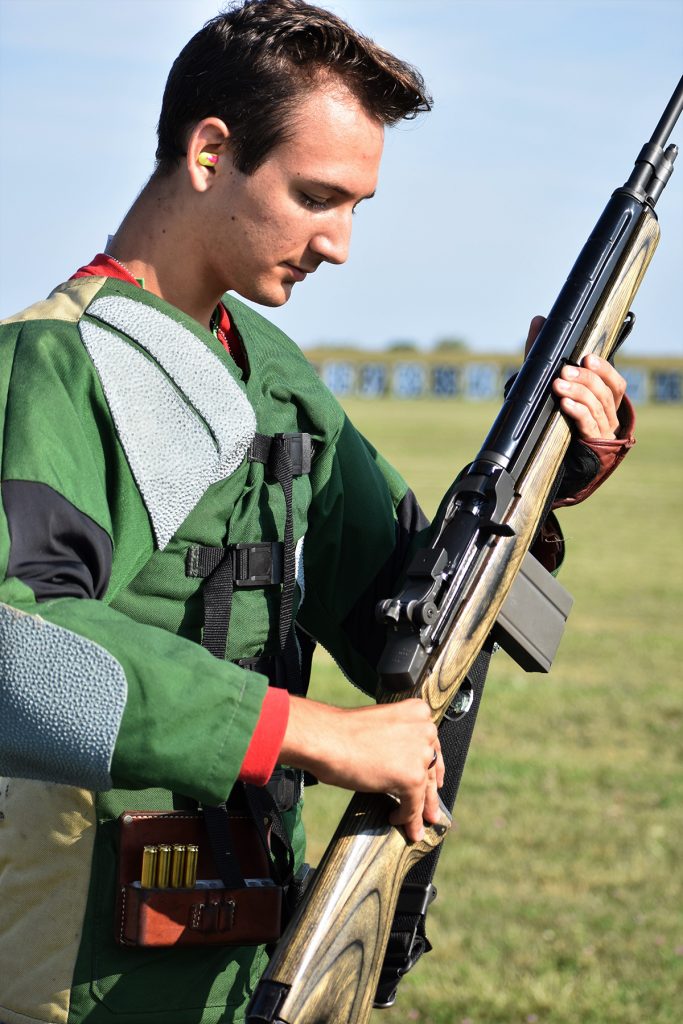 "He was respectable, and I really wanted to listen to him and he made it really fun," Gaddie said. "He's a great guy that I really enjoyed learning from, especially because I was able to get to know him."
Benjamin D'Angelo of Jamestown, N.Y., is relatively new to highpower, having learned about the sport three months ago from his smallbore coach. D'Angelo is one of two members of the recently revived New York Junior Highpower Rifle Team. Realizing that he has a lot to learn and hearing that the clinic was a good place to start, D'Angelo decided to attend.
"I learned that my positions all needed a lot of work and they were giving me a lot of pointers and how it is different from smallbore," he said.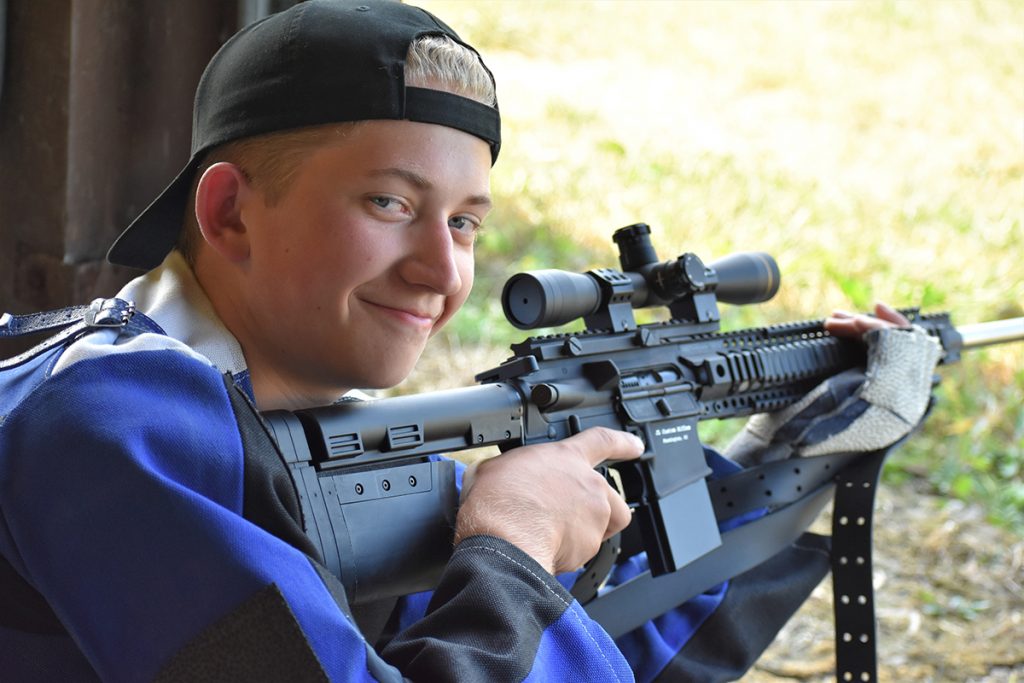 Even so, D'Angelo did find some similarity in the way the wind affected the .223 bullet at 600 yards, comparing it to shooting smallbore at 100 yards. He plans to return to the matches in 2020, for both smallbore and highpower and encourages juniors to attend the USMC Clinic giving them this advice: "Absolutely do it…there's always new stuff that you can learn."

Team CMP conducts the Advanced Highpower Clinic each summer and this year added a live-fire portion for the first time. The Advanced Clinic starts out with a classroom question-and-answer portion before dry-fire practice and position work on Petrarca Range.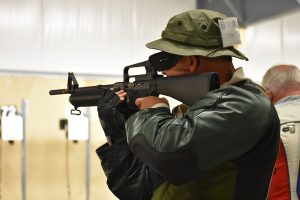 This year Team CMP split the students into rotating groups: mental management, wind reading and live-fire standing practice. Live-fire practice was conducted in the Gary Anderson Competition Center with AiR-15 air rifles. This added a new dimension to the clinic that allowed for near immediate application of what students learned earlier in the class.
While most juniors choose to attend the USMC Junior Clinic, some opt to learn from Team CMP instead. James Friend, 19, of the Illinois Hard Dogs Junior Team, has been shooting highpower since 2013 and attended Team CMP's clinic for the second time this year.
"I'd definitely go again," he said. "I think you can always pick up different tips and tricks from different people."
This year, Friend focused on rebuilding his prone position and improving mental skills. He calls the clinic "a really great place to move to the next level."
Eva Kanupke of Maryland found special interest in the classroom portion, learning about her data book and the importance of good zeroes from James Fox and Nick Till. Their instruction helped Kanupke to relax and to realize what she should focus on to improve.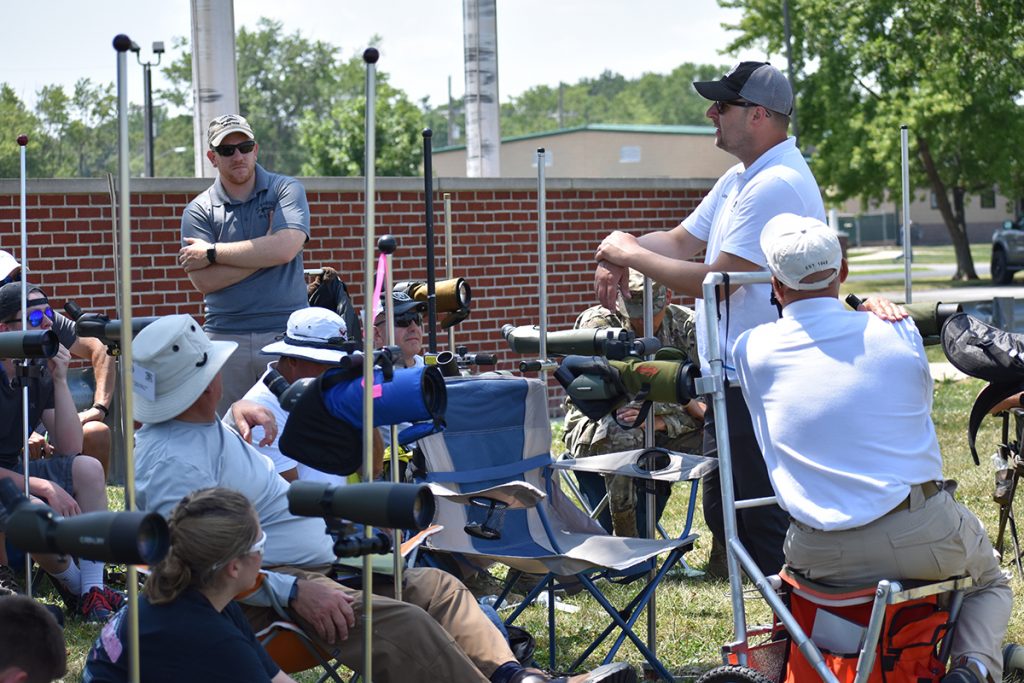 "I am used to shooting on a reduced course with no wind," she said. "I rarely have to touch those dials, but I learned the hard way that my 'hands off the dials' approach is not going to cut it at Camp Perry!"
What Kanupke valued most was the one-on-one instruction from fellow left-handed female shooter Sara Rozanski. Rozanski helped Kanupke to find a position that worked for her and to develop a process that she could repeat.
Rozanski also has the praise of John Cuntz of West Chester, Ohio.
"Sara picked coaches that are not just great highpower shooters but also great coaches that know how to coach," he said.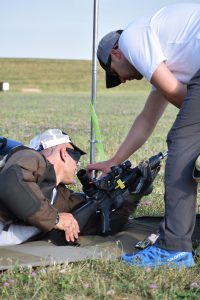 Cuntz made the point that most highpower shooters do not have access to great coaches such as those at the clinic on a regular basis. He has been shooting highpower since 2011, when he got out of the Army. He made the President's 100 for the first time this year and gave a lot of the credit to Team CMP.
"I could never have made P100 or High Master without it," he said. "Sara [Rozanski], Bob Gill and James Fox coaching me – you just can't get that kind of coaching anywhere else."
Make plans to join us in 2020 at Camp Perry. Download the 2020 schedule and view details at https://thecmp.org/competitions/cmp-national-matches/.